Last updated on May 15th, 2023
Leopard expert shares challenges facing leopards in Nairobi
By Rupi Mangat, Contributor, Sustainable Travel in Africa
Yumi Yamane saw her first wild leopard slink into the African plains one evening as she was taking a break from her studies. It was love at first sight. That was in 2004.
Searching for literature about the cat, she realized that there was little research on one of the world's most secretive cat but one with the widest range — from the snows of the Himalayas in India to the deserts of Africa.
Born in Tokyo, Japan and her love of nature brought her to Africa to study wildlife management from 2004 to 2006 in Mweka, Tanzania's famous college on the slopes of Mount Kilimanjaro. Eventually she became a researcher in wildlife conservation, specializing in leopards. Yumi is now working on her post-doctoral research fellow in Kyoto University in Japan and continues her study on leopards in Kenya.  Nairobi is the only capital in the world with a wildlife national park — and one that has free-roaming leopards. Her first research in 2009 was based on the urban leopard.
The African Leopard is widely distributed across Africa, but the population of this sub-species is decreasing and it has been classified as Vulnerable by IUCN's Red List.
Yumi Yamane poses with a leopard / Photo provided by Yumi Yamane
A Q&A with Yumi Yamane
Rupi:  What have you discovered about Nairobi's leopards that might surprise us?
Yumi:  The Nairobi leopards know people. They know their traditional corridors to follow in and out of the park to the forests and open plains, mostly to find new partners to mate with. This is very important to keep a healthy gene pool for the leopard and avoid in-breeding.
These urban leopards have a Nairobi Map in their mind. They also know when to move or not to move to avoid unnecessary encounters with people. They are also very shy and more careful than the leopards in other national parks like the Maasai Mara where you can see them resting in the trees.
Rupi:  How many are there in Nairobi National Park now?
Yumi:  About 10.
Rupi:  What challenges do leopards face today?
Yumi: Habitat loss –the space they need to move freely.
Rupi:  What do you believe needs to be done to save them?
Yumi: It is important to recognize their corridors that connect to the forests. The leopards move along the riverine forests out and back into the Nairobi National Park. These riverine forests are crucial for them to survive. 
The famous female leopard named Maridadi (beautiful in Kiswahili, Kenya's national lingo) is stalking a bushbuck early in the morning in Nairobi National Park / Photo by Yumi Yamane
The bushbuck got away ! Maridadi gave up and disappeared into the bush / Photo by Yumi Yamane
Rupi:  From the city's urban leopard, you recently moved to the wilderness around Lake Baringo, 300 kilometres northwest of Nairobi, where only the local people knew there were leopards. What are you finding out about these leopards?
Yumi: Baringo is an amazing place for leopards and hyenas. And a good number of their prey like antelopes. However, the local people complain about the leopards and hyenas hunting their livestock. So we need to come up with proper strategies to address the human-wildlife conflicts. The good thing is that the local people have a good knowledge about their forests, mountains and wildlife. This makes it easier to partner with them to conserve their beautiful world.
Rupi:  What have you discovered about the leopard in your studies?
Yumi: Leopards move along the rivers to avoid being seen by people. They are known to be solitary but in my research they communicate among themselves more often than I thought. 
Rupi: What should we watch for when observing leopards?
Yumi: Their tails show you how nervous or relaxed they are.
Rupi: Where is the best place to see leopards? 
Yumi: Maasai Mara National Reserve is the best option. However there are leopards in almost all the national parks and reserves like Samburu National Reserve and of course, Nairobi National Park. But leopards are shy and secretive, so you really need time and luck to spot one or more. The best time for that is early morning or late afternoon when the day is cool.
Click here for the latest research article about carnivore conservation and status in Kenya authored byYumi & co. 
Or discover more about leopards on the African Wildlife Foundation website.
Yumi is available for leopard talks based on her research at US$ 500 for a group.Your money helps leopard research that will help in creating safer spaces for them.
Read More on Sustainable Travel in Africa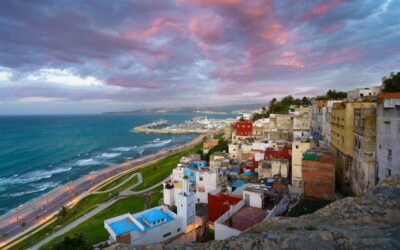 In Maria Duenas' "The Time In Between", we learn about the Spanish Civil War from the perspective of a seamstress turned skillful spy.
With 54 sovereign countries, the African continent offers solo women vibrant communities, a range of wildlife and diverse cultures.
As director of The Peregrine Fund-Africa, Darcy Ogada is working to save Kenya's raptors – from falcons to eagles – from extinction.