Last updated on May 15th, 2023
Featured image: Beaver Harbour. During lobster season, lobsters are stored in cages underneath flat rafts until they are sold | Photo by Sandra Phinney
Neighbouring places to explore in New Brunswick
By Sandra Phinney, Contributor, Tales From Atlantic Canada
I'm standing inside a replica of a Quaker Meeting House that is situated on part of the Quaker burial grounds in the coastal fishing village of Beaver Harbour, New Brunswick.  Hartly Avery—one of the many volunteers who helped build the meeting house back in 2017—opens the building for me. Reading the handsome wall panels that highlight the history of how the area was settled, I get goosebumps. Why, you might ask? This was the first settlement in British North America to ban slavery, 80 years before the Emancipation Proclamation.
The backstory of Beaver Harbour
At the end of the American Revolution, several stalwart pacifists belonging to the Religious Society of Friends (a.k.a Quakers), sought refuge in New York City. In the summer of 1783, several Quakers decided to join thousands of Loyalists and sail to Nova Scotia in pursuit of freedom. One man placed a notice to finalize their plans in the Royal Gazette, a New York newspaper. The last line stated, "No slave master admitted."  At the meeting, the Quakers also agreed that "No slaves shall either be bought or sold nor kept by any person belonging to the Society under any pretense whatsoever." 
The HMS Camel sailed from NY on August 23 with 102 Quakers, several Anabaptists, 15 free black settlers, and 7 indentured servants. The square-rigged frigate arrived in mid-September in Saint John, New Brunswick (then part of Nova Scotia). However, as confusion reigned due to the huge number of refugees who had previously arrived, the Camel kept sailing down the coast. 
Weeks later, the ship landed in a small cove at Beaver Harbour. Winter was fast upon them and the refugees had neither the tools nor the time to build homes. They slept in tents that had no floors and made fires in stoves made of stone. Food was scarce; some died. With help from the Peskotomuhkati who welcomed them to their territory, the rest survived.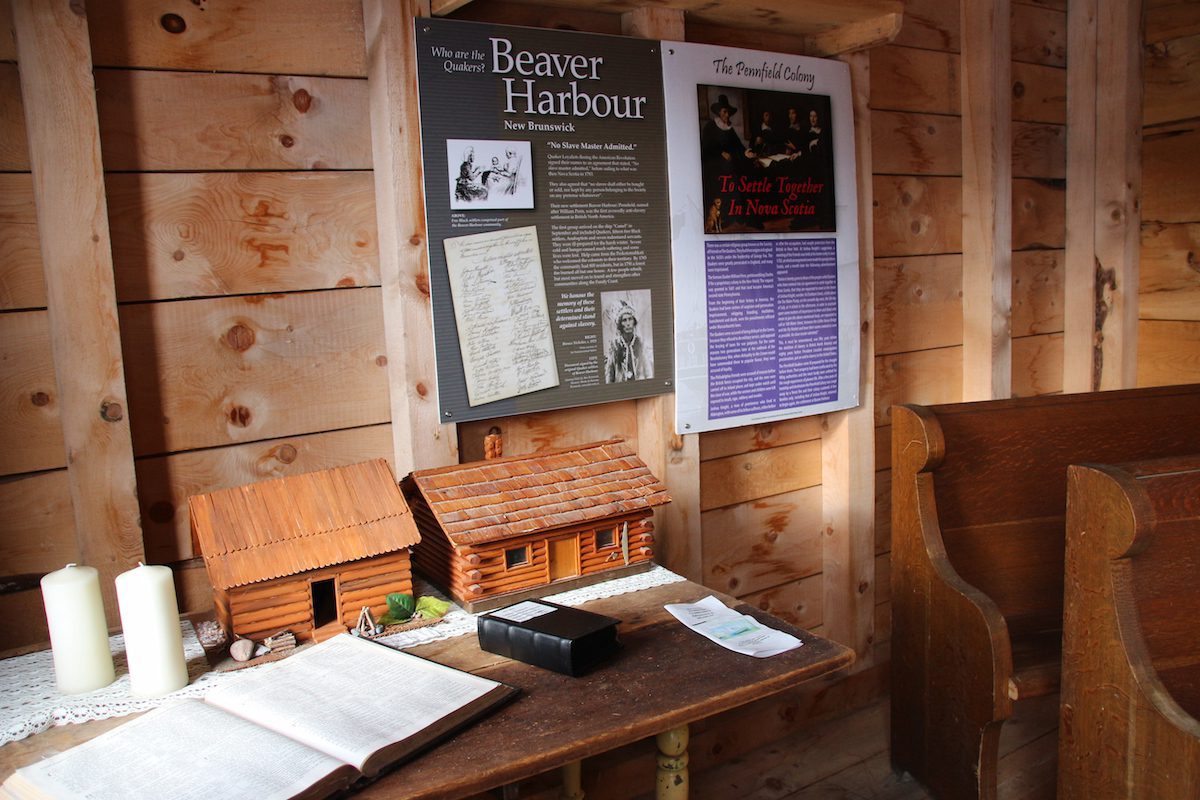 Inside the Quaker Meeting House (replica) in Beaver Harbour / Photo by Sandra Phinney
Hartly Avery, one of the volunteers who built the replica / Photo by Sandra Phinney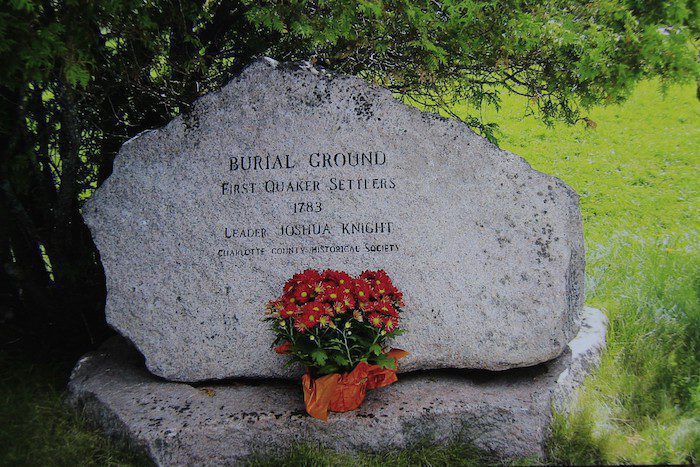 Part of the burial grounds where the Quaker Meeting House is located / Photo by James Hawkins
Despite unimaginable hardships, these stalwart souls had created the first anti-slavery community in British North America—80 years before President Lincoln's emancipation proclamation ending slavery in the United States.
I first heard about this unique piece of history from a friend, Neil Hodge, who works for Tourism New Brunswick and shares story ideas from his beloved province. As soon as he told me about Beaver Harbour being the first place in North America to ban slavery, I just had to go.
More places to explore in Beaver Harbour
With a current population of 231 in Beaver Harbour, you might wonder two things—where to stay and what else to see. You'll be happy to know there's a sweet rental called the Tiny House in the village (check availability here). I'm partial to privacy and was delighted to find myself surrounded by trees on top of a hill overlooking the harbour. Although it was dark when I arrived, it didn't take me long to find the hot tub on the deck. Within minutes I was naked and enveloped in a warm toasty tub, gazing up at the stars through the mist. "Heavenly," I said to myself out loud. "This is just heavenly."
The Tiny House rental in Beaver Harbour / Photo by Sandra Phinney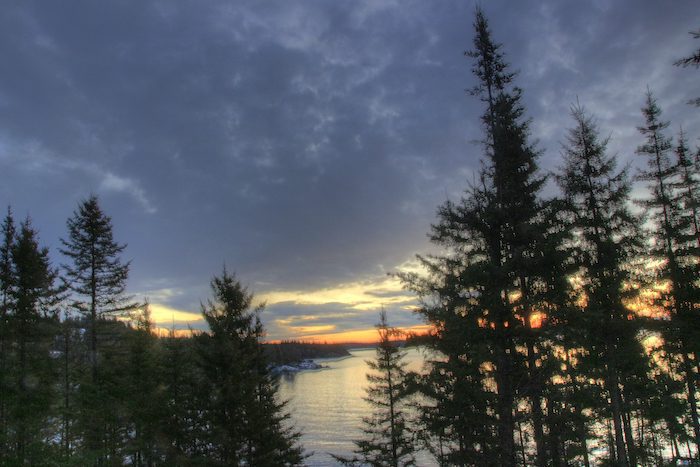 Sunrise at the Tiny House in Beaver Harbour / Photo by Sandra Phinney
Over the next three days, I not only learned more about the early settlers in this region, but I also enjoyed visiting neighbouring communities, all within a 30-minute drive.  Highlights included a visit to St. Stephens where Ganong's Chocolate Factory is located. 
Established in 1873, Ganong is Canada's first and longest-standing family-owned chocolate company. Aside from classics like boxed Delecto chocolates and Pal-o-Mine bars, Ganong invented Chicken Bones—a spicy cinnamon-flavoured candy filled with bitter-sweet chocolate, still popular today, especially during the Christmas season.  I loved browsing around the retail section, and, yes, could not ignore the urge to buy some chocolates.
On my way out of St. Stephen, my eye caught sight of a store-front sign that said "St. Croix Army Surplus Store and Musical Instruments." The combination seemed a bit odd, so I decided to check it out. Along with a decent display of army clothing including fatigues, parkas, and ammo boxes, the shop's owner, Johnny Barber, also has a great selection of guitars and novelty items. He loves to talk so it was a fun visit. Johnny also had a selection of Black Rifle ground coffee—an unfamiliar brand to me. I bought a pound to go with my chocolates.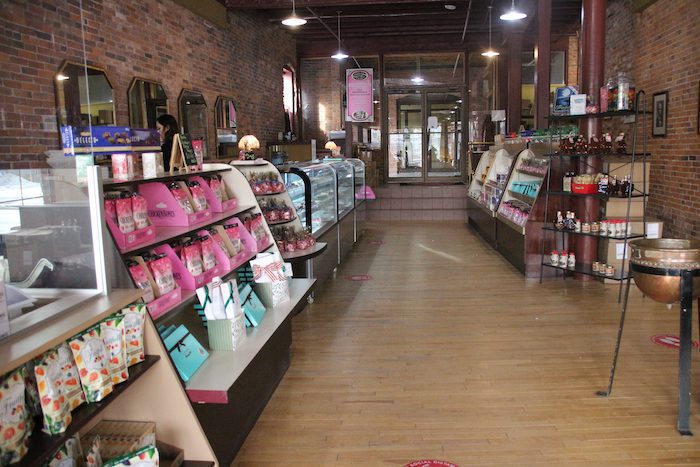 The retail shop at Ganong Chocolates in St. Stephen / Photo by Sandra Phinney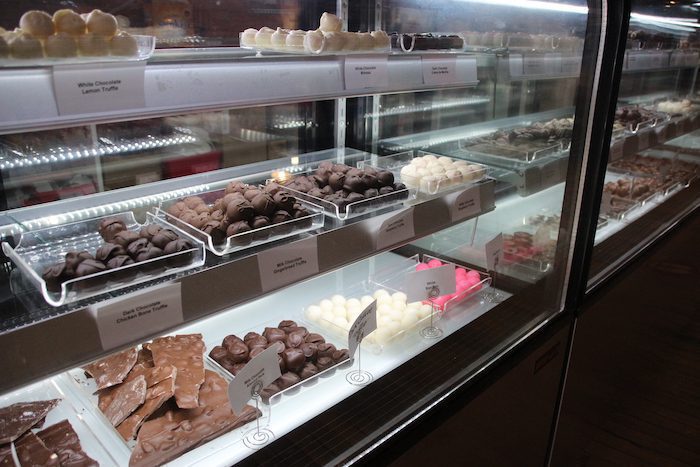 Display case of hand-dipped chocolates at Ganong / Photo by Sandra Phinney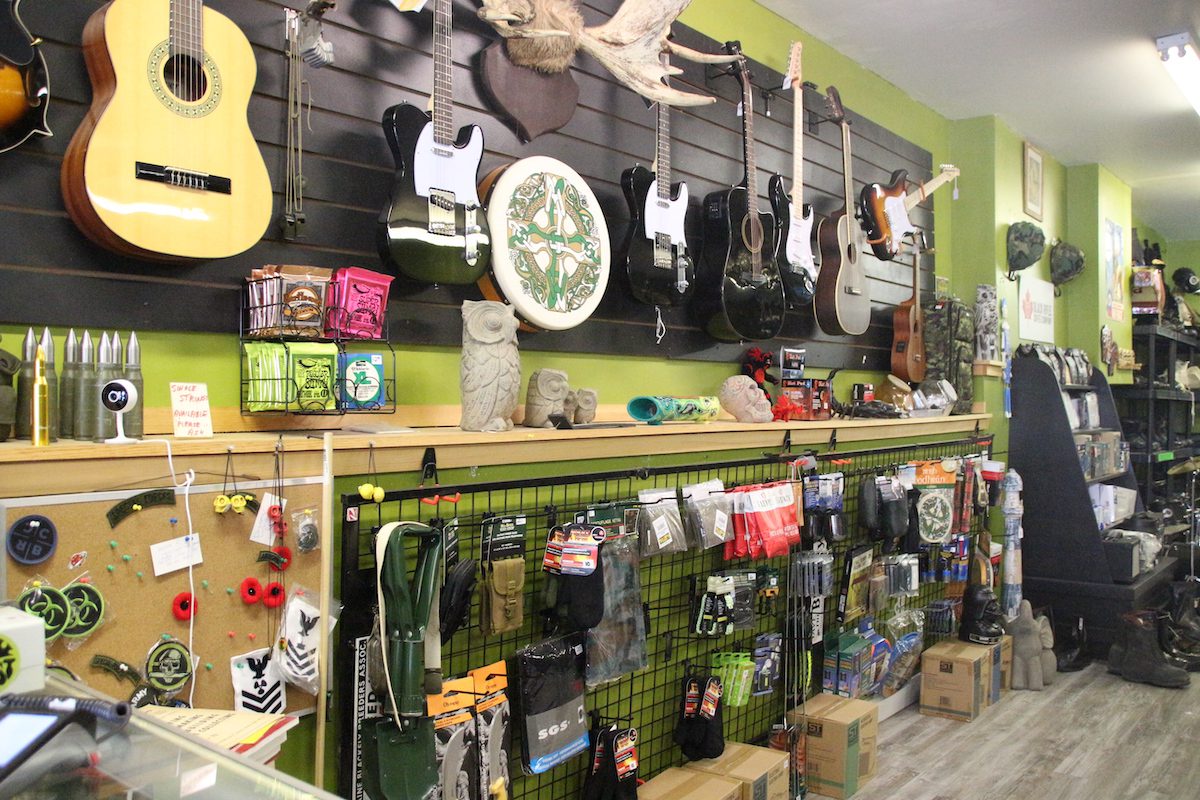 Some of the instruments and novelty items in the St. Croix Army & Surplus shop / Photo by Sandra Phinney
St. George was another gem. Referred to as Granite Town, this is where I discovered The Birch Grove Restaurant. Think down-home good cookin'. As my husband is not a fan of eating liver, when I travel solo I'm always looking for liver on the menu; and there it was: Liver & onions, mashed potatoes & peas. While waiting for my meal, I enjoyed reading wall plaques with sayings such as: "Life is short. Eat dessert first." Although I had the senior portion for less than $10, I was too stuffed to indulge in dessert although I heard the restaurant's pies were famous. On my next visit, I'll eat dessert first.
After lunch, while getting some cash at a bank, I asked the teller what she would recommend for me to see. "Oh! The Gorge! It's famous," she said and drew me directions to get there. Within minutes I was in a parking lot next to a gazebo, picnic area, and handsome bridge. Midway across the bridge was a place to stand and take picture of "The Gorge" which, indeed, was stunning, even on a dreary winter day. On the way back I stopped to take photos of a beautiful sculpture on the lawn next to the post office titled Waterstone and marveled at the work of James Boyd.  James created this over six weeks during one of the legendary Schoodic International Sculpture Symposiums. 
The picturesque Gorge in St. George, mere minutes from Beaver Harbour  / Photo by Sandra Phinney
James Boyd's magnificent Waterstone sculpture / Photo by Sandra Phinney
At the suggestion of a friend, I went to Blacks Harbour to search for sea glass. Over the years I've roamed countless beaches and have occasionally picked up some interesting bits of weathered glass. Here in Atlantic Canada beach glass is often referred to as "mermaid's tears," and is used to make jewelry, pieces of art, or simply showcased in see-through bottles. But I've never seen as much as exists on this tiny cove locally referred to as "Tinkle Beach" and located to the far left of the terminal where the ferry goes to Grand Manan.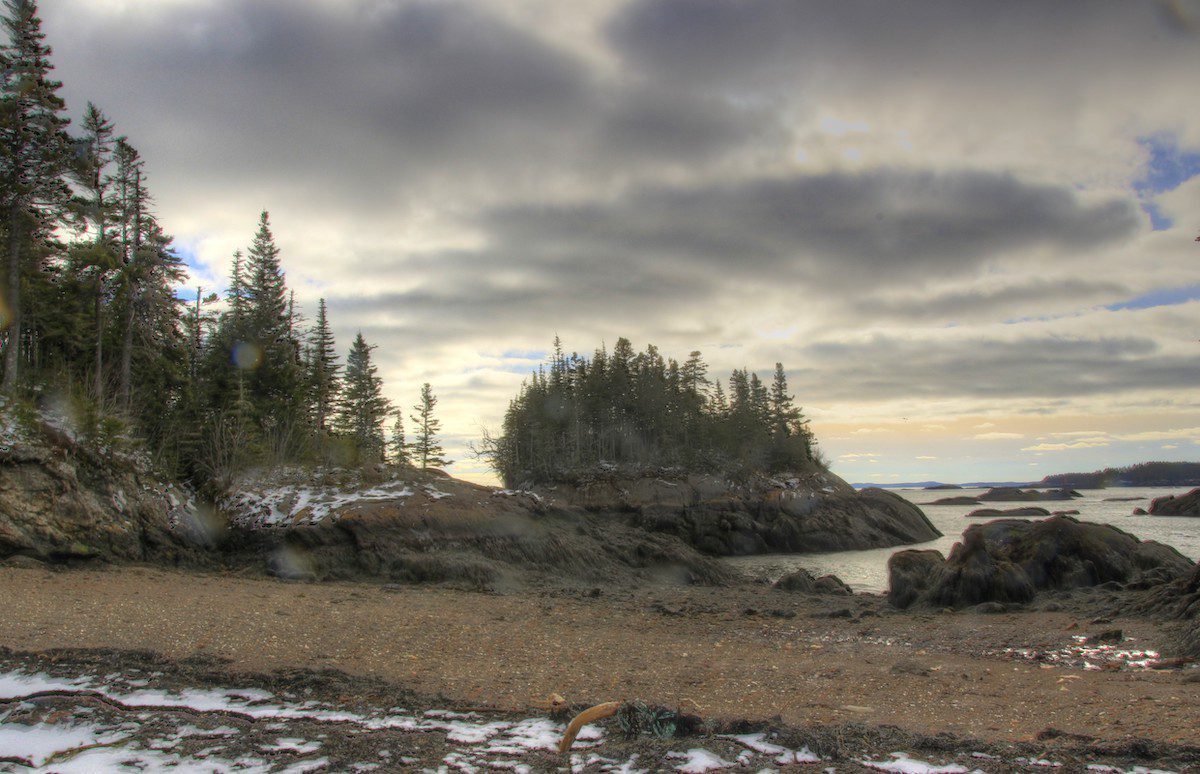 Tinkle Beach at the far left side of the ferry terminal at Blacks Harbour / Photo by Sandra Phinney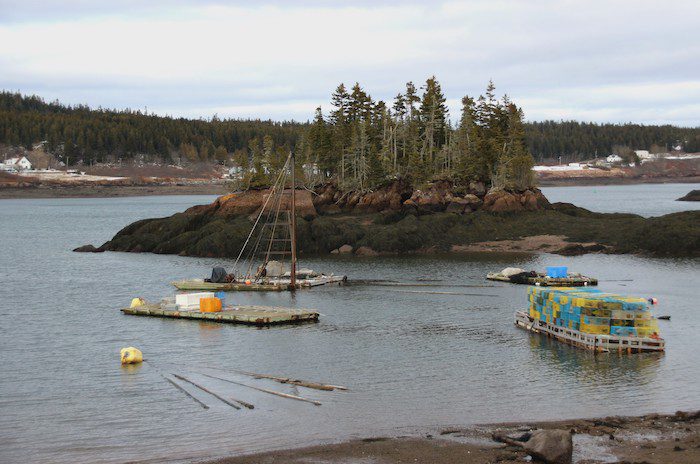 The view to the right approaching the ferry terminal in Blacks Harbour / Photo by Sandra Phinney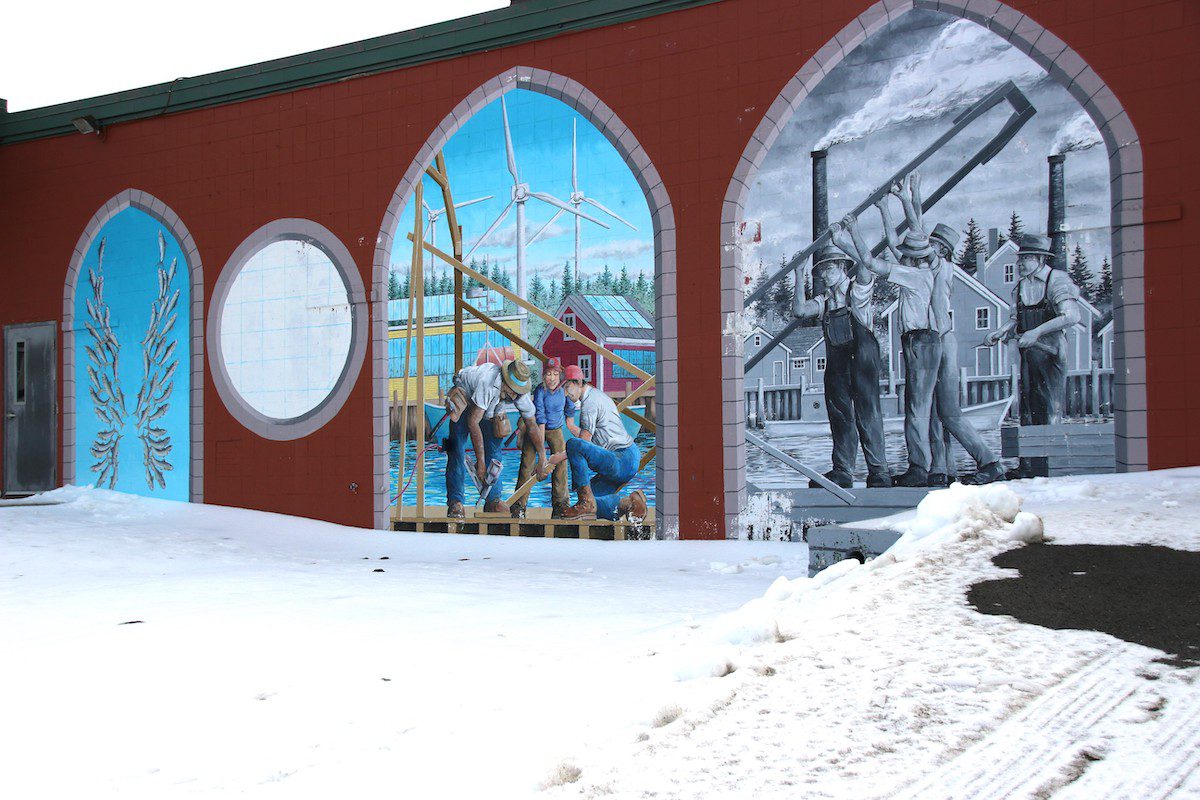 Eye-catching wall murals in Blacks Harbour / Photo by Sandra Phinney
Leaving Blacks Harbour, I caught sight of some wonderful murals on the side of what appeared to be a now-closed grocery store. Pulling into the parking lot to take some photos, I then saw a sign that said "The Kitchen" on the far side of the lot. Before long, I was sitting inside the restaurant.
It's not fancy but the food was fabulous. I chose something from the "light eaters" section of the menu featuring half portions of everything from smoked chicken legs to lasagna. At the next table, I overheard a group of eight women mulling over dessert. One person bemoaned the fact that the melon cheesecake wasn't available. "It's like summer in your mouth," she said.
Before leaving, Becky McNally—the owner—joined me for a chat. A few years ago, while living in Ontario, she and her husband Rob thought about moving to the East coast. With a background in the food and hospitality industry, Becky started cruising real estate offerings, which she described as "Porn for the over 40-crowd." As luck would have it, not only was this building up for sale in Blacks Harbour, but it was also Rob's birthplace. They turned the structure into a restaurant downstairs, and living quarters upstairs, and opened in 2020 in the middle of the Covid pandemic. Imagine that.
Becky and Rob McMcNally in their popular restaurant, The Kitchen / Photo by Sandra Phinney
Back to Beaver Harbour
Two years after the first settlers arrived, the population had grown to approximately 800 people and the community was incorporated in June of 1785. The following year, residents built a 25 ft. x 22 ft. meeting house. Alas, during the "Great Fire" of 1790, the town was destroyed by a forest fire. 
Fast forward to 2016 when residents of Beaver Harbour built a replica of the Quaker Meeting House that I was standing in when I started the story. This one is 18 ft. x 12 ft. and was built by community volunteers with financial help from various provincial associations and foundations. 
James Hawkins took part in the grand opening ceremony. At the time, he was the curator of the Beaver Harbour Archives and Museum. I had the pleasure of meeting James and his wife, Florence, while I was there. Nudging 89, the historian is still spry and his eyes light up when he talks about the legacy of the Quakers. He shared stories and photos with me, including pictures of the construction of the meeting house.
The Quaker Meeting House under construction / Photo by James Hawkins
On my last morning in Beaver Harbour, I headed to Wolfhead Smokers on the outskirts of St. George as I'd heard it was one of the best salmon smokehouses in the province. Although I had a vague notion of where the company was located, I drove by the lane not once, not twice, but three times before asking someone at a garage where to find the company. "Follow me," said a chap who had just paid for his gas. Good thing I asked, as the Wolfhead Smokers sign had been removed on the highway. Despite this, they were open and I lucked into buying both hot and cold-smoked salmon to bring home. The bonus was that I saw some fun roadside art along the way.
I'm back home now. It's February which is also Black History Month in Canada, and I'm thinking of those early Quaker Loyalists who founded Beaver Harbour. Their vision of a peaceful society where all could live in freedom, with goodwill, amity, and accord, is still evident. The rural communities that I visited along the Fundy coast are small but they all have fascinating stories and people with big hearts.  I'm already planning a return trip!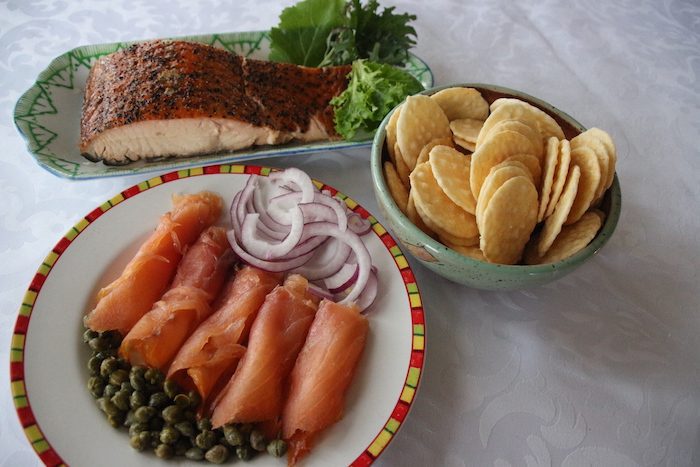 Hot and cold salmon from Wolfhead Smokers / Photo by Sandra Phinney
Random highway art seen while searching for Wolfhead Smokers / Photo by Sandra Phinney
If you go to Beaver Harbour
The City of Saint John on the Fundy coast of New Brunswick is less than an hour's drive to Beaver Harbour. You can fly into Saint John Airport and rent a car from several rental agencies. Bay Ferries also sails from Digby Nova Scotia to Saint John.
There are many places to stay in the region from the elegant Algonquin Resort in St. Andrews-by-the-sea to numerous motels, inns, and BnBs. Although I ran out of time to visit St. Andrews on this trip (located between St. Stephen and St. George), I've been there before and was wowed by the town itself, along with Kingsbrae Garden and the Hunstman Marine Science Centre.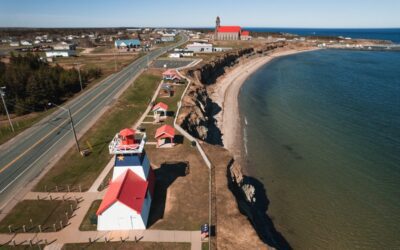 Located in New Brunswick, the stunning Acadian Peninsula Veloroute is a network of 14 cycling circuits perfect for a three-day trek.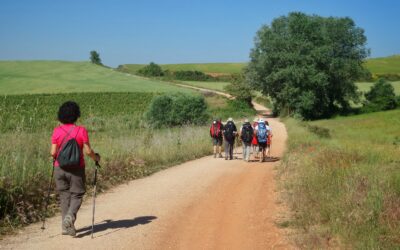 Jane Christmas's funny memoir of her 780-kilometre trek across Spain on the Camino de Santiago to celebrate her 50th birthday and midlife.
You might wonder what there to do in a tiny community of about 300 people in Rigolet, the oldest Intuit community in Labrador. Plenty, as it turns out.