Last updated on November 19th, 2023
Featured image: Tourists at Aurora Village on a Northern Lights tour by Adam Pisani | Photo provided by Northwest Territories Tourism
Feel Connected to the Universe
by Carolyn Ray, Editor-in-Chief
Millions of miles away from us, charged solar particles collide with atoms and molecules in the Earth's atmosphere, creating the aurora borealis, undulating curtains or ribbons of light in dark blue, green, yellow, red and orange, dancing above our heads. While these elusive and mesmerizing lights can be seen from many countries, Northern Canada, Iceland, Alaska and Norway stand out as premier destinations to feel 'close to heaven,' and inextricably connect us to the universe in a way that no other experience in the world can offer.
I've not experienced the Northern Lights and my preference is to write about what I know. So, to find out, I hosted a virtual session in late May where women were invited to share their experiences seeing the Northern Lights around the world. Why did we do it this way? In doing this, we had a first-hand perspective on the experience from women who have been there, and we were able to answer questions from those who want to go.
The session left me feeling excited and inspired. These are the stories we live for, when we are reminded how powerful nature is — and that we are connected to the entire universe through these small particles that somehow find their way to dance and shimmer above our heads.
"Seeing the lights is a very humbling experience," said Joy Fox, who witnessed them in Norway for her 84th birthday in 2019. "Aside from the emotional impact, it makes one feel insignificant and privileged to watch such a natural display. There must be many moments when nature displays her power in one way or another, but the Northern Lights have to be one of the most magical of experiences for humans to witness. It leaves a mark on your heart you can't remove."
"It touches a lot of parts of you," says Jo- Anne Wilson. "First, it's so primal – we're so used to seeing manmade things in our travels. This is something that God or nature or something greater than us created. It makes you feel very tiny in some ways and is absolutely mesmerizing. But at the same time, it makes you feel connected to what's beyond us. This is coming from the sun – to think we can be connected to the sun and see this beautiful sky painted in colours – it shakes you right to your core. It's one of the most spiritual experiences I've ever had. It doesn't diminish. It's holy."
The Ultimate Privilege
Even women who have seen the Northern Lights multiple times can't wait to do it again.
"I've had three Northern Lights experiences," said Fi Naughton. "The European Way – Norway, in November at Fairbanks, and in Iceland. The word I use is ethereal – because they're so elusive, it's an instant privilege when you see them. They turn into the crack cocaine of travel and you want to see them again and again. Just one more time…when we went in Tromso, I could barely move, I was wearing everything I owned, outside for eight hours in minus 30 Celsius. Even being close to hypothermia, we didn't want to come in. You get lost."
"It's addictive – you only have so many precious days to be in that location, and when it really exploded, I started crying, tears running down my face," said April Bielefeldt. "It was a mixture of excitement and pleasure. I was so thankful to be in this place. You pray you can experience it again in your lifetime."
"It made me feel as if I was close to heaven," Joy said. "The first thing I did was scream, because I couldn't believe it was actually happening. It was just a deep-seated thing that I wanted to see them. It really is a spiritual feeling — I felt as if I was a part of nature.  It hits you in the heart. This is really what life is all about, in this magical moment. That's the way it is with nature. Now, I'm considering going to the Yukon this fall."
Best Places to Experience the Lights
From August to March, there are several places to enjoy the experience.
The Aurora Borealis manifests itself in a huge ring above the Earth's Geomagnetic North Pole which is referred to as the Auroral Oval. You can see the Oval at the Space Weather Prediction Center here, which is run by the National Oceanic and Atmospheric Administration (NOAA).
According to the NOAA: "The Aurora Borealis (Northern Lights) and Aurora Australis (Southern Lights) are the result of electrons colliding with the upper reaches of Earth's atmosphere, follow the magnetic field of Earth down to the Polar Regions where they collide with oxygen and nitrogen atoms and molecules in Earth's upper atmosphere. In these collisions, the electrons transfer their energy to the atmosphere thus exciting the atoms and molecules to higher energy states. When they relax back down to lower energy states, they release their energy in the form of light."
Being able to see the Aurora depends on two factors, geomagnetic activity (the degree of disturbance of the earth's magnetic field at the time) and your geographic location.  When choosing a location, you'll also want to take into account the weather at your location, and light pollution from city lights or the full moon.
With so many places to view the Aurora Borealis, your decision comes down to cost, distance and the type of experience you want.
Where to See the Northern Lights
Northern Canada
Reflection of Northern Lights on Nares Lake, Yukon by Jonathan Tucker (Photo from Tourism Yukon) 
For those on the West Coast, Canada and Alaska are cost-effective options, and offer a rugged, authentic outdoor experience, according to women who have been there.
In Canada, the Northwest Territories, which touts itself as the Northern Lights capital of the world, is a desert climate with less light pollution or high rises, making it an appealing choice. It's also possible to see the lights in the late summer or early fall, when the temperature is above zero. Using a guide is optional, as there are maps around the city that indicate where the best viewing is.
Jo-Anne lived and worked in Yellowknife, Northwest Territories for several years. "You can see the Northern Lights 240 nights of the year," she says. "There's something so mystical and spiritual – it's just awesome – the real meaning of awesome."
Yellowknife sits directly beneath the Aurora Oval, where the lights are most reliably present. NTW Tourism claims that the chances of seeing the lights is over 95% in a 5-night stay and the truth is, on a clear night it approaches 100%.  Many of the tours — including fishing, hunting and dogsledding — are run by Indigenous People and those who have traditionally lived on the land.
Churchill, Manitoba, which is well known as a place to see polar bears in the fall, is situated beneath the Auroral Oval, making it an ideal place to see the Northern Lights, which they claim can be seen 300 nights out of the year.
Dee went to Churchill, Manitoba and saw the lights three times during her stay. "It was just spectacular!" she said.
Fairbanks, Alaska
The best regions in Alaska for the Northern Lights are the Interior (especially Fairbanks) and Far North regions, although the aurora can be spotted anywhere in Alaska. One of the key benefits of Alaska is its accessibility, with flights from practically anywhere in the US or Canada. For budget travellers, hotel points can be used, and there are many accommodation options, including yurts, camping, etc.
There is also flexibility in the experience itself. In addition to daytime and nighttime schedules, you can choose to have a guide or not, and there are maps that point you to specific viewing areas.
April has seen the Lights a few times, most recently in Fairbanks in September. "The solar flares were incredible," she says. "It was spectacular and took my breath away. It's so moving. It brings tears to your eyes when it's dancing, and the colours."
Northern Lights in Alaska.
Norway
In Norway, half of the country is located in the Auroral Oval, but it has more cloud cover. If you've seen Joanna Lumley's documentary, you know that finding an opening in the clouds can be an issue, resulting in 'Aurora chasers', who drive eager travellers around looking for a break in the clouds. This means you can be reliant on the skill of the guide to find the opening. Guides can be expensive, but there's the benefit of a warm van if you need it.
Joy went solo on an eco-friendly Hurtigruten expedition ferry from Bergen to Kilkenny in the Arctic Circle for her birthday. She says being on a ship allowed her to experience the fjords and majestic scenery, with shore excursions to learn about local history in the towns along the route. Hurtigruten has no single supplement and a Northern Lights guarantee for certain months.
"It made me feel as if I was in heaven," she says. "I started to cry because it was so absolutely beautiful. It was a fact of nature and it happens all the time, but to just see it, I felt like I had died and gone to heaven. I cried my eyes out."
Tourism Links
Hurtigruten Expeditions offers no single supplement on 2021 expeditions and is a sustainable alternative. 
Polar lights above the sea at night in Lofoten islands, Norway. Photo: Envato Elements
Iceland
Iceland is situated just a few degrees south of the Arctic Circle, geographically making it one of the best places in the world to see the Northern Lights. There is also very little light pollution.
However, reviews of Iceland are varied among women we spoke to. Anne saw them in Iceland in February but found them underwhelming. "They were a beautiful green but didn't develop. Then, I went to Michigan and saw them over the house. The white shimmering lights were otherworldly!"
What was your experience in Iceland? Let us know!
Aurora borealis at Kirkjufell in Iceland.
Finland
None of the women on our call had been to Finland, but travel writer Toby Saltzman told us: "One of the world's best places to see the Northern Lights is Inari, in Finnish Lapland. Travel north of Finland's capital, Helsinki, to Inari, which lies about 265 km or 165 miles north of the Arctic Circle for the brilliant thrill of night colours."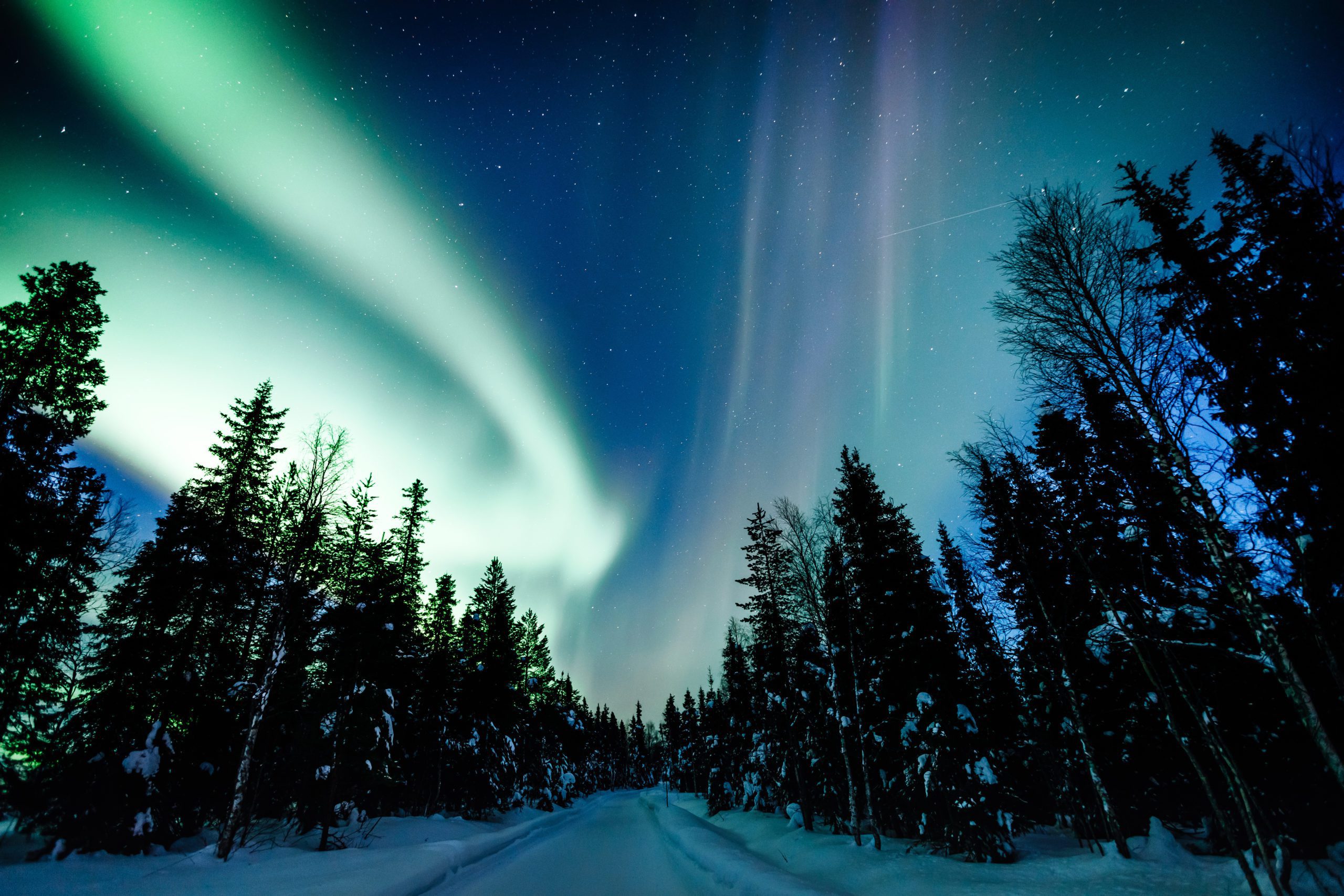 Northern lights Aurora Borealis activity over the road in winter Finland, Lapland.
Travel Tips
If you go to Iceland, find a hotel outside of Reykjavik, hire a car and sit in the thermal pools and not pay a penny for it – Fi
 Flights to Canada, Iceland and Alaska can be more cost-effective, and you can use points in hotels – April
 Don't invest in too much outwear. Outfitters or tour guides will rent clothes to you, or you can pick them up when you arrive – Dee
 Pack at least two pairs of wool socks, gloves and a hat. No cotton. It's a dry cold. – April
 Plan out your daytimes – there's lots to see everywhere, including local art, husky dogs, museums. It's not just about the lights! – Fi
 Manage your own disappointment – these are expensive trips, and for some it doesn't happen – remember you're still in extremely beautiful places

—

 Fi
 Photographs:  GoPro cameras are also very good at capturing what iPhones can't – Fi
 Check out the Kakslauttanen in Lapland for a stay in the glass igloos – Donna
 Be careful of planning train journeys – snow-filled a pass between Tromso and the "Ice hotel" and there were no trains for 5 days – Fi
 The Joanna Lumley tour was "the aurora hunter" a fabulous chap and a brilliant backstory – Fi
 Geek out by learning about solar flare activity – Fi
Our Virtual Q&A on the Northern Lights 
Thank you to the women who participated in our first 'pilot' Q&A session and shared their experiences and advice. 

Discover More Destinations Around the World
Can a woman in a wheelchair go on an adventurous hot air balloon ride? Definitely, if you are open to a thrilling journey in the sky.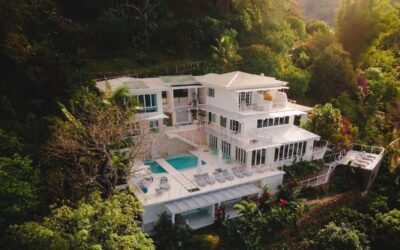 A menopause retreat in Costa Rica teaches women how to embrace a positive mindset, spiritual health, good nutrition and exercise.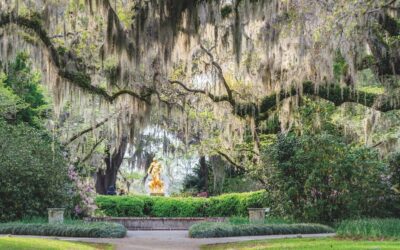 "The Joy of Exploring Gardens" by Lonely Planet takes readers on a journey to some of the world's most uplifting gardens.