Last updated on November 19th, 2023
By Amy Gordon, Guest Writer & Author of 100 Things to do in Puerto Rico Before You Die
The mere mention of Puerto Rico conjures swoon-worthy visions of picture-perfect beaches, palm trees and piña coladas. And while the tropical oasis offers no shortage of these simple pleasures, there is so much more to discover across the islands of this U.S. territory, which spans more than 3,500 square miles. No matter your interest, you'll find something to love in Puerto Rico.
Did you catch our Facebook Live with Amy? Check it out below!
I#1. f you're a thrillseeker, don't miss…Toroverde Adventure Park
Set in the mountains of Orocovis, Toroverde is not for the faint of heart. This adrenaline-fueled outpost is home to The Monster, the second-longest zip line in the world. Daredevils can soar through the air Superman-style for nearly two miles, marvelling at the breathtaking scenery as they reach speeds of up to 95 miles per hour. Visitors can also experience The Beast, a zip line that spans just under a mile, as well as eight traditional zip lines and four seemingly treacherous suspension bridges.
#2. If you're an art enthusiast, don't miss…El Museo de Arte de Ponce
Designed by the architect behind New York's Museum of Modern Art and Washington DC's Kennedy Center, this impressive museum in Ponce, Puerto Rico's second-largest city, is stunning to behold. The galleries feature an extensive array of works by European, American and Caribbean artists, making the museum one of the most important in the Americas. The jewel of the collection is Sir Fredrick Leighton's Flaming June, an iconic masterpiece that is instantly recognizable and truly spectacular. 
Amy Gordon and JW Carolyn Ray in Old San Juan, Puerto Rico in December 2019 
#3. If you're a foodie, don't miss….five-star dining in San Juan
Some of the world's most inventive culinarians have turned Puerto Rico's capital city into a can't-miss stop for anyone who appreciates impeccable cuisine. The most well-known example of this mastery is Marmalade in Old San Juan, a luxuriously romantic restaurant where diners can select either four, five or six courses of Chef Peter Schintler's irresistible creations. Elsewhere throughout San Juan, master chefs like Jose Enrique, Mario Pagan and Jose Santaella are constantly moving the island's dining scene forward with menus that are as innovative as they are delicious.
#4. If you're an animal lover…don't miss Vieques and Culebra
The crystal clear waters surrounding the offshore islands of Vieques and Culebra offer some of the most incredible settings for underwater exploration in the Caribbean. Head to Punta Arenas on the west end of Vieques to swim with sea dwellers like spotted eagle rays, pufferfish and green turtles. Culebrita, an uninhabited (by humans) island to the east of Culebra, is home to Playa Tortuga, known for a green turtle population so abundant that you don't even have to get into the water to see them. From the dry comfort of your boat, you can watch these beautiful creatures come up for air before diving back down below the surface.
#5. If you're a science buff, don't miss…the Arecibo Observatory
In 1974, scientists made their first attempt at communicating with aliens, and they did so from the Arecibo Observatory. (They haven't received an answer…yet.) Home to the most powerful radio telescope in the world, this important facility is open to the public, with interactive exhibits, educational programming and an observation deck that offers an up-close view of the massive telescope that might one day hold the key to discovering extraterrestrial life.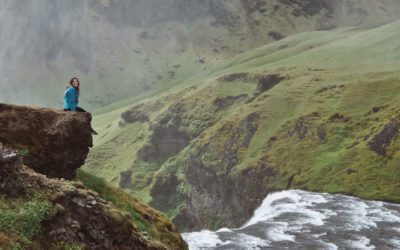 The JourneyWoman team selects their favourite off-the-beaten path travel destinations every woman should experience, from Ethiopia to Thailand.
Travel to Puerto Rico? Not with out Amy Gordon's book – 100 Things to Do in Puerto Rico Before You Die. It comes JourneyWoman recommended!
As JourneyWomen, we have an opportunity to create a positive impact in the world when we travel. Being in Puerto Rico post-Maria gave me the chance to do just that.