Last updated on November 19th, 2023
Volunteering with World Central Kitchen
By Carolyn Ray, Editor-in-Chief and Publisher, JourneyWoman.com
As JourneyWomen, we have an opportunity to create a positive impact in the world when we travel. Being in Puerto Rico post-Maria gave me the chance to do just that.
I first became aware of the work World Central Kitchen is doing through Erin Schrode, who helped set up WCK's kitchens in Puerto Rico. Founded in 2010 by Chef Jose Andrés, World Central Kitchen is a not-for-profit non-governmental organization devoted to providing meals in the wake of natural disasters.
One of my goals in visiting Puerto Rico was to volunteer and give back. This is how I met Tadilka Rivera. Tadilka founded her 7-acre family farm, La MicroFinca, in Camuy, Puerto Rico after Hurricane Maria. She is an amazingly ambitious woman who returned to her family's land to build and grow a farm that produces a range of organic produce – including cilantro, sprouts, radishes, peppers, tomatoes, kale, plantains, and peas. As her volunteers for the day, we were taught how to plant rows of lettuce, harvest beets, radishes and other yummy stuff – working alongside her father and stepmom.
Tadilka and Carolyn at La MicroFinca / Photo credit: Carolyn Ray
Carolyn and Alyx at La MicroFinca / Photo credit: Carolyn Ray
She showed my daughter Alyx how to till soil, while preserving the nutrients. With a master's degree in landscape architecture, Tadilka could have taken an easier path but she chooses this – it is unbelievably hard work. And it never ends. She has a clear vision about what she can do with this farm and there is no doubt in my mind she will succeed. I am in awe of her determination as she pursues her passion.
Feeling the dirt in my hands was a reminder that farming is very personal. There are few machines. Everything is hand to hand – preparing the ground, the planting of sprouts, caring for them and then harvesting – all by hand. It also speaks to the relentless effort and perseverance it takes to be successful.
Thanks to World Central Kitchen for the opportunity to meet this amazing woman and her family. If you want to volunteer with World Central Kitchen, they prefer that you contact them 4-6 weeks in advance and provide them with your available dates.
Read More About Puerto Rico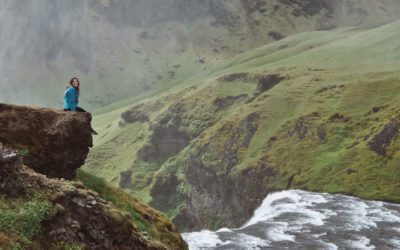 The JourneyWoman team selects their favourite off-the-beaten path travel destinations every woman should experience, from Ethiopia to Thailand.
read more