Last updated on November 19th, 2023
Discovering the culture and cuisine of Old San Juan, Puerto Rico
By Carolyn Ray, Editor, JourneyWoman
As I sip my morning coffee in Old San Juan, a distinct chant echoes through the streets.
"Aahhzuuucenas… aahhzuuucenas…"
Rushing to the window, I see a gentleman with his arms full of white flowers, singing out morning greetings as he walks down the cobbled street. He's holding azucenas – a fragrant, long-stemmed lily or tuberose. In Old San Juan, Don Saúl is a legend. He makes his daily rounds, bringing his special brand of joy to those who appreciate beauty. I wave and wish him a good morning from my third-story apartment.
Azuncenas isn't the only new Spanish word I learn. Before each meal, I am greeted: "Buen provecho!"
Directly translated, this means "I wish unto you good fortune on your meal", or more simply, "providence". When I ask a waiter about his interpretation of this phrase, he says that in his family, it is an unsaid rule that you cannot start eating until his grandmother says those magic words.
Mofongo is a Puerto Rican staple, this one is with chicken / Photo credit: Carolyn Ray
A culinary tour with Spoon
With the trade winds gusting, I start my first day in this colonial town eating – with a 90-minute walking tour with Spoon, a culinary tour company. This helps me get oriented to San Juan, and is a wonderful way to learn about the history of this city.
San Juan was founded in 1521 by Juan Ponce de León, who named it the City of Puerto Rico (Rich Port). Some of the foods I try on the tour include: single-harvested, hand-picked coffee at Don Ruiz Coffee Shop: mofongo (smashed plantain), casitas (sweets), a typical meal of slow roasted pork, rice and beans, and coquito, Puerto Rico's take on eggnog, much improved with coconut, which is served around the holidays.
Paulina Salach is the co-owner of Spoon. She's originally from Poland and moved to San Juan 12 years ago with her husband, who she met in New York. When she arrived, she started exploring the island, and eventually formed Spoon, focusing on walking tours to showcase Puerto Rico and authentic, sustainable tourism. She hired locals who are passionate about the island, its culture, and its history to share San Juan's story with tourists and locals that want to learn or are returning to the island.
"I fell in love with Puerto Rican food," Paulina said. "The centre of every get-together and every meal was the kitchen; the dishes that [my husband's] mom, and his aunt, and his grandmother would make. I was really intrigued by the ingredients. Whenever someone would come visit, I would create these itineraries and take them to our favourite beaches, restaurants and bars, and hole in the walls."
Where to eat (or drink) in Old San Juan
Although Puerto Rico is known mostly for its fortress, El Morro, there is so much more to enjoy here. The city abounds with farm-to-table chefs who create exquisite dishes served in a vast array of unique restaurants, food trucks and street stalls. And, as you might imagine, delicious margaritas and mojitos.
In the afternoon, I stop by La Factoria, one of the top 50 bars in the world, to sample an inventive juice-infused cocktail called the 'Lavender Mule', with ginger tea, lavender, and line. With 13 microbreweries in PR, craft brewing is taking off and there's no better place to sample juice-infused beers than La Taberna Lupulo, which is helping to foster the craft movement.
My day ends with a delicious meal at Marmalade, chatting with the friendly Chef Peter Schintler, an Iowa native who discovered the potential of Puerto Rico 13 years ago. (You must try the White Bean Soup, his signature dish!). The recipe is below! Enjoy!
After all that eating, it's time to walk it off, and there's plenty to see. I was entranced with Old San Juan's cobbled streets and vibrant history, the forts and the colonial buildings. I could almost visualize people arriving in the New World in the 1500s, lining up at the red San Juan Gate, and walking up the steep hill of Caleta de San Juan, where they were welcomed at the 500+-year old San Juan Batista Cathedral, which is visible from anywhere in San Juan.
Juice-infused cocktails at La Factoria, served with a smile / Photo credit: Carolyn Ray
Take a walk on the path around the old town along the water, up to El Morro / Photo credit: Carolyn Ray
Why are the streets blue?
As I walk the old streets, I look up and down. I'm told by my guide that contiguous buildings can't be painted the same color and must use a 'tropical pastel' palate. Buildings on either side of the street are adorned by balconies that provide shade from the sun and cover from the intermittent showers.
When I look down, noticing the cobblestone streets are lined with blue bricks, I wonder 'why blue?'
Most colonial cobblestone streets are made from the ballast of ships, sunk in centuries past. But here, the bricks were produced in Nottingham, England using new hydraulic compression technology in the 1800s that created a stronger, yet porous brick, coated with low-grade iron, that has withstood the test of time, much like the city itself.
Enjoy the colourful streets of Old San Juan. No high heels here! / Photo credit: Carolyn Ray
Photo credit: Carolyn Ray
Discover More on Puerto Rico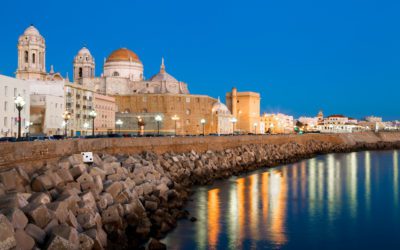 Wondering where to celebrate New Year's Eve? From El Fin del Mundo in Argentina to Europe's oldest city, here are five places to consider.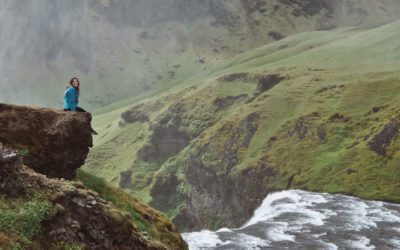 The JourneyWoman team selects their favourite off-the-beaten path travel destinations every woman should experience, from Ethiopia to Thailand.
Travel to Puerto Rico? Not with out Amy Gordon's book – 100 Things to Do in Puerto Rico Before You Die. It comes JourneyWoman recommended!