Last updated on November 19th, 2023
Featured image: Looking out to the Cathedral in the ancient city of Cádiz, Spain | Photo by viledevil on Envato
Wondering where to spend New Year's Eve?
by Carolyn Ray 
When I first started travelling, I always made it a priority to find  a unique place to celebrate New Year's Eve. Working full time, my holiday time was limited, so I planned ahead to discover the most memorable places I could find that would bring me joy. The common ingredients?  Sun, sand and history, with a splash of the ocean, culture and something unusual. In the past decade, Spain, Morocco, Argentina, Mexico and Puerto Rico have all delivered, each with its own unique flair.
During the pandemic, I was grateful to spend New Year's Eve at home in Toronto for two years. But in 2022, I rang in the New Year in Merida, Mexico, in a small beach town called Chicxulub Puerto. When I booked this tiny cabin on the beach, I didn't realize that Chicxulub is famous for being the epicenter of a meteorite that collided with Earth approximately 65 million years ago, coinciding with the end of the dinosaurs. In 2023, I was in Malaga, Spain, where I lived for almost three months. I've already thought about where to spend New Year's Eve for 2024 — it's going to be fabulous! (and was inspired by one of our JourneyWoman Book Club Reads! Here's a hint!)
As we count down the last few days of 2023, here are some of my most memorable New Year's travel memories. I hope these inspire you to plan ahead and make your New Year's Eve a special one.
Where to spend New Year's Eve
1. Cadiz, Spain, the most ancient city in Western Europe
Those who know me, know about my love affair with Spain. It started when I lived in Europe for a year and spent a month in Spain at age 18. When I returned 10 years ago, it was rekindled and now I've travelled most of the country.
While many of us have visited Madrid and Barcelona, there are other cities in Spain you must see. Cadiz is one of them. With its antiquity and its location, it is the perfect place to ring in a new year. Cadiz is regarded as the most ancient city still standing in Western Europe, with remains dating back 3,100 years. It also has spectacular views of the ocean, stunning beaches, vibrant sunsets and an old city with small winding streets and Roman ruins. ⠀
On my first New Year's Eve in Spain, I knew nothing of Spanish holiday customs. After a late lunch in Cadiz on December 31, I noticed that everything was closing. Within minutes, the town is completely deserted and so quiet you can hear a pin drop. Later, I learn that most Spaniards have a family New Year's dinner at home and celebrate with friends afterward. Slightly panicked, I return to my hotel, a small family-run boutique in the middle of town and miraculously, the concierge a restaurant with availability.
This was one of the most spectacular and memorable meals of my life, tucked at a small table under the stairs, enjoying plate after plate of Spanish delicacies as locals pour in. At midnight, I learned about the Spanish traditions of wearing red underwear for luck and eating 12 grapes on each stroke of midnight, which I've practiced ever since. (My tip: buy small grapes!) ⠀
Where to stay: Hotel Argantonio
Near Cadiz, visit Vejer de la Frontera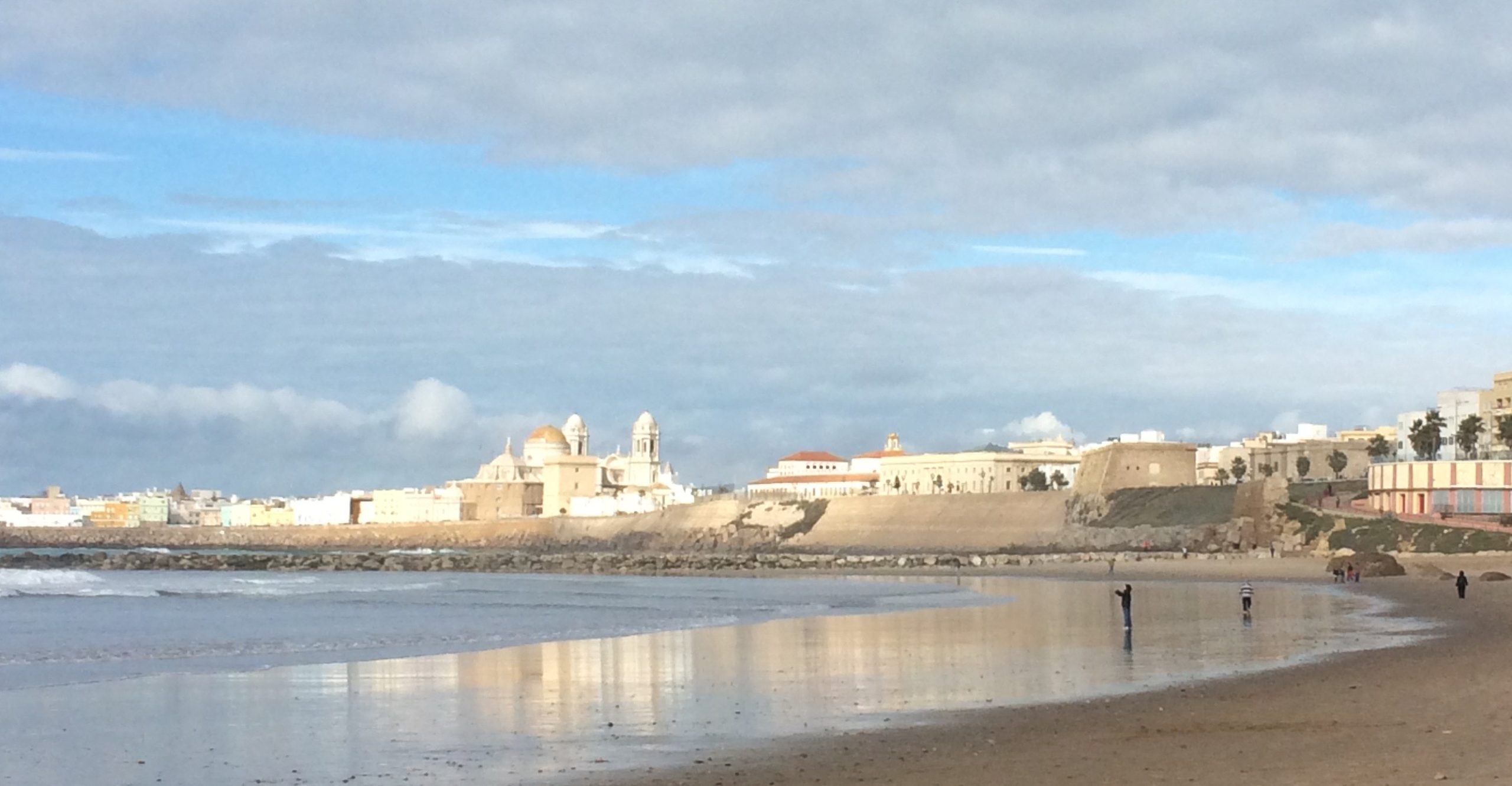 Walking along the shoreline in Cadiz, Spain on New Year's Day / Photos provided by Carolyn Ray
2. Fireworks in Plaza de España, Barcelona, Spain
Barcelona is one of those cities that finds its place in your heart and never lets it go. In 2015, I spent two weeks at an apartment in Sant Antoni, walking the city and enjoying the markets. Fortunately, the apartment was fairly close to Plaza de España, where the main celebrations are held. After a quiet dinner at home, my partner and I walked over to the plaza, and joined thousands of jubilant people.
After a quiet dinner at home, my partner and I walked over to the plaza, and joined thousands of jubilant people in the Plaza de España. Here, many streets converge, including the Gran Vía de las Cortes Catalanas and the Avenida del Parallel, with the stunning National Museum of Art of Catalonia as the backdrop.
As midnight approached, we stood under the twin Venetian Towers. With each stroke of the clock, we hurriedly ate our grapes, champagne bottle in hand. Then, the fireworks display began. It seemed to last for hours; every burst was more incredible than the last.
The full moon was breaking through the clouds and the smoke from the fireworks made it an almost mystical experience. I am a moon child, so the moon has always been a source of inspiration for me. Just looking at the light made me feel hopeful and grateful, and in awe of our universe.
Some of my other favorite cities in Spain:
Sitges: AirBNB
Malaga: Hotel Molina Lario
Cordoba: Hacienda Posada de Vallina
The moon rising over the Venetian Tower in Barcelona / Photo provided by Carolyn Ray
3. The End of the World, at El Fin del Mundo in Ushuaia, Argentina
On the morning of New Year's Day on January 2017, I flew from a week-long stay visiting museums in Buenos Aires to Ushuaia, on the tip of Patagonia, known as "Fin del Mundo."
The appeal of going to the 'end of the world' to start a new year is that you aren't quite sure what to expect. Will it be remote, icy and barren, or will it be like paradise found, with unimaginable species and untold secrets awaiting discovery?
As the southernmost city in the world, Ushuaia has been the destination of adventurers and explorers alike, from Magellan to Darwin, who travelled its treacherous waters to find new species and chart ocean routes. With its immense mountains and glaciers, Ushuaia sits at the crossroads between Argentina and Chile, and the Atlantic and Pacific Ocean, only a few hundred miles from Antarctica.
Over 150 years ago, the young naturalist Charles Darwin visited Ushuaia aboard the English HMS Beagle. In his field notebook, he wrote: "It is scarcely possible to imagine anything more beautiful than the beryl-like blue of these glaciers, and especially as contrasted with the dead white of the upper expanse of snow."
In Ushuaia, there is magic everywhere, making it the perfect place to start a new year. With sunset at 10:30 p.m. the days felt endless. It's hard to recall a more perfect moment than that first night, sipping Argentinian Malbec, watching shooting stars and a clear, bright moonlit night.
This journey reinforced that we are connected – humans, earth, animals, water, air, moon, stars, sun, land. Funny how you have to go to the end of the world to discover that.
Where to stay:  Los Cauquenes Resort & Spa. De la Ermita 3462, Barrio Bahía Cauquén (9410) Ushuaia, Tierra del Fuego.
TIP: head north to El Calafate and see the Perito Moreno Glacier  
Looking out into the Beagle Channel in Ushuaia at night /  Photo provided by Carolyn Ray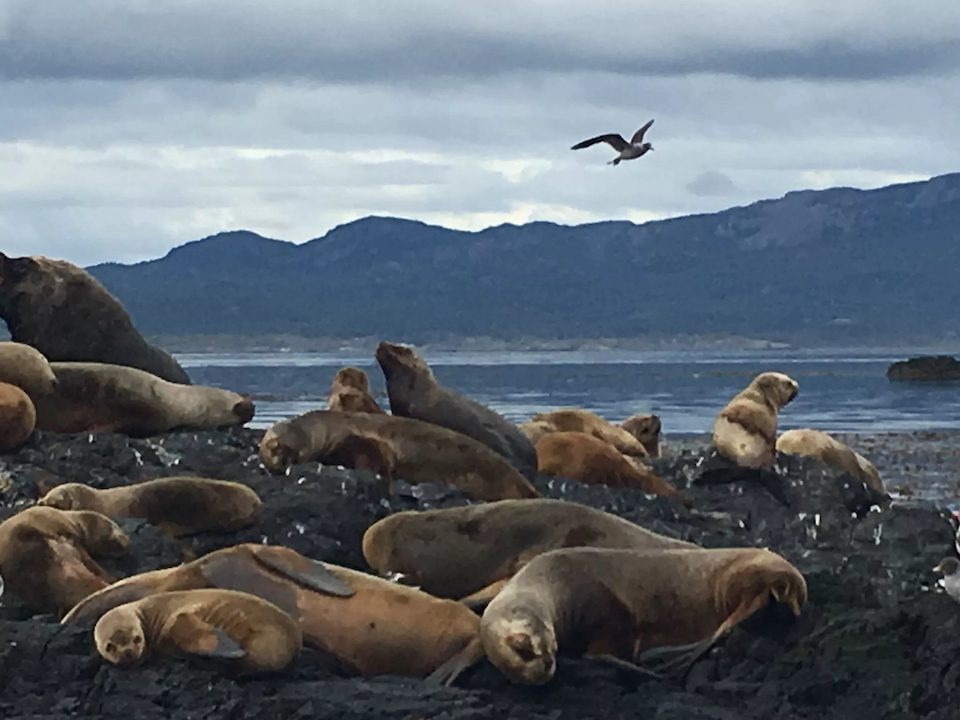 Seals relaxing on the rocks in Argentina /  Photo provided by Carolyn Ray
4. Finding Solitude in the Pink Beaches of Puerto Rico
In 2019, I spent almost a month in Puerto Rico, arriving home just three days before the 6.4 magnitude earthquake in January 2020. Spending so much time in a place gives you a deep appreciation for its people, history and culture.
I spent New Year's Eve in Caba Rojo, which is at the northern end of Puerto Rico. Since this was the holidays, it wasn't a solo trip; my daughter flew down from Toronto on Boxing Day and we visited pink salt flats, the stunning 1882 Los Morrillos Lighthouse and Playa Sucia, where manatees swim in the ocean.  Afterwards, we visited the charming town of Ponce, where I felt a 4.8 earthquake, a precursor to the one that struck there days later; Yauco, known as 'El Pueblo del Café ("Coffee Town") which created colourful urban art murals to attract tourism; and last but not least, the cobbled streets of Old San Juan.
Christmas was celebrated with my partner Tom on the small, remote island of Vieques, exploring the many beaches and kayaking in the bioluminescent Mosquito Bay; and hiking in El Yunque National Forest.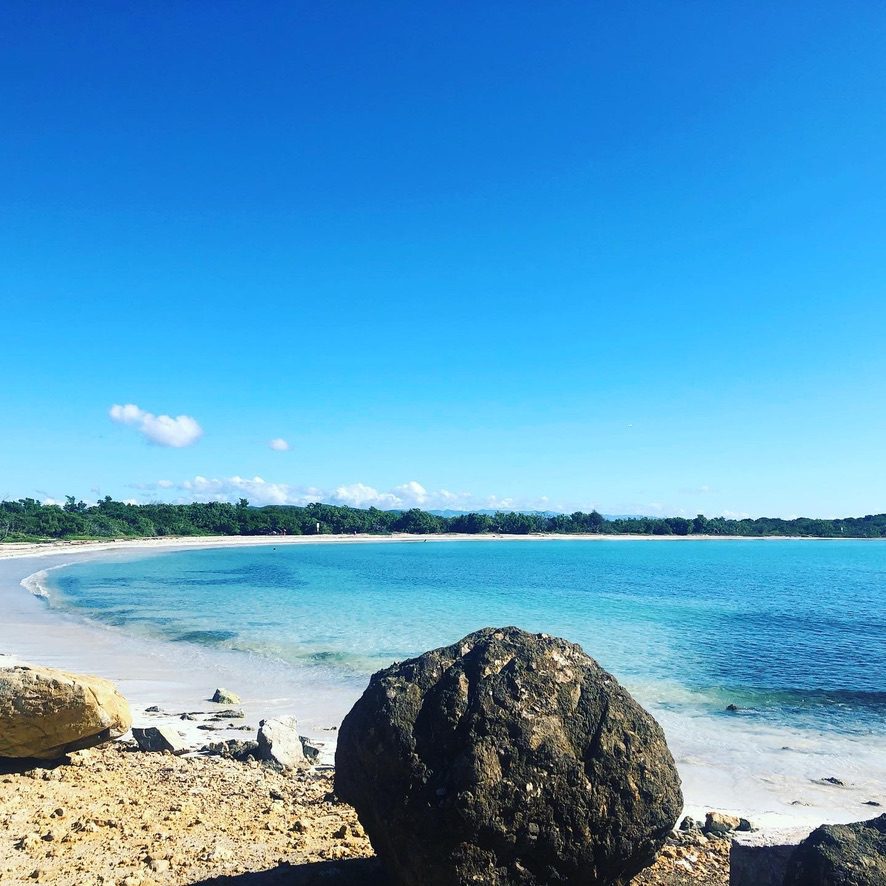 Playa Sucia where you can see manatees swimming in the water / Photo provided by Carolyn Ray
One of the best memories of Puerto Rico is its food, with wonderful farm-to-table restaurants all over the island. The white bean soup from San Juan's top restaurant, Marmalade. Honestly, I would go back just for this – and to enjoy the It's the perfect dish to warm you up in cold weather — resolutions can come later, right? You can read the recipe here. Enjoy and let me know if you make it! Buen provecho!⠀
Where to stay: Old San Juan: Airbnb /  Vieques: Malecon House/ Ricon: The English Rose/ Ponce: Boutique Hotel Belgium
5. Singing around a campfire in the Sahara Desert, Morocco
In December 2014, I spent three weeks in the Kingdom of Morocco: Fez, Rabat, Menkes, Marrakech, Chefchaouen and places in between. As part of the itinerary, I planned a night in the mystical Sahara Desert on New Year's Eve, visualizing a luxurious tent, starry skies, warm breezes and candlelight with my partner. This year, while Marrakesh may not be the best choice for travel, Morocco still needs our help post-earthquake.  
The journey out to the Erg Chebbi dunes, along the Algerian border, is fascinating. After some off-roading with our guide along dry, dusty roads, our new transportation becomes camels, along with about 10 other people. Just as the sun sets, our caravan arrives at our destination –  a berber tent set in at the base of massive sand dunes. I'll never forget the warmth of the golden sun glimmering on the sculpted sands, ever-changing shapes carved by centuries of relentless winds, enjoying the spectrum of colours that reflected the warmth of the light, constantly shifting and evolving.
But, as the sun went down, the temperature plunges to a point where I can see my breath. I realize my thin hoody and scarf are not going to suffice. As I gaze at the contents of my backpack, I realize that I have not brought anything remotely appropriate for a freezing night in the Sahara Desert, not even socks, gloves or a hat.  (Can you say 'rookie move?')
Desperately seeking warmth, I search for a campfire, hoping to soothe my sore limbs, along with 60 other explorers from multiple countries. As often happens over a fire, music and singing become the language of travel. As New Year's approaches, travelers from Spain, France, South America, Portugal, Italy and Germany share stories of their adventures. As the clock strikes midnight in their time zone, we toast our new friends.
Just before sunrise, I am awakened by the guide to ride my camel across the frosty dunes to return to civilization. As the warmth of the sun floods into my face, I am reminded of the power of human endeavour and grateful for the opportunity to connect with people from other cultures in a way very few experience.
Read more about my time in Morocco here.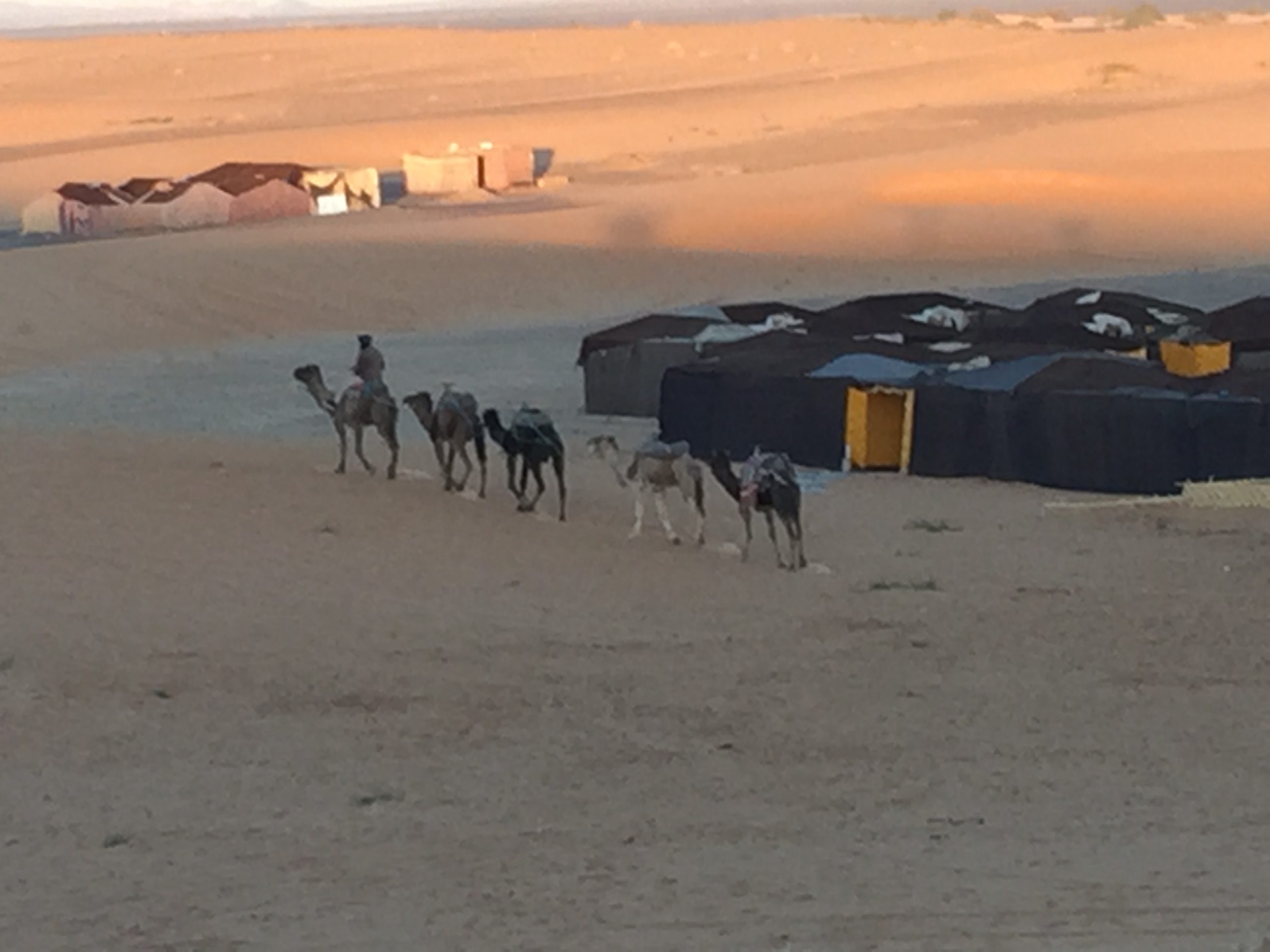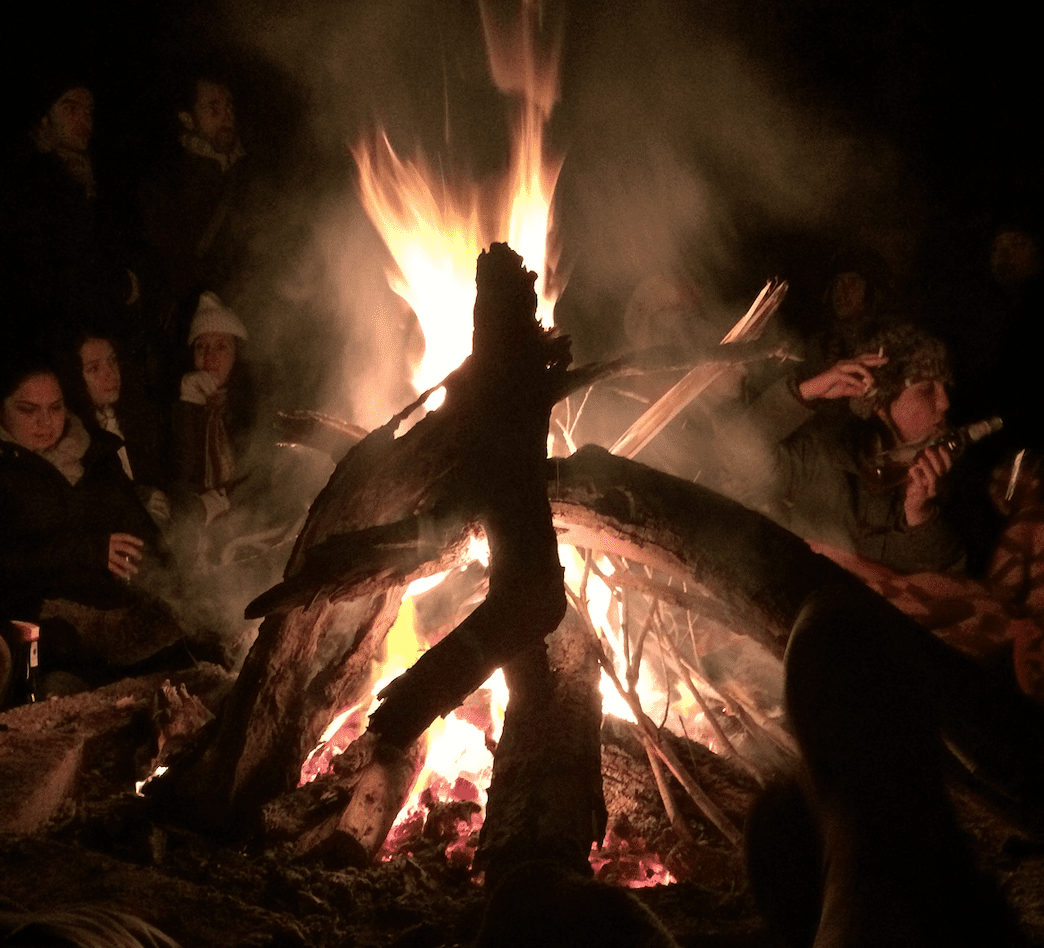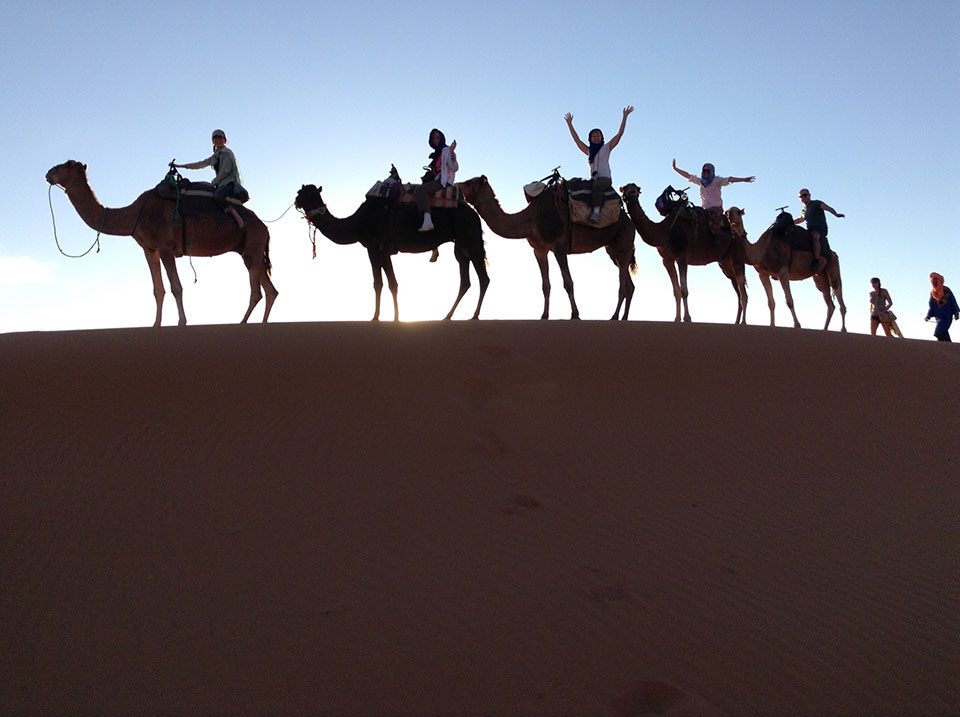 Where would you like to spend your next New Year's? What will make it most memorable for you? Let us know below!
More Inspiration for your Travel Dreams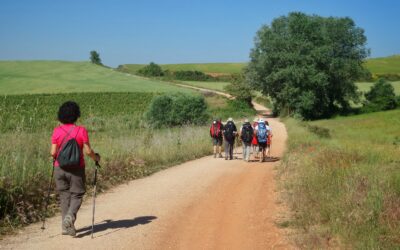 Jane Christmas's funny memoir of her 780-kilometre trek across Spain on the Camino de Santiago to celebrate her 50th birthday and midlife.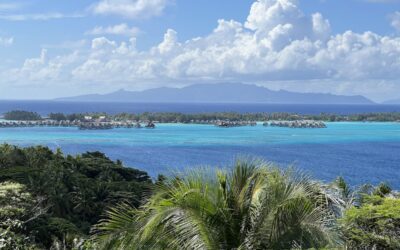 Located in French Polynesia, Bora Bora is a magical ocean paradise well worth the trip, even for women in their 80s.
For women with mobility concerns, Karen Gershowitz wants you to know you can fulfill your travel bucket list, even to Antarctica.