Last updated on August 3rd, 2023
Featured image: Is Tallinn, Estonia accessible to all? Tanzila Khan explores | Photo by SeanPavone on Envato
Finding adventure on a weekend getaway in Tallinn, Estonia
by Tanzila Khan
While I was growing up in Pakistan, one of the biggest forms of entertainment was watching travel shows on TV, especially about travelers who just had a rucksack on their backs and they traveled around the world discovering places and learning about new things independently. I never knew that my dream of doing the same would come true one day. 
Now, I too can have a rucksack hanging on the back of my wheelchair discovering the world on wheels. My rules are simple; to let the path lead my way and find accessibility as I go along which means I try to stay as independent as possible and challenge a country to see how accessible it is to the travelers and to their residents. 
This time my destination was Tallinn, Estonia for a weekend getaway. With Tallinn's public commitment to wheelchair users and so many options that are accessible, I was looking forward to finding many accessible spots and activities. The question was: can I access them on my own?
Finding the most accessible way to Tallinn, Estonia
Located just across the Baltic Sea, Estonia can be accessed by a cheap flight from within the EU or a long journey on a ferry that has fixed days of travel per week. I chose the flight because it was cheaper, quicker and would save me hours on this short trip. Also because I was apprehensive about the ferry and its accessibility level and I got no response when I emailed the company.
Hence a short journey began with a quick flight that landed late at night at Tallinn Airport. The Airport wheelchair assistance staff very kindly escorted me to the bus station. I always seem to find a best friend in them. Guess being in a wheelchair has its perks too. You make so many friends! I took the accessible bus from the Airport to a stop called ' Tallinn' and then made my way to the hotel by wheeling.
Old Town in Tallinn, Estonia / Photo provided by Tanzila Khan
Tallinn's old town: not as accessible as I had hoped
I picked the Three Crowns Hotel at the heart of the old town. I almost felt like a traveler (or a horse) in ancient times walking through the cobblestone roads, but I guess wheelchair users had it hard even then. The hotel had a mysterious vibe to it, but it wasn't precisely wheelchair accessible as I expected. The entry to the room was met with a large bump and the bathroom had a removable seat to it that was not balanced at all. I almost fell off of it. But many times, we live through these experiences to learn about our own capacity in life. I realized I should have emailed the hotel to double-check the accessibility.
A major attraction in Tallinn is the Old town centre where beautiful narrow cobblestone streets lead you to either a souvenir shop or a cozy cafe. But I remained limited to these streets because many attractions were inaccessible to me. Luckily, imagination is free and I spent a good amount of time in the city center looking at these attractions such as churches or museums and looking at some Tiktokers taking advantage of the city´s beauty. 
When night fell, my wheeling led me to the Tallinn Flower Market, which remained open even at midnight. The only explanation I could think of was how the city was ensuring men have enough supply to keep their love blooming in this beautiful city. I headed back to my room after a simple dinner at a local shawarma stall.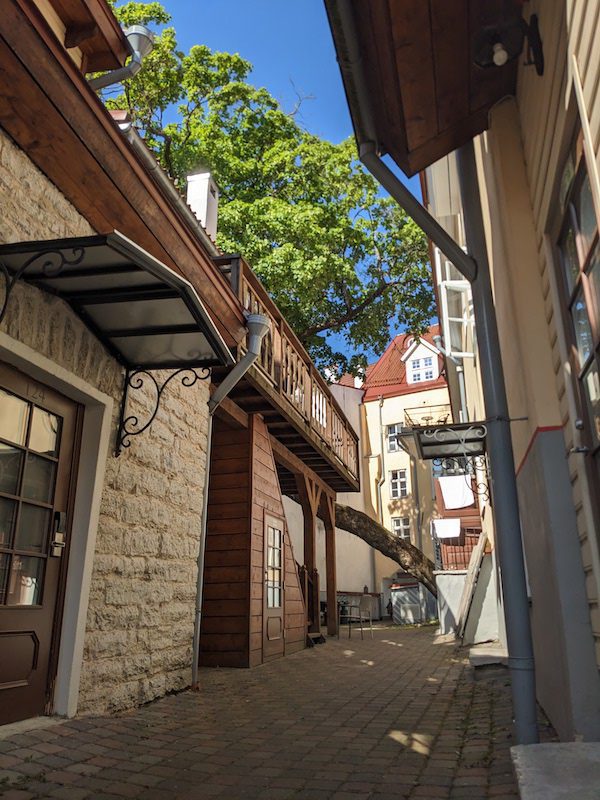 Three Crowns Hotel / Photo provided by Tanzila Khan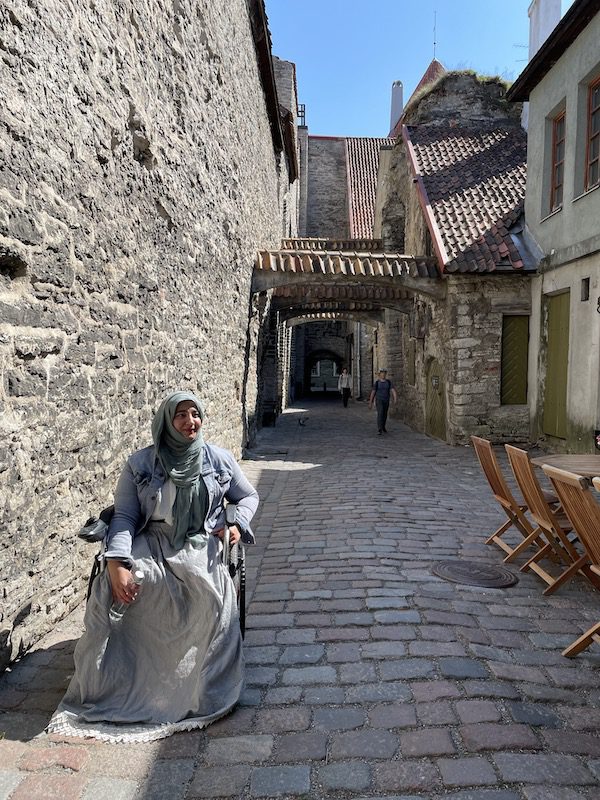 Tanzila on an old street in Tallinn / Photo provided by Tanzila Khan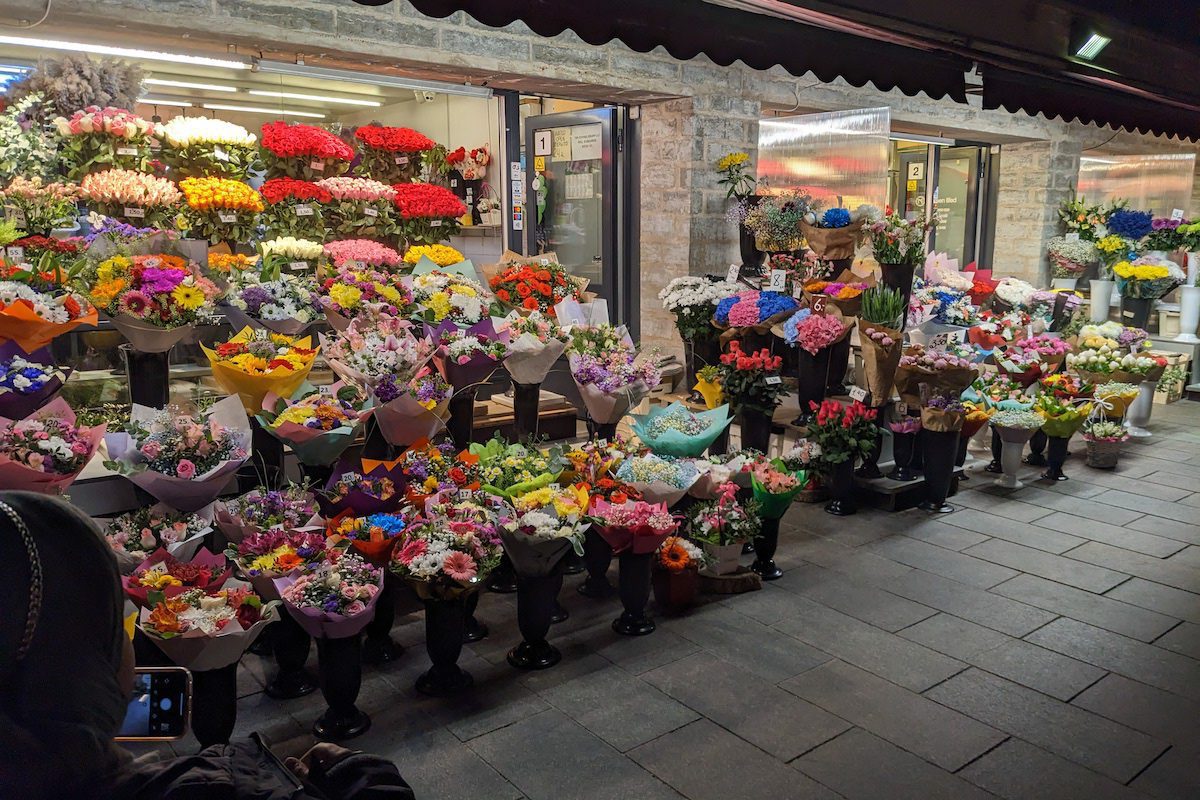 Tallinn's Flower Market at midnight / Photo provided by Tanzila Khan
St Nicholas Church: A church with a spectacular view of Tallinn
The next day kicked off with a chai latte and a butter croissant at Kofeman Cafe. I added a little bit of courage to that and decided to visit St Nicholas Church (Niguliste Museum) regardless of the inaccessibility. Turns out that they do provide manually placed ramps at the entrance on two levels. I really appreciated the options available but the whole ramp placement became a spectacle itself. I often feel as if I am a tourist attraction as well. (Guess I should keep a ticket counter too.) 
After a quick round of this medieval church while reading about its history on the walls. I took a glass elevator to the top of the tower to view the city. I was gripped by the peachy orange-coloured rooftops against the vast blue of the Baltic Sea. You could see the development of the city from the old town to skyscrapers that now stood in parts of the city. 
Looking down at Tallinn from this tower made me feel not less than a princess. And I chuckled to myself wondering if a princess in a story needed a prince to rescue her because she was in a wheelchair and the tower did not have an elevator back then. This is what I loved about such views that it makes one wonder and find stories in between the clouds and the city they cover.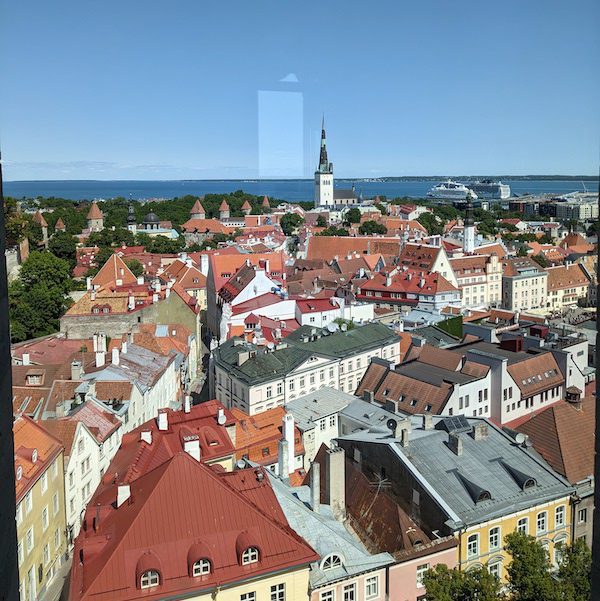 Rooftop view from St Nicholas Church / Photo provided by Tanzila Khan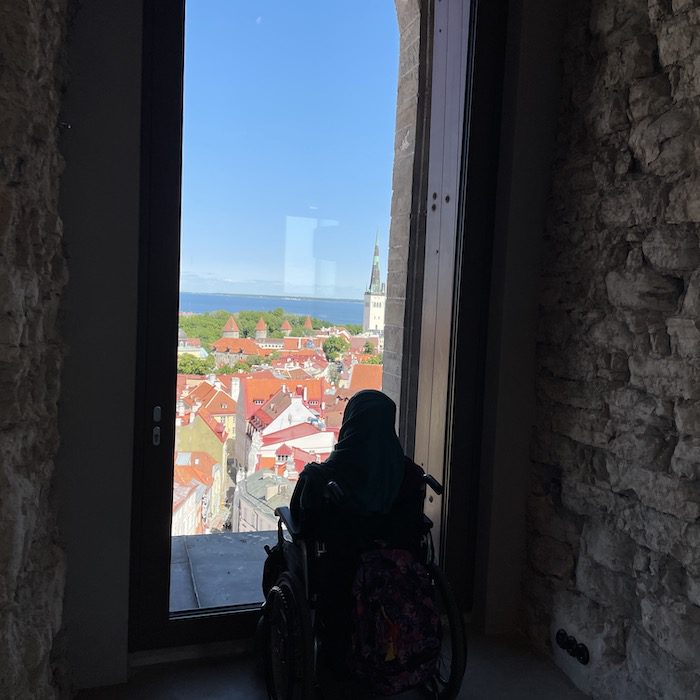 Tanzila at the top of the tower at St Nicholas Church / Photo provided by Tanzila Khan
Food and Souvenirs go hand in hand
My next stop was the Balti Jama Turg, a market which I easily accessed using the bus through Google Maps. Here I explored the second-hand shops, and bought a Matryoshka doll set as a souvenir. It had two levels that can be accessed through an elevator and a ramp and each level had a variety of shops that had things from crockery to clothes to lamps to toys. It was then time for lunch and I decided to try something new! I had a delicious meal at an Uzbek restaurant called Samsa Family Bakers which was super flavorful and halal.
Exploring Nature in Tallinn
Time was running short and many places close around 5 pm in Europe so I took a bus to an open-air museum called Eesti Vabaõhumuuseum near the Zoo and it was the best option considering the evening light and the cool breeze. 
Here, I saw some old Estonian infrastructure of domestic life, a windmill and a horse! I also wondered why nature is so kind to have let me walk with it and provide me with a pathway. Where many options closed, nature embraced! I enjoyed a calm walk in nature while feeling the fresh air. But the best part was seeing the horses so closely and they seemed equally thrilled to have seen me. I guess?
Click here to find even more things to do in Tallinn and beyond!
Tanzila meets horses at Eesti Vabaõhumuuseum / Photo provided by Tanzila Khan
Art Museums that tell a tale
I had time to visit one last place before my departure time so I decided to see the Maarjamäe Castle as Google show this property as an accessible one. Sadly the website gave instructions to reach the Castle through the main entrance which was the main road and not safe for a wheelchair user to cross and it was also uphill. This also meant that you could only enter the building if you come in a car. So instead I literally went across the building looking for any other accessible backdoor but in vain. It was really surprising for such a highlighted tourist attraction to not have multiple access points.
But when one door closes, the doors of KUMU Kunstimuuseum open. I found the building while I continued strolling and easily accessed it with a ramp and then a lift. Entry is free for visitors with a disability. There were five storeys of art displays that stimulated my curiosity and my heart for compassion and connection. Each floor represented an era starting from classical portraits all the way to contemporary artistic impressions. The most fascinating part was an area that displayed the heads of all the prominent personalities from the history of Estonia and a background score of their voices in unification. I felt gripped by so much power in one place. From political figures to artists to even common people. They all were present and their voices. I spent a few extra moments in this section wondering about each person's life and how they affected the city I had just experienced.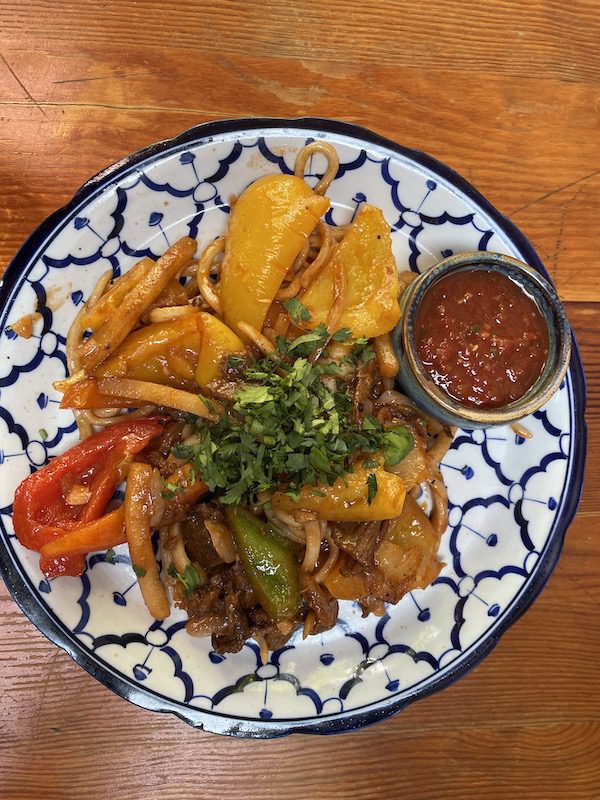 Uzbeki Pasta at Balti Jaam in Tallinn / Photo provided by Tanzila Khan
Exhibit at KUMU Kunstimuuseum  / Photo provided by Tanzila Khan
Is Tallinn accessible and worth a visit?
Totally! Tallinn is definitely a stop I would recommend to anyone on a Euro trip. Despite some challenges, it gave me gems of experience that I will savor. I had to take two buses back to the airport and as I boarded on my return flight to Stockholm, I made some notes from my trip. 
The best way and quickest way to reach Tallinn is by flight (check flights here) or the ferry if you have time and do not need assistance as a wheelchair user. 
It is better to email the hotel in advance and double-check about the accessibility of the room as their definition might differ from yours. 
The best way to move around Tallinn is the Public Transport which includes low-floor buses and trams. 
You can book tours in advance with an itinerary such as  Visit Estonia or become a wandering traveler like me and let the path be your guide. Either way your spirit of adventure will find the path to it. 

Read More on Accessible Travel
Can a woman in a wheelchair go on an adventurous hot air balloon ride? Definitely, if you are open to a thrilling journey in the sky.
As a solo traveler in a wheelchair, Tanzila Khan discovers that Istanbul is a true testament to inclusivity, with many attractions and public spaces designed to accommodate everyone.
Our Accessible Travel writer Tanzila Khan discovers that kayaking is possible for adventurous women in a wheelchair, in Stockholm, Sweden.