Last updated on November 20th, 2023
Featured image: Don't go hungry! Discover what to eat in Flanders, Belgium | Photo by RossHelen on Envato
Seven Places to Find Homestyle Food In Belgium
by Sandra Phillips
Vacation time is not the time to think about diets. It's time to enjoy life and splurge on calories. Flanders, the northern part of Belgium, is the perfect place to feast on real food. You can dine, slurp and drown in butter, cream and farm-fresh food. Best of all, Flanders is small enough that you can hop on the train from city to city (Brussels, Antwerp, Ghent or Bruges) in an hour or so and be able to get a good taste of each one.  
Start by snacking on the memorable Belgian frites (friturs) served in a cone and popularly dipped in mayonnaise; they have a unique flavour, as they are fried in a special blend of beef and horse fat. Interestingly for the growing Muslim population, some fry stands have switched to vegetable oil, so make sure you are getting the vrai fries when you buy them.
The Flemish air is permeated with the aroma of chocolate, since every street sports a chocolate shop, and you won't be able to resist for very long. Don't worry about putting on any weight – the cities are beautiful and very walkable, so you will work off those calories all day long. I lost about five pounds on the trip.
Traditional Belgian frites in a cone / Photo by Stan Posner
What to eat in Flanders, Belgium: Seven restaurants with delicious food
Chez Leon is located on touristy rue des Bouchers in Brussels, with the Vanlancker family satisfying customers for over 120 years. They have large shareable portions and do mussels a dozen different ways, from buttery garlicky pizza-y-topped ones to nutmeg or curry flavourings. You could try the authentic waterzooi (yummy stew) or rabbit or turkey made in frieke (raspberry beer). The extensive and reasonably priced menu goes on to seabream omelets or liege salad with beans potatoes and bacon. Wash it all down with Leon house beer.
I sampled half en half, a Brussels specialty made from half white wine and half champagne at the ornately gorgeous Taverne Cirio. You might want to try Cantillon Brewery's lambic beers like Kriek and Gueuze, which have been unchanged since the brewery was founded over a century ago. Those with a sweet tooth might fall in love with the Tripel Karmeliet from Buggenhoot, which (don't barf) has hints of banana, vanilla and bubblegum. You'll be torn between deciding whether to sit inside and absorb the antiquity or savour the drinks on the patio. Beer drinking is so paramount here that beers are served in their own signature glasses.
If you're a serious beer drinker, then head for the Délirium Café located in an alley near the Jeanneke Pis (Mannekin Pis' sister) statue, which has been listed in the Guinness World Records for serving 2,004 brands of beer from about 60 countries. It's hard to miss since there are pink elephant symbols above the doorway.
A highlight was a pit stop at Laurent Gerbaud's chocolate shop. Gerbaud was sent to the Shanghai World Expo to show off the sweet talents of Belgium. After arriving, he discovered that the Chinese were not used to so much sugar; he revised his recipes and started to work on tart and bitter tastes.
He mixes South African Barrrydale apricots, Persian cranberries, Turkish figs, pepper, spicy ginger or orange peel with dark 70% chocolate from Madagascar and Ecuador. His salute to Belgians' love for speculoos (gingerbread) is to roll a truffle in the crumbs. I see him as a chocolate "pusher", for once you get addicted to his intense flavour combos, it is very hard to go back to sweetened chocolate.

Cheesy mussels at Chez Leon / Photo by Stan Posner
Sampling Tripel Karmeliet at Taverne Cirio / Photo by Stan Posner
Packing a box of our selected Belgian chocolates at Laurent Gerbaud's chocolate shop / Photo by Stan Posner
When was the last time you ate in a restaurant in a building that was built in 1554? If it re-opens, at De Groote Witte Arend in Antwerp,  you can soak up the atmosphere of the old merchant house/ monastery/ school or eat in the secluded cool courtyard. Two brothers who ran this spot offered a Belgium beer-tasting menu, with each course paired with a beer. You can try baked eel, rabbit with Westmulle beer or the comfort food named stomp, made with ham, leeks and chopped egg in thick mashed potatoes. A yummy fish stew is made with a creamy dill broth with mushrooms, green beans, lima beans and sluimerwten (pea pods). A thick tart tatin a la mode would finish it all off quite nicely.
In Bruges, the elegant Flemish/French Maria van Bourgondie restaurant is housed in what had been a brewery and then a school supply store. It has the same owners as the fancy Bourgondisch Cruyce Hotel, where the movie "In Bruges" was filmed.
Here you can be introduced to the little grey shrimps popular in Belgium and the special tender Charolais Belgian breed of "white" steak.  Flemish beef stew is made here with Rodenbach beer, or you can eat lighter on fish, mussels, or lobster. French influences abound, with foie gras paté appetizers and crème brûlée finale.

My favourite restaurant by far was in Ghent – the Michelin-listed restaurant t'Pakhuis.  They take the concept of farm right to table so seriously that they bought the farm – in Bresse, France. So now they breed and serve famous and flavourful Bresse chickens, guinea fowl, Hampshire down lambs and Bayeux pigs. From home in Belgium, they get special tomatoes, their herbs, and even "lost and forgotten" vegetables.
Located in a former ironworks factory with painted cast-iron pillars and a soaring wrought-iron balcony now filled with light from the huge roof skylight, the noisy chattering happy diners, both inside and out, might be enjoying the beers and fancy cocktails at the bar or on the large terrace. In keeping with its slick metallic theme, it has the coolest bathroom lock I've ever encountered, and I challenge you to try to turn on the tap without having to ask!
And the food – my liver screamed for mercy, but my mouth was bathed in smiles. Though you could start with a lighter lobster soup or beef carpaccio, if you dare, the foie gras plate had the most generous hunk of silky foie we have ever encountered, accompanied by sage apple cream and dates. Had I stopped there, it would have been a perfect dinner.
But I ventured on to the grilled duck breast in pea cream with baby veggies and mashies that were so smoothly whipped that they could have been served for a dessert sorbet. The asparagus risotto with lemon butter was so yummy that it alone could turn me into a vegetarian.
I might have ended the meal with a local favourite flavour, gingerbread, in cheesecake with vanilla sauce or gone lightly with some sorbets, but took it to the max with a silky crème brûlée. Sigh
Foie gras served at t'Pakhuis in Ghent / Photo by Stan Posner
Asparagus risotto served at t'Pakhuis in Ghent / Photo by Stan Posner
Where to stay in Flanders, Belgium
Brussels Welcome Hotel, Brussels: Each room of the Brussels Welcome Hotel represents a country that the owners, Michel and Sophie, visited. The 16 rooms are colourfully decorated with authentic furniture they shipped here. Their personal service makes your stay so comfortable. This is a real find.
Check rates here.
Hotel Bourgoensch, Bruges: Perfectly situated amidst the cobblestone streets in the heart of this medieval city is this 3-star hotel with modern decor. When you walk out the front entrance, you are a minute away from the central Markt. The side and the back overlook the courtyard and one of the most Instagrammable corners of the Bruges canals.
Check rates here.
Find the perfect place to stay in the Women's Travel Directory here!
More Culinary Delights From Around the World
Need a nosh or a cuppa? JourneyWoman Joy shares her bangin' tips on England's best spots to stay, eat, and explore, including tours, pubs and afternoon tea. To help you talk like a local, she's also compiled a handy guide to British slang – you'll want to take a gander at this! 
Expert Sally Peabody shares her insider tips on Athens on where to eat, what to experience and where to stay.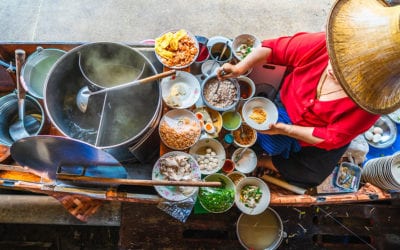 Jodi Ettenberg, lawyer and foodie behind legalnomads.com, shares her particular expertise on how to eat street food around the world without getting sick.