Last updated on November 19th, 2023
Featured Image: There's much more than the historic Acropolis to enjoy in Athens, Greece, a city of art, cultre, and food. / Photo credit: luengo_ua on Adobe Stock
Short and long-term itineraries to help you plan your stay in Athens 
Note: Check travel protocols for Greece here before you book a trip.  
By Sally Peabody, Contributing Writer
Talk about vibrant. Athens is a big, buzzy, mildly chaotic city packed with cultural, historic and culinary treasures. It has become an emerging hub for contemporary artists moving in from around Europe. Add to all this the genuine Greek hospitality and ever-present joie de vivre and you have a winning combination.
The key to enjoying Athens is to make an effort to discover its varied neighbourhoods and sites, depending of course, on the time you have to dig in and explore. More is better but less isn't a problem.
Too many visitors have only a few days to enjoy Athens' melange of experiences. So here are a few shorter-term and longer-term suggestions that are easily bundled together. The city has an extensive bus system and a wide-ranging metro system. The 'center' is largely walkable and flat, with some hilliness in the charming cafe and boutique-filled Plaka quarter that rises towards the Acropolis. There are many yellow taxis, which have been known to run your fare up, better to use the app Taxibeat which is similar to Uber.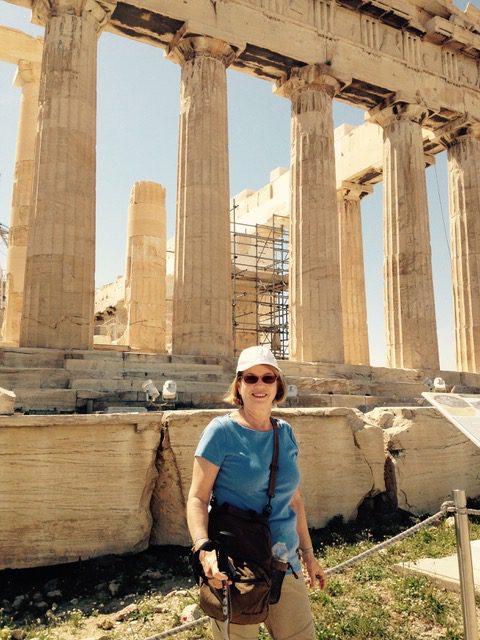 Sally's travel friend Joanne Ruter stands by the Parthenon / Photo Credit: Sally Peabody
Athens sprawls for miles. For most visitors, the 'center' (roughly from Monastiraki Square over to the Syntagma Square/Parliament area, from Monastiraki towards the Acropolis Museum including the Plaka quarter, and from the central shopping street of Ermou towards the Central Market via Athinas and Aiolou streets) is likely where you will concentrate your time.
One cautionary tale: Athens abounds in stealthy pickpockets, particularly on the metro, on buses, in crowded shopping streets. Be very mindful of your purse or wallet.
Athens is justly renowned for its historical and archaeological patrimony. The central city is crowned by the glorious hilltop Acropolis and the storied Parthenon, eye-catchingly beautiful by day and beautifully illumined by night. Below the Acropolis site, and accessed from the hilltop or from Ermou Street near Monastiraki, the large outdoor Ancient Agora site is packed with remains of glorious civic buildings and temples, including the famed Temple of Hephaestus. Definitely a historic and photographic paradise to explore.
You can also explore the evocative outdoor site called Keramikos which was the ancient burying ground and included the 'sacred way' winding from the sea to up the Acropolis. Keramikos is a 10-minute walk from Monastiraki square, about 7 minutes on from the Agora and is also entered off Ermou Street. Always check websites for combo tickets and opening days and hours.
The Acropolis, the Acropolis Museum and Koukaki
A view of The Acropolis from Monastiraki / Photo credit: Sally Peabody
The Acropolis and its classical buildings including the Parthenon require a mildly strenuous climb up but amply rewards any aching joints with glorious views over the city and memorable glimpses into the glory days of the birthplace of democracy. For a more in-depth view of the thousands of artifacts and treasured sculptures from the Acropolis, the stunning Acropolis Museum is worth a visit of a few hours (or more). And since it is near the hill crowned by the actual Acropolis, (and near a metro stop) you can easily do both in a day.
The museum is modern, beautifully designed, a steal at 5 Euro. It occupies a site that was designed to fit the 'footprint' of the actual Acropolis. This becomes particularly poignant on the top floor where the friezes and sculptures that remain are set into the to-scale model of the Parthenon. Empty spaces highlight where Lord Elgin 'bought' and exported numerous important Greek allegorical sculptures to England where they reside in the British Museum. The loss of those sculptures to the British Museum is jarring. The circumstances of the 'sale' by the occupying Ottoman Turks in 1801 are murky at best. I join those who argue for their return to Athens, coming home to this magnificent museum.
Before you leave the museum, or mid-way in your visit, stop in the roof top museum cafe with ample outdoor seating that provides tasty food and drinks with a full on view of the nearby Acropolis and Parthenon. You can order just a coffee or tasty herbal Greek Mountain Tea and relax with this zillion-dollar view.
The Acropolis Museum sits at the edge of the trendy Koukaki neighborhood. Recently this residential quarter has become a ma-jor hub for air bnb rentals but it retains an artsy energy and charm. Have delicious coffee at Drupes and Drips, or come later in the day when the cafe morphs into an inviting winebar serving strong spritzes.
Your mandatory nearby snack-stop is at bakery Takis, beloved as one of the best traditional bakeries in Athens. Choose from over 30 types of bread daily, plus legendary croissants and pastries. You can buy a treat and enjoy it with coffee at Drupes and Drips. Koukaki is delightful for a wander with its small creative shops and cafes. Drupes and Drips is located at Zitrou 20, about 5 minutes walk from the Acropolis Museum.
An interior view of the Acropolis Museum and lion statue / Photo Credit: Sally Peabody
Art Cluster Near Parliament and Syntagma Square
The private Benaki Museum offers a marvellous and extensive collection of jewelry, paintings, books, pottery, costumes and more. Take a break for lunch or drinks in the welcoming cafe with its shady terrace. The Benaki also has a tempting gift shop.
Note, not right in the center but nearby, The Benaki Foundation also runs other museums in Athens including a lovely small Islamic museum and a modern art museum in a notable contemporary building. The Islamic Museum has an inviting small cafe on the top floor where you can enjoy a tea or coffee and light snacks with a full view of the ancient Keramikos archaeological site.
A peak inside the Benaki Islamic Museum in Athens / Photo Credit: Sally Peabody
Other fine arts options near the main Benaki include the the Cycladic Art Museum, focused on elegant Cycladic sculpture and one of my favorites, the Museum of Byzantine and Christian Art. This breathtaking collection of icons and religious works dating from the 4th century to the present is stunning and unique. Be sure to go into the main museum which is on the lower levels of the building left of the small building with temporary exhibits where you buy tickets. The main Benaki, Cycladic Art, and the Byzantine and Christian Museum are all near Parliament strung along busy Vassilissis Sofias Avenue. Easily reached by metro or on foot from Syntagma Square.
The Byzantine and Christian Museum / Photo Credit: Sally Peabody
Cycladic sculptures at the Clycladic Art Museum / Photo Credit: Sally Peabody
Other great art options near but not in the center city
If you love art and classical architecture and have a bit more time here are some other highlights in summary form. The National Archaeology Museum is a vast trove in a somewhat dated setting featuring every manner of artifact, sculpture and archaeological treasure from the rich patrimony of Greece. A bit out of the center in Exarchia, best to access by taxi or bus. Plan to spend at least a few hours here.
The Benaki Islamic Art in Pssiri and the Benaki Contemporary Art Museum in Gazi are easily reached by taxi from the center. Details are on the Benaki Museums website.
One other museum that is worth noting is the new (October 2019) Goulandris Modern Art Museum in hip Pangrati, on Eratosthenous 13, near the Panhellenic Stadium. The Goulandris Foundation built a modern structure onto a classical mansion to house the extensive private collection of this savvy art-collecting family. The first Picasso on display in Athens is on view, as are some fine Monets, Van Goghs, and other European art. We found it to be most interesting for the compelling collection of contemporary Greek paintings which we rarely see in the US or in European museums.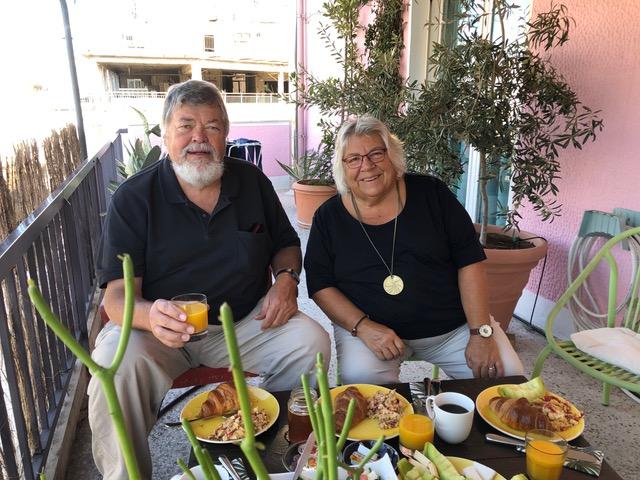 Sally (right) and Rand Peabody enjoy breakfast in Greece / Photo Credit: Sally Peabody
A Delicious Culinary Cluster in the Center
If your interests tend more to the culinary, the area around the Central Market is an energized hub of visual and gustatory splendors. The Market occupies a block-square building set along the main avenue called Athinas Street. Meat and fish are the primary products in the main building. There are also small restaurants. The fruit and vegetable market stalls are across Athinas.
The big markets are worth seeing, but if you want to shop for spices or perhaps an impromptu picnic, explore the shop-packed adjoining streets. For spices and herbal teas, I love Fotsi at Evripidou 39. Buy the wild Greek thyme and oregano. If you love herbal teas, try the Greek Mountain tea with a sage-y base. For a "deli" fantasyland stop into Miran (#45) or Ta Karamanlidika tou Fani (#41) both a few doors down Evripidou.
These shops offer all manner of charcuterie from Greek, Balkan and Ottoman cuisines, cheeses, smoked fish and irresistible condiments, plus some prepared food to tempt you. Check out the spicy Turkish pepper and Greek smoked paprika at Miran that is like Spanish pimenton but even more intense. Try the renowned smoked bastirma, a pastrami-like preparation of beef. You can also order various platters of meats and cheeses, or smoked fish, to enjoy in their seating areas. Miran has a small seating area, Karamanlidis more extensive seating (and more locations).
Kunefe is a pastry made with shredded filo and honey, filled with creamy cheese, baked in a small pan in a wood oven. / Photo Credit: Sally Peabody
Note that Karamanlidis has also opened a larger space just for dining around the corner from Evripidou at Sokratous 1. They have also opened a new space on Ermou also called Ta Karamanlidika tou Fani, this branch colloquially called the "workshop." It has a larger kitchen and makes more complicated dishes, pastries and delicious flatbreads. Note, this is near the Agora and Monastiraki Square so is a great lunch option in that neighborhood. Just for perspective, this is about an 8 minute walk from the market area.
Among the foodie delights of Athens are small shops that specialize in food of a particular island or area. For Cretan cheeses, pastas, rusks, honeys and more stop in Zouridakis, Evripidou 25 (opposite the central market). Try their thyme honey and large capers from Crete. Delicious! I always fill my suitcase with their products. So far, no breakage!
Another favorite, just a few blocks walking down Athinas from the market towards the Monastiraki metro and bustling square, is Peri Lesvos. This sweet little shop specializes in the food and the ouzo from Lesvos and Chios. Beautiful jams, honeys, nice wines, excellent cheeses, and, a terrific ouzo selection. Lesvos is reputed to make some of the best ouzo in Greece and this is a source for small bottles to large party size bottles from various distillers. The friendly owners are happy to answer questions. This place is a gem.
"[The Kunefe at Feyrouz] will bring tears to your eyes." – Sally Peabody
Literally around the corner from Peri Lesvos on narrow Protogenous Street is the tiny but world-class Kokkion artisanal icecream shop. Up a couple of steep steps you will find a selection made from the freshest fruits and other alluring flavors. I recall choosing a bitter chocolate and fig icecream that was astonishingly good after I dithered over numerous appealing choices.
One other tip. A couple of short blocks in from Athinas St. (walking towards Syntagma not into the lively Psirri quarter) you will find Aiolou Street. Aioulou runs from Ermou, (the main shopping street that runs over to Syntagma Square from Monastiraki), up to the Central Market paralleling Athinas. Aiolou is lined with all manner of cafes, bars, restaurants to fit every taste and budget. The famous Kostas souvlaki shop is on the bustling square next to the pretty Agias Irinas Church along Aiolou. Cheap and delicious. The square is lined with cafes and is increasingly animated as the day goes on.
One of my Athens' favorites is Feyrouz, located at Agathonos 2, on the corner of Karori street between Aiolou and Athenas. Feyrouz has notably delicious Ottoman-Lebanese-Cyprian style food. Deeply flavorful and very worth finding this is a friendly family spot with homemade, fresh food. In October 2019 Feyrouz opened a cafe-patisserie across the street. Their kunefe, a pastry made with shredded filo and honey, filled with creamy cheese, baked in a small pan in a wood oven will bring tears to your eyes. Coffee and tea is excellent as well.
Street art in Athens / Photo Credit: Sally Peabody
Street musicians perform pm Aiolou Street / Photo Credit: Sally Peabody
Sigh. All of this is but a starter sampling of the artistic and culinary treats of Athens. If you have limited time it would be wise to book a custom tour with an expert to guide you efficiently to these and other treasures. My friend Julia Pantakis, a Pharmacist and accomplished cook, who has followed her passions and evolved into a culinary guide specializing in off the radar treasures is one superb source. You can find her tour and online cooking via zoom at www.airbnb.com/juliapant.
I won't reveal her secrets but trust me, she has some very good ones. She is a native Athenian and a delight to spend time exploring, eating and tasting with. Another good source for finding places to eat real, delicious, Greek food is the Culinary Backstreets Athens page: www.culinarybackstreets.com. For more upscale dining check the Michelin Athens pages.
With just a few days in Athens you can eat well, have fun, and experience well-chosen art and world-class architecture, archaeological sites, and culture. Athens is a feast. Try to go when it is not super hot. Spring and fall are great. Do some research, get a good online map, wear comfortable shoes, dive in and enjoy!