Last updated on November 19th, 2023
Featured image: Salzburg's wonderful Christmas Market, the Christkindlemarkt / Photo by mapman from Shutterstock
Four of my most memorable river cruise experiences 
by Carolyn Ray
It's almost midnight on my first Christmas markets river cruise. Before I drift off to sleep, I slide open the glass door of my room but see only darkness. With a shock, I realize that we've moved into a lock, and that we're dropping down, down, down. The lock's concrete wall is so close I can touch it, reminding me of the precision and discipline required for river cruising on the Danube River. 
On my journey with Avalon Waterways along the Danube River, our ship, the Illumination, will pass through 18 locks, many of them at night. Originating in Germany, the Danube is the second longest river in Europe, flowing southeast for 2,850 km (1,770 mi), passing through or bordering Austria, Slovakia, Hungary, Croatia, Serbia, Romania, Bulgaria, Moldova, and Ukraine. 
Often, our 443-foot ship shares the space with another river cruise that's just inches away. The Captain of our ship is Nikola Novosel, who has spent years on the river. As someone who grew up on boats, I have deep respect for the women and men who guide these ships.  
Before I came on my first river cruise, I had images of riverboats gliding smoothly through the water swirling in my head. After all, it's not the ocean, where rough seas, tides and hurricanes can cause disruption. But as the week progresses, I learn that every day brings a new adventure and requires an on-the-spot ability to adapt. 
One day, a car drives into the canal, causing a backlog of river boats that are forced to wait several hours until it is removed. Another time, a lock is under repair and can only take one ship at a time. When unexpected changes occur, the crew has to adapt quickly and find an alternate way to continue our journey along the Danube River, knowing that we may lose our coveted docking time. Surprisingly, on my nine-day river cruise with Avalon, there are only minor changes, a testament to the crew's experience and creativity. This is living in the moment to the fullest!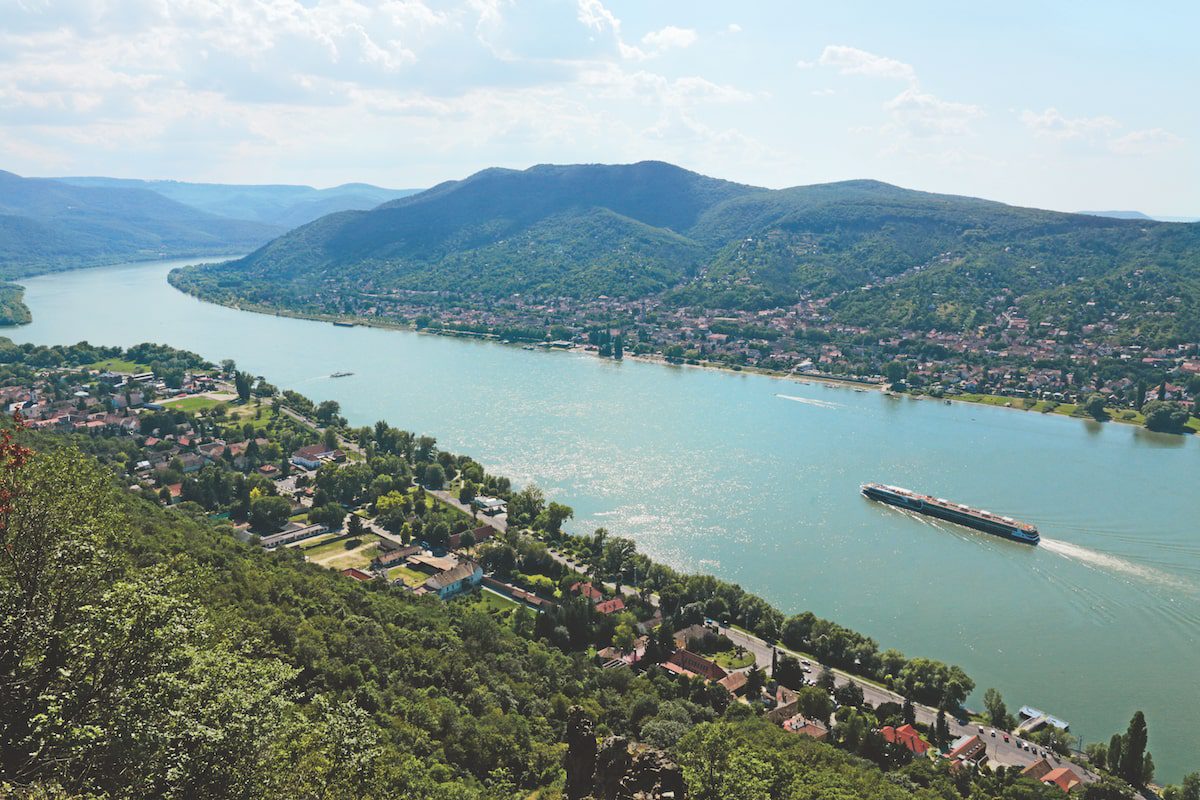 Cruising along the Danube River / Photo provided by Avalon
My first Christmas markets river cruise

 
Avalon's eastbound trip begins in Passau, Germany and winds its way along the Danube River, with stops in Germany and Austria, including Nuremberg, Regensburg, Melk and Vienna. The reverse voyage is also available, starting in Vienna. There's an optional side trip to Salzburg, Mozart's birthplace and filming location for the Sound of Music. 
The guests are mostly couples and families, many on their first trip outside North America.  On this particular cruise, there are several solo women. Tomas, our cruise director, tells me that usually there are more, and he makes every effort to help them connect, even to the point of arranging a special table just for solo women.    
The first night, we are welcomed by the crew, many of whom are from Romania, Hungary and Serbia. They're all friendly and speak English. Elena Zamfir, the Romanian hotel manager, welcomes us as 'family' and Austrian Michael Ferstl, Executive Chef, explains how they purchase fresh food from local markets along the way. For example, one night there are local snails smothered in butter, another evening I sip local peach schnapps. There are snacks, desserts, coffee, tea, and water available in the lounge and the Sky Deck at all hours.  

A spacious room with a floor to ceiling views

 
The Avalon Illumination is fairly new. There are 67 rooms, including 16 staterooms.  My room is on the top floor (third floor) and I love it from the moment I walk in. 
I'm used to living in a small 500-square-foot apartment, so the room feels spacious. Every space-saving detail has been considered without sacrificing comfort or style. There's a luxurious queen-sized bed, a stylish bathroom, and two tables to choose from. One is a small circular table with a small couch and chair, perfect for relaxing and watching the world slide by. There's also a working space with a fully stocked refrigerator underneath. The bathroom is outfitted with everything that I love, including a robe, an extra-strength mirror, and a shower. 
Unlike some ships, this room has no deck, which makes it more spacious. There are four bars just outside the sliding door and privacy curtains that reflect the sunlight from the outside. I can already visualize my morning coffee, watching the views in complete privacy. 
Ready to set sail? Search for a river cruise here!
Safe and sustainable travel
Avalon has embraced sustainable travel, including lower emissions, more local food production and sustainable shore excursions. The company has also made a commitment to unveil the first, fully electric river cruise vessel by 2027.
Absolutely loving my room/ Photo provided by Carolyn Ray
There is fresh water available to fill up my steel water bottle, and towels and sheets are not replaced unless necessary.
Every room has its own emergency button, not to mention the many buttons in the hallways and shared spaces. Hand sanitizer is everywhere, and on most buses we are asked to wear masks. Returning from excursions, hot towels, tea and yummy treats are provided.  They seem to have thought of everything. 
Four of the most memorable experiences from my Christmas Markets River Cruise

 
1. Prague's Old Town Market and Prague Castle
My Avalon experience begins in Prague two days before boarding the boat in Passau.  Tomas hosts an orientation session the first evening and on the following morning there is an optional tour of Prague Castle and the Old Town Christmas Market. I've spent a week in Prague already, so I know the market well, but Wencelas, the Avalon guide, knows a surprising array of miscellaneous information about Prague. 
For example, while visiting Prague Castle, he tells us that The Rolling Stones financed its new lighting system, and that Mick Jagger celebrated his 60th birthday in Prague.  As with so many places in Europe, Prague Cathedral ran out of money because it took over 600 years to finish, so there are 14 statues on the façade, with some empty spots that were never filled in. It's the third church on the site and is a functioning church, yet less than 10 people regularly visit for church services on a daily basis. Sunday services generate about 100 people. 
Prague's Christmas market is centuries old, with crafts, food and music. It's so heartwarming to see friends and family gathering – it's as much a social event as anything. Set under the fairy-tale spires of the stunning Church of Our Lady before Týn. Prague's Old Town Christmas Market is where friends and family gather, enjoying hot mulled wine, trdelník chimney cakes and sausages. There is a bird's eye view of the whole market from the top of the Prague Astronomical Clock, and an elevator for those who don't want to take the stairs.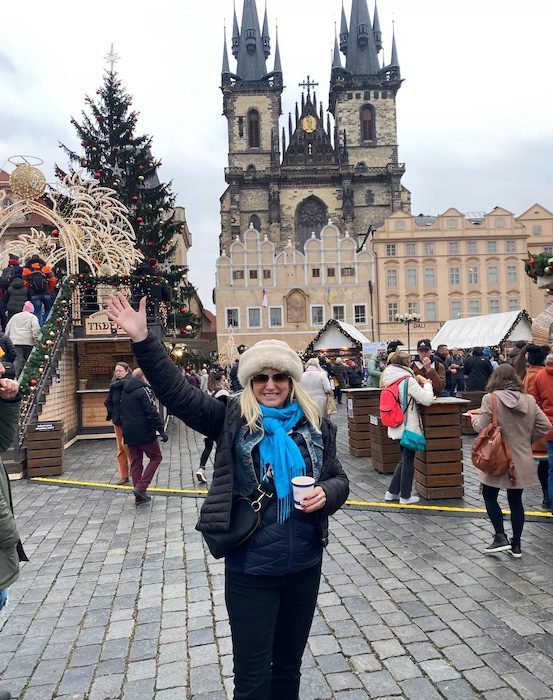 Modelling my new Prague hat at the Old Town Christmas Market  / Photo by Carolyn Ray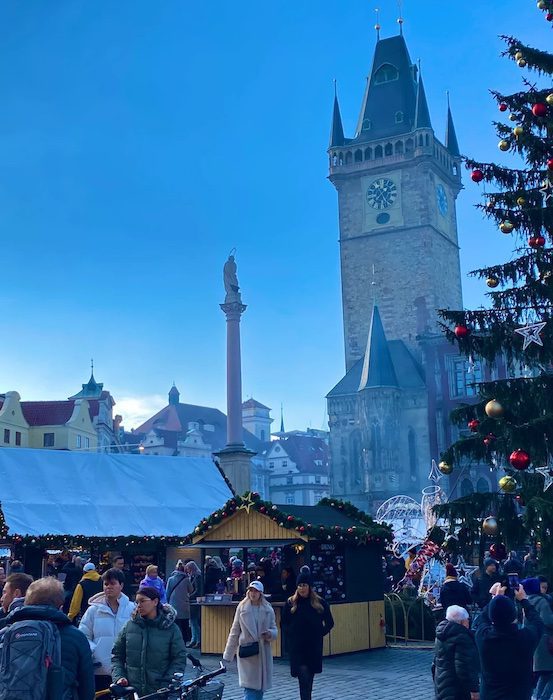 Prague's Old Town Christmas Market  / Photo by Carolyn Ray
2. Charming Christmas Markets in Germany  
On the first morning, I wake up docked in Nuremberg and join a guided tour of Nuremberg Castle and walk down to Nuremberg's Christkindlesmarkt. This Christkindlesmarkt in Nuremberg, Germany is a mix of food and handicrafts. In addition to the handmade angel ornaments, toys and nutcrackers, Nuremberg is famous for its gold foil ornaments modelled after the Christkind, a young local woman dressed like an angel with golden wings and a crown. I have my first taste of blueberry wine and the famous Nuremberg Lebkuchen gingerbread. 
The next morning, we pass through more locks and spend the day in Regensburg, the oldest medieval city north of the Alps. It's a short walk from the river to the town, which has a medieval Christkindlmarkt surrounded by more than 1,000 historical buildings featuring Roman, Gothic, and Romanesque architectural styles. The best views are from the Stone Bridge, a 12th century bridge across the Danube, which is known as 'the 8th wonder of the world' and on this beautiful day I don't want to leave (It was modelled after the Charles Bridge in Prague.)
Regensburg is incredibly scenic. Although there are small markets around the town, its Christkindlmarkt on Neupfarrplatz is the main and most popular Christmas Market in Regensburg. I wish I could have stayed longer to appreciate all the small markets around the city and handicrafts.  I couldn't resist a new woolen hat, in addition to one that I bought in Prague. Hats seem to be my latest addiction, along with scarves, which I also pick up along the way.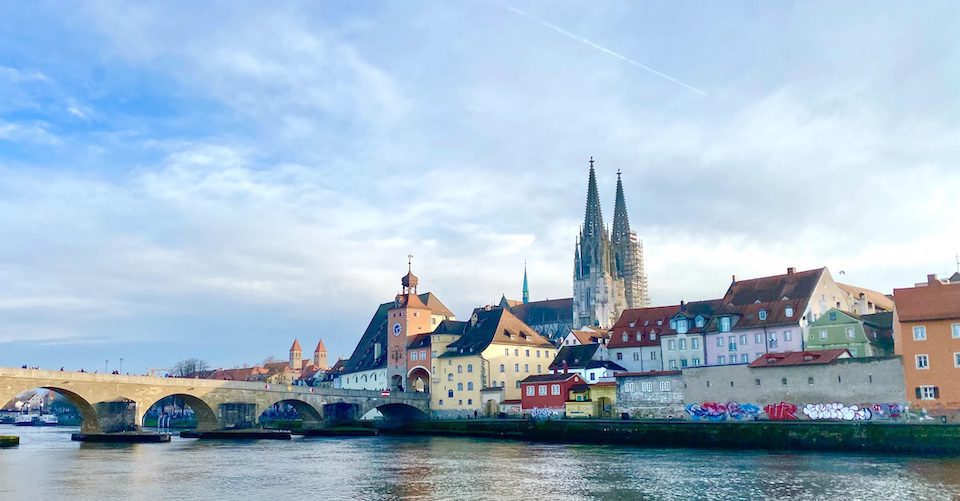 The famous Stone Bridge in Regensburg, Germany / Photo by Carolyn Ray
3. Austria's musical heritage in Salzburg 
We arrive in Passau the next morning, where a full day of music awaits. As a music lover, I couldn't wait to visit Salzburg, the home of Mozart and "The Sound of Music." Visiting Mirabell Palace, where 'Do-Re-Mi" was filmed, I couldn't resist singing on the steps! Just outside Salzburg, in Oberndorf bei Salzburg, is the Silent Night Memorial, where this classic song was written and played for the fist time. 
Salzburg is the birthplace of Mozart, so be prepared for an overabundance of Mozart chocolates, figurines and other memorabilia. Constance Mozart is also featured with cookies and treats in small heart-shaped boxes. There are Mozart candles, pretzels, ornaments, books and even Mozart ducks.  The Mozart Residence on Makartplatz and the Mozart Birthplace on the Getreidegasse are now museums.
Silent Night was originally written and performed as "Stille Nacht!" in Oberndorf bei Salzburg, just outside Salzburg. A young Catholic priest, Joseph Mohr, composed the lyrics in 1816. On Christmas Eve 1818, Mohr brought the lyrics to schoolteacher and organist Franz Gruber and asked him to put it to music as a way to bring comfort and peace to the villagers. Travelling folk singers carried the song across Europe and the first performance of the song in the US was in 1839.
Two men, a priest and a guitar player sang the song in its original format – all six verses. Not even understanding the words, I could feel the peace and stillness in that small church.  Silent Night has become one of the most beloved Christmas carols of all time and has been translated into 300 languages. It has been declared a UNESCO cultural intangible asset.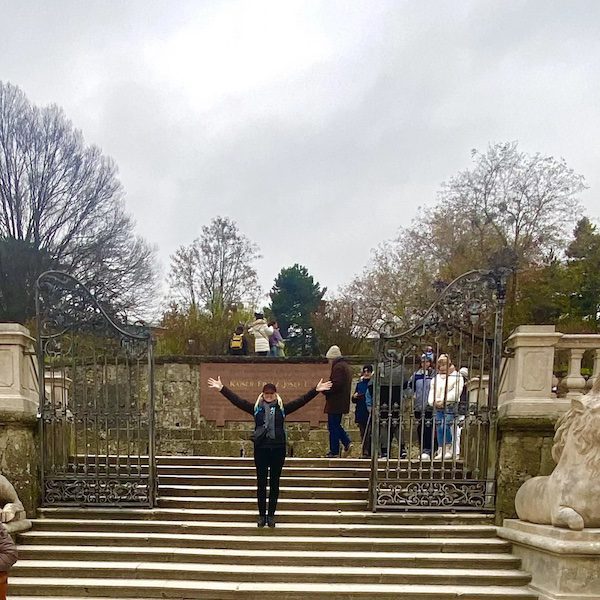 Singing Do-Re-Mi at Mirabell Palace / Photo Carolyn Ray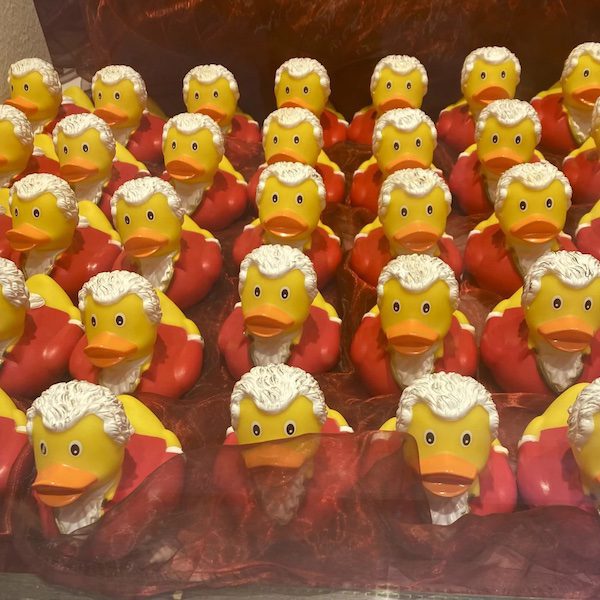 Mozart ducks abound in Salzburg / Photo Carolyn Ray
Yes, I ate the entire pretzel / Photo Carolyn Ray
The charming Salzburg Christkindlmarkt at the Dom and Residenzplatz is one of the world's oldest Advent markets, mentioned in history as early as the 15th century. Of all the markets, I thought this was the most beautiful, in a historic square surrounded by the Cathedral. Not only are there ornaments, there are pretzels in every shape and colour, so I had to sample a few!  
Having seen more cathedrals than I ever imagined, I can honestly say that the Baroque Salzburg Cathedral is among the most beautiful I've ever seen. It was seriously damaged in 1944 during WW2, when a single bomb crashed through the central dome but rebuilt and still contains Mozart's baptismal font. 
Just a short funicular ride away up the hill is Hohensalzburg Fortress, built in 1077, which offers stunning views and hosts concerts. There are three museums at the Fortress, including the Fortress Museum, which shows historical exhibits, the Marionette Museum and the Museum of the Rainer Regiment  Open year round, the Fortress can be reached on foot or by Fortress Funicular, which is located in the Festungsgasse.  A return trip for seniors is € 3.70.   
Salzburg's Christmas market / Photo by Carolyn Ray
The Silent Night Memorial in Oberndorf bei Salzburg / Photo by Carolyn Ray
4. Vienna's many historical sights and museums
Our last stop is Vienna, the largest city on the Danube.  The trip along the river is sunny and warm enough to explore the top deck of the ship and watch as we pass small villages, like Dürenstein, on the Danube. 
When we arrive in Vienna we are greeted by a guide who takes us to see its highlights. Vienna is an ancient city, settled 2,000 years ago by the Romans.  Our guide told us that a third of Vienna was bombed during the war by the Allies, in an effort to get rid of the Germans. It was also home to Sigmund Freud and Mozart. 
Years ago, I read Allison Pataki's book, Sisi: Empress on Her Own, on Empress Elisabeth of Austria-Hungary, which provided some historical context. Vienna has over 100 museums.  On our walking tour, we passed by several of them, including the Belvedere, Albertin,  Leopoldo and Sisi museums. At the Belvedere, The Kiss by Gustav Klimt is among its most famous painting and I wish I had purchased tickets in advance for the Spanish Riding School, with the famous Lipizzaner horses.
The Imperial Crypt, located beneath the Capuchin Church, is fascinating. Here, 149 members of Austria's former Habsburg dynasty have been laid to rest since 1633, including Maria Theresia and her husband, Emperor Franz I.  It's worth a visit just to see the ornate baroque sarcophagi – unlike anything I've ever seen.
Vienna's famous St Stephansplatz Church / Photo by Carolyn Ray
Vienna has several Christmas markets around the city, but the best-known include Rathaus Christkindlmarket, Schönbrunn Palace and Stephansplatz Christmas at Stephansdom (St. Stephen's). St. Stephen's is a place to people watch, sip mulled wine and shop. Built in 1200 after the first church burned down, its coloured turqouise tiles are gorgeous and the steep roof is designed to keep the snow off. I was fortunate enough to see a Christmas concert in the church. 
The largest Vienna Christmas market is the family-friendly Rathaus Christkindlmarkt at Vienna's elegant City Hall, which offers gluhwein punch, ice skating, and a ferris wheel. Most of the markets close by 10 pm and are family affairs.
Our last evening on board the ship is wonderful, with the staff saying goodbye and a delicious dinner, everything from salmon to lobster tail. I feel like a princess on the river. The next morning, I reluctantly leave the ship, and return to every day life. I hop on the subway and am joined by my daughter. After Vienna, we take the train to Budapest, another magical city, for more adventures in the off season.

After a stop in Melk at the baroque Benedictine Abbey / Photo Carolyn Ray
My tips on Christmas Markets River Cruises
Admittedly, I never imagined I would enjoy a river cruise so much, but after experiencing this Christmas Markets cruise with Avalon, I would happily go on another one. You can learn more about Avalon's river cruises here. 
If you are considering this experience, my advice is to look for deals, and book early, particularly if you want a room to yourself.
Indulge in the food and beverages which are all unique to each village and connect you to their history and culture.
The shopping is so delightful, if you see something that appeals to you, don't judge it – buy it. While I loved the glass ornaments, it just wasn't practical for me to buy them, so I looked for wood and tinfoil ornaments I could pack without fear of breakage. There are handicrafts of all kinds, from hats to gloves, scarves, woollen sweathers, all made locally. Lastly, don't pack too much. You'll want room in your carry on! Read more tips for first-time cruisers here.
Disclaimer: On this Christmas Markets cruise, I was a guest of Avalon Waterways, which did not review this article before publication.
Is expedition cruising right for you? Join our free December 5 webinar with Swan Hellenic and find out about this hot trend for women.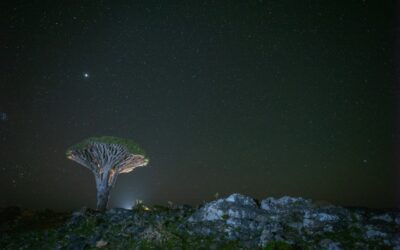 Highlights from 21 days of adventure on Swan Hellenic's SH Diana expedition cruise ship, in Egypt, Jordan, Saudi Arabia, Djibouti and Socotra.
A 21-day expedition cruise from the Suez Canal to the Indian Ocean is an opportunity to see less-travelled places and embrace new adventures.