Last updated on September 12th, 2023
Featured image: Bustling crowds at Prague's famed Christmas Market in the Old Town Square | Photo by bbsferrari on Envato
The Magic of Christmas Markets in Germany, Czechia, Austria and Hungary
by Carolyn Ray, Editor, JourneyWoman
We may love Europe in the summer, but Christmas markets make iconic cities like Prague, Vienna and Munich even more appealing in the winter. This year, there's no place more festive than a Christmas market in Europe, particularly as the world embraces a return to travel.
In late November and December, I visited seven iconic cities across Europe and experienced the magic of Christmas markets in Czechia, Germany, Austria and Hungary. Christmas markets are a perfect activity for a solo woman or with a friend (in my case, my daughter). This was my first Christmas markets experience, so I had no idea what to expect — but I loved every minute!  I discovered that the magic of the market is in the total experience – the city itself, the architecture, the history, the food and the wine.  I toured Nuremberg, Regensburg, and Salzburg as a guest on the Avalon Waterways Christmas Markets river cruise. Other cities such as Prague, Munich, Vienna and Budapest, were on my own.
To reduce my stress level and my carbon footprint, I travelled from London to Budapest via train (with the exception of the river cruise from Prague to Vienna) and recommend it highly. It was fairly inexpensive, there was very little disruption, and I had no issues with delays.  Most transit networks offer discounts for seniors and those with disabilities. (Check out Trainline and Seat61 for good advice.)
Most markets open around lunchtime and run until 9 or 10 pm at night. In Prague, I noticed that Thursdays and the weekends were busier than the weekdays. Afternoons tend to get busier around 5 pm.  They operate on a cash basis, so have some small coins or bills ready. In some markets like Munich and Vienna, there is a 3 or 4 Euro deposit required for the mugs (or you can keep them).  Most of the prices are marked on the items, so these markets aren't a place to haggle— after all, with such long days why wouldn't we support these small businesses as much as possiible?
My advice: Don't just shop, EAT! Devour that pretzel! Sip that gluhwein punch and mulled wine! Taste as many local delicacies as you can – the trdelník chimney cakes, sausages, tornado potatoes on a stick, Lebkuchen gingerbread and whatever else wafts your way!
Carolyn's Christmas Market tour started in Prague, in the Old Town Square / Photo by Carolyn Ray
1. Munich, Germany: Christkindlmarkt in Marienplatz Square
My initiation into Christmas markets was Munich's wonderful Christkindlmarkt in Marienplatz Square during a one-night stopover on my train journey from Paris to Prague.
This traditional Bavarian market, with roots dating back to the 14th century, offers everything in a fairly small and contained market surrounded by beautiful buildings including the Rathaus-Glockenspiel, which chimes at 11 am and 12 pm every day and draws a big crowd. While I could only spend one evening (and morning) in Munich, I'd love to go back! 
One thing to note: many retail stores are closed on Sundays in Germany, so check schedules before you book a visit. 
Take the train – plan your journey here!
Munich's Christkindlmarkt in Marienplatz Square / Photo by Carolyn Ray
2. Prague, Czechia: Old Town Square Christmas Market
Prague's Old Town Square Christmas Market is set under the fairy-tale spires of the stunning Church of Our Lady before Týn. When I first walked into this square, I gasped out loud. It is one of the most beautiful places I've ever seen.
Before joining an Avalon Waterways River Cruise that started in Prague, I spent a week in Prague and had an opportunity to visit this market and others around the city. The Old Town Square Christmas Market is where friends and family gather, enjoying hot mulled wine, trdelník chimney cakes and vast array of BBQ'd sausages. For a wonderful view of the whole market, go to the Old Town Hall which stays open until 9 pm. There's an elevator for those who don't want to take the stairs.
A highlight is the medieval Astronomical Clock, or Prague Orloj, at the Old Town Hall. The clock was first installed in 1410, making it the third-oldest astronomical clock in the world and the oldest clock still in operation. Every day starting at 9 am there is a procession of the 12 Apostles that will make you smile, especially the four figures on the sides of the clock that represent vanity, greed, death, and lust. There are many restaurants around the Old Town square with cozy blankets to enjoy dinner and watch the crowds or listen to live music. Speaking of music, most of the cathedrals offer concerts, which is a must-do in Prague. You can buy tickets right at. the churches or online – don't buy them through third parties.
Some of the other places I visited included Havel's Market, and museums including the Mucha Museum,  Gallery with Dali Exhibit, Powder Gate Tower and Prague Castle. Take a walk across Charles Bridge to Prague Castle (if you go, get there early, by 8:30 am to avoid lines).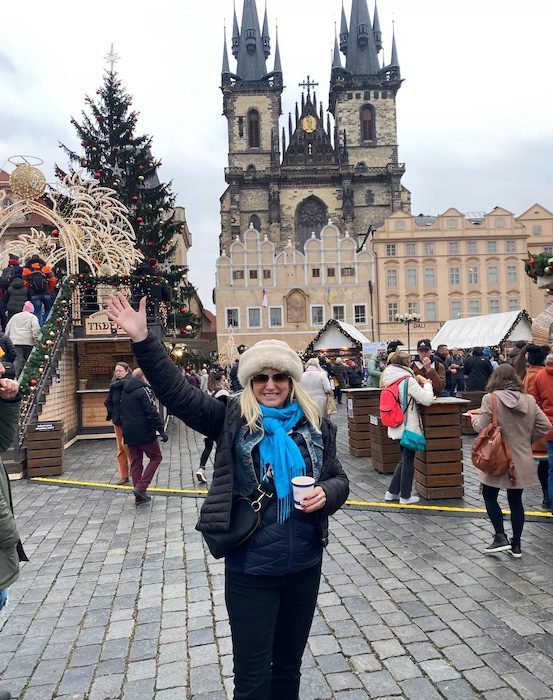 Carolyn with her new hat at the Old Town Square Market / Photo by Carolyn Ray
The market is much busier night / Photo by Carolyn Ray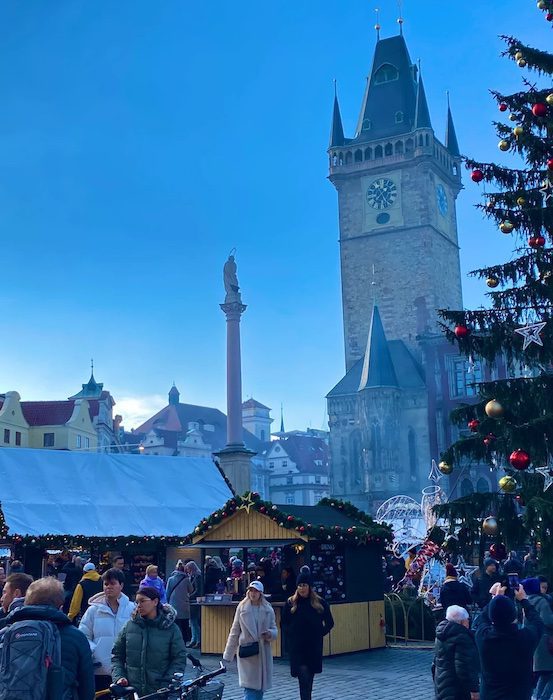 Prague's Old Town Square Christmas Market / Photo by Carolyn Ray
3. Nuremberg, Germany: Christkindlesmarkt
Nuremberg, Germany's Christkindlesmarkt, is the only place to sip on its famous Nuremberg Lebkuchen gingerbread, blueberry wine and gold foil ornaments.
Christkindlesmarkt in Nuremberg, Germany is a mix of handicrafts and food dating back to 1628. Walking down from Nuremberg Castle and the charming timber-frame buildings along the way, I couldn't resist sampling the famous Nuremberg gingerbread and blueberry wine. In addition to the handmade angel ornaments, toys and nutcrackers, Nuremberg is famous for its gold foil ornaments modelled after the Christkind, a young local woman dressed like an angel with golden wings and a crown. 
I visited this market in the daytime and heard it was very crowded at night, so plan your day accoordingly!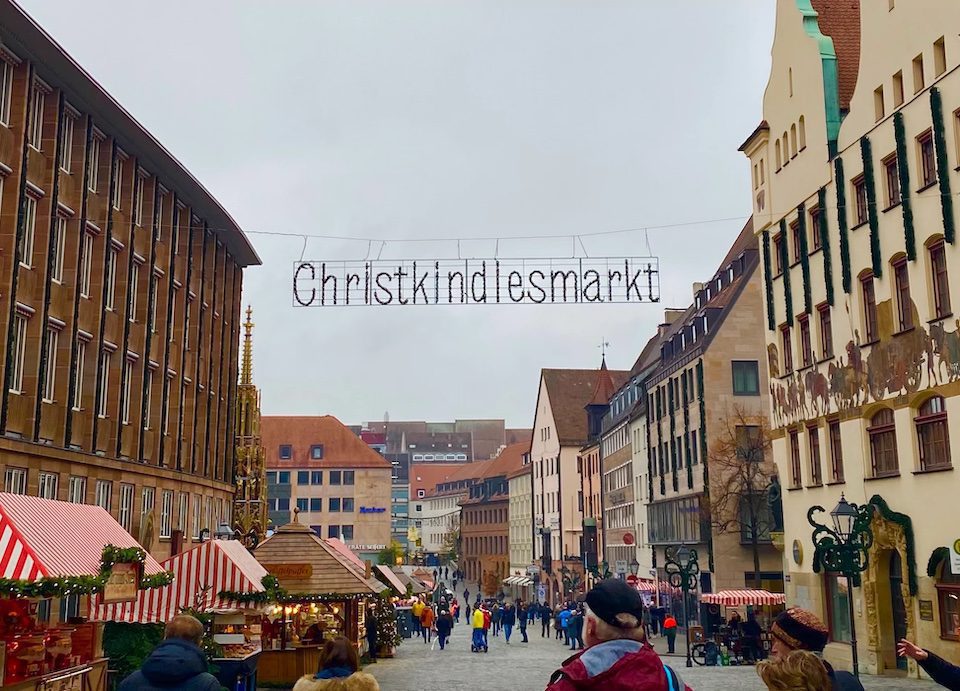 Strolling the historic Christkindlesmarkt of Nuremberg / Photo by Carolyn Ray
4. Regensburg, Germany: Christkindlmarkt
Regensburg's medieval Christkindlmarkt is surrounded by more than 1,000 historical buildings featuring Roman, Gothic, and Romanesque architectural styles.
One of the oldest and best-preserved medieval cities in Germany, Regensburg is incredibly scenic. Its Christkindlmarkt on Neupfarrplatz is Regensburg's main and most popular Christmas Market.
Regensberg has lovely little winding streets and a Gothic cathedral that has been under construction forever, she says.  A little trivia tidbit: Local hatmaker, Hutkönig ("Hat King"): Andreas Nuslan, made Johnny Depp's hat for Alice in Wonderland. Located next to the Cathedral,"Hutmacher am Dom offers more than 15.000 items of headwear over two floors. One thing to note: many retail stores are closed on Sundays in Germany, so check schedules before you book a visit.
Still, I wish I could have stayed longer to appreciate all the small markets around the city and handicrafts.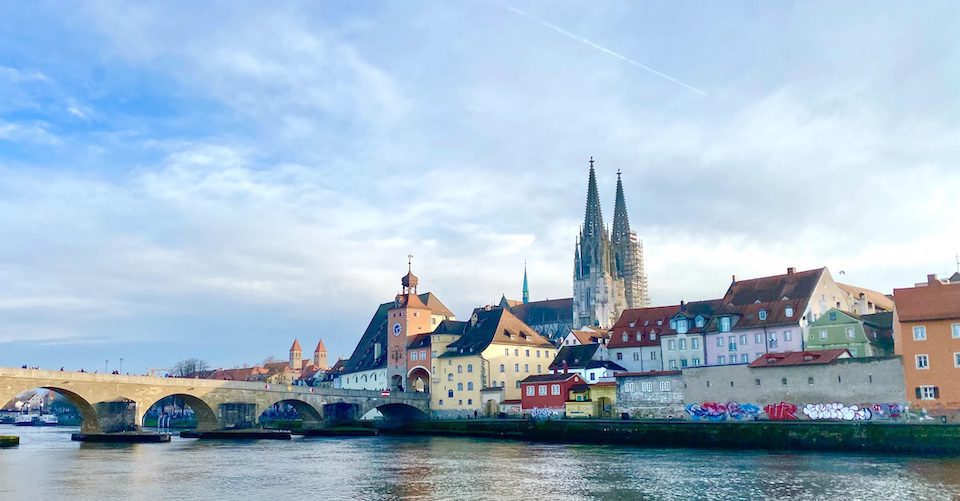 Views of St Peter Cathedral from across the Danube / Photo by Carolyn Ray
5. Salzburg, Austria: Christkindlmarkt
The charming, Mozart-infused Salzburg Christkindlmarkt at the Dom and Residenzplatz, one of the world's oldest Advent markets.
The Salzburg Christkindlmarkt is mentioned in history as early as the 15th century. Here there's everything you could want, from candles, ornaments and decorations to pretzels of all shapes and sizes! Mozart fans will love the various chocolates, figurines and other memorabilia. With this being the birthplace of Mozart, Salzburg seems to have mastered the art of over-marketing a person – food, chocolate, stores. Some of the Mozart posters look like harlequin covers!
The Dom or Cathedral is absolutely beautiful and it's hard to believe the dome was destroyed and rebuilt after the war. Up the hill is Hohensalzburg Fortress, which has great views of the market, city and river.  This is also a great day trip from Vienna.
Take the train – plan your journey here!
The main entrance to the Salzburg Christkindlmarkt / Photo by Carolyn Ray
6. Vienna, Austria
Vienna has many markets but the best-known include Rathaus Christkindlmarket, Schönbrunn Palace and Stephansplatz Christmas at Stephansdom (St. Stephen's). The largest Vienna Christmas market is the family-friendly Rathaus Christkindlmarkt at Vienna's elegant City Hall, which offers gluhwein punch, ice skating, and a ferris wheel.
One of the things I really appreciated about Vienna is how easy it is to get around on the metro.  I highly recommend buying a City Pass, which I had courtesy of Vienna Tourism, that includes public transportation and discounts for museums. The subway system is very easy to navigate. My daughter took the subway from the airport and a trip to Schonbrunn Palace was less than 15 minutes from Stephansplatz.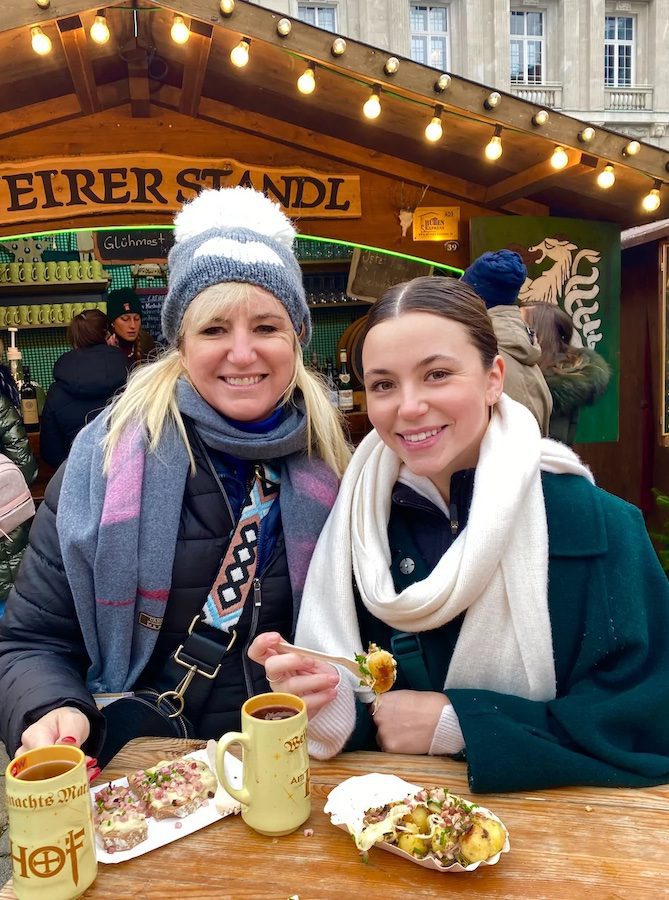 Carolyn and her daughter Alyx enjoy raclette/ Photo by Carolyn Ray
Stephansdom lit up by the surrounding market / Photo by Carolyn Ray
More markets in Vienna
Elke Schiltz, a local JourneyWoman in Vienna, shares her tips: "As everybody knows of and visits Vienna's imperial center, I'd like to focus on the not-so-beaten-tracks and hope the following tips are useful. There are Christmas Markets in every district. Some of the more notable ones are Christmas Village at Altes AKH/8th district: located at the park inside the first hospital in Vienna, which is now a University Campus. A cosy atmosphere, mostly locals, and nice stalls; Christmas Market at Ottakringer Brewery/16th district: this Christmas Market is on the grounds of the famous local brewery, easily accessible from the center via public transport and Christmas Market at Türkenschanzpark/18th district: fancy district, nice park"
Elke also recommends other festive activities:
Ice Skating at Alte Donau: when visiting in winter after New Year's when temperatures get really freezing, you get a very good chance of being able to go ice-skating on the Alte Donau, a popular local recreation area with beautiful old public baths to enjoy in summer.
Vienna Vineyards: notable for Vienna is, that we have 1537 acres of vineyards within municipal limits, that spread along the western and northern borders. Each year in mid-/end September there are two days of "Weinwandertage" or "wine hiking days", where everybody hikes through the vineyards and drinks wine at all the winemakers' locations, which are called "Heurigen". All of these "Heurigen" locations are easily accessible via public transport. You, for example, take the tramline 60 from Westbahnhof and slowly travel through the suburbs to Mauer, one of the suburbs known for its winemakers and "Heurigen". The same goes for the other side of the Danube river, where you can go to Stammersdorf, an old, still intact, village of wine-makers and the vineyards up the hill.

7. Budapest, Hungary
Budapest's Vorosmarty Square is Budapest's most famous and oldest Christmas market. The newer market at St. Stephen's Basilica is even more picturesque, with food, ornaments and shops. At St. Stephen's Basilica, don't miss the from the top, aside from Fisherman's Bastion on the Buda side. There are many cafes and restaurants around both markets, and a safe, friendly culture. I stayed in Castle Hill and walked or took the tram across the river. The transit system is not as easy as Vienna's but you can buy a paper ticket or use the GoBudapest App to buy passes and then validate them when you get on the tram (which I recommend). 
While in Budapest, I also recommend the Dohány Street Museum to learn how 600,000 Jews lost their lives in WW2. Don't miss the museum underneath the synagogue. The heartbreaking shoes on the Danube River are a monument to the Jews who lost their lives during WW2.
Overlooking Budapest from St. Stephens Basilica / Photo by Carolyn Ray
More on Europe to come in January, including tips for these cities, Paris and London.  Stay tuned! 
Disclaimer: I was a guest of Avalon Waterways for part of my visit to Europe. You can learn more about their Christmas Markets river cruise here.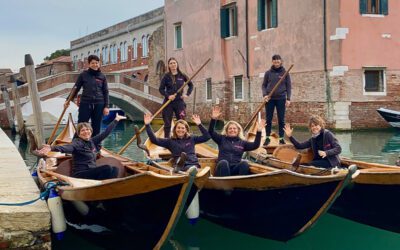 Meet Jane Caporal of Row Venice, who is dedicated to preserving the ancient tradition of rowing with her all-woman company.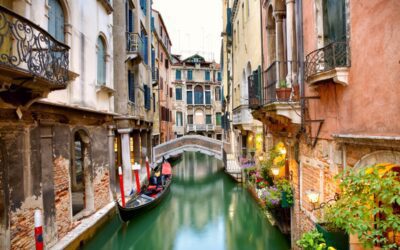 Venice is not the most mobile-friendly city. Explore safely and in comfort with these Venice travel tips for women over 80.
Visiting London? Why not take a long weekend break in Edinburgh, one of those magical cities that can be enjoyed year-round.