Featured image: Find where to stay in Dublin with these JourneyWoman suggestions | Photo by Gregory DALLEAU on Unsplash
Women-friendly hotels and accommodations
Curated by JourneyWoman
Once we've decided on a destination, finding a safe, women-friendly place to stay is at the top of a solo traveller's list. We've curated recommendations from women on where to stay in Dublin, Ireland, and the surrounding areas to help you find a place that suits both your budget and your needs. From small boutique hotels to budget travel options. Have a place to suggest? Please complete our tip form below and we'll add your recommendation to this list.
Kelley's Hotel
Dublin, Ireland
Reasonably-priced boutique hotels with great locations are hard to come by in any city which is why this is such an excellent Dublin find. Kelly's Hotel is situated in one of the city's trendiest areas, The Creative Quarter, so-called because of its close proximity to Dublin's coolest restaurants, bars, and boutiques
Cost: $250+ per night
Number 31 Dublin
Dublin, Ireland
Suzy Guese, a travel writer from Denver, Colorado visited Dublin recently and told me about Number 31 Dublin. This charming B&B/guesthouse is located in a former architect's house and the building itself is considered to be one of Dublin's hidden architectural gems.
Cost: ~ $250 per night
The Times Hostel
Dublin, Ireland
The Times Hostel on College Street is one of Dublin's most popular hostel locations, probably due in most part to its excellent location which is within easy reach of Trinity College, Temple Bar, and Grafton Street.
Cost: $35+ per night, depending on room type
Gibson Hotel
Point Square, Dublin, Ireland
A beautiful 4-star hotel located in the city centre with easy access to popular sights and public transportation. Rooms are bright and clean and a full traditional Irish breakfast is included with the price.
Cost: $300+ per night including breakfast
The Samuel Hotel
Dublin, Ireland
A lovely hotel on the north bank of the River Liffey with spacious rooms and a traditional Irish breakfast of bacon, sausage, eggs, potatoes, soda bread, pudding, and more. A word of caution about the soda bread – you'll want to eat a lot of it. Slathered with the best butter you've ever tasted. 
Cost: $200+ per night including breakfast
Westport Plaza Hotel
Westport, Ireland
The Westport Plaza Hotel was in the perfect location for a charming after-dinner stroll. I also loved the large soaker tub in my room which I took advantage of both nights we were there. 
Cost: $125+ per night
Maldron Hotel Sandy Road
Galway, Ireland
This 4-star hotel features airy and bright rooms just outside the city centre but close to the main shopping centre. The Maldron Hotel is particularly good if you're driving as it's slightly away from the centre of town and offers free parking.
Cost: $150 per night
Share your recommendation
Have a recommendation for a place to stay, anywhere in the world? Share it with us below!
More to Discover on Ireland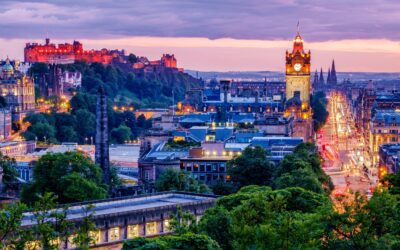 Take a break from the classics and discover these 10 intriguing books set in Great Britain and Ireland, from city to countryside.
Guest writer Kaelie Piscitello shares why Cork, Ireland is a city full of surprises that offer different experiences at every turn.
Adventure awaits in Ireland, when solo traveller Sue Janzen joins a group tour to discover Ireland's pubs, distilleries and libraries. (Sponsored)