Last updated on April 16th, 2023
Featured image: Castle Park in the middle of Bristol, UK, an area bombed in WW2 | Photo by Bernardo Chotza on Shutterstock
How to discover the 'real' Bristol
By Carolyn Ray, Editor, JourneyWoman
From its charming old town to Clifton Suspension Bridge, Bristol is a city that's famous for its creativity, independence and pride. With its cobblestone streets, quaint pubs, vibrant markets, festivals, and diverse neighborhoods, there is no shortage of fascinating places to explore. As the home of the controversial graffiti artist Banksy, it has cultivated a global reputation for rebellion and creativity, as evidenced by its street art, museums, university and galleries.
But the real surprise of Bristol is what lies just below the surface — it's an ancient, medieval city with a complex, fascinating history. Once an important trading centre and port, it was considered one of the country's top three cities from the 13th to the 18th century. In 1940, much of Bristol was devastated in an air raid that killed over 200 people and destroyed thousands of buildings and homes. In 2020, Bristol made international headlines when a statue of notorious slave trader Edward Colston was toppled from its perch after 125 years. Resilient, dynamic and fiercely independent, Bristol is a city that is constantly evolving, making it a compelling and intriguing destination for curiosity seekers, art enthusiasts and history lovers. 
Look below the surface to discover Bristol's hidden gems
On my first morning in Bristol, I venture into the Old Town to find a local bookstore. It's a sunny day and the street is bustling, with smiling faces, enticing small shops, cafes, and a surprising number of barber shops. I pass by the quaint 300-year-old St. Nicholas Market, which beckons me to explore its many food stalls.  I resist, and persevere along Corn Street, the main semi-pedestrian avenue. On both sides, I'm surrounded by stunning white-marbled Georgian and Edwardian buildings, including the Old Council House and the Bristol Exchange, built in the 1800s. Charming restaurants line the streets, and I'm already anticipating where to eat dinner.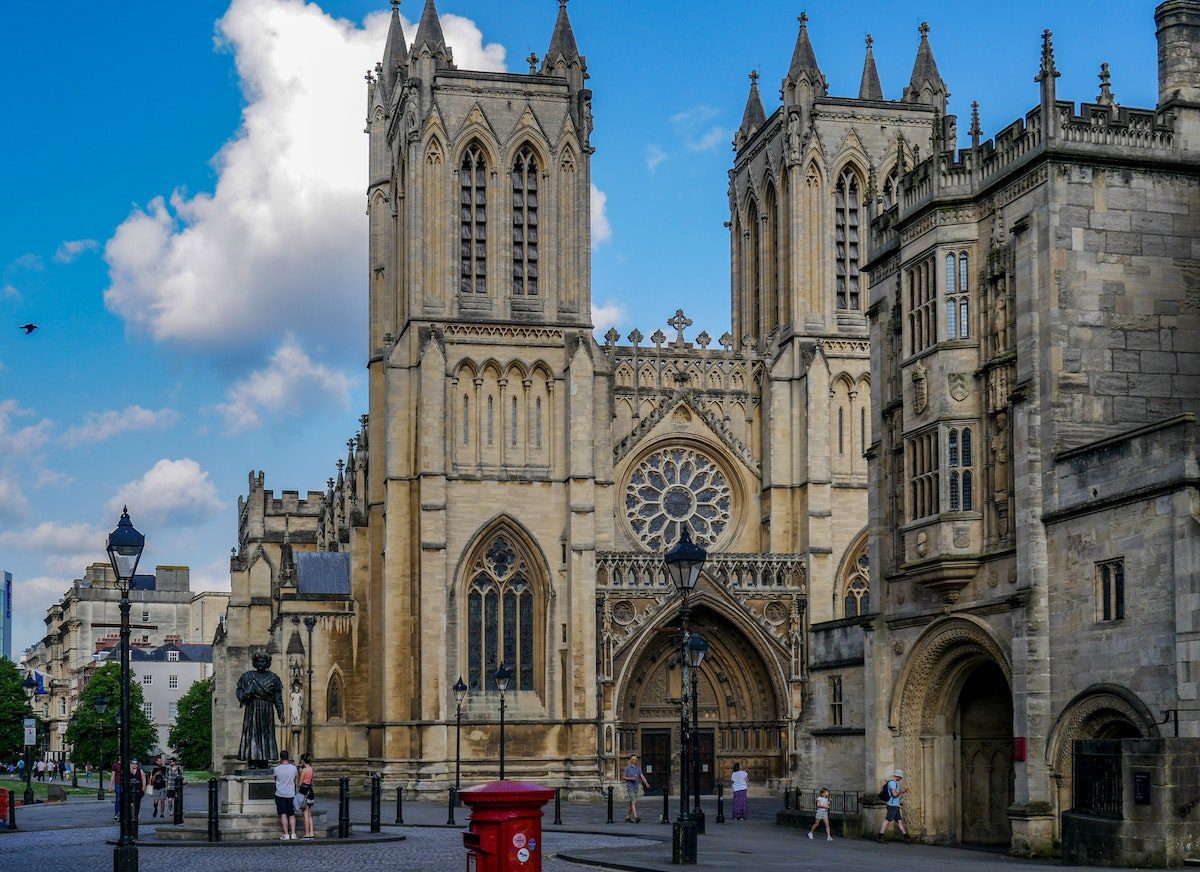 I'm staying at the Clayton Hotel Bristol City, once a print shop. It is said that William Morris had some of his wallpapers and textiles printed here, including his familiar Strawberry Thief design. The hotel has been recently modernized with 255 comfortable, large rooms, but retains the colourful art deco façade at the entrance, which shows a female figure representing light and truth and celebrates Morris and Johannes Guttenberg for their contributions to printing and literature.
A few blocks from my hotel, I step into Stanfords bookstore, where I'm warmly welcomed by the friendly staff. After perusing the Bristol section, I leave with local journalist Martin Booth's guide, 111 Places in Bristol That You Shouldn't Miss," which promises off-the-beaten-path discoveries to tantalizing places like "Unicorns" and "The Bag of Nails."  
Even though I already have a list of popular attractions to see, I want to discover unexplored, less-seen places. Booth's book seems like a good place to start, promising an introduction to the 'real Bristol'. He writes: "The Clifton Suspension Bridge is the most well-known symbol of Bristol, especially with hot air balloons floating serenely above it during the annual Balloon Fiesta. But elsewhere in the city, there is a bridge to nowhere, planned to connect to an arena that was never built…" 
Explore Bristol's medieval history
While I didn't get to all 111 places in Booth's book, I spent a morning in his company on a two-hour tour. Booth escorted a small group of curiosity seekers to his favourite places in the city, including Bristol Castle and a stroll along the medieval city wall (part of which still remains). To my surprise, I'd been walking on the wall without realizing it — it's just outside my hotel. Booth points out a stunning graffiti-coloured gate nearby, noting that the medieval roads remain under the earth and are visible by looking at Google Earth maps, which show the original parish boundary markers.
We walk through a large park, called Castle Hill, another example of Bristol's continuing evolution. This was once the site of the 11th century stone Bristol Castle, a massive structure whose keep was comparable in size to that of the Tower of London. By the 16th century, the castle was in ruins. Following his victory in the English Civil War, Oliver Cromwell decreed its destruction in 1655.
Once demolished, a commercial area developed with over 500 shops. Sadly, during WW2, the entire neighbourhood was devastated by a bombing raid on November 24, 1940, intended to target the nearby port.  Fires could be seen from over 250 kilometres away. Eventually the area was razed to become what is now Castle Park, an open green space that opens up onto the Avon River. Booth shows us a small coffee shop on the grounds, where vaulted chambers from a church are preserved. There's now talk of redeveloping parts of it to remove a derelict graffit-covered building. 
Looking at the ruins, the archaeologist in me wants to explore the ancient underground. According to Sally Watson's book Secret Underground Bristol, a small concrete pyramid marks the entrance to an astonishing underground,  Watson writes that beneath the ground are "… some of the finest medieval cellars in Britain, with beautiful rib-vaulted ceilings which would not disgrace a Gothic cathedral."  (Source: 111 Places in Bristol That You Shouldn't Miss)  
Carolyn Ray and Martin Booth on his tour / Photo by Carolyn Ray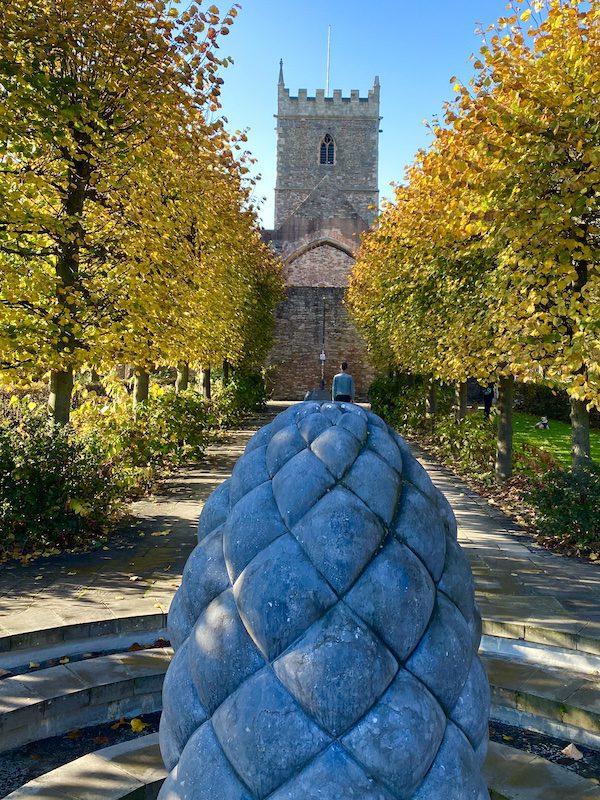 Acorn sculpture in front of Castle Hill / Photo by Carolyn Ray
Delve into Bristol's street art 
There's no better way to understand the dynamics of a city than its street art, and in Bristol, it's all about conflict and compromise.  I join graffiti expert John Nation on a tour with Where the Wall Bristol Art Tours.  Called 'the godfather of street art',  Nation personally knows many of Bristol's street artists, including Banksy
For almost four hours, I follow Nation around Bristol like a puppy, through its evolving neighbourhoods, into tunnels and back alleys. Many areas appear to be going through a state of transition, and the graffiti is constantly being defaced or 'tagged' by younger artists seeking public forms of expression. Nation, a strong proponent of graffiti, sees tagging as part of the urban tapestry. The city, however, uses anti-graffiti paint to limit access to its public spaces.
Walking up the hill with Nation toward the Bristol Art Museum, I notice a crowd gathering around Banksy's Well Hung Lover (or Naked Man), which is on the side of an apartment building. Nation says Banksy deliberately painted this to face city hall and bring attention to sexual health, a taboo topic. According to Nation, the notoriously private Banksy can have his stencils up in 20 minutes, and is often protected from view with scaffolding. The city originally classified it as vandalism but the citizens of the city voted for it to remain. When the art was splattered with blue paint, the city repaired around it so as not to compromise the work. 
Near the end of the tour, we walk to Stokes Croft, where Banksy's most famous painting is almost hidden behind some trees in a corner.  
"For me personally, the street art that best tells the story of Bristol is the iconic Banksy piece 'The Mild Mild West' painted in 1999," Nation says. "For many Bristolians this is Banksy's Signature piece – it's like an alternative 'Welcome to Bristol' sign". 
The painting shows a teddy bear throwing a Molotov cocktail at three riot police and was painted in response to an actual event that happened at a local rave.  While the It has been cited as an archetypal piece of Bristol culture, there's a larger message about resisting authority and power, even capitalism and consumerism. 
On the day of my tour, Banksy has just confirmed his latest art in support of Ukraine, which depicts a hulking man resembling the Russian president, Vladimir Putin, being thrown to the floor during a judo match with a diminutive young boy. I'm surprised to learn from Nation that Banksy doesn't sign his art anymore and that collectors go so far as to cut it out of walls and profit from it. There are hundreds if not thousands of unlicensed Banksy exhibits around the world, Nation says.
Banksy's Well Hung Lover / Photo by Carolyn Ray
Banksy's Mild Mild West / Photo by Carolyn Ray
Respect Bristol's struggle for independence
Best-selling Canadian author Jane Christmas, who wrote "What the Psychic told the Pilgrim" about her Camino de Santiago walk, has lived in Bristol for the past 10 years. When we meet for coffee in nearby Bath to talk about her next Camino walk and new book "Open House: A Life in Thirty-two Moves", she shares some of her perspective on her adopted home.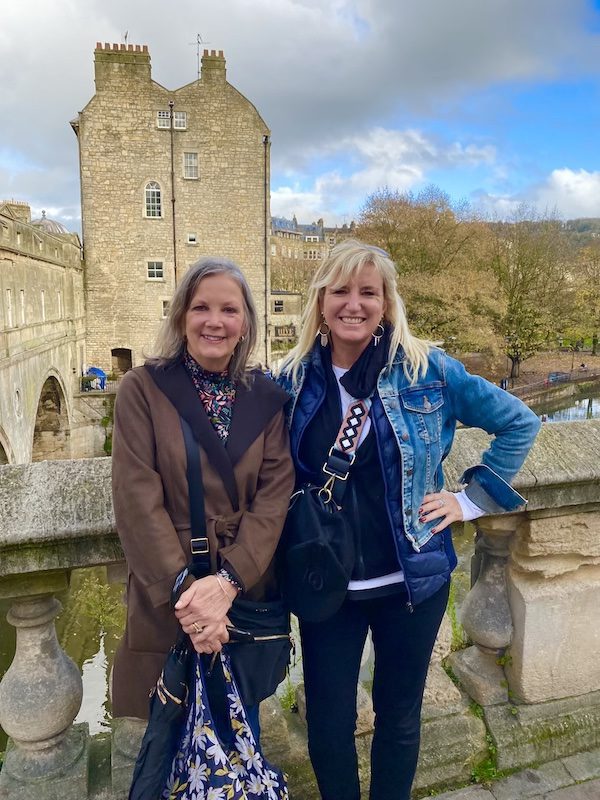 Jane and Carolyn meet in Bath / Photo by Carolyn Ray
"Bristol has a seafaring history," she says. "It was also the port where John Cabot set off to "discover" North America. A replica of his ship The Matthew is in Bristol harbour.  Bristol was also a great shipbuilding and innovation concern. Isambard Kingdom Brunel, one of the great Victorian engineers, built the SS Great Britain (the first transatlantic passenger ship) and the Clifton Suspension Bridge."
In addition to shipbuilding and ocean-faring expeditions, Bristol was part of the "triangle trade", which saw more than 2,000 slave ships carry over 500,000 people from Africa to slavery in the Americas from 1700 to 1807.  (Source Wikipedia). 
"There is a strong history of civic and social disruption and disobedience here that stretches from the early 1300s and Edward II, right up to the suffragette movement, civil rights, labour strikes, climate activism, Black Lives Matter, and the reaction to the city's slave history, as demonstrated vividly by the toppling of the statue of slave trader and city philanthropist Edward Colston," Christmas says. "That act triggered similar acts on statues representing colonialism, racism, and other acts of oppression. Today, there is great diversity in Bristol — social, racial, cultural, economic — and many equally diverse neighbourhoods from elegant Georgian Clifton to working and immigrant areas such as Easton."
As evidence of Bristol's struggle for independence, Christmas cites the invention of the Bristol Pound. "In 2012, Bristol set up its own currency — the Bristol Pound — to encourage people to buy local, and for businesses to localise their supply chains." The currency was withdrawn from circulation in 2020 but before that, it was the most successful local currency in the UK.
"Bristol has so much to offer to visitors," says Nation. "I think it has something for everyone. Bristolians are warm, welcoming and friendly people. It's just such a great place to explore and immerse yourself in its history and contemporary culture. The jewel of the West Country."  
In Bristol, I'm learning that everything has a deeper meaning when you look below the surface. But that's what makes it so compelling. Every time I learn something new, I want to keep exploring. Bristol, I'll be back!  
Arriving from London
Take the train to Bristol Temple Mead Station, There is a water taxi service operated by Number Seven Boats and Bristol Ferry Boats, which also offer regular ferry services to and from waterfront attractions and key points along the harbourside. The Bristol Packet runs guided trips around Bristol and along the river Avon to Bath.
You can also walk to the Old Town or take a bus that goes to the square near the Old Town.
Five-Day Itinerary in Bristol
There is so much to see in Bristol that I recommend a stay of four to five days. 
Harbourside:

SS Great Britain

,

M Shed Museum

,

Underfall Yard

,

The Matthew,

Spike Island

contemporary art space or visit 

Arnolfini

gallery.

Free Museums: Bristol Museum and Art Gallery, The Royal West Academy (RWA)
Clifton Hill Village: Take the number 8 bus to see the charming Georgian streets and garden square with boutiques and cafes and the Clifton Suspension Bridge and

Clifton Observatory

Christmas Steps for quaint boutiques and shopping (close to old town)  

Brandon Hill, the country's oldest public park and home to Cabot Tower (climb to the top) built in 1897, with beautiful views of the city  

Bristol Cathedral, built in the 12

th

century as Augustine Abbey, and St Peter's Church 

Bristol Central Library to see the green gothic arches inside and

Goldney Hall to see the grotto 

Tours: Walled City Walk and Off the Wall Art Tour.

Find a walking tour on Viator here.
The Bristol Old Vic Theatre, the longest continuously running theater in the English-speaking world. I was fortunate to see the final performance of Hamlet.
St Nicholas Market in the Old City: Dates back to the 1700s with over 90 independent food and shopping stalls.
Old Duke Jazz bar – one of the most wonderful nights I've had in a while! 

City Docks boat tour with Bristol Packet

:

Discover the fascinating history and contemporary culture of Bristol's Floating Harbour on this 45-minute tour.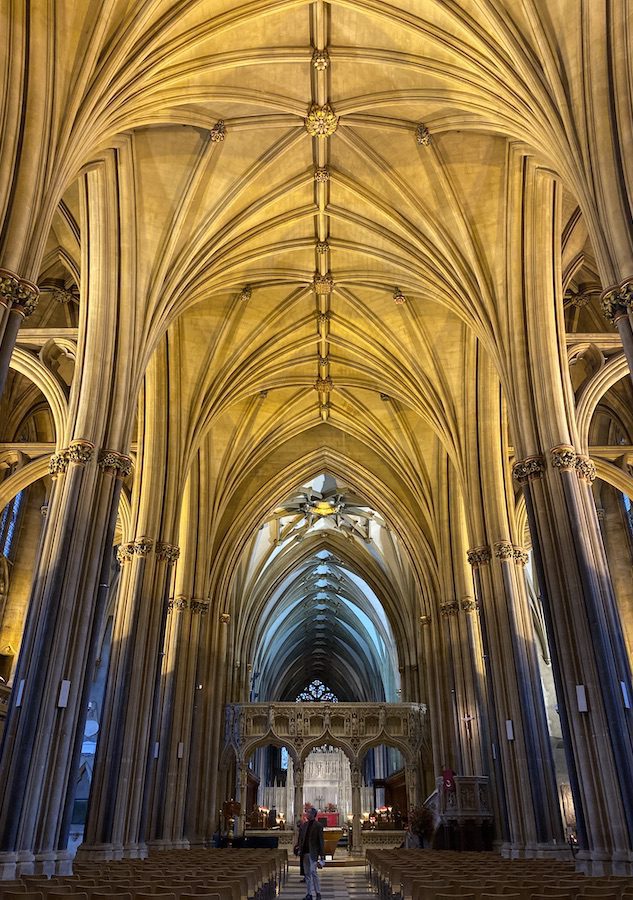 Interior of Bristol Cathedral / Photo by Carolyn Ray
The bustling Clifton Village / Photo by Carolyn Ray
Where to eat in Bristol
The Bristol Lido, a restored Victorian swimming pool with a lovely restaurant – Jane C. 
The Cloakroom, a trendy, unusual cafe housed in what was once a block of public toilets–some are still in use 

–

Jane C.
Clifton Village: The Ivy Clifton Brasserie https://theivycliftonbrasserie.com/  (make a reservation in advance), Coppa Club, The Clifton Sausage, which does a good Sunday roast – Jane C.
White Lion Bar for the view (but get there early to avoid lineups). It's also a hotel (check rates here) 
Strawberry Thief, right across from the Clayton Hotel, so named after William Morris' famous strawberry design, which covers the walls.
Shakespeare Tavern, the oldest tavern in Bristol

Cargo

at Wapping Wharf. Close to the M-Shed on Museum Street, Cargo is a community of re-purposed shipping containers offering a variety of international food outlets, from pies to noodles. Cargo 2 (opened in June 2017) adds 17 more businesses – including Josh Eggleton's ethical fish and chip shop

Salt and Malt

,

Wokyko

,

Root

and others.
More to Discover from the UK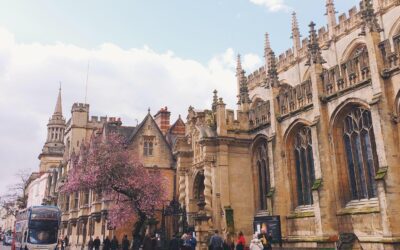 Our October 2023 Book of the Month, "The Dictionary of Lost Words", explores the creation of the Oxford English Dictionary and how words mean different things to men and women.
Visiting London? Why not take a long weekend break in Edinburgh, one of those magical cities that can be enjoyed year-round.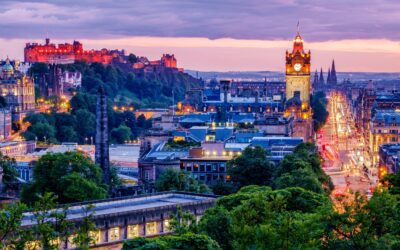 Take a break from the classics and discover these 10 intriguing books set in Great Britain and Ireland, from city to countryside.