Last updated on November 19th, 2023
Featured image: Shore of the Adriatic Sea and famous Palace of the Emperor Diocletian in Split, Croatia |   Photo by Zebra-Studio on Envato
From Dubrovnik to Split, Croatia is Simply Magical
by Carolyn Ray, Editor, JourneyWoman 
Even before the popularity of Game of Thrones thrust Croatia onto the global stage, it has always been on my list of must-see destinations.
In my imagination, I envisioned cerulean blue waters, pebbled beaches, craggy cliffs and an overabundance of UNESCO World Heritage sites. On all of this, Croatia delivered. What I didn't expect was the national obsession with olive oil and truffles, kindness of the people, and the fusion of cultures that give Croatia its unique mystique.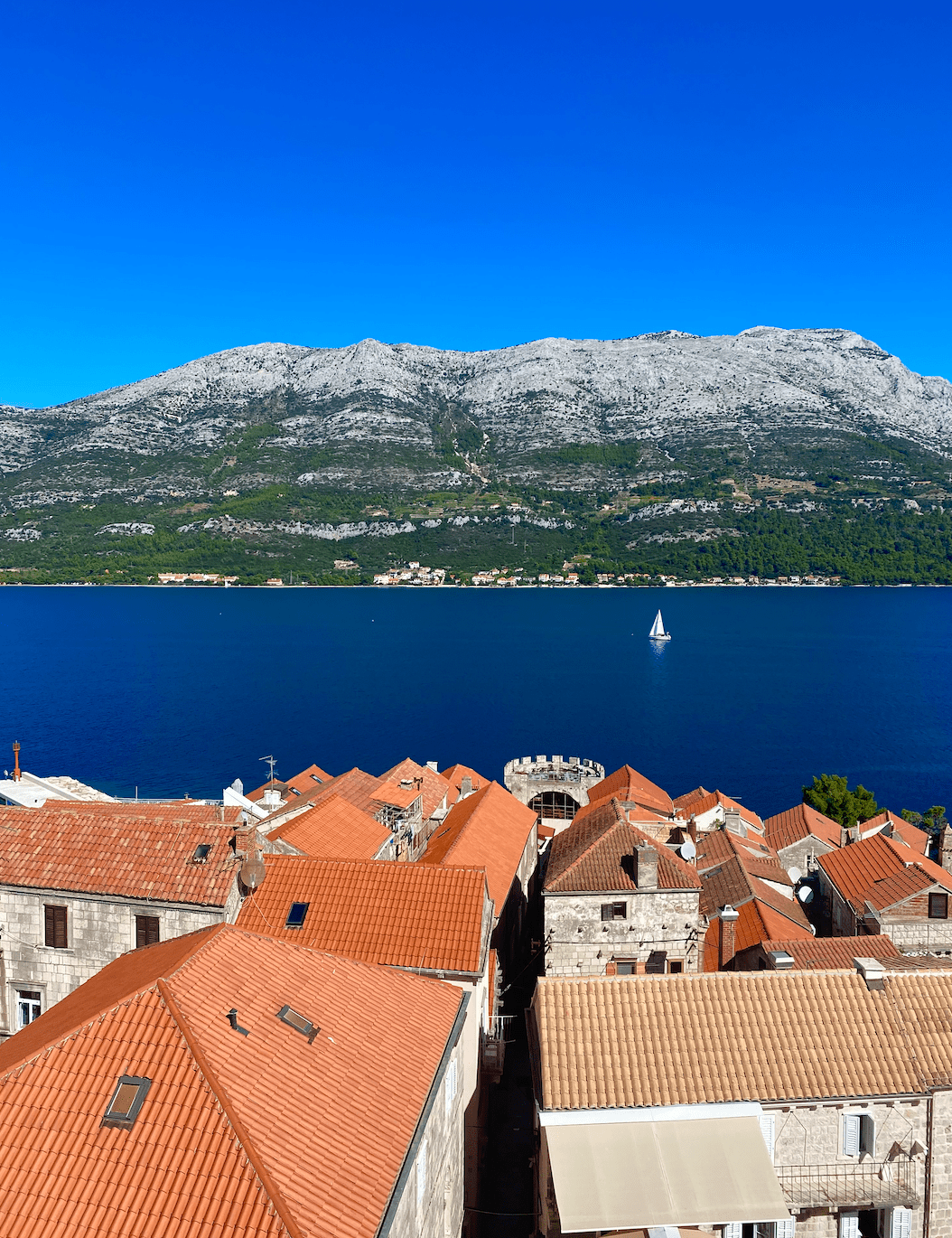 The view from Korčula, near Dubrovnik / Photo by Carolyn Ray
During the first eight months of 2022, 15 million tourists arrived in Croatia, almost surpassing 2019 levels at the same time, so when I was invited to join Insight Vacation's first women-only tour, I embraced the opportunity to visit Croatia for 13 days at the end of the high season at the beginning of October. I discovered it was still warm enough to jump into the Adriatic Sea during the day and the perfect temperature to enjoy cooler nights eating outside at patios with a light jacket and scarf. If I've learned nothing else in my life, it's to say 'yes!' when wonderful opportunities present themselves.
The origins of Croatia
Croatia has a more complicated history than any country I've visited before. My head spins considering all of the countries that have influenced Croatia's development: Roman, Yugoslavia, Italian, Venetian, Austria, and France. While Dalmatia might be the most famous region of Croatia, it's divided into three other regions, including Istria, Croatia (before it was adopted as the name for the whole country), and Slavonia.
The influence of the Romans is everywhere, notably in Pula, which boasts a Roman arena dating back to Augustus, built between 27 BC – 69 AD. It's the only one in the world to have all four towers entirely preserved and is among the world's six largest Roman amphitheatres, accommodating 23,000 people. For a crash course in Croatian history, visit TravelChannel.
A return to Venice
My trip to the Croatian coast began in Venice, a place I hadn't visited since I was 18. Needless to say, Venice is one of those places that never seems to change, although estimates say it is sinking at a rate of 1 to 2 mm per year. On the water, I could see the three underwater gates being built on the floor of the sea where the open sea enters Venice's lagoon. When the seawater rises above a certain level, the gates rise and shut out the Adriatic. Fortunately, Italy has finally banned cruise ships from entering the lagoon, instead docking at the city's industrial port of Marghera.
It's hard to believe that this city, built on wooden planks and poles, is over 1200 years old; and that many of the buildings are up to 800 years old. I had time to take a trip down memory lane, visiting sites I had seen in my teens, including St. Mark's Square, The Doges Palace and the Rialto Bridge over the Grand Canal. Unfortunately, the square was flooded when I was there, so St. Mark's Basilica was closed.
One thing that was new for me was taking a gondola ride. There are 400 gondoliers registered in Venice, and the tradition passes from father to son, although I was told there are some women now. Gondolas are customized for each person and are very heavy, at about 800 kilos. See more photos of my gondola ride on our Instagram account here.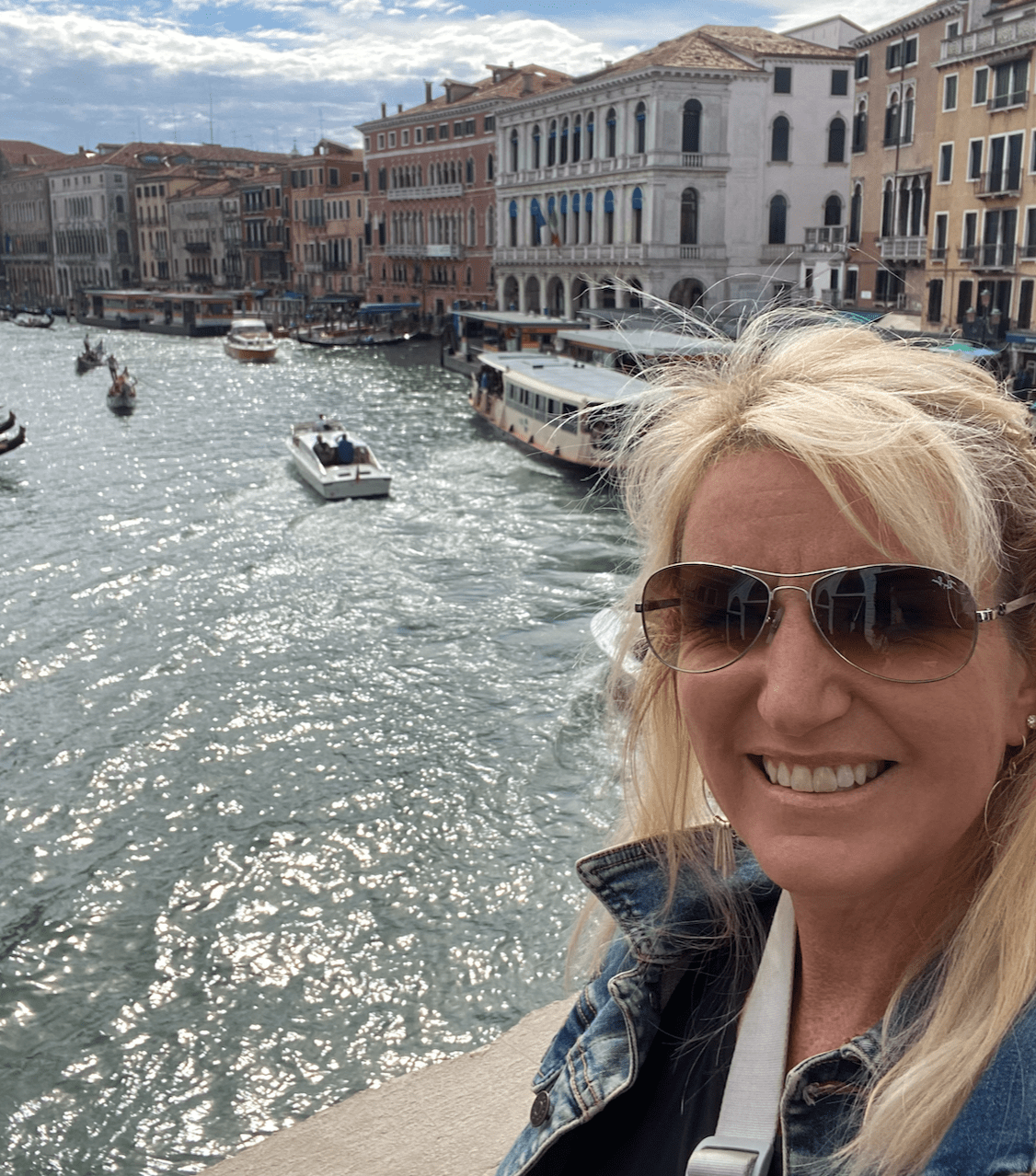 Looking out over the Grand Canal from the Rialto Bridge.
Even with the crowds, I found Venice enchanting and enjoyed following the streets wherever they led. My tour had side trips to Murano and Burano (seemingly the same trips I did in the 1980s). To be honest, while I enjoyed Burano, both felt over-touristed to me and extremely expensive, particularly the glass-blowing factory (which I'm sure I visited 35 years ago!).
Case in point: In my desire to support the local community, I bought a fairly expensive leather bracelet with glass beads at the CAM Vetri D'Arte factory after being told it was authentic Murano glass, one-of-a-kind. Imagine my surprise when the next day, I saw the same bracelet on Burano for 80% less than I had paid. (And since then, the beads have fallen off the one I bought. Ouch!)
Four places not to miss in Croatia
Dubrovnik, where every street has a story to tell
Dubrovnik is a city for wandering – shops one way, cafes the other, with museums, squares and a scenic walk along on the walls. It took 500 years to build, and the oldest part of the city is the cathedral, which has ruins underneath dating back to 1358. At its height, it was the biggest fort in the Mediterranean and a trading centre for salt, which was precious at the time.
I arrived early at the main Pile gate (there are two gates into Dubrovnik) so that I could talk the gates at my own speed before the cruise ship crowds arrived. I recommend a city pass for 250 Kuna, which includes bus transportation if you need it (buy it online here). If you go, try to find a place to stay along the bus route, or within walking distance of the Old Town.  Find places to stay in Dubrovnik here.
The walk up to the wall is a challenge – there are lots and lots of steps, so not everyone in my group could do it — but for me, it was probably a good idea to work off all the delicious food and desserts I became so fond of in my time here. The walk took me about 90 minutes, and because it was early, I was able to take lots of photographs, stop for a coffee and enjoy the views.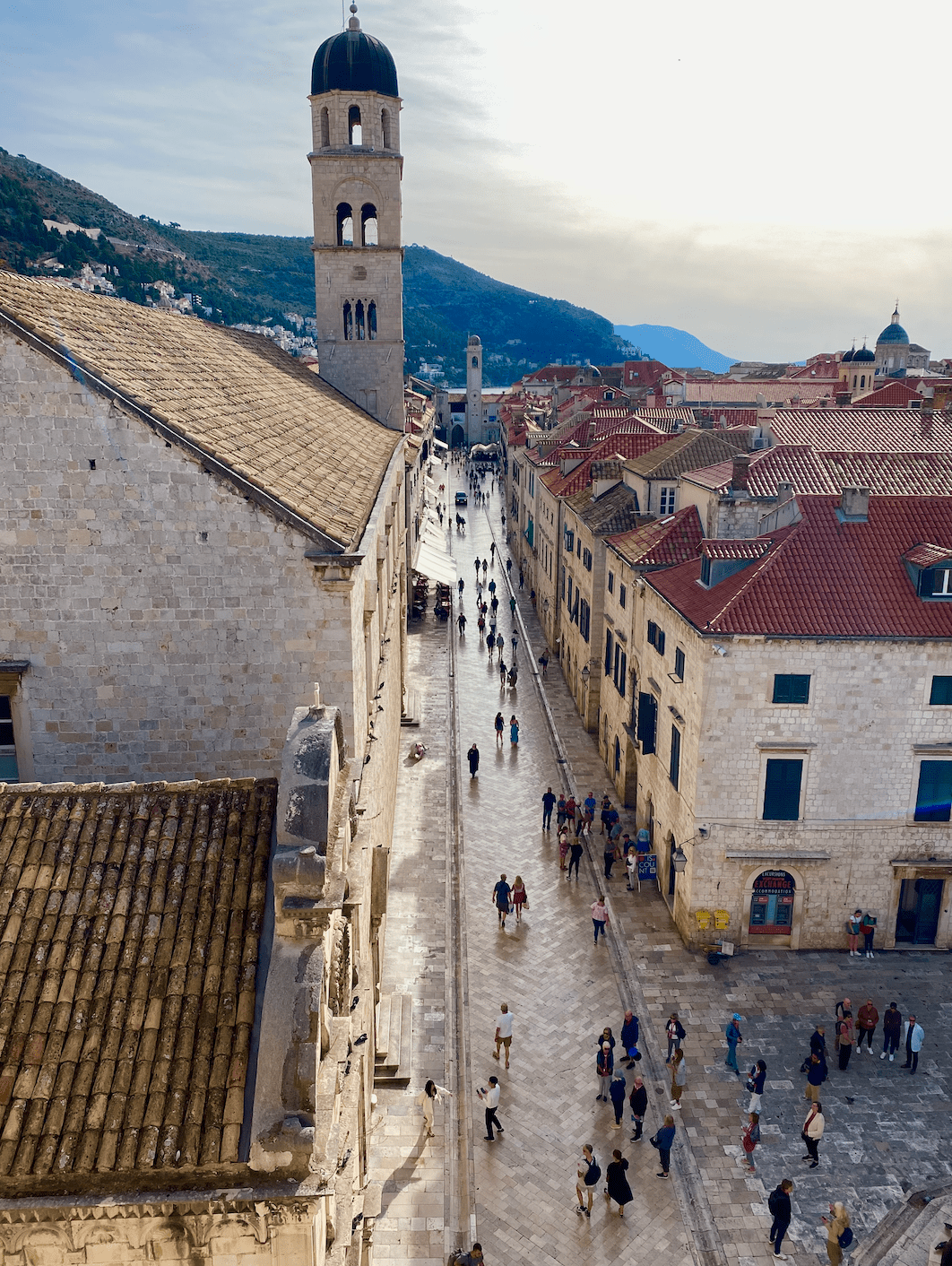 Looking down on Dubrovnik from the Wall/Photo by Carolyn Ray
If you want to see Dubrovnik from above, take a gondola ride up the hill. Make sure to buy your ticket (which is 200 Kunas/ US$25 round trip) at the station to avoid a 10 Kuna surcharge. Near the Pile wall, you'll find a freshwater cistern that has provided water since the 1400s, making it a perfect place to fill up your water bottle. There are 14 side streets, some with restaurants and others with shops.
Throughout the city, GOT fans will recognize various filming locations, including the Jesuit (Spanish) steps by Saint Ignatius Church, where Cersei walked naked in the streets of King's Landing from the Great Sept of Baelor to the Red Keep to the sounds of 'shame, shame'. (Find out more about GOT filming locations and tours here).
I visited as many museums as I could.  Built in 1317, the Old Pharmacy Museum in the Franciscan Monastery has one of the oldest pharmacies in Europe. The Maritime Museum is housed in St. John Fortress, which contains over 5,000 ship models and maritime objects. The 15th century Gothic-Renaissance Rectors Palace, now the Cultural History Museum, includes artfully restored rooms, portraits, coats of arms and coins, evoking the glorious history of Ragusa. Find guided tours for Dubrovnik here.
There's an interesting tradition where pigeons are fed in the main square at noon every day. Even before the church bells ring at noon, hundreds of pigeons flock to the roof, awaiting their lunch. When the seed is spread on the ground at noon, it's truly an unbelievable sight until the schoolchildren run in and scare them away.
Istria, where sustainability is at the forefront
Women entrepreneurs were featured throughout the tour, but the highlight was Dr. Irena Fonda, who runs a sustainable fish farm with her family in Istria, a region of Italy near Slovenia. Dr. Fonda's farm was chosen as Alpe Adria's most sustainable project in 2019 and Slovenia's hidden gem award in 2022.
To better market her fish in a competitive global market, Dr. Fonda created a new fish brand called "Fonda" which I enjoyed at a local restaurant – delicious. (It's sea bass, indigenous to the area). She puts tags on her fish with the date it was caught and which is sold one day later.
She says what we buy in stores that is called 'fresh' is probably 7-10 days old, so it's all relative. In fact, China produces half of the world's fish. Her advice: find local producers and support them. When you buy fish, smell it to make sure it's fresh, don't rely on the colour. She says it takes 4-5 years for fish to develop versus 42 days for a chicken – so the next time you eat fish, remember that! To arrange a tour and learn more visit @fondaturistica. Find places to stay in Istria here.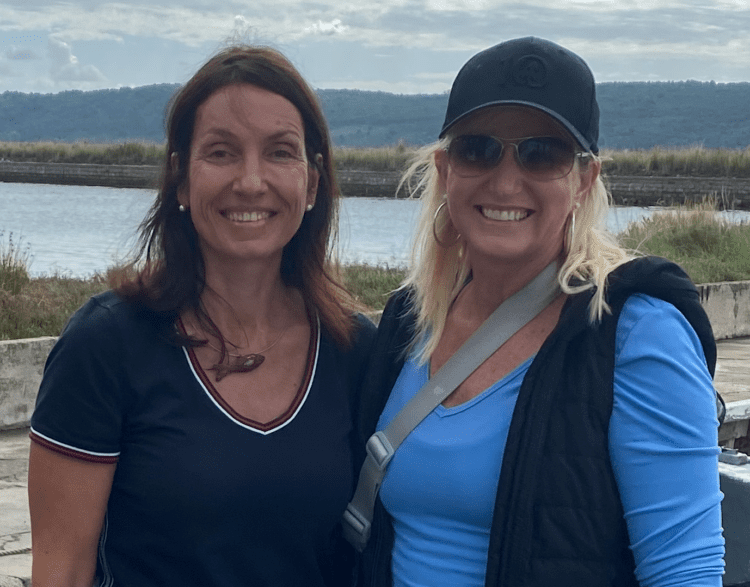 With Dr. Irena Fonda in Istria / Photo credit Carolyn Ray
Don't miss Split, a UNESCO World Heritage Site
The largest city on the Adriatic Coast, Split has been under Roman, Venetian, Austrian, French, Italian, and Yugoslav rule. Climbing up the medieval Klis Fortress, high up above the city, I was channeling Game of Thrones, which fans will recognize as Meereen. Klis is only 20 minutes from Split and worth the climb for the stunning views. (Admission to the Fortress is 60 Kuna/US$9).
The real highlight is Diocletian Palace, an incredibly well-preserved UNESCO World Heritage site built in the fourth century AD. It was by the Roman Emperor Diocletian as his retirement home, due to the healing properties of the sulphur springs under the city. Astonishingly, there are 60 rooms below the palace that were only discovered in the 1950s to be full of debris and cleaned out. In the subterranean Museum of Split, you can where the scene with Daenerys' dragons was filmed.  
While in Split, I was serenaded in the Vestibule which has incredible acoustics. Don't miss a trip up the Bell Tower at the Cathedral of Saint Domnius (20 kuna) for the views of the harbour and old town. If you decide to climb the St. Dominus bell tower, know that there are more than 180 steps and it's a very narrow walk. While I didn't get to Marjan Hill, it's highly recommended for the view of the city and the port from above.  Other tips from my guide Petra: don't miss the Split Ethnographic Museum, which houses valuable collections of folk costumes, jewellers, arms, household inventory, and traditional handicrafts. For a coffee away from the crowds, try the Split Museum of Fine Arts, and don't forget to rub the toes of Gregory of Nin, which is said to bring good luck!  There's so much to see here, I recommend booking a walking tour and spending a few days.
I would have loved more time in Split to explore the streets and restaurants. I highly recommend a leisurely coffee to people-watch in the busy squares and black squid ink risotto at one of the charming cafes. If you can, stay on the Palace grounds in one of the many boutique hotels.
The view of Split from the Bell Tower/ Photo credit Carolyn Ray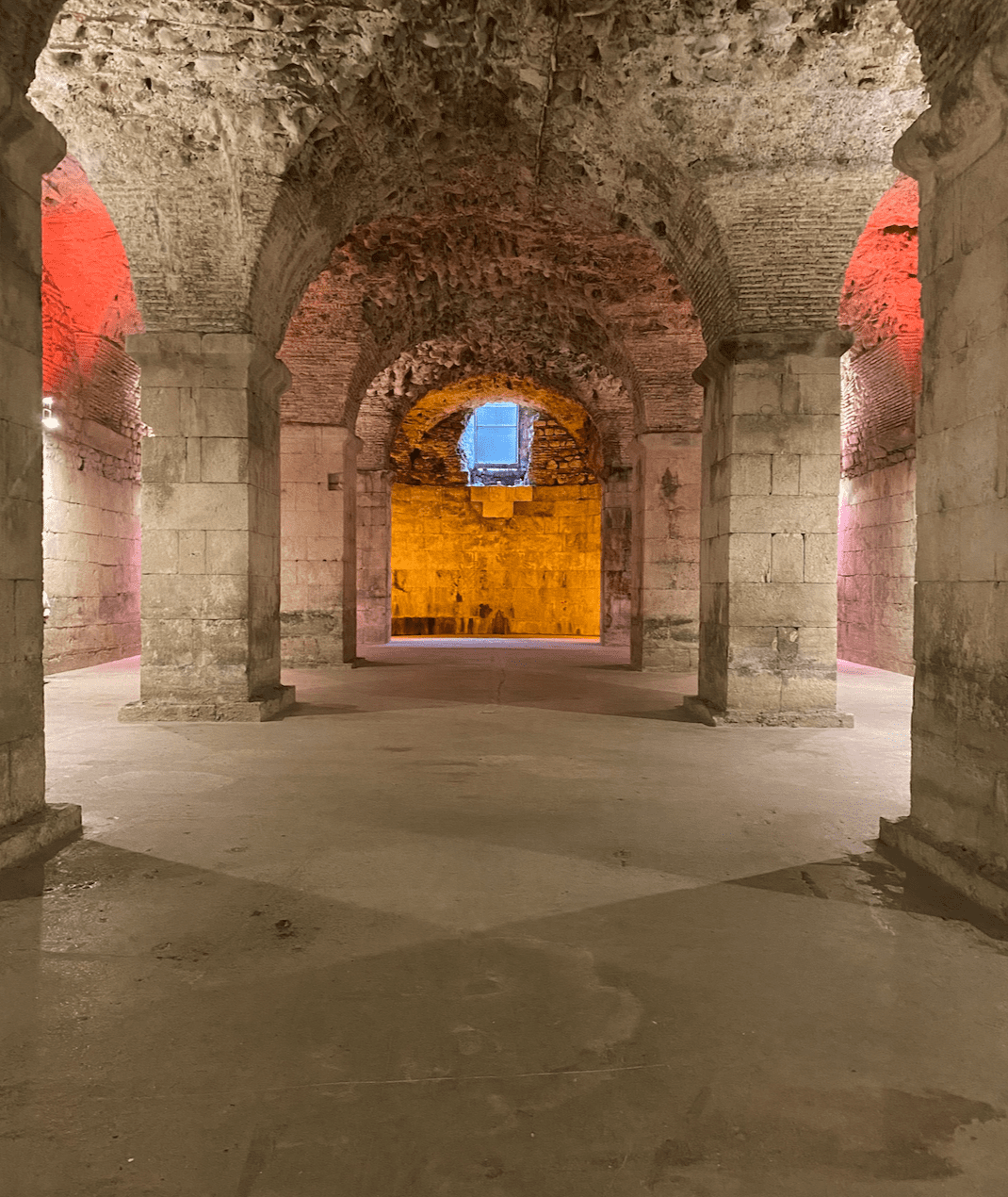 Museum of Split/ Photo credit Carolyn Ray
The stunning islands of Croatia: Hvar and Korčula
There are over 1200 islands in Croatia, and almost 50 of them are inhabited. There are two of them — Hvar and Korčula — that I'd love to return to.
The charm of Hvar
From Split, we took a two-hour ferry to Hvar, which is known as the sunniest island in Croatia, and is named among the 10 Best Beaches in Croatia by CN Traveler. This island, which is known for its lavender, has a high season from May to September. When the last guest leaves in October, this island of 11,000 people shuts down. According to our guide, Tanya, the only entertainment in the winter is gossip!
This town is simply charming, with many shops and restaurants, and a large town square with patios and a marina and fortress up above. Don't miss Hvar agave lace, which is made only in the local Benedictine Monastery. This is part of a national lacemaking tradition in Croatia that, along with bobbin lace from the northern town of Lepoglava and needlepoint lace from the island of Pag, was collectively added in 2009 to the UNESCO Representative List of the Intangible Cultural Heritage. It's a wine-producing region, so don't miss the fresh, aromatic white wine, the Pošip wine, which is served at most restaurants.
While Hvar's only 5-star hotel, the Elizabeth Hotel, named after the Austro-Hungarian Empress 'Sisi', may appeal for its central location, you'll want to look a bit further away for a quiet night's sleep. With boats arriving from nearby islands until 5 am and music in the square, you might find it too noisy.  (If you haven't read about Sisi, I recommend this book by Alison Pataki)
The warm winds of Korčula
From every possible angle, the medieval town of Korčula promises stunning views and turquoise waters. With only two entrances (land and sea) it's shaped in a herringbone pattern that allows for wind to circulate freely. I visited Marco Polo's house, gingerly climbed up a narrow staircase to the top of the bell tower, wandered the meandering cobblestone streets and quaint restaurants along the water's edge.
With only 5,000 residents and a sprinkling of tourists, it was fairly quiet. One of the highlights for me was a leisurely lunch of mussels and wine with Celine Cousteau, who joined us in Korčula as the Travel Corporation's  Treadright Foundation Ambassador. As a documentary filmmaker and gifted storyteller, she has traveled the world working to help amplify the voices of the amazing individuals who are working to protect ecosystems, wildlife and people. It was fascinating learning about her documentary, "Tribes on the Edge", which follows her journey as she returns to the Brazilian Amazon 25 years after traveling there with her grandfather, Jacques, as a child.
My two weeks in Croatia weren't enough to really appreciate all it has to offer, and I'd love to return and spend more time on the islands and in Split, which really captured my imagination. October was the perfect time to visit, without the crowds and lineups, allowing more time to connect with the wonderful women on the tour and lots of time to myself.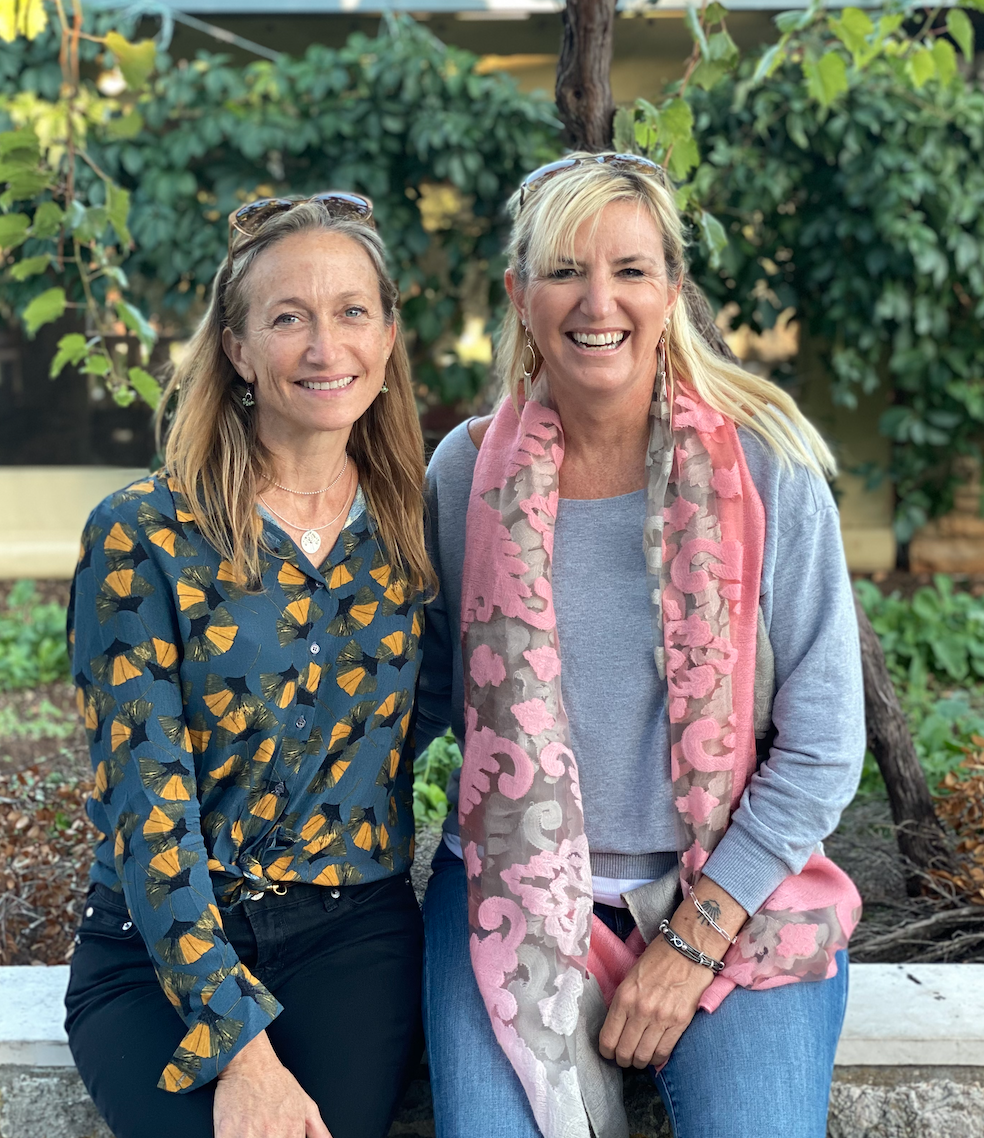 With Celine Cousteau in Korčula/ Photo credit Carolyn Ray
Other less-travelled places to see in Croatia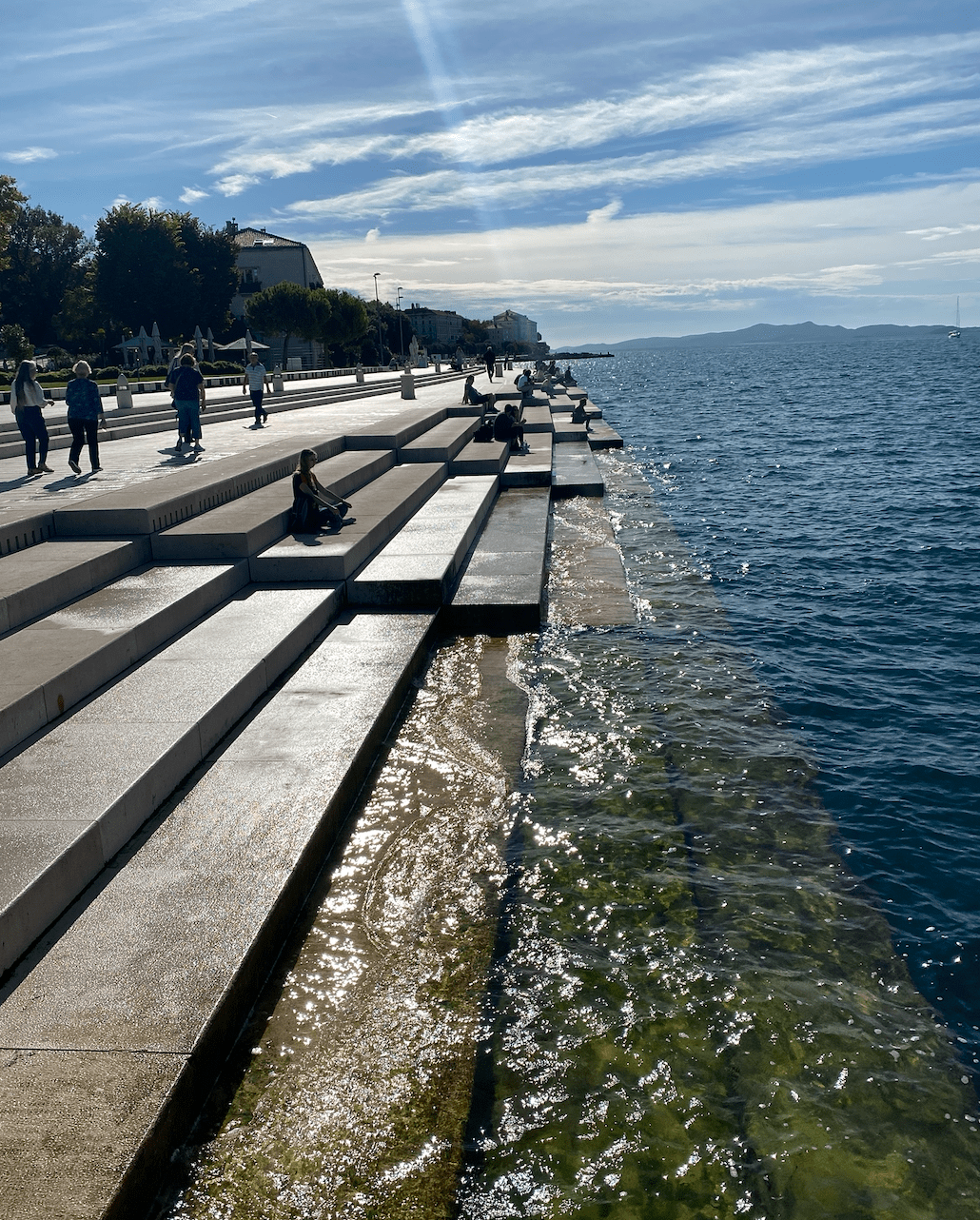 Zadar  
Zadar, once called Zara, was almost completed destroyed in WW2. When the waterfront was rebuilt, name created an experimental musical instrument ('a sea organ') with tubes that interact with the waves and create organ-like sounds. There's also a sundial or "Greeting to the Sun", with 300 glass plates in a 22-metre diameter circle that captures the sun and creates a light show at night.  
Opatija
Near the Slovenian border, Opatija feels like a blend of many European cities. The symbol of the city is the maiden with the seagull, holding vigil for souls lost at sea. The architecture is stunning and I could almost imagine sipping Bellini's by the waterfront in the summer…. Maybe next time!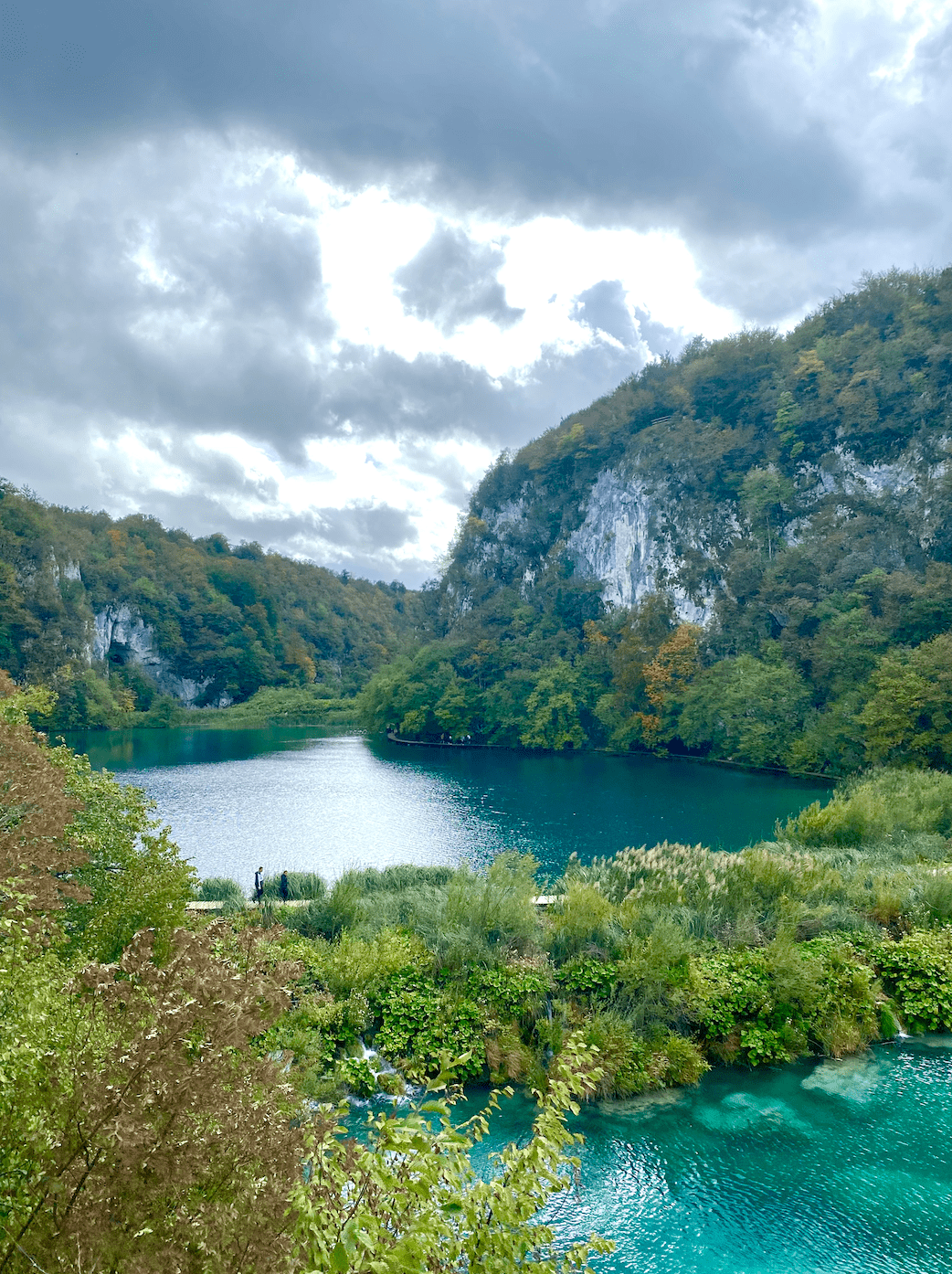 Plitvice Lakes National Park
A UNESCO World Heritage Site, Plitvice Lakes National Park is Croatia's oldest and largest national park covering almost 30,000 hectares. With waterfalls, walkways and hiking trails that wind around its turquoise lakes, it's a breathtaking place. 
Tips on Visiting Croatia
Pack water shoes like these for the pebbled beaches and to avoid sea urchins, which are everywhere
Cash is king in Croatia, and preferred by most restaurants. In January 2023 the currency will change from the Kuna to the Euro. If you use a credit card, consider using a Wise credit card to avoid transaction fees.
Tip in cash only, and never take money from ATM without bank logos.
Uber is used in Dubrovnik – a one-way ride to the airport was about C$35.
While Croatia is very safe, dial 112 if you run into issues.
I used an eSim card from Airalo throughout the region which worked perfectly.
There are a lot of stairs and cobblestone streets, so wear sneakers or comfortable shoes.
Disclaimer: For this trip, I was a guest of Insight Vacations. They did not review this article prior to publication. To learn more about Insight's Women-Only Tours, including their upcoming Women-Only Trip to Iceland in July 2023, visit their listing in our Women's Travel Directory here. 
More Adventures in Europe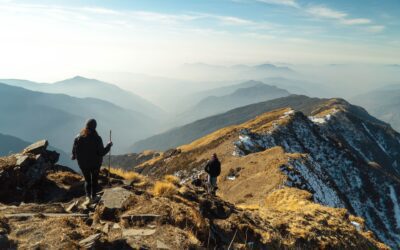 From Cuba to Mongolia, these unique small group tours from our Women's Travel Directory will connect you with people, places and wildlife.
Discover what to eat in Flanders, Belgium with some of the world's best beer, chocolate and fries. Dine, slurp and drown in butter, cream and farm-fresh food.
Once upon a time, not too long ago, pilgrims could walk the Camino de Santiago without a reservation and a phone. But is it possible now?