Last updated on November 19th, 2023
Featured image: Cowgirls at Allenby Pass: Bev, Carolyn, Louise and Darcye 8,100 feet up in the Rocky Mountains
Five Lessons to Embrace Adventure in the Real Canadian Rockies
by Carolyn Ray
"Trust your horse," Brooklyn repeats, as I watch rocks scatter below my feet. My chocolate brown quarterhorse, Latte, has stopped moving along a narrow trail on the side of a mountain, no doubt feeling my anxiety as I imagine us toppling into the valley far below. I readjust my weight so that I am sitting squarely on the saddle. Taking a deep breath, I look straight ahead, where Brooklyn, my guide, is waiting patiently for the eight of us (four women, four horses) to make our way across the steep, rocky incline leading up to  Allenby Pass, high in the Canadian Rockies.
"Okay, Latte, let's do this," I say and urge my horse forward, secretly wondering how I have found myself perched on the jagged edge of a rockslide. I like to think I'm adventurous – I've jumped down waterfalls, ziplined through jungles, mountain biked in forests and snowboarded through knee-deep powder. But this? On my third day of a six-day backcountry ride with Banff Trail Riders near Banff, Alberta, I am in new, uncharted territory. Do I have the courage to keep going? Or should I wimp out and ask to be airlifted back to civilization?
How do you become a Cowgirl?
When I am invited to join this trip by Wild Women Expeditions, my first question is: "Do I need to know how to ride a horse?" With only two weeks before I leave for Banff, I research everything I can find on horseback riding etiquette, clothing and safety.
I've ridden horses before, but never for six hours a day in the Canadian Rockies, through avalanche paths, rockslides, and rivers. My last equine experience was an uncomfortable hour-long ride in Cuba in March 2020, where I spent most of the time trying to avoid being tossed off a cantankerous horse on a steamy day. I scour Netflix for western movies and search websites for clothing recommendations. Before long, I am inundated with advice ranging from 'do squats' to 'wear breeches.' I try to freshen up my knowledge from horseback riding lessons but there's not enough time, so I call friends and family for advice on horses and quiz them on etiquette.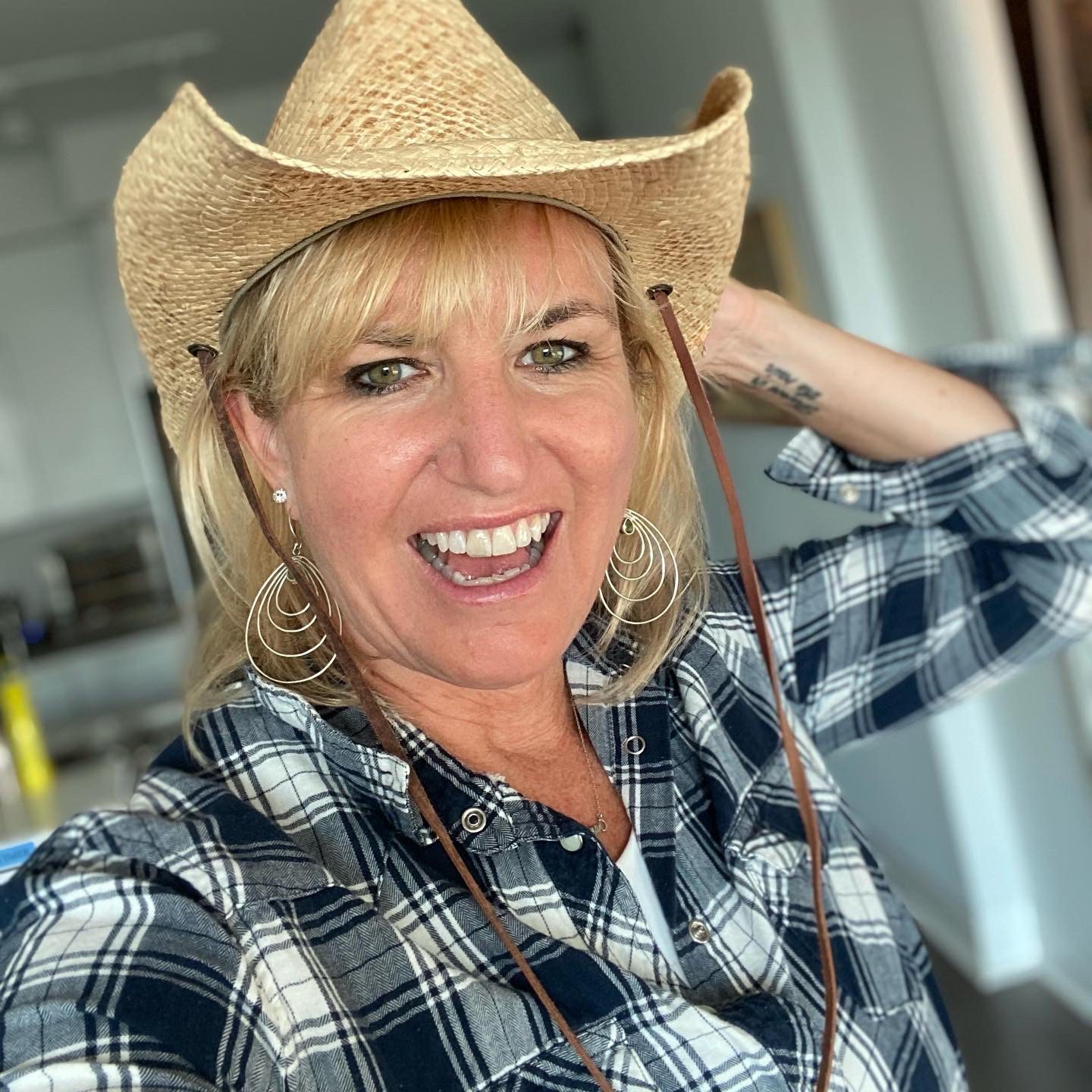 Having downsized most of my clothing, I don't own boots with heels, so my first purchase is a pair of Ariat brown laced boots that I can wear again. I find two women's cowboy shirts and a jean jacket at Value Village. I discover I can fit bike shorts under a favourite pair of well-loved, fairly seamless, black jeans. Instead of buying riding gloves, I opt to repurpose my old gardening mitts. My biggest challenge is finding a hat, and the day before I leave, I find the perfect Stetson at Bootmaster. I feel ready to be a cowgirl!
The Women of the Backcountry
I meet the three other women I'm riding with and my guide, Brooklyn, on a sunny Sunday morning at Warner Stables in Banff. Brooklyn is one of five female guides at Banff Trail Riders, the largest horse-riding outfit in Canada, with over 300 horses and mules.
Brooklyn competed with 240 people for her position when she was hired three years ago at age 18. She started leading the six-day trip this year, considered the most adventurous of BTR's tours, under the mentorship of her manager, Erica, who taught her about the "mental drive" required to be in the wilderness.
"Being in the backcountry is a mental game – you have to manage uncertainty, anxiety and stress – of your guests and the horses," says Brooklyn. "You can be your own boss – but you also take responsibility for the people and horses in your care, something I don't take lightly."
Established over 50 years ago, Banff Trail Riders is now co-owned by passionate horsewoman Julie Canning, who left her role as a corporate CEO to spend her days in the saddle.
"We hire for skills but we also look for what we can accomplish as a close-knit group," says Julie Canning, Chief Cowgirl and Operating Partner at Banff Trail Riders. "When I took over the company in 2014, women weren't in the backcountry, but now, we run it. We go in, have a shared experience together and come out stronger together."
After hearing this, I feel like I'm in the right place.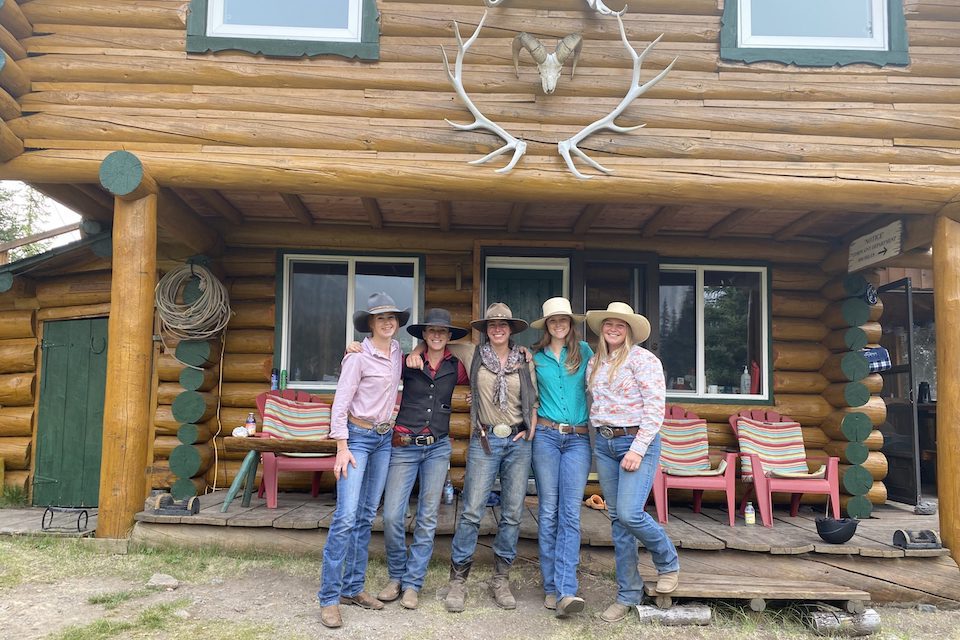 The Women of the Backcountry: Brooklyn, Erica, Danny, Dakota and Emily
The Real Canadian Rockies
 The Rocky Mountains are the largest mountain system in North America, stretching 3,000 miles across a long, narrow region from British Columbia into New Mexico. They were formed 80 to 55 million years ago, when plates began sliding underneath, creating sculpted rivers and valleys. The Canadian Rockies differ from the American Rockies both in appearance and geology, as they are heavily glaciated, resulting in sharply pointed mountains of limestone and shale, with valleys gouged by glaciers. The American Rockies are more rounded mountains of granite and gneiss. Together, I'm told the Canadian and US Rockies mark the edge of the continental shelf, where the ocean once was.
I've spent time in the Canadian Rockies, in Fernie, Kelowna and Whistler, but the backcountry is a new experience. 'Backcountry' means the area is not accessible by roads, as opposed to 'front country.' Even though we're only a few kilometres outside of Banff, there is no cellular service, no wifi and no electricity. Once you cross into the backcountry, you are in the real Rockies. There are mystical, untouched forests where the moss covers the ground like a carpet. Massive avalanche paths and rockslides are reminiscent of scenes from Lord of the Rings, with trees and boulders from avalanches dotting the landscape, and fast-moving rivers.
Five Lessons From the Backcountry
Before the pandemic, breathing and travelling were one in the same for me. I was rarely home, discovering and exploring new places and learning new things. On this trip, I am reminded how exhausting it is to learn a new skill, something I haven't done since learning to surf in Tofino, B.C.
The dynamic of horses brings a new element to the experience. It's a little different from kayaking, surfing or hiking – there is an animal involved, with his own personality, preferences and behaviours.
1. Adopt a Learning Mindset
I am completely intimidated when I discover that the three other women on my trip all have riding experience. Bev, from Okotos, Alberta, grew up with horses and radiates confidence and expertise. Louise and Darcye, from Winnipeg and Vancouver respectively, are accomplished riders and horse lovers. My greatest fear is being that person who holds others back.
"Assume I know nothing," I tell Brooklyn as I stand in front of my horse for the first time. "This is your opportunity to teach, mould and shape me."
Brooklyn laughs and says she'll do just that. "To succeed on this trip, you have to have the right mindset," she says. "It has less to do with riding ability and more about following the way of the guide. I've had guests who say they don't want to do this, that they aren't confident. It's very cool to have people who have no idea what they're doing but they want to be here. Only 100 people a year get to see this part of the world, so for the people who want to be here, it's even better."
I dig in, listen and watch. Over the next six days, I learn how to get on and off the horse, hold the reins (in one hand, like an ice cream cone), stand up in the saddle when the horse pees (who knew!), to deliver all the commands both in an authoritative voice and with my body, cross rivers, and to learn forwards and backwards when coming up and down steep trails.
Louise's Tip: Don't think you know everything. Go in a with a novice's mind – listen to the guides.  Be prepared to tune out.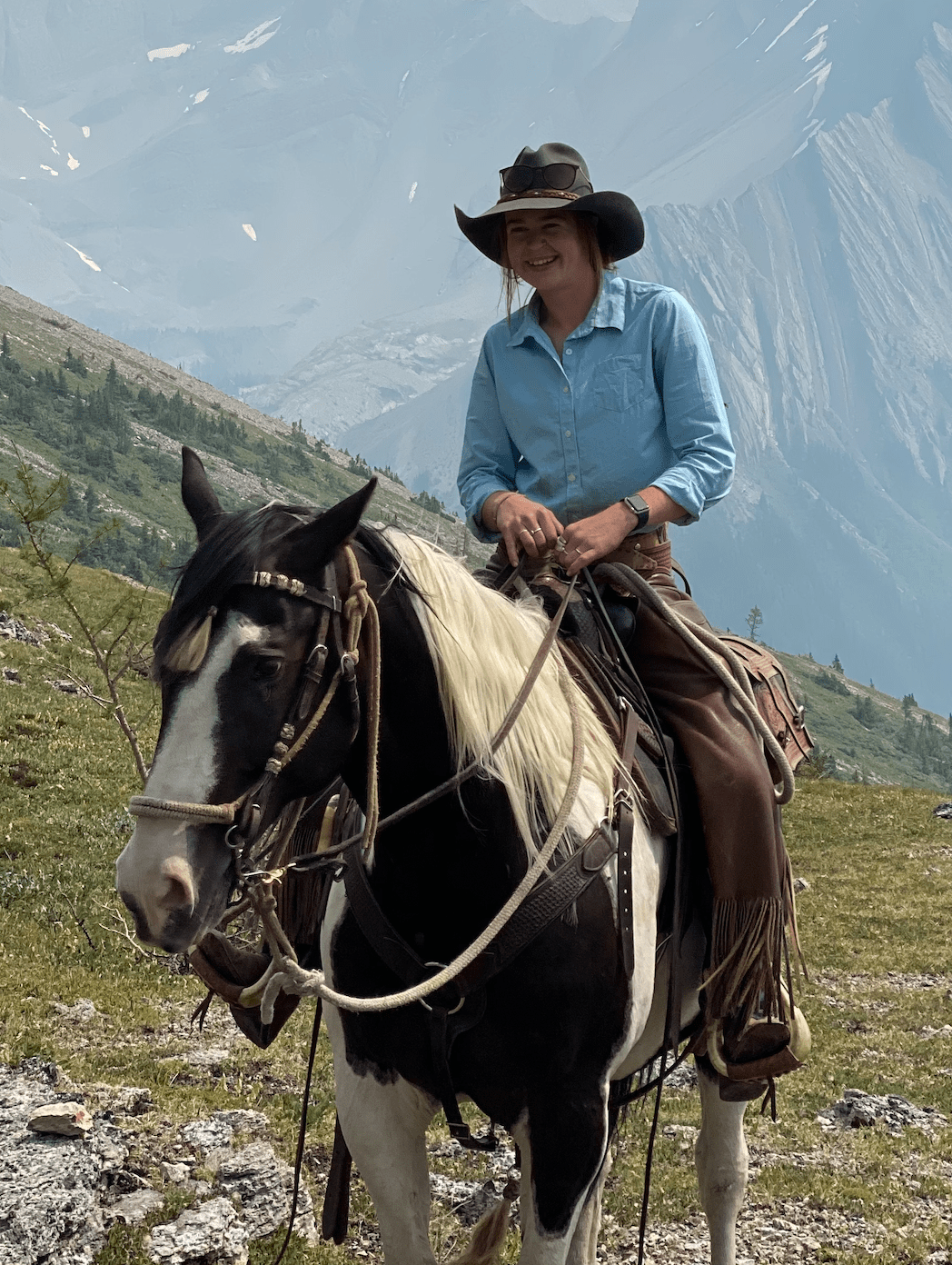 Brooklyn, our guide from Banff Trail Riders
2. Be ready for the unexpected
Trail riding is a strenuous physical sport. It's not an activity where you sit passively and watch the world go by for hours on end. It requires awareness and focus – of the horse, of your body and of your surroundings. At any moment, a grouse can jump out of the bushes, startling the horse. There's no such thing as a flat, hard-packed trail.
In the first two hours on a narrow trail, we come face to face with a fast-moving train of 10 mules roped together (called "packers' because they move supplies and luggage between sites). Latte, being a social animal, decides to turn and follow them, causing a commotion of epic proportion. "Turn, turn, turn," Brooklyn yells and somehow I untangle myself from the mules and rejoin my group.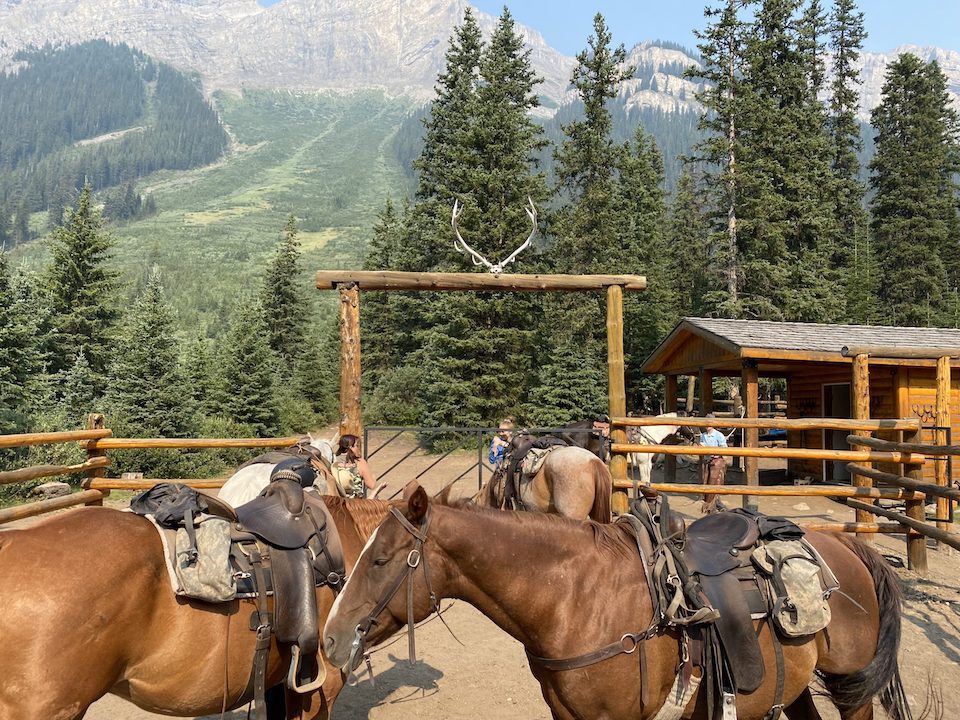 Preparing to ride in the morning at Halfway House. The horses and mules are very well treated, with lots of rest between rides.
3. Trust the horse
If only 100 people a year come to this part of the world, even less take the trail up to Allenby Pass, a gruelling 8,100-foot vertical climb. On the way up, I lean forward in my saddle to help Latte climb.
On the way down, I stretch out backwards like a rower, my head behind the saddle, completely surrendering to him. The trail zig zags across water, rocks and gravel, and many times, I can't look down, so I follow Brookyn's advice and look up as we climb slim trails that don't seem wide enough to walk on.
After several hours, we reach the top and it's spectacular. Here, we are eye-to-eye with snow-covered, jagged mountain peaks. It's hot and dusty, and the wildflowers dance in the breeze. Due to the nearby forest fires in BC, it's smoky, but it feels like we're on top of the world. Many of the rocks look like coral, reminding me that this is where the ocean once was before it receded millions of years ago.
This is the highlight of our trip. "The vista, the views and the expanse at Allenby Pass are amazing and humbling," Darcye says. I couldn't agree more.
Leaving Allenby is bittersweet. I don't want to go, but I'm a bit concerned about the vertical incline back to the valley. We're moving slowly down a steep, rocky path, when Darcye's horse, Sly, gets his head stuck inside his front strap, breaking it and knocking Darcye off against the mountain. For a moment, I wonder if we're going to make it but Brooklyn takes charge, calms the horses down and we make it down safely.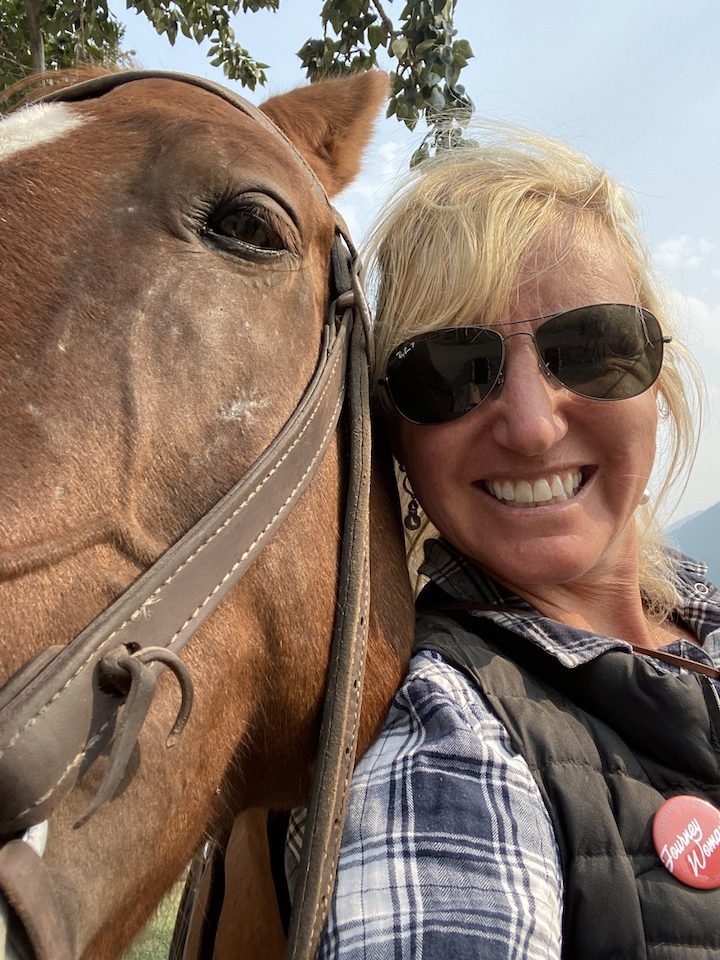 Carolyn and her horse Latte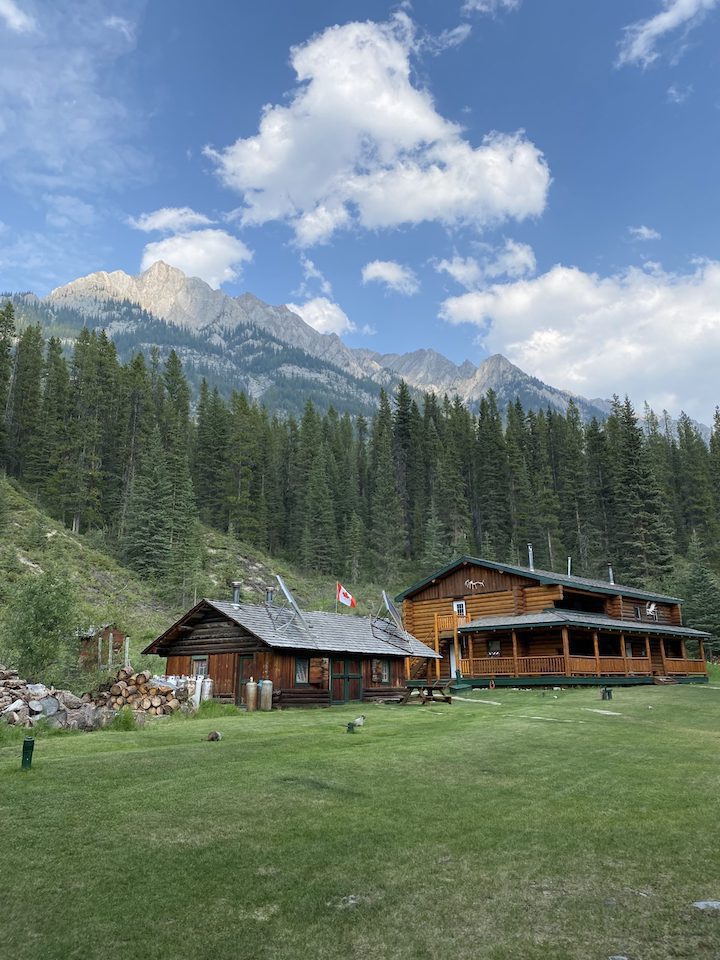 I stay at two lodges, Sundance Lodge (pictured) and Halfway House, which are a three and six-hour ride (32 km) inside Banff National Park on a single-track trail. Both are built in a log-cabin style, and Sundance remains open in the winter for backcountry hikers and cross-country skiers.
4. Embrace the Unknown
I can't imagine how the early explorers, many of whom were women, found the courage to break these trails 200 years ago, in the middle of this vast wilderness of peaks and valleys. In a nod to the traditional explorers, 'mule trains' bring materials in and out, including food, bedding, luggage and furniture. The mantra is 'take back what you bring in;' even the outhouses are cleaned out before the winter.
"As a guide, you can't change people," Brooklyn says. "You have to step out of your comfort zone and tell yourself 'I want to do it! I want to try and ride and get that horse across water!'"
For Louise, who's been taking horseback riding lessons for years, the trip was a way for her to reconnect with nature and push herself far out of her comfort zone.
"I worked in offices most of my working life and I wanted the freedom to try this experience," she says. "It's a different world out here. Just watching all these young people and all they do, so at ease, packing up the mules the way they did it 100 years ago, it's to be admired. Allenby Pass was a big stretch for me. Sitting in the lichen and moss at the top, I almost couldn't believe I could do it."
Bev's Tip: Be brave and do it. Be willing to be outside your comfort zone and your box, and embrace adventure. 
5. Live in the moment
Over my six-day trip, I meet women from around the world –  including Danny from New Zealand, Dakota from Australia, and Claire from the UK. Our meals together are family-style, where everyone eats together, staff and guests. No topic is taboo, and the women are keen to share their views and perspectives. Much of our discussions are about the animals; they know mule and horse by name, its characteristics and can tell stories about them as if they are people. It's endearing and inspiring.
Without electricity, the kitchens are basic, creating challenging cooking situations for the female cooks, many of whom come from five-star and Michelin-ranked restaurants. I'm particularly impressed when Dakota, who's from Australia, creates a delicious turkey dinner, complete with stuffing, mashed potatoes, gravy, and a homemade chocolate cake.
"It's a lot easier to have a female guide who has compassion for the job and to be around other women working. It's very easy to talk to them and tell them what's going on," says Brooklyn.
Even though it's light out until 11 p.m., I can barely stay awake until 9 pm, and fall asleep to the sounds of rushing water and birdsong.
Darcye's Tip:  Come but be prepared to look after yourself. Learn how to adjust to the circumstances and to appreciate the support of the people around you, and the beauty of the place.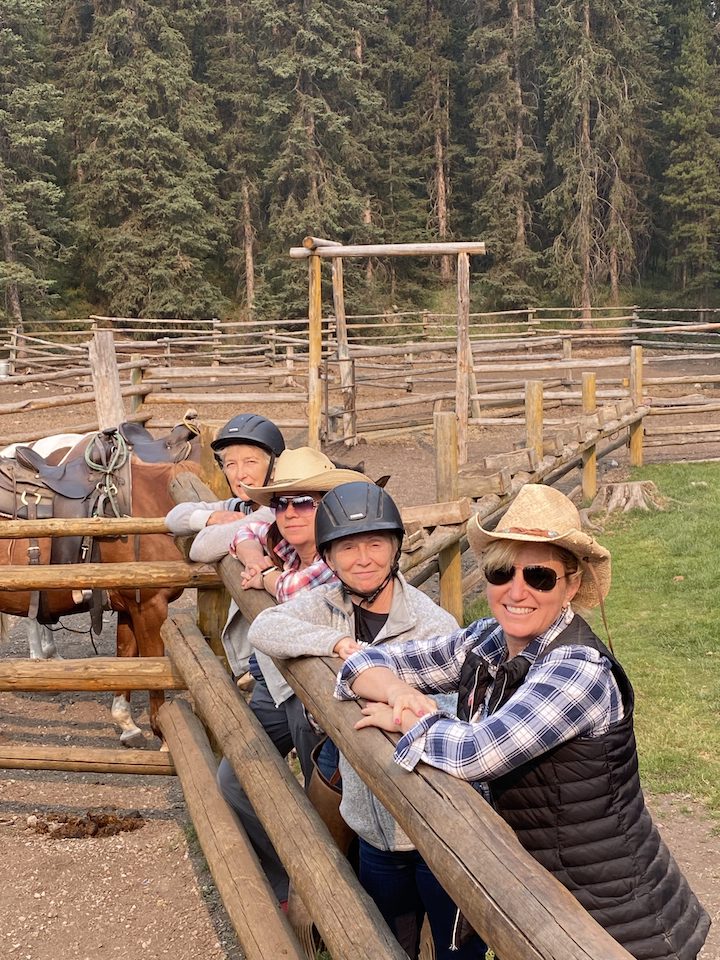 Cowgirls at the corral: Darcye, Bev, Louise and Carolyn
Connecting with Women
The backcountry is a place where women bond together in the wilderness, embrace honest conversations and overcome challenges together. This is my first tour with other women, and I'm surprised at how fast we are able to connect and form friendships, despite our incredibly varied backgrounds. In normal circumstances, none of us would have met, but here we are sharing an incredible experience, bound together by it.
"In many wild places, it is challenging or impossible to go alone, which is why it is so much safer (and fun!) to travel in a supportive group, especially of all women," says Jennifer Haddow, CEO, Wild Women. "We hope that women will feel a new confidence that comes from growing their skills in the outdoors and take that transformation back into their daily lives to be healthier, stronger and more adventurous."
"I've taken lots of horseback trips, been to lots of places, but I've never been to the backcountry in Banff, " Bev says. "When Darcye had her accident, everybody was so level-headed – nobody lost their shit. It was pretty impressive. I will definitely travel again with Wild Women, and just with women. To travel and meet new people who are like-minded women is awesome."
"I like travelling alone, I like travelling with others, but I also like travelling with other women – they are supportive and giving," says Bev. "Almost always, the support of other women makes it special and I encourage women to try it, even if they are anxious and concerned about some aspect of the trip."
After six days together, Latte and I have formed an understanding. I've learned to sit in the saddle properly, hold the reins in my left hand like an ice cream cone, and shift my weight when we go up and down hills. I'm now used to his constant head-whipping to detract horseflies and his sudden stops to nip the bugs off his legs. He's still trying to munch on leaves but now I know to use both my voice and my body to calm him down.
"Latte, you're such a good boy," I say. "Thank you for keeping me safe, protecting me on the mountain and staying on the path." When I dismount, Latte whinnies and hits me with his head, grinning his joy at being released.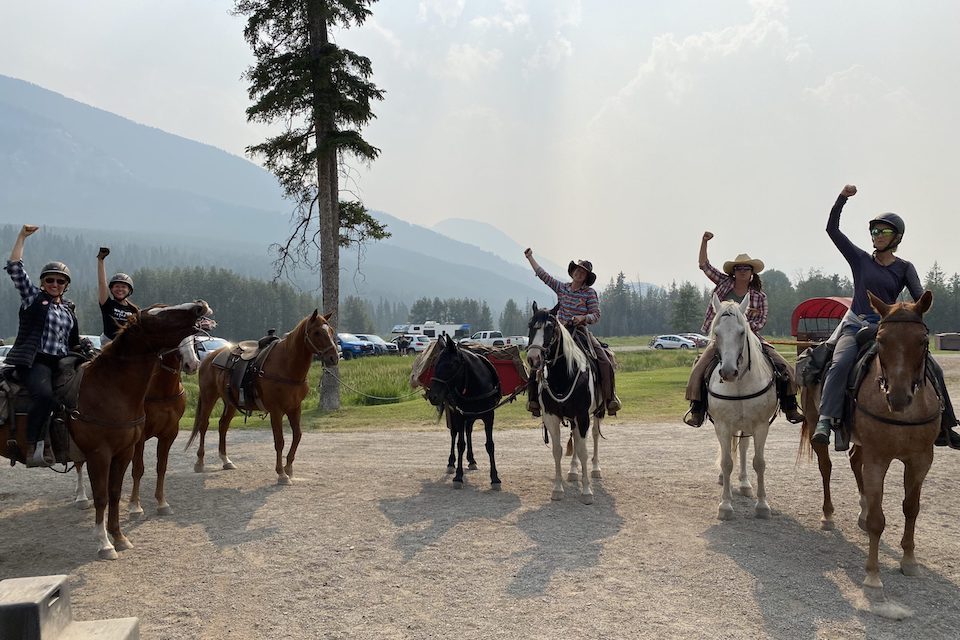 Our victorious return to Warner Stables in Banff. Note how happy my horse is! (far left)
 Disclaimer:  I was invited on this tour by Wild Women Expedition, but I covered my own transportation costs in and out of Calgary, including airfare and shuttle, as well as a gratuity for Banff Trail Riders. Wild Women did not review this article prior to publication; opinions are my own.  
To learn more about Wild Women Expeditions and the Banff Backcountry Riding Adventure visit here.  
Looking For Even More Adventure?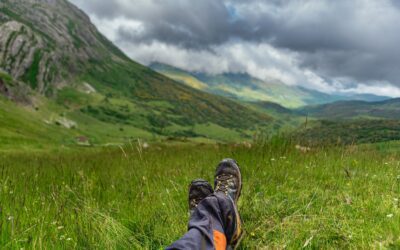 JourneyWoman CEO Carolyn Ray shares her ongoing journey of reinvention and advice on how women can travel full time.
Our Accessible Travel writer Tanzila Khan discovers that kayaking is possible for adventurous women in a wheelchair, in Stockholm, Sweden.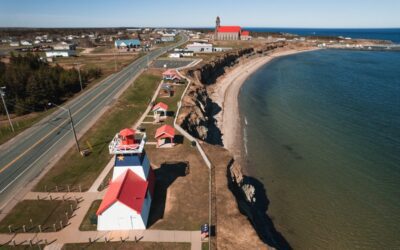 Located in New Brunswick, the stunning Acadian Peninsula Veloroute is a network of 14 cycling circuits perfect for a three-day trek.