Last updated on September 1st, 2023
Featured image: Grande Anse Lighthouse along the Acadian Peninsula | Photo by Matt Hewitson for New Brunswick Tourism
A three-day trek on the Acadian Peninsula
by Pat Lee, Guest Writer
As cycling continues to grow in popularity across the Maritimes, the Acadian Peninsula is kilometres ahead of the pack. Some 610 kilometres, to be precise.
Located in one corner of northeast New Brunswick – a Canadian province that borders Quebec to the west and Nova Scotia to the east – the stunning Acadian Peninsula Veloroute traverses an exceptionally scenic and rustic part of the province. This is the ancestral home of French-speaking Acadians, who made the region home during the expulsion by the British in the late 1700s.
Then, as now, they make their living farming or fishing in the Gulf of St. Lawrence or the Bay of Chaleur, providing a scenic tableau for a network of 14 cycling circuits that includes about 70 kilometres of off-road paved flat trails.
Riding between the small communities of Caraquet, Shippagan or Tracadie-Sheila, cyclists whisk past fishing wharves, beaches, marshlands, towering churches and plenty of Acadian flags or other insignia appropriate for the mostly French-speaking region.
Really, it's the stuff cycling dreams are made of for riders of any age or ability.
Setting off on a three-day trek on the Acadian Peninsula
My biking companion and I are your average 60-something women cyclists with non-fancy hybrid bikes. We're motivated more by a good coffee or a feed of fresh seafood at the end of a ride than speed or endurance.
Our three-day, 160-kilometre adventure in July started at the coastal village of Grand-Anse. Before heading off, we grabbed a mandatory cliffside selfie in front of the lighthouse, now serving as the visitor's information centre, naturally painted in the vivid red, blue and yellow of the Acadian flag.
We picked up the beautiful – and paved! – off-road trail in Bertrand and headed on to neighbouring Caraquet. Here, we got our first taste of the safe cycling routes that routinely treated us to the sight of herons and osprey as well as swaths of fragrant roses or trailside wild strawberries. 
Over the next few days via the off-road trails or connecting roads with bike lanes, we found our way to Shippagan, Lameque and Tracadie-Sheila, often wheeling by the Bay of Chaleur or area rivers.
Other than short jaunts between trails, our only road riding of any distance was from Lameque to Miscou Island via the Miscou Island Bridge. This was also the only moderate white-knuckle riding we did, given some heavy truck traffic heading in the direction of the island. Pedalling over the short, steep Miscou Island Bridge was our only hill of note over the three days.
The rest of the trip we were on quiet roads and off-road trails or Pedalling through quiet towns and villages in search of caffeine or a sweet treat. Most communities have well-established waterfront trails that are well worth a short detour, including Caraquet's beautifully treed trail hugging the coast and skirting the backyards of area homes. Shippagan's trail meanders in a serpentine shape along the bay and past the shipyard. Lameque also has a lovely waterfront trail that cuts through a park with historical Acadian displays and leads to a large marsh area with panels highlighting the wildlife found in the area.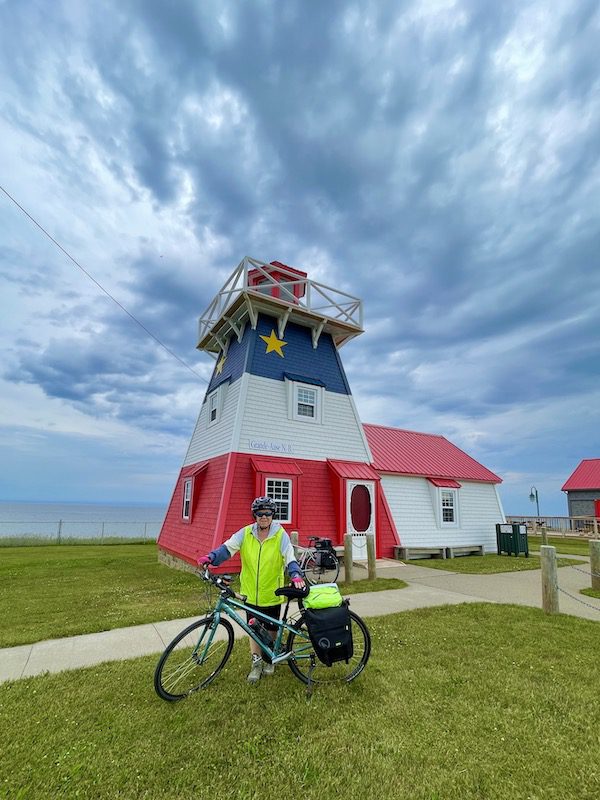 Pat Lee, at the visitor's centre in Grand-Anse, N.B., getting set to cycle the Acadian Peninsula Veloroute in northeast New Brunswick / Photo by Heather White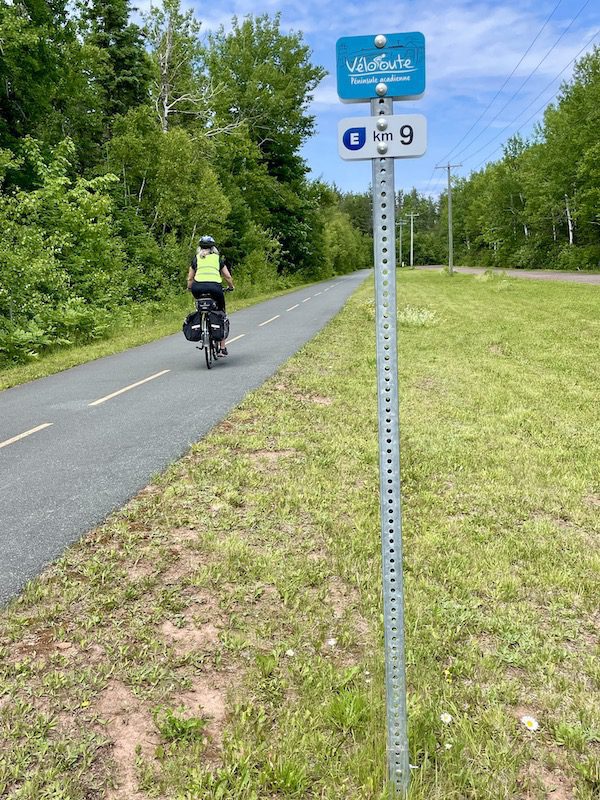 Given the Acadian Peninsula Veloroute is mostly off-road or on quiet roadways with well-marked bike lanes, it's a wonderfully safe route to ride solo / Photo by Pat Lee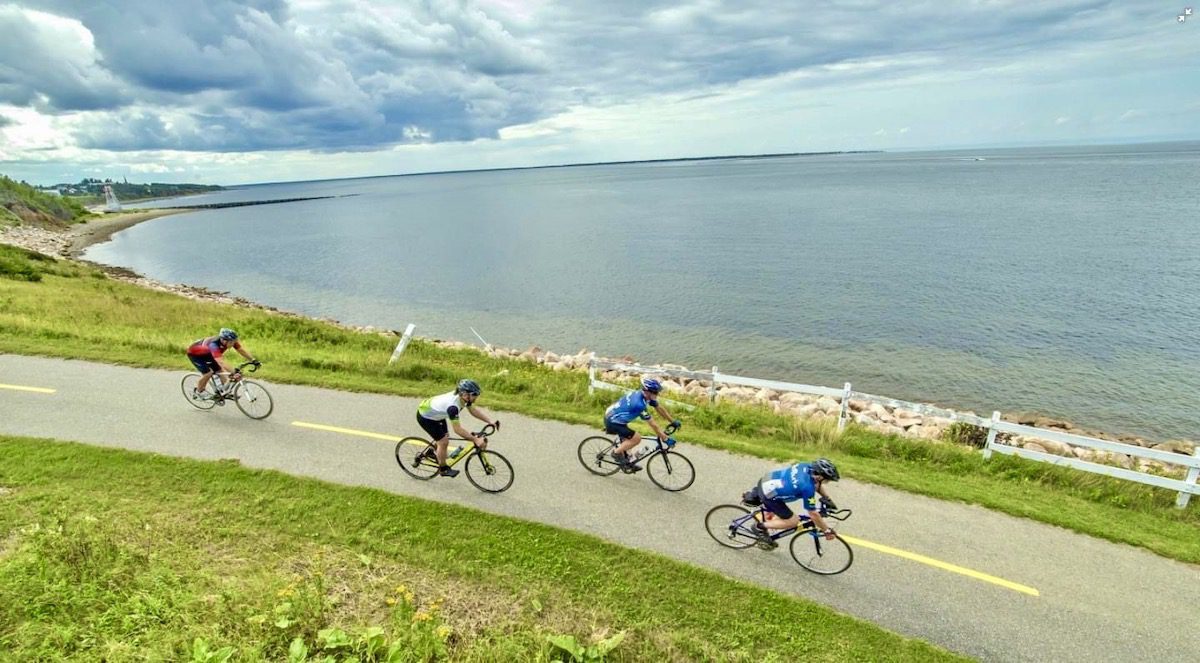 The Acadian Peninsula Veloroute in northeast New Brunswick is a cyclists' dream with 610 kilometres of cycling routes linking 70 kilometres of paved, flat trails / Contributed photo
Acadian
Peninsula
Veloroute trails well used by residents, visitors
Although the trails were never busy, we weren't the only ones out there. The Acadian Peninsula trail metres clocked 50,000 users either cycling or walking on the Veloroute from mid-June until late July of 2022, using the pathways for fun, commuting or running errands. 
One day we spotted an older gentleman on a gearless bike of possibly the same vintage who was happily rolling along the trail for perhaps all those reasons. We also routinely ran into women cyclists of all ages who either lived in the area or were visiting from nearby Quebec.  
Acadian Peninsula Trails launched in 2020
The connected off-road trail system, built on old rail beds, was first conceived in about 2010 as many communities had already established shorter walking and cycling routes. As funding was found, the trails were connected and the Veloroute was officially launched in 2020.
Myriam Beaudin, marketing co-ordinator for the Veloroute, who along with Tourism New Brunswick were our hosts for the trip, said word of the cycling possibilities is spreading with many more out-of-region riders hitting the trails. 
"As you know, there are lots of community trails. But to have such a large network of trails, I think that is the unique part," she said. "And the trails are paved."
Beaudin said future plans include fixing up another cycling stop at Inkerman, repurposed from an old rail station shelter, which will include washrooms and other supports for riders, and improved road signage. Last year the off-road signs were finished.   
She said there are also discussions of creating a trail that would someday connect with nearby Bathurst. 
One challenge for the remote area is finding enough places for visitors to stay, which Beaudin said is improving but still an issue. Your best bet for motels and cottage stays are in Caraquet, Shippagan or Tracadie-Sheila, although there is camping on Miscou Island and elsewhere. Any recommendations where to stay? Given the scarcity of vacancies in the summer, reservations are encouraged.
Given the safety of the trails and the natural hospitality of the Acadian people, the Acadian Peninsula is a wonderful destination for women cycling either together or alone and at all skill levels.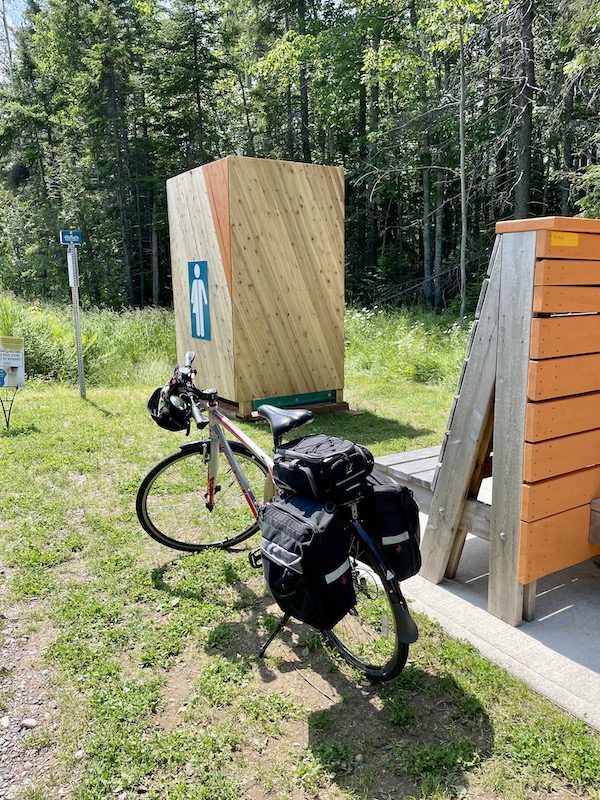 The Acadian Peninsula Veloroute in northeast New Brunswick has great trail support for riders, including washrooms, bike repair kits and tire pumps as well as picnic benches / Photo by Pat Lee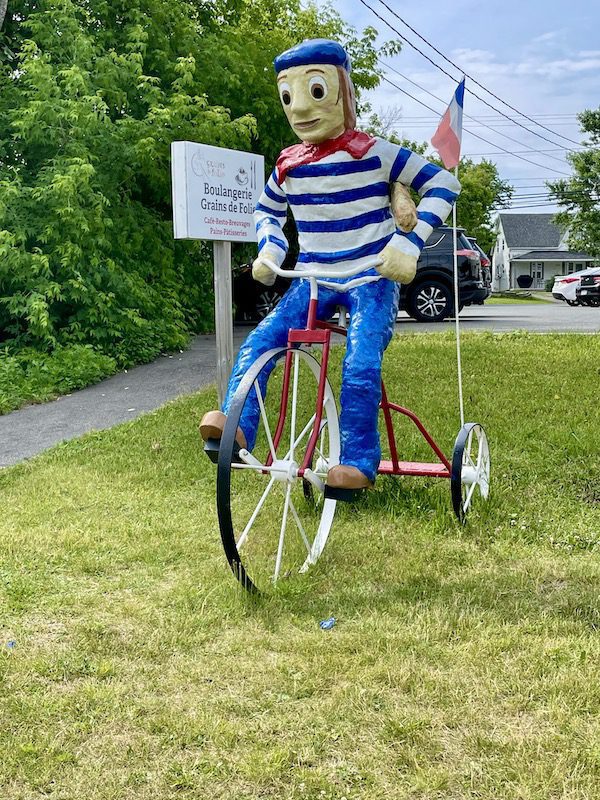 A 'cyclist' in Caraquet welcomes other riders on the Acadian Peninsula Veloroute in northeast New Brunswick / Photo by Pat Lee
If you go to the Acadian Peninsula
Where: Northeast New Brunswick. The largest nearby international airport is at Moncton, N.B., which is about a three-hour drive. Coming from Quebec, Quebec City is about six hours away.
Where to stay: Plan ahead as the remote region is busy in the summer months and has limited places to stay. Most accommodations are in Caraquet, Shippagan or Tracadie-Sheila. There is camping on Miscou Island and elsewhere. For more information, click here.
Cycling routes: Suggested routes and maps can be found on the website here.
Disclaimer: Pat Lee was hosted by Tourism New Brunswick for this trip around the Acadian Peninsula.
Pat Lee is a veteran of the daily newspaper wars having worked as a reporter, columnist and editor for more than 30 years in Nova Scotia. She stepped away in 2017 and has since been fortunate to explore various parts of the world, some of it on two wheels.
Learn more on her website here.
Read More From Atlantic Canada
You might wonder what there to do in a tiny community of about 300 people in Rigolet, the oldest Intuit community in Labrador. Plenty, as it turns out.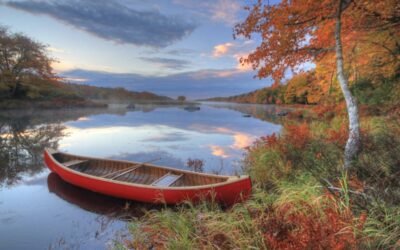 Whether you are a wanna-be paddler or have years of experience, there are lakes, rivers, and coastal areas in Nova Scotia to suit every skill level and interest.
Beaver Harbour, New Brunswick, was the first anti-slavery settlement in British North America, 80 years before the Emancipation Proclamation.