Last updated on November 19th, 2023
Featured image: Hiking sticks at the end of Bat Trail / Photo by Carolyn Ray
Where to see Wildlife, Avoid Bugs and Connect with Nature
by Carolyn Ray, JourneyWoman Editor 
With over 7600 square kilometres of forests, bogs, lakes and rivers, Algonquin Park is an incredible place to reconnect with nature. On my first trip outside Toronto in almost nine months, my goal was to hike its interpretative trails and watch for wildlife, namely moose and bears.
There are 15 interpretative trails along Highway 60, and I made it a goal to try the ones I hadn't visited in the past. Within six days, I hiked nine trails, and sometimes two or three trails a day.
Despite it being summer in Ontario, the weather did not cooperate with my plans for sunshine and warm breezes, but I learned that hiking is the perfect activity in a boreal forest in the rain because you're shielded by the canopy of leaves. And best of all, you're practically alone in the forest.
Every morning, instead of morning showers, I lathered up with bug spray, and even kept a small spray bottle in my waist belt. It is however, almost impossible to ward off the deer flies, which are relentless in their dive bombing attacks. Fortunately I wasn't bitten.
Highway 60 is a 56-kilometre strip that cuts across the park, starting just east of Huntsville to Whitney on the east side. In addition to the hiking, walking and mountain biking trails, you can visit the Algonquin Art Centre, Algonquin Visitor Centre, and the Algonquin Logging Museum. Cache Lake is a historic site, and while I didn't get to it this time, I intend to go back soon!
Five of the best hiking trails in Algonquin Park
1. Track and Tower: Streams and Forest (km 24)
Of all the trails I hiked during my first time out in nine months, my favourite was the Track and Tower. This 7.5 km trail (about four hours) includes a beautiful walk alongside rollicking streams and an almost vertical climb up stairs to a lookout. It is not for the faint of heart, and many sections are muddy, but I loved hearing the trees in the wind and the rushing water.
The part I enjoyed the most was seeing the original train tracks and pilings. It's hard to imagine that men broke through the wilderness to build this railroad. To cross rivers, large trestle bridges made out of wood were built, rising some 15-metres (50 feet) above the water. However, sparks from locomotive engines caused forest fires and burned many of them down. They were replaced by steel in 1899. Today, only the stone abutments exist.
The view from the top of Track and Tower Trail / Photo provided by Carolyn Ray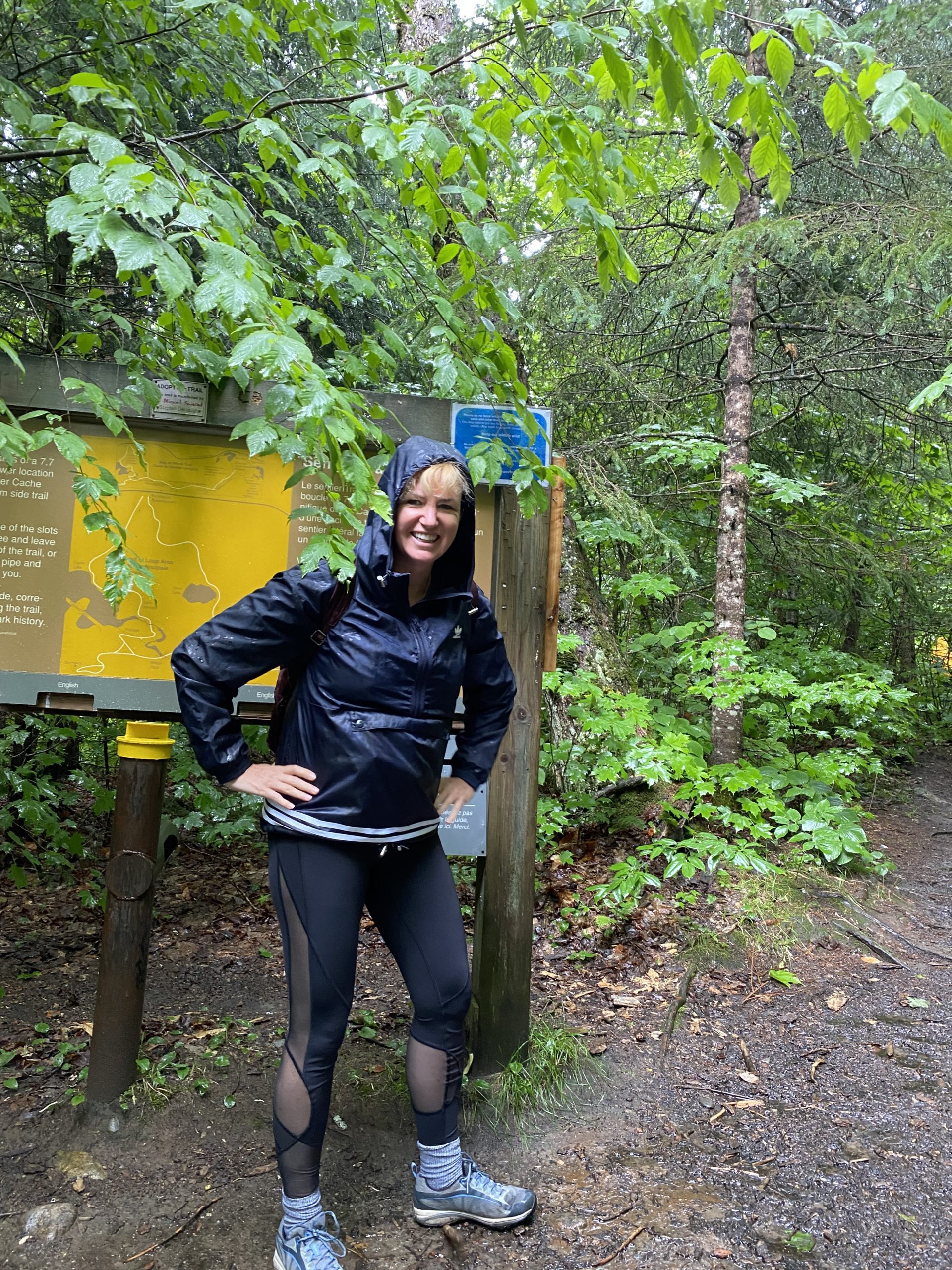 A rainy start to the hike / Photo provided by Carolyn Ray
Part of this trail is quite flat and open to cyclists. You can rent mountain bikes at the Lake of Two Rivers store operated by Algonquin Outfitters for about $33 a half-day. Reserve in advance!
2. Peck Lake: Perfect for Lunch (km 19.2)
For an easy 2.3 km trail (about 1.5 hours) around a beautiful small lake, try Peck Lake. Its many rocks are perfect for lunch on a sunny day and the bugs weren't too bad. Just watch your step on the tree roots. The only downside is that because of its small size, the trail can get crowded (and noisy!)  I recommend going early, having a snack on a rock, and watching the world go by.
The view across Peck Lake to my sunshiny rock for lunch / Photo provided by Carolyn Ray
3. Bat Lake: Forested and Buggy (km 30.8)
Despite the unrelenting bugs at Bat Lake, this 5.8 km (3.5 hours) trail is stunning, even in the pouring rain. It's so forested that you hardly notice the raindrops.
It's buggy, so wear long sleeves and pants, a wide-brimmed hat, and long socks to cover your ankles. Walking sticks are recommended for the tricky parts.
On this trail, I felt like I was in the middle of nowhere and almost jumped out of my skin when a woman ran by me (jogging with headphones on!).
The walkway through the woods / Photo provided by Carolyn Ray
Get close to nature at Killarney Lodge and Arowhon Pines, two family-owned lodges in Canada's Algonquin Park.
4. The Lookout: Short and Steep (km 39.7)
The Lookout is a short trail (just 2.1 km, 1 hour) but a steep one. If you go, bring a walking stick and take it slow. You can do it!
Try to go in the afternoon so that the sun is overhead when you reach the Lookout. Otherwise it's shady and buggy.
But once you're there, it's worth the view.
Morning view from the Lookout, straight up and steep but worth it / Photo provided by Carolyn Ray
5. Mizzy Lake: One to Avoid (km 15.4)
Mizzy Lake is a 10.8 km trail (6 hours) that starts off beautifully, winding through forests, bogs and lakes. Local hikers advised me to go halfway and turn back.
Why? Because once you are on the old rail trail, which is sandy and infested by deer flies, there is no escape. I wish I had spent the day canoeing on the lake!
The benefit of this trail, however, is that it is rich with wildlife, including loons, moose and bears.
The boggy lakes on Mizzy Trail / Photo provided by Carolyn Ray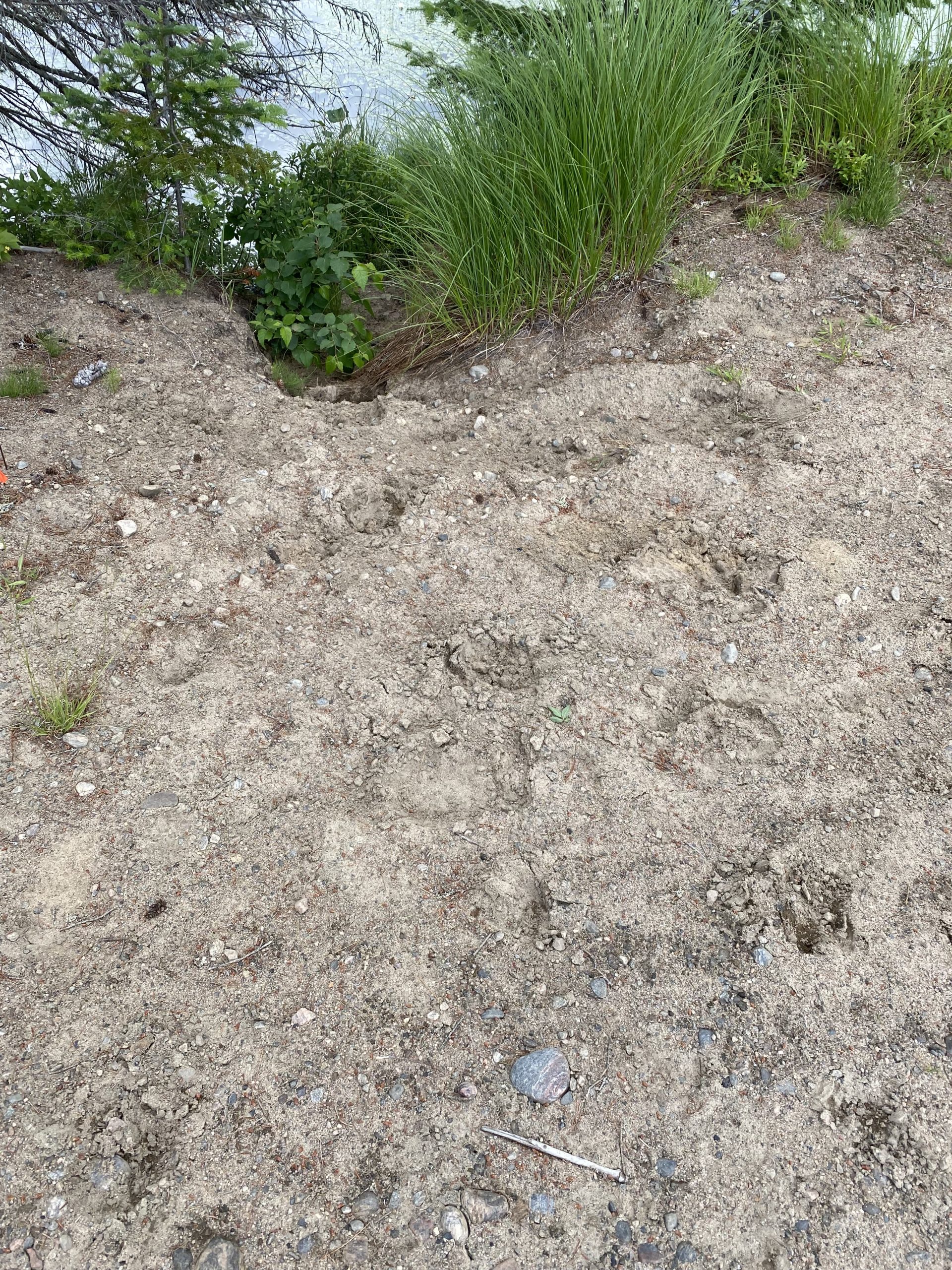 Moose tracks to the water / Photo provided by Carolyn Ray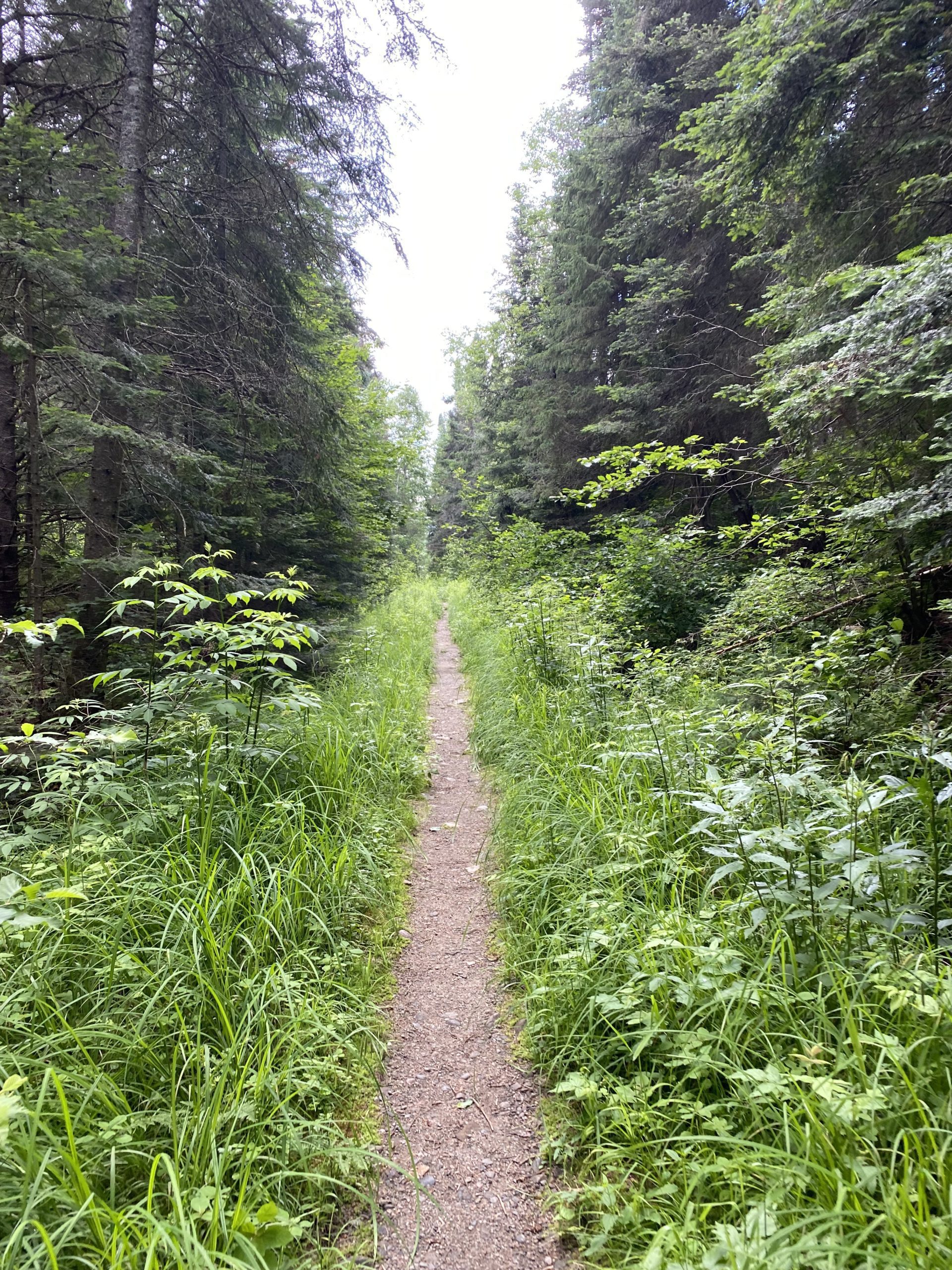 The buggiest path I've ever been on / Photo provided by Carolyn Ray
Hiking safety tips
As we've talked about in previous editorial and webinars, hiking requires planning and preparation, particularly when you are interacting with wildlife.
Read more: The Best Trails in Canada for Women Hikers
The Algonquin Park 2021 Information Guide suggests the following:
Weather: Monitor the weather before you set out on a hike. If you're Canadian, you know that the weather can change multiple times in one day. Wear layers that you can take on or add to. Lightning is the most common danger associated with thunderstorms. If you are in a forest, find the lowest-lying area and crouch down. Do not lie flat on the ground. If you are in the water, get out and find shelter. Crouch down, cover your head.
Insects: Dress appropriately and try to keep ankles covered. Wear bug spray but know that it won't protect you from everything.  Wear a bug hat.
On the water: Wear a life jacket. Make sure you have a buoyant heaving line, paddle, and bailer. Bring your whistle!
Bears: Bears hibernate five months of the year and eat just about anything. They return to the place where they've found food before. They rarely attack people; there have been approximately 70 black bear attacks since 1990 in North America. Read up on what to do when encountering a bear.
The JourneyWoman Hiking Essentials List
Clothing + Accessories
Hat, sunscreen and sunglasses
Water-resistant puffer jacket or windbreaker
Lightweight, quick-dry pants
Long-sleeved/short-sleeved quick-dry shirts (wear one, other one in pack)
Underwear and sports bra
Waterproof hiking boots
Wool socks (2 pairs)
Food 
Nutrition: Energy bars, trail mix, jerky, dried fruit, nut butter
Hydration: 1L per hour of hiking (lightweight bladders)
Gear 
Phone, Printed map or satellite phone (download offline maps of your route)
Lighter/matches/flint firestarter
Hiking backpack with water bladder (nice to have)
Folding lightweight trekking poles (nice to have)
Safety
Flashlight or headlamp
Waterproof First Aid Kit (include blister bandages, liquid bandages and Vaseline for feet)
Emergency Shelter (survival tent/emergency blanket) for longer hikes
Bear spray or a whistle (if hiking in bear country)
Backpacking knife/Swiss Army knife (plus repair kit)
Insect repellent
For those travelling to or from Toronto, consider Toronto's 'other' airport, Billy Bishop Airport, located on Toronto Island.
Biking for all ages: experienced women cyclists share bike safety tips, life lessons and benefits of being a member of the Ontario By Bike community. (Sponsored)
Experienced cyclists give us the low down on Ontario's best biking trails for women of all levels. (sponsored)