Last updated on June 25th, 2023
Stepping into childhood memories in Canada's wilderness
by Carolyn Ray, Editor, JourneyWoman
Any trip to Algonquin Park, 250 kilometres (155 miles) north of Toronto, is always wrapped in memories of my awkward teenage years. For four years starting at age 12, I was thrust into the wilderness at summer camp on Canoe Lake, the largest lake in the park.
One of my most embarrassing memories is of jumping into the water with great gusto, only to fail my swimming test because the water was so much icier than I was used to in Florida. I felt that I didn't really fit in, missed my friends and the beach terribly, and tried to blend into the pine walls when Stairway to Heaven came on at dances at the boy's camp.
But I also remember the feelings of sisterhood, singing camp songs, canoeing and portaging, cooking around a campfire, and learning about wildlife. It's the place I learned to love sailing, perfect my jay stroke in a canoe, and gawk at the plethora of wildlife – wolves, bears, moose, loons – all creatures I had never experienced growing up in south Florida.
Created in 1893 to protect the headwaters of five major rivers, Algonquin Park is a wildlife sanctuary for many moose, along with bears, wolves, beavers and more. With its great array of flora and fauna, Algonquin Park is the perfect getaway for nature lovers. From 200-year old white pines to a stunning array of flora and fauna, including over 300 species of birds, it offers hikers and adventurers rugged Precambrian cliffs, dark, cool lakes, and bright, vivid sunsets.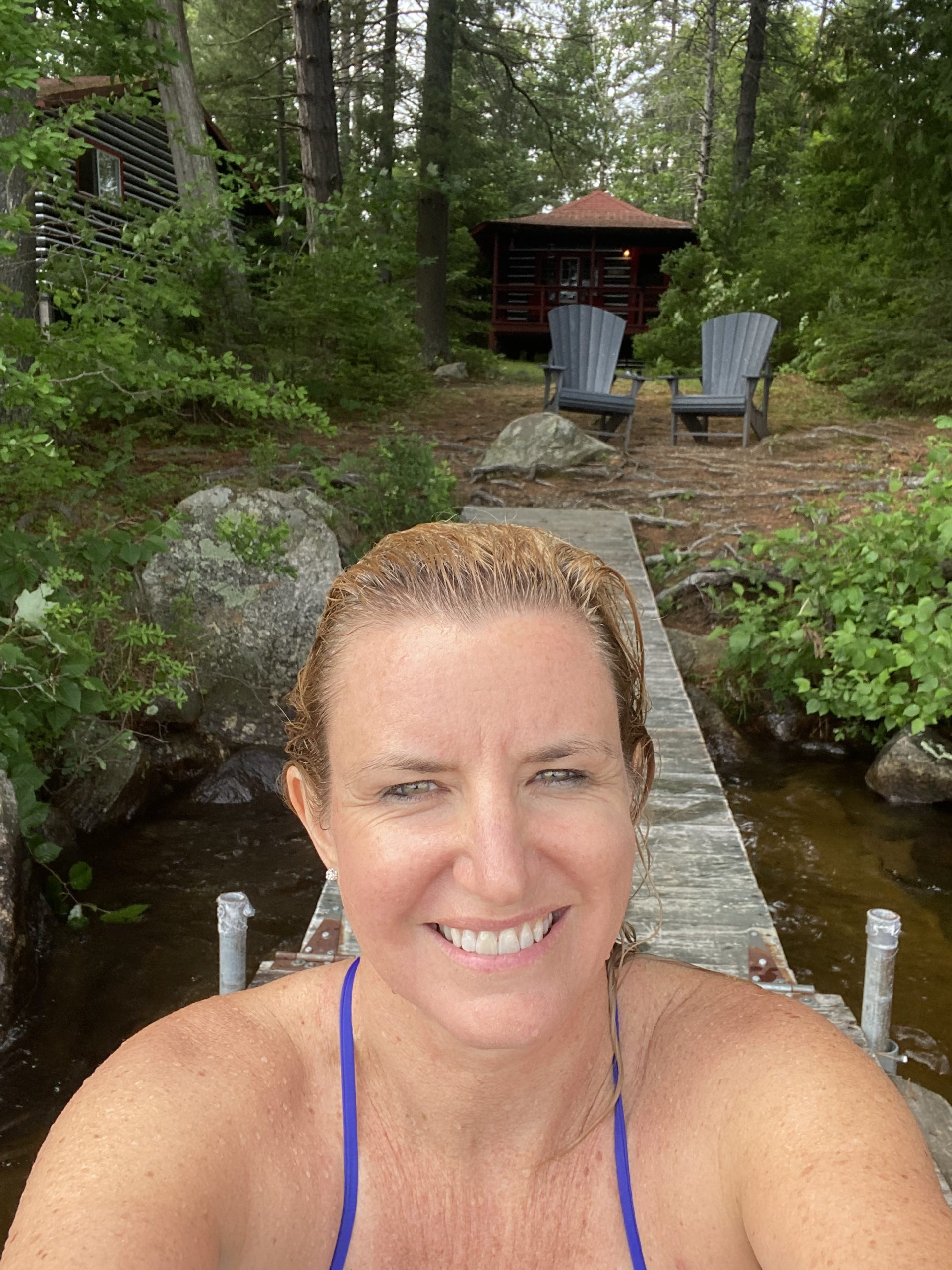 When it came time for my first trip out of my 600-square foot condo in almost nine months, this was the place I wanted to be. That sentiment became even stronger when I arrived in the park and saw my little red log cabin in the woods. Just behind it, a dock jutted out into the glassy lake, framed by two Muskoka chairs.
Taking a deep breath, I ran into the frigid water, ready to replace the awkwardness of the past with new memories of joy and gratitude.
Isn't that what any adventurous JourneyWoman would do?
Keeping it simple
While many of my friends are camping or glamping, I don't want to deal with having to invest in gear and extensive planning, like I did last summer preparing for our Travel at Home Road trip, when we visited small towns across Ontario and stayed in tiny houses, RVs and houseboats. After 18 months of a pandemic, I want to keep it simple.
There are only three resorts in Algonquin Park, and I chose two of them, Killarney Lodge and Arowhon Pines, as my wilderness retreats.   I haven't packed a bag in months, so my organizational skills are rusty (as evidenced by my massively large blue Ikea bag jammed with quickly thrown-in coats, shoes and rain gear). I need to up my game, and this is a good first step to prepare for future travel.
In this, my first trip away from home, I want to immerse myself in nature – no wifi, no cellular, no television. I'm also feeling the effects of the 'covid 15' so I want to get out on the trails and hike as much as possible, while keeping an eye open for wildlife, hopefully, a moose or a black bear.
What Makes Killarney Lodge Special
My first stop is Killarney Lodge, close to the eastern side of the Park near Whitney (not to be confused with Killarney Mountain Lodge, which is several hours in the opposite direction).  Founded in 1935, the Lodge is set at what used to be the end of Highway 60, the main highway through the Park road. It has 27 private log cabins which are perfect for one or two people, or small groups that want to travel together.
According to Eric Miglin, who has owned the lodge for almost 40 years, most international visitors tend to be from Europe and the Middle East, than from the US. More women are coming to the Lodge than in the past. "it sounds like a cliché," he says, "but this is a safe place for women. We have more solo women and pairs than we do men."
One of Killarney's recent innovations due to the pandemic is to bring meals to the cabin.  I've been tired of my own cooking for months, so I found this most enjoyable (although I would have loved to have eaten in the log dining room!).
The cuisine is delicious, ranging from fish to fowl, accompanied by fresh vegetables. But the desserts – that's what w really put me over the edge and compelled me to hike even more. Apple cobbler, Queen Elizabeth Cake, Pecan pie – by the third night I had to cut myself off. New menus are provided every day, and the cost includes a packed lunch (perfect for hiking) and a choice of breakfast foods, ranging from omelettes to fruit to smoothies
Miglin has been working to ensure the cabins are also accessible, noting that ramps are safer than stairs and it's easier for people moving luggage in and out. The cabins don't have TVs or WIFI, and he has no plans to put them in. There is a WIFI cabin for those who need it, but he hopes people will come to enjoy the wilderness and disconnect from city life.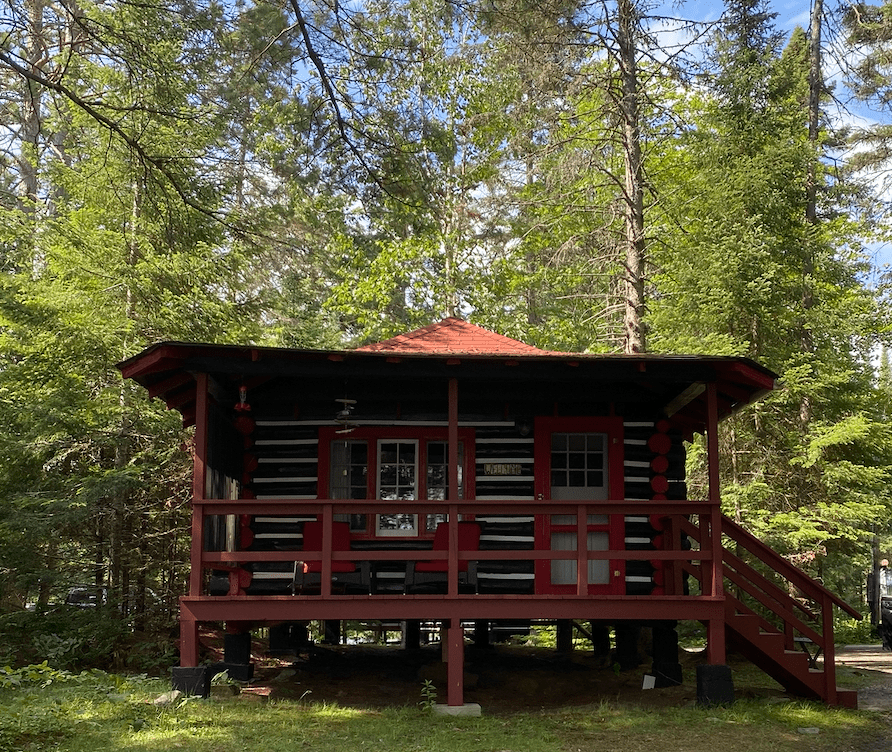 A 1935 one-bedroom log cabin at Killarney Lodge
Killarney Lodge log cabin
Nature did not disappoint
Every morning and evening, a pair of loons would come right by the dock, teaching their fuzzy chicks how to fish. Loons mate for life and have two chicks.  According to The Explorer's Guide to Algonquin Park, loons arrive in Algonquin Park in mid-May and stay until November. Then they winter in the Atlantic Ocean.
My cabin faced south, so I started each day with pastel sunrises. When you get up early, you experience more. I set an intention to see the sunrise every morning. Mother Nature did not disappoint; at 6:00 am, the reflection was seamless, making it hard to tell the difference between sky and water.
"It's just a gem," Miglin says. "I enjoy seeing it through other peoples' eyes. Sometimes we take for granted what we have here."
My day looked something like this: wake up with the sunset, enjoy a leisurely coffee and breakfast, hike for several hours, swim in the lake, look for wildlife in the canoe, watch hummingbirds, ducks and loons, stuff myself with a delicious dinner, and watch the sunset, stars and fall asleep to the sounds of birds. Although the highway is close, it didn't keep me awake at all at night.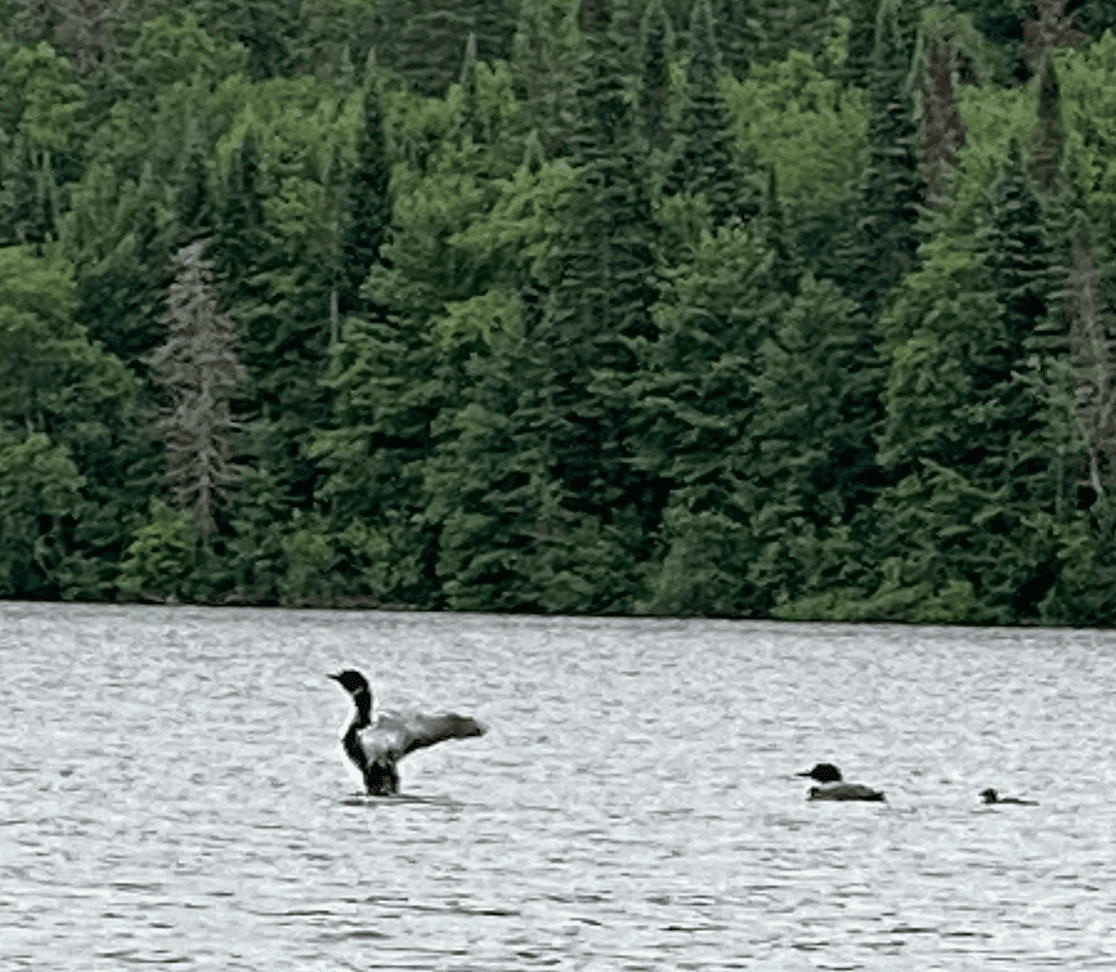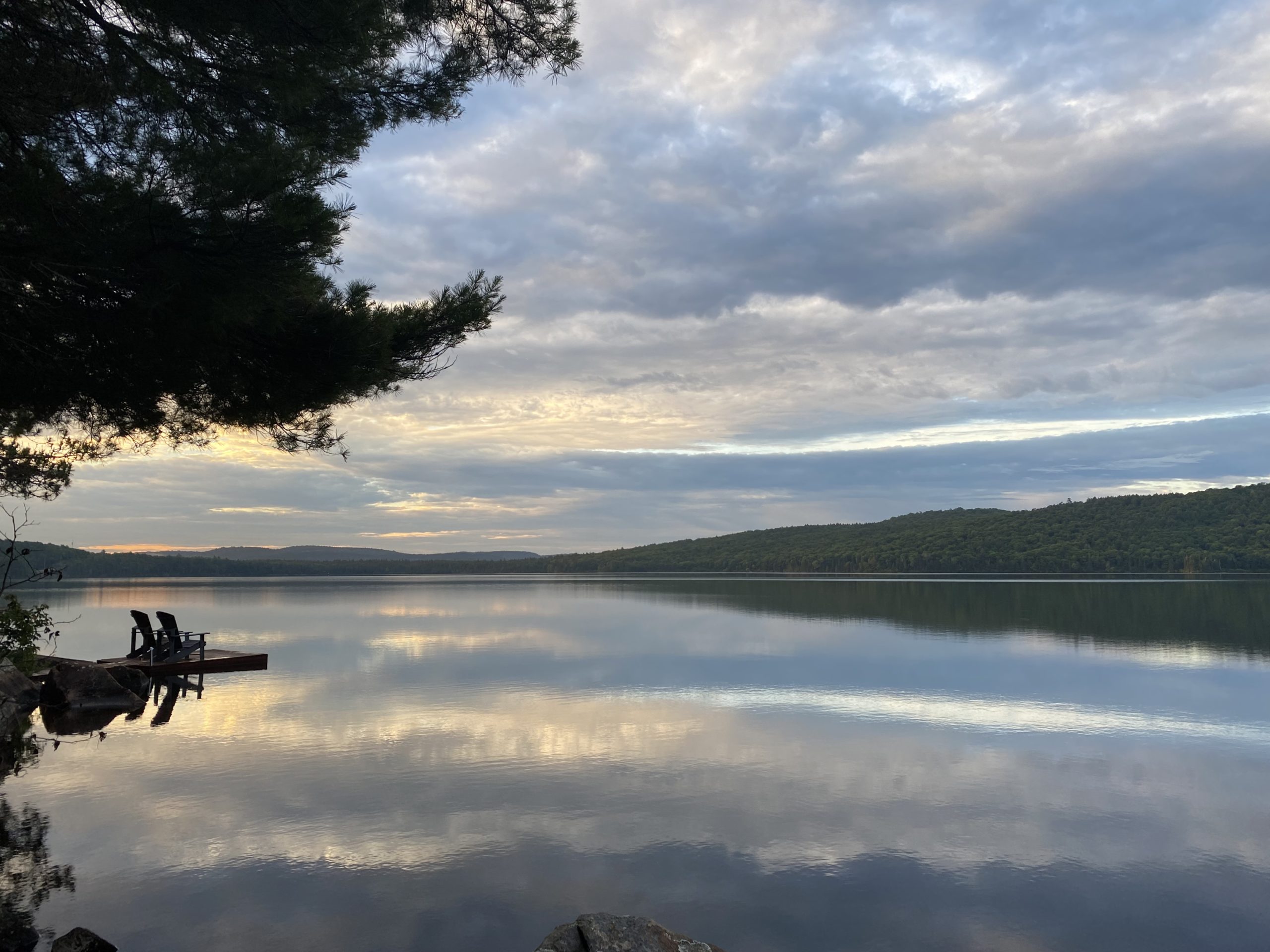 Sunrise at Killarney Lodge on Lake of Two Rivers
Arowhon Pines in Algonquin Park
Eight kilometers north of Highway 60, next door to my childhood camp at Canoe Lake, is Arowhon Pines. This is a small resort on Little Joe Lake that captured my heart last summer. Arowhon is as luxurious a place as you can stay in Algonquin Park, and coming here is a very special treat. If you want to have every possible whim catered to, while still enjoying flexibility and freedom, this is for you.
Arowhon is about as close to nature as you can get. The story of Arowhon begins in the 1930s, when entrepreneur Lillian Kates decided to build a lodge to accommodate parents visiting her nearby Camp Arowhon. As the story goes, Lillian hired and fired four architects before she found someone who could design a lodge organic to the site. Over 80 years have passed since then, and today, Arowhon is run by three general managers, Theresa, David and Adam, hand-picked by Lillian's family.
Last summer, Theresa shared an article with me from Saturday Night Magazine written in 1976, which said: "If there's any justice, one of the next legends to be told around Algonquin Park campfires will deal with a feisty woman named Lillian Kates. She's eighty–six now, and almost no one calls her Lillian. She's Mrs. Kates or Granny. In 1934, in the midst of the depression, she took over a failing children's camp on Tepee Lake in the park. In those days, there was no road to the Pines. No power tools either…only axes, cross cut saws, a hand winch, and a team of horses to hoist into place the building enormous central iron chimney."
Do you see a moose in the distance?
The highlight of any Algonquin experience is seeing wildlife, and I was confident I would see a moose at Arowhon, given my experience the prior summer.
Arriving around 3:00 pm, I immediately jumped in the lake to refresh myself after a particularly buggy hike. Then, as the sun started to drop, I hopped into a canoe to find a baby moose. The best time to see moose is in the early morning or evening and they love the salt in lily pads. Moose are giants: they stand 6.5 feet high at the shoulder and can weigh up to 600 kg (1300 lb).
There's nothing quite as exhilarating as observing a wild animal in its natural habitat . As I paddled to the edge of the lake, I spotted a young moose enjoying lily pads in the shallow water.  So young, in fact, that he didn't have any antlers yet!
Even though I had had a similar experience last summer, I couldn't bear to leave. I know the moose saw me, but did he know I was in awe of him?
TIP: When observing a moose, remember to stay a safe distance away. Although the lake looks deep, it's knee-deep to a moose and they can run quickly toward you through the bog if they feel threatened.
Sadly, that was to be the only sighting this trip, aside from Theresa's new puppy, Hank, a golden retriever who's a new addition this year and my cutie of the day!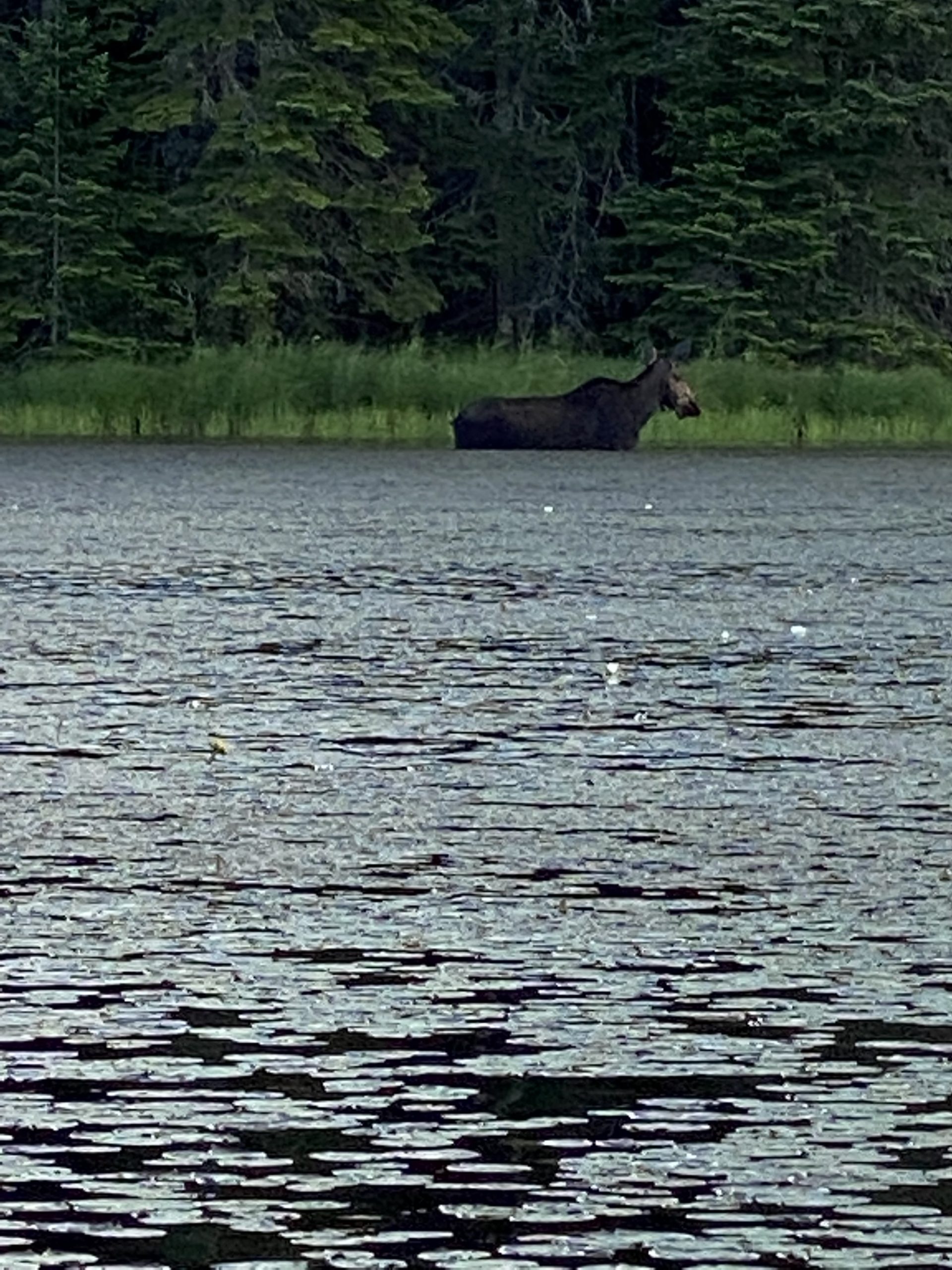 A young moose enjoying lily pads near Arowhon Pines.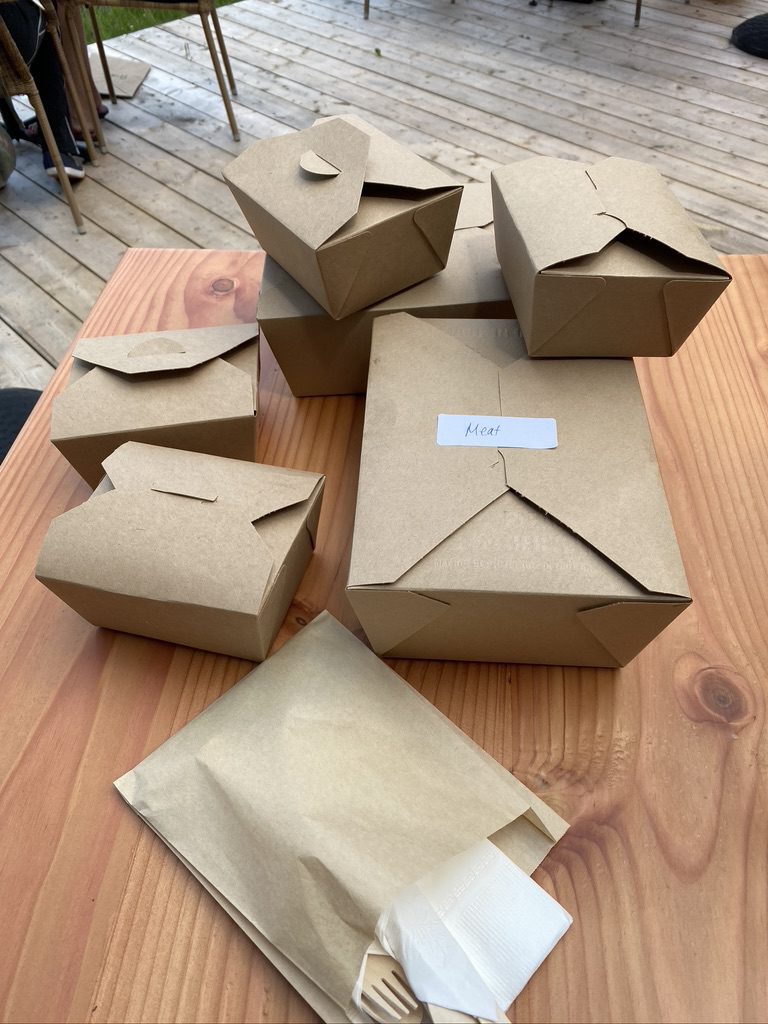 Arowhon uses recycled materials for packed lunches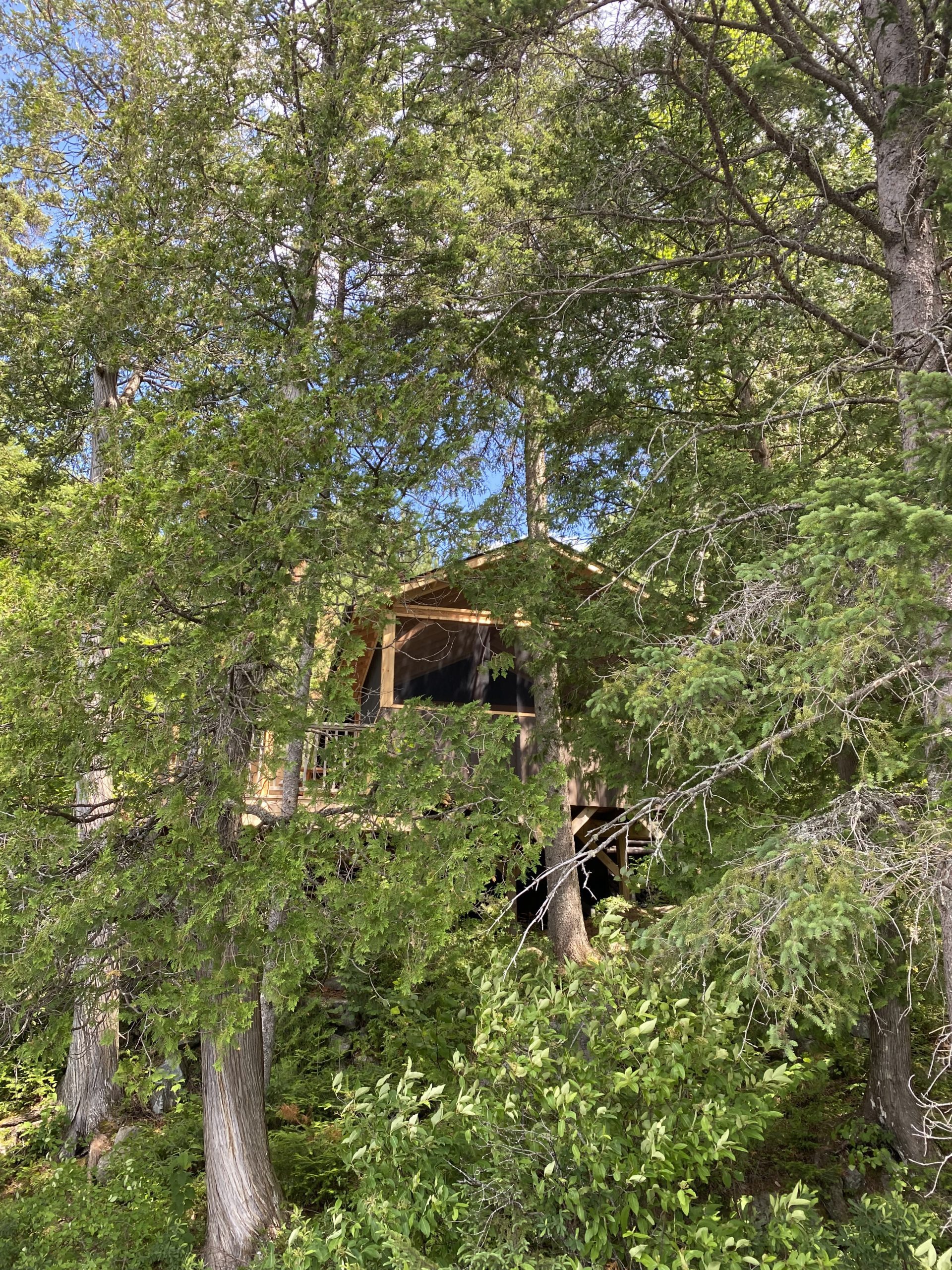 A cabin nestled in the trees above the lake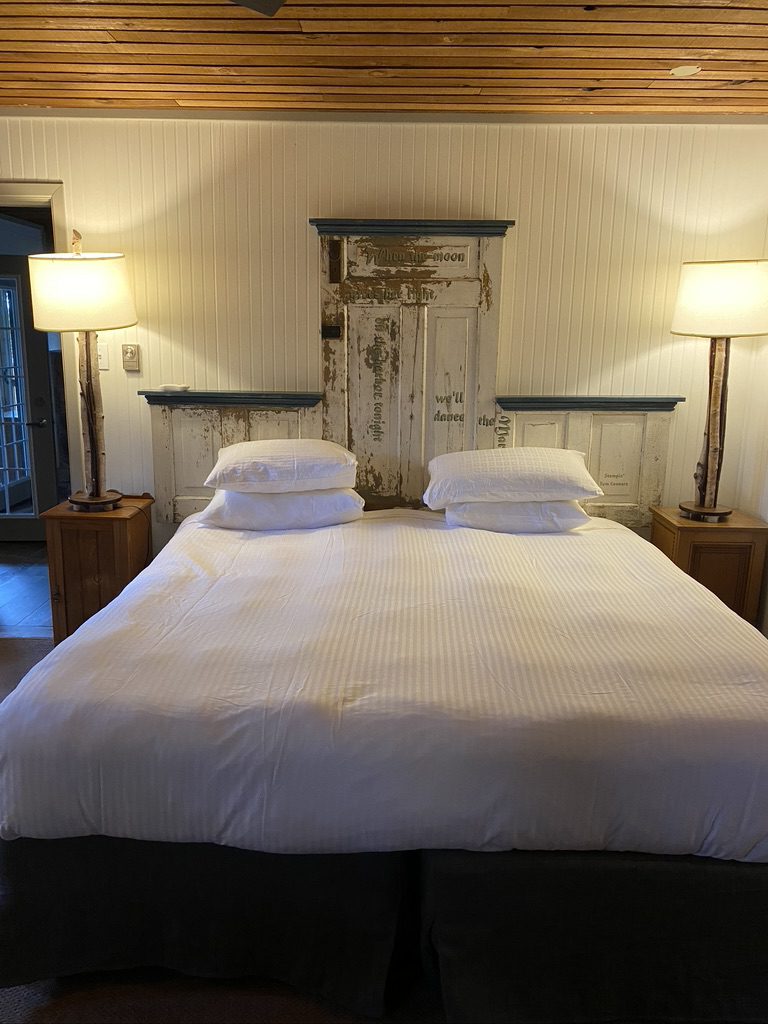 A rustic yet comfortable bedroom
What Makes Arowhon Special
Arowhon offers 1, 2, 3, 4, 8 and 12 bedroom cabins with private, screened-in decks and balconies. As it did last summer, it's operating at half capacity, and all the safety protocols put in place are still in place. The cuisine is delicious. You will salivate on command when the dinner bell rings at 6:30 pm to the next morning, eager to see what the chef has prepared. Due to Covid, meals are served around the heritage log dining room on the lake, and a new deck accommodates social distancing. Fortunately the weather cooperated and rain gear wasn't required to sit outside!
Arowhon brings all kinds of special touches into the experience that minimize environmental impact. Lunches are packaged in recycled materials and flatware, and instead of bottled water, stainless steel bottles are provided filled with spring water.
There is a conscious effort to not invite animals into the resort by feeding them – not even chipmunks. No food is permitted in the rooms due to mice and bears. On a hike in the nearby woods to see the 400-year old Medicine Tree, there was much evidence of bears, a reminder that this is their forest, not ours.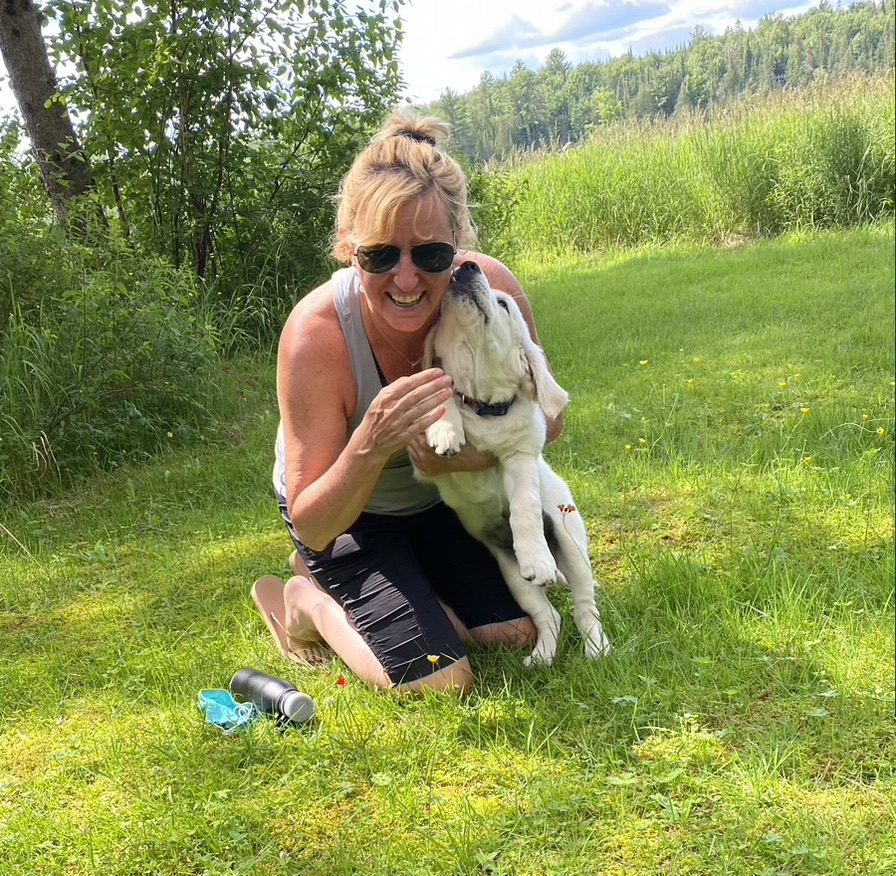 Arowhon's new puppy, Hank, my Cutie of the Day!
The last time I stayed at Arowhon, I had a private cabin with a screened-in patio. This time, I chose a lower-priced double cabin, with two bedrooms and a shared common area. Because Arowhon faces northwest, the sunsets and starry skies are spectacular. But the best part is the evening stillness of Baby Joe Lake, where canoes slide across the glimmering water in the twilight.
Here, there is no cellular service, no TVs or and no phones. At Arowhon, the only music you hear is the call of the jays and the loons mournful cry in the night.
Just before I left Algonquin Park, I paddled over to Big Joe Lake, just one portage away from my old summer camp. Even then, the memories came flooding back. I could see Canoe Lake in the distance, but it was time to return to the city.
But first, one last jump in the lake!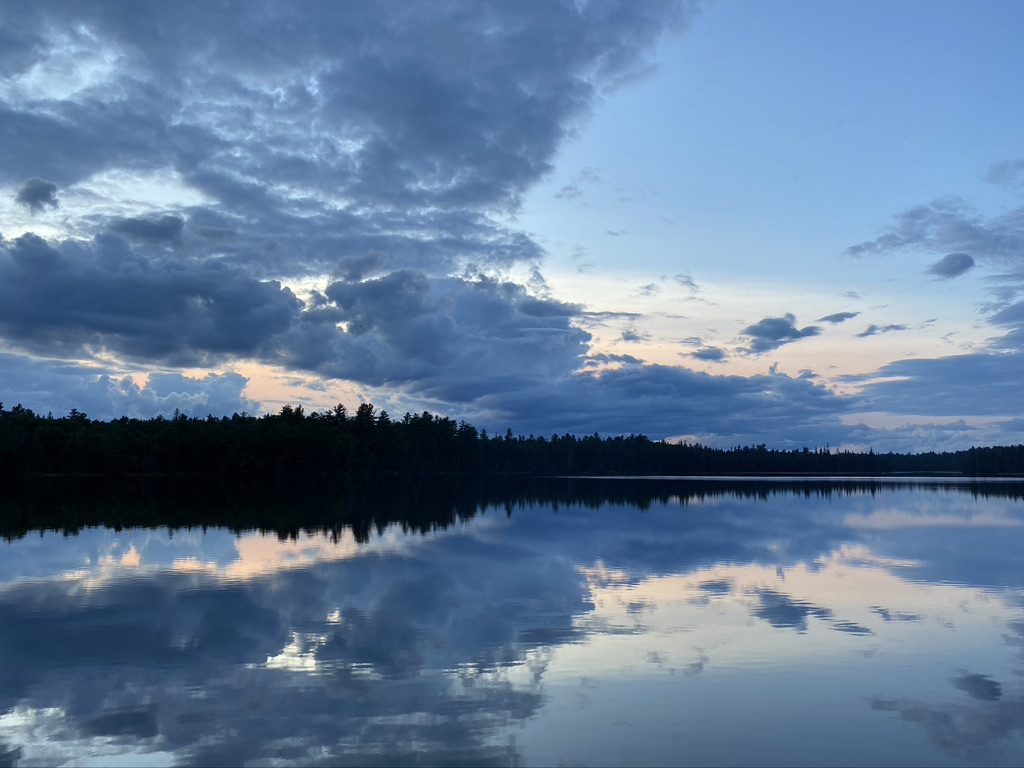 Sunset on the lake at Arowhon
If you go
Make sure to mention JourneyWoman to Eric at Killarney and Theresa at Arowhon!
Algonquin Park
About four hours north of Toronto
Closest town, pharmacy, grocery store is Huntsville (about an hour west)
Park passes $21 a day
Museum: Wasn't open but the bookstore was
Stores: Portage Store at Canoe Lake and Lake of Two Rivers Store, Canoe Outfitters
Mountain bike rental available at approximately $33 for half-day along the rail trail (order online in advance during high season)
Killarney Lodge
Open from mid-June to October
Pricing: Approx $350 per person which includes 3 meals a day, snacks and beach access, canoes, stand-up paddleboards and kayaks
Expect to pay a 10-15% gratuity; it's not necessary but the staff does a great job
Cabin choice: I recommend a cabin facing south (e.g. particularly cabins 14, 24, 29) so that you don't hear the road noise. Many are accessible with ramps.
Wifi: There is a wifi cabin where you can access wifi (or connect using your mobile phone in your cabin)
Park Permits are included
Canoes are available at each cabin, and sanitized life jackets and paddles are available at the paddle shop
Beach towels are provided for swimming
Arowhon Pines
Open from mid-June to October
Pricing: Depends on cabin. For my two-bedroom Lakeview cabin, I paid approx $450 per person per night which includes 3 delicious meals a day, snacks and beach access, canoes, standup paddleboards and kayaks
Cabin selection: I would choose a one or two-bedroom cabin on the
Park Permits are included
Special events like BBQs and Bonfires
Note: This trip was completely at my own expense, although Killarney Lodge upgraded me to a nicer cabin.  
Explore Even More of Canada's Beauty
Inspired by the idea of 'psychogeography, when we take time to slow down and experience things, we can discover extraordinary things close to home.
A quick trip from Toronto, Stratford, Ontario is a welcoming place for a solo getaway for women who enjoy arts and culinary experiences.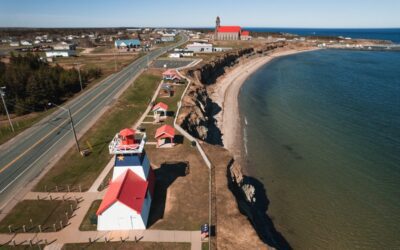 Located in New Brunswick, the stunning Acadian Peninsula Veloroute is a network of 14 cycling circuits perfect for a three-day trek.