Last updated on November 17th, 2023
Featured image: Overlooking San Miguel de Allende / Photo by Carolyn Ray
Restaurants, cafes and bakeries that piqued my interest in San Miguel de Allende
by Carolyn Ray, JourneyWoman Editor-in-Chief 
As a relatively small city, San Miguel de Allende's range of culinary treats is impressive, from street food to gastronomic delights. There are many choices to experience delicious Mexican cuisine, or if you tire of that, Italian or "western" food. Looking at this list, I feel like. Iate my way through San Miguel – and maybe I did! It was delicious!
Even though I was there during Day of the Dead, very few places required reservations, but you will want to come early as most close around 9:00 pm.  I found restaurants very cautious about guests, which I appreciated. Guests are asked to sanitize their hands, and have their temperature taken and provide contact information.  Keep a mask on as you enter and then you can remove the mask when you sit down. All staff wear masks.
Places recommended by locals 
1. Hotel Sautto:  With its open-air patio, surrounded by a lush garden, this is a perfect spot for groups to gather for afternoon wine and pizza, as I did. It's central and the staff were wonderful. Website is here.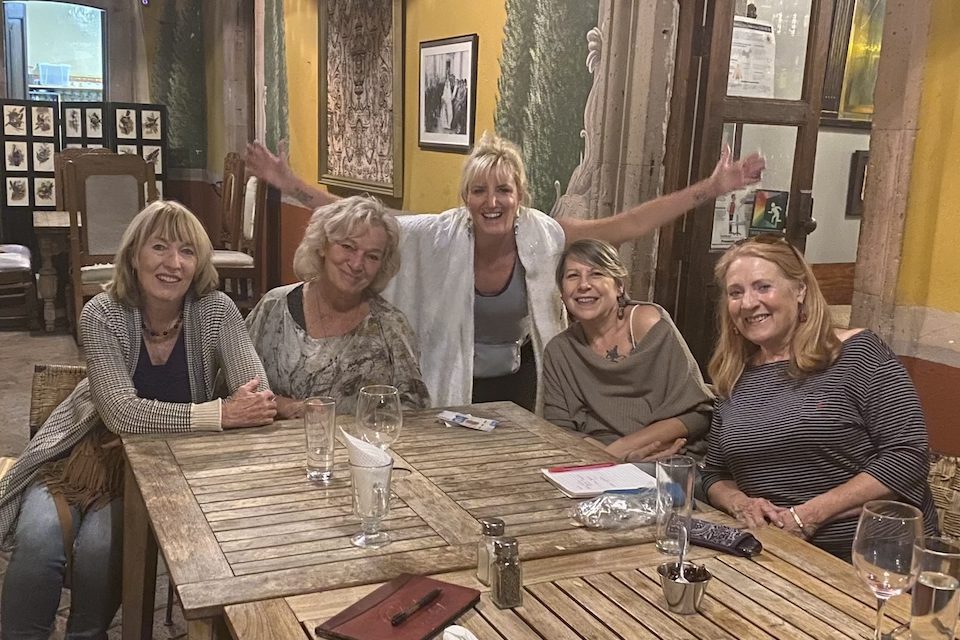 Try the wine and pizza at Hotel Sautto: JourneyWomen Ginger, Val, Carolyn, Christine and Dixie
2. El Manatial: The oldest cantina in San Miguel, this is one not to be missed, with traditional swinging saloon doors, unique wall paintings, intimate seating and fantastic food. Try the tostados de camarón con chipolte and the limon margaritas. There is a small seating area at the front and one at the back. I enjoyed it enough to go twice in two weeks. Tripadvisor review here.
3. Los Milagros: Slightly worn, Los Milagros has a tourist vibe with a basic but tasty Mexican menu very popular with resident expats. The food was pretty good, and they have a good wine selection. Tripadvisor review here.
4. La Posadita: One of the best rooftop views of the central part of the city near the El Jardin with the Parroquia in the background. The food is classic Mexican but at a reasonable price. Try to get a table in the front, facing the Parroquia – but even the view from the rear is wonderful at sunset. Website is here.
5. Quince: Rated as a top restaurant in San Miguel, this is next door to La Posadita and has an enormous patio stretching from the front to the back. Umbrellas and retractable awnings make both daytime and evening enjoyable. It's expensive, so I would recommend it for special events only (like watching the Day of the Dead fireworks!) Website here.
6. Café de Santos: Right in the heart of the city is a wonderful corner café, small in stature but huge in quality. The food is beautifully prepared, large portions and terrific service for a light and enjoyable breakfast, lunch or dinner. Sit outside under the umbrellas and watch the day go by. Website is here. 
La Manatial, an institution in San Miguel de Allende 
While San Miguel de Allende, Mexico may be a little off the beaten path, this colonial city is worth the visit. Here are 10 tips to help you find your way in SMA.
7. Café Lula: A small café off the beaten track, this gluten-free café only has a few tables and is operated by a husband-wife team from Oakland, California. The menu is small but surprisingly delicious, with friendly staff. Worth a stop to escape the crowds. Website is here.
8. Tacos by Don Felix: Open on weekends only, Don Felix is in a residential area of San Antonio and offers traditional Mexican food plus the largest margarita I've ever had. (Make sure to ask for the small size!) Enchiladas are the recommended house favourite.  Website is here
9. La Dona Hotel:  We stopped in for a late lunch and weren't disappointed. Delicious tacos and a quiet respite from the busy streets. Tripadvisor review here
10. Tio Lucas:  We were told by several people to go here for the 'best steak in SMA' and did, but I honestly cannot recommend it. While the service was good, the food was at best mediocre and I'm not sure any of us finished our meal. The live karaoke-style western music didn't add anything to the experience. Pass!  
11. La Espiga: This wonderful bakery is off the beaten track and much more cost-effective than Panio which is in the heart of the city. We bought 7 yummy pastries for 60 pesos.
12. Panio Bakery: This bakery is centrally located, making it perfect for an afternoon stop to pick up delicious croissants and flatbread for breakfast. Tripadvisor review here.
13. Cafe Rama: Near the Rosewood hotel is the most adorable breakfast place I've ever seen, which bills itself as a bistro, bar and art gallery. I can attest to their Americanos and wish I could have stayed to eat! Opening days and hours vary so check when you arrive.  Website here.
14. Mercados:  I went to two markets in San Miguel to buy fresh fruits and vegetables: The Mercado Ignacio Ramirez near the Universidad de León (which opens up into the Mercado de Artesanías) and the Mercado de San Juna de Dios in San Rafael, near my Airbnb. Another popular spot. is the Super Bonanza which has more 'western' food.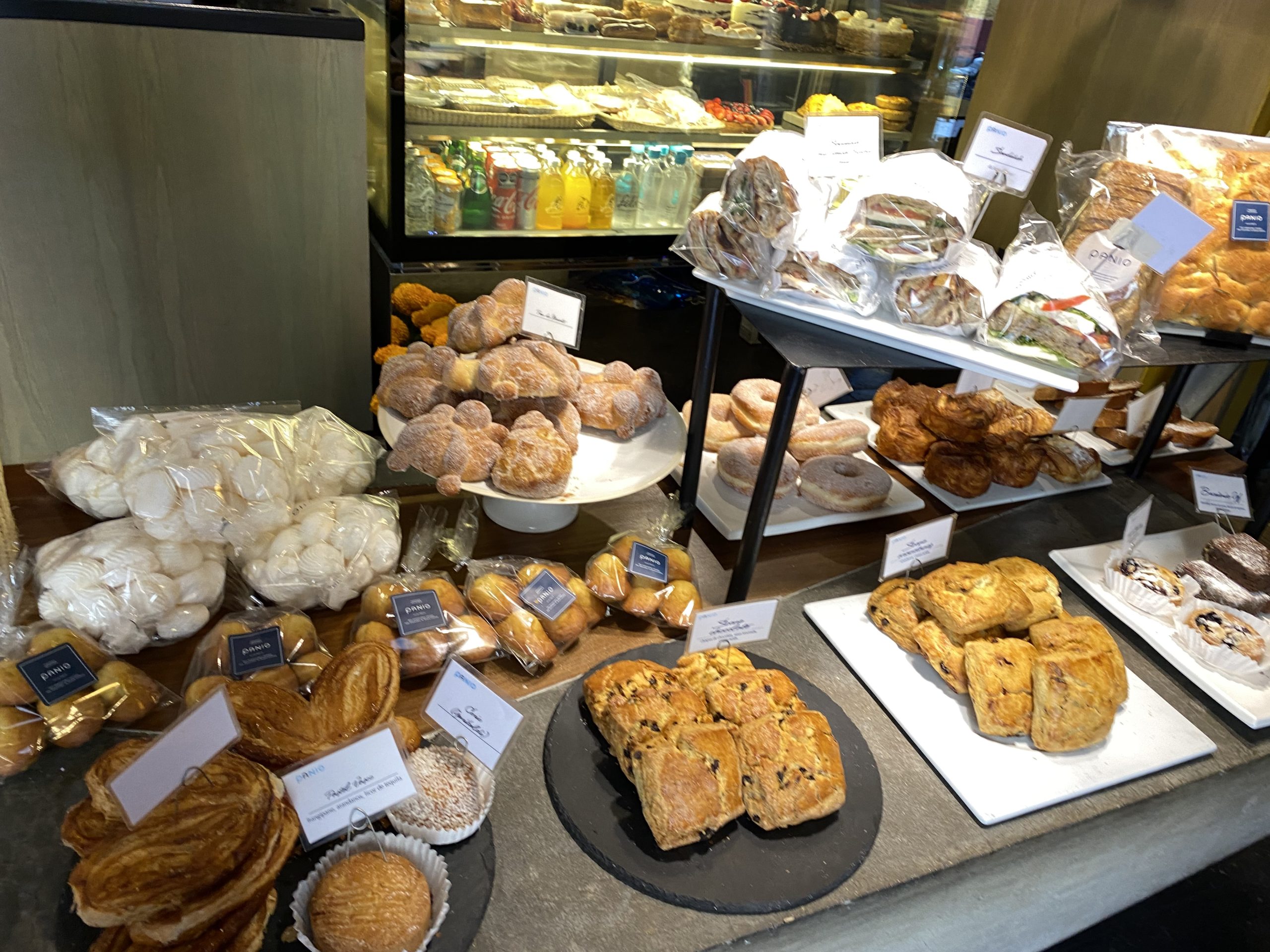 Pastries at Panio Bakery in Centro.
Café Ana at the Public Library.
Café Rama near the Rosewood Hotel. 
The ones I didn't get to, but wish I had
I wish there had had enough time and meals in the day to visit these restaurants, but wanted to share as they were recommended by locals.
Baja Fish Taquito: If you are looking for a casual setting with traditional Mexican seafood dishes and a rooftop view of the city, the fish tacos come highly recommended. Tripadvisor review here
Andy's Taco Cart.  While street food isn't for everyone, Andy's is an institution, known as one of the best taco carts in all of Mexico. You'll have to wait until the evening, however, as the cart opens after 8 pm but stays open until the wee hours. You'll know it when you see the lineup on the street.  Tripadvisor review here.
Café Santa Ana (in the Public Library or Biblioteca Publica): I would have loved to come here for a coffee or lunch in the beautiful courtyard. Next time! Website here.  
El Tupinamba:  I hear this is a great place for dancing and music on weekends. Website is here.
Mama Mia Restaurant: Our Airbnb owner recommended this as a welcome diversion, with a lovely indoor patio, when you need a little Italian infusion. Website is here.
Atrio: Located near the Parroquia, this Asian fusion restaurant comes highly recommended and loved their skeletons for Day of the Dead.  Tripadvisor review here.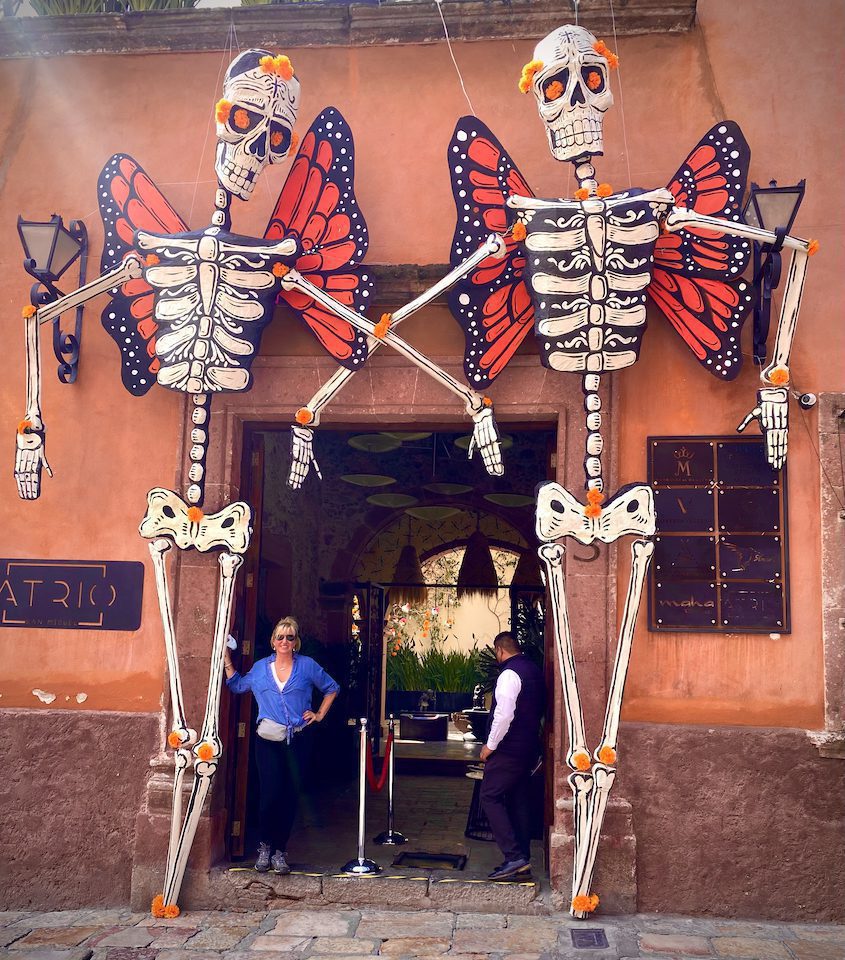 Discover Even More From Mexico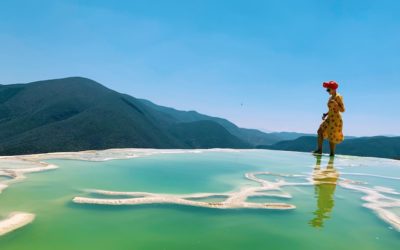 From Hierve el Agua to Monte Alban, Oaxaca, Mexico offers women magical experiences, a wide range of accommodations for all budgets.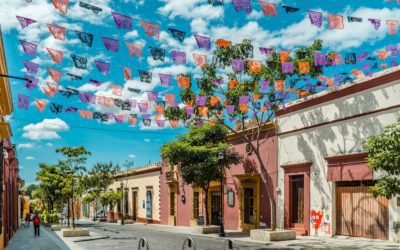 From hostels to boutique bed and breakfasts, a selection of safe places for women to stay in Oaxaca, Mexico, to fit any budget and style.
Observations from four months in Mexico to help you enjoy the little differences including etiquette, tipping, driving and shopping.