Last updated on June 27th, 2023
Featured image: Older women in New York City can stay energized with these tips | Photo by AboutImages on Envato
How a mature solo traveler can enjoy Manhattan
By Diana Eden, Contributor, Women Over 80
A few months ago, when JourneyWoman CEO and editor Carolyn Ray invited me to speak on a panel at the two-day Women's Travel Fest conference in New York City in March 2023, I didn't hesitate to say yes! Especially yes, when I discovered the panel's discussion topic was "Kickass Solo Women over 50″. Along with fellow panellists Melissa DaSilva, President of TTC Tour Brands for North America, and Dawn Booker of Pack Light Global, we were to bust some myths about solo travel.
Day One of the Women's Travel Fest conference was amazing. It was held in one of the oldest surviving gothic-revival synagogues in New York, the Angel Orensenz Center in the Lower East Side. The space was purchased in 1986 by artist Angel Orensanz and refurbished as an artistic and cultural resource for artists, writers, and thinkers.   
The several hundred attendees were a blend of backgrounds and ages and represented all stages of careers in travel. I was probably among the oldest at 82, but there were plenty of every decade from the 30s and up.
Carolyn guided us through our 45-minute panel discussion with skill, leading us into topics such as: what has changed for us as we travel later in life, do we feel the travel industry recognizes us or not (mostly not), and what we can do to lead the way in empowering solo travelers?
We blew some preconceived notions about older travelers out of the water! Solo travel for older women is neither scary, lonely, nor dangerous. The travel industry needs to wake up and realize what a presence women over 50 are and that we have the time and finances to be a large part of the travel consumer market.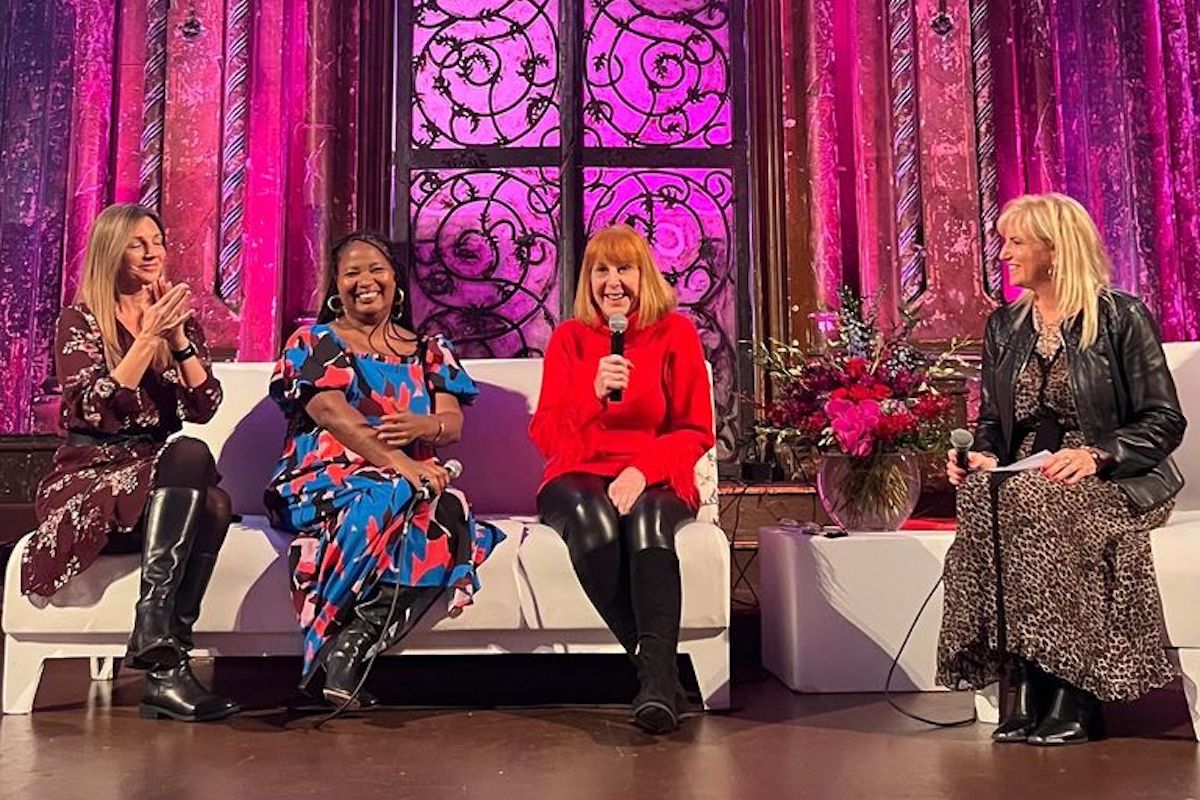 Trafalgar's Melissa DaSilva, Dawn Booker, Diana Eden, with moderator Carolyn Ray / Photo credit: Timathea Workman
Inspiring Speakers: Pauline Frommer, Samantha Brown and Alice Min Soo Chun
Pauline Frommer shared some great tips about how to save money when we travel. For example, she says Wednesday is the best day to book a flight, and to make sure you look for flights using incognito mode. 
The well-known TV host Samantha Brown followed us and spoke about the emotional value of travel and how to find it. In her case, even though she usually travels with a TV crew, she likes to walk around neighborhoods and meet local people.  
Columbia professor Alice Min Soo Chun, who, fueled by her passion for helping the underserved, invented the world's only self-inflatable, portable origami solar light. She recently traveled to Ukraine to deliver thousands of them to citizens without power. We also heard from young women who are creating full-time businesses in the travel world, enjoying life as digital nomads, and working remotely. (look for a feature on her, coming out soon!)
Carolyn Ray, JourneyWoman and Pauline Frommer / Photo by Carolyn Ray
Carolyn and Samantha Brown/ Photo by Diana Eden
Carolyn and Alice Min Soo Chun/ Photo by Diana Eden
My Tips for Older Women in New York City
Tip 1: Whenever possible, book a non-stop flight. Daily news reports had described catastrophic winter storms, flight delays, and cancelations due to snow, wind, frigid temperature, and scattered tornadoes. Fortunately, I live in a city where a non-stop flight was possible, and the morning I left, the skies were blue. We flew over the storms and landed on time in rainy New York. 
If you fly to Newark, take the train into Penn Station! Check schedules here.
Tip 2: I try to book a flight that doesn't leave at 6 am, as that requires me to be up at 3 am and totally disrupts my sleep pattern. At a senior age, one needs as much physical normality as possible, and feeling rested is essential to conserve stamina and enjoy the destination.
Check flights to New York here!
Tip 3: If you are older, skip the cocktail party that follows the day's events. It will probably be too noisy to converse and will wear down your energy level needlessly. I went to a little corner restaurant one block from my hotel and sat at the bar. Next to me was a young woman (probably early 30s) who was in New York for a business meeting, and we had a lovely conversation over dinner. 
Visiting the Musem of Broadway
In the late afternoon, I was invited to visit the four-month-old Museum of Broadway. Whether you are an ardent fan of everything Broadway or just an occasional visitor to one of the great shows, you will find much to enchant. For me, a former Broadway dancer, it was like traveling back in time and reliving some memorable moments in my life.
Presented over three floors, the interactive exhibit starts with the history of the Broadway Theater in the mid-18th century and features costumes, props, and artifacts perfectly curated for optimum color and impact. As you travel past walls of posters, photos, and programs in a chronological timeline, you get to interact with your favorite shows by posing for photos in specially created spaces. Great fun for Instagrammers!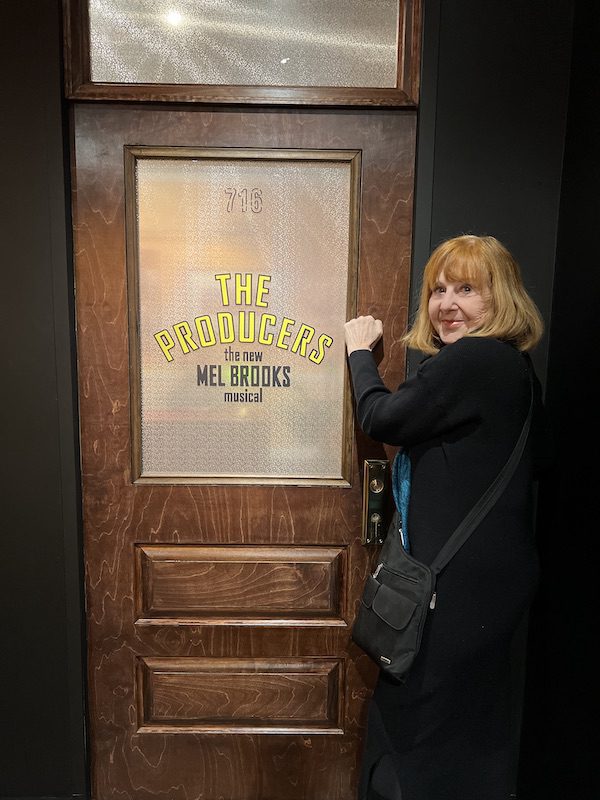 I was the original Beerstein Showgirl in the original movie of The Producers/ Photo by Diana Eden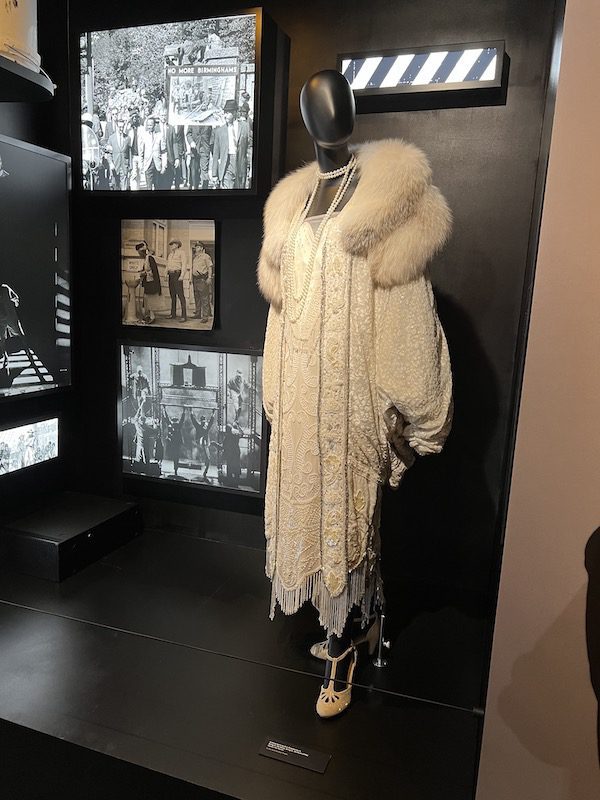 At the Museum of Broadway / Photo by Diana Eden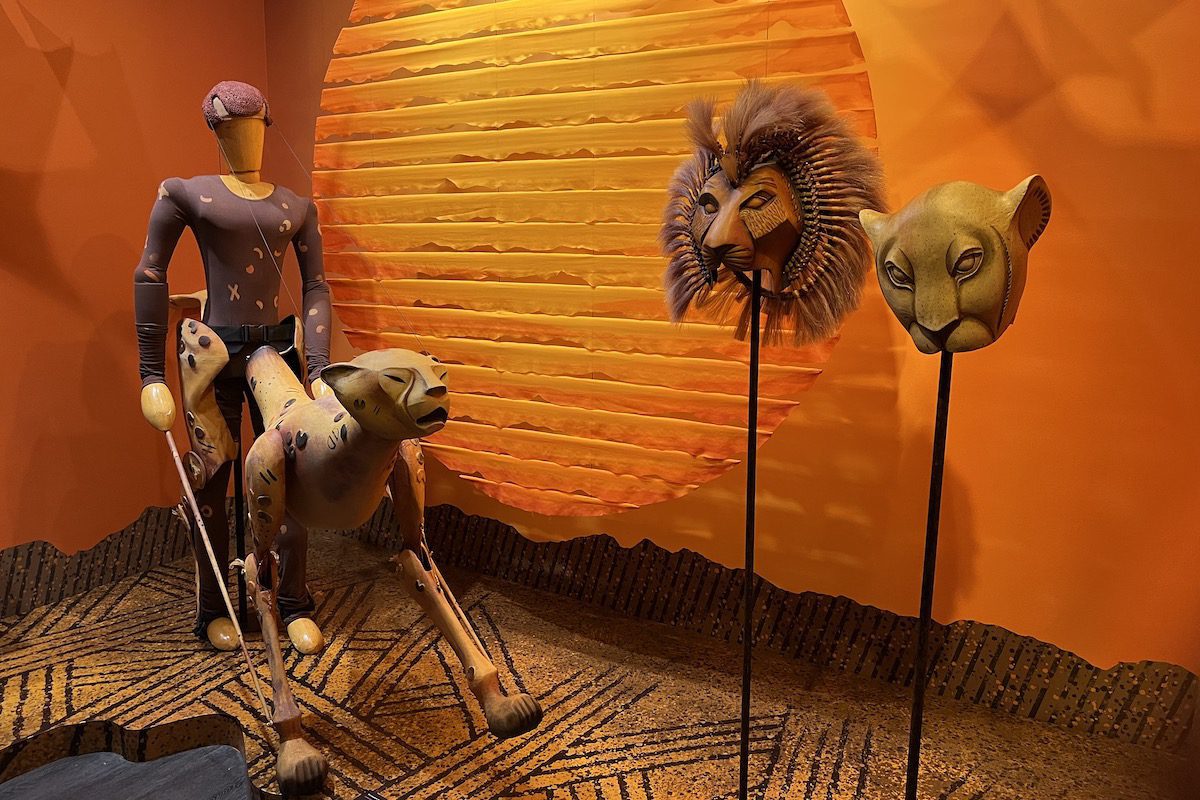 Props from The Lion King musical in The Museum of Broadway / Photo by Diana Eden
On the last floor, there is an area that resembles a backstage, where visitors can learn what a stage manager does or what a wardrobe department looks like.
This fun journey took about 90 minutes but flew by. (By the way, elevators are available if requested, and the museum is wheelchair accessible).
So no, as a "kickass woman over 50" (by quite a bit), I am not old but wise. I am not sedentary but adventurous. I am not lonely; I am empowered!
More Tips for Older Women in New York City
Tip 4: If you have the opportunity to visit the Museum of Broadway, don't miss it! Get tickets here.
Tip 5: See a Broadway show! People come from all over the world to do so – Broadway is an international brand. I saw the revival of "Bob Fosse's Dancin'," which I expect will be an enormous hit. Get tickets here!
More on the Older Adventuress to Inspire You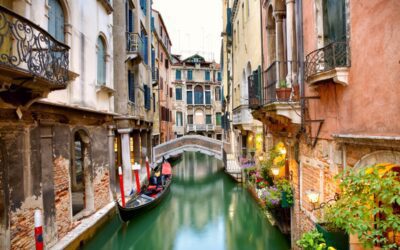 Venice is not the most mobile-friendly city. Explore safely and in comfort with these Venice travel tips for women over 80.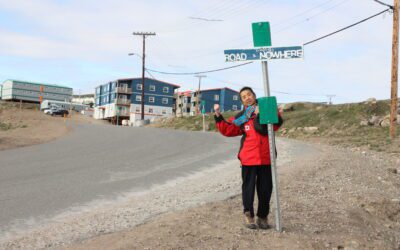 Chinese-Canadian journalist Ruth Lor Malloy, 91, shares her life's work to foster intercultural dialogue and justice for marginalized groups.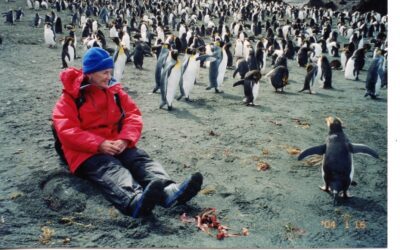 You're never too old to travel solo, says 86-year old author Joyce Perrin in her memoir, "Ants in My Pants". Join Joyce and other 80+ authors on our September 28 webinar.