Last updated on September 22nd, 2023
Featured image: A woman explores Hierve el Agua, stunning natural rock formations in Oaxaca | Photo by flortosc on Twenty20
Seven experiences in Oaxaca where creativity and community go hand in hand
by Carolyn Ray
It's siesta time in Oaxaca, Mexico, and I decide to make my way back to my hotel after a late lunch. Clouds form above me, signalling an afternoon shower and I hurry along the cobblestone streets, hoping not to avoid the rain. Suddenly, I hear music, a brass band and crowds cheering. I turn a corner on in front of the Church of Santo Domingo de Guzmán and I'm thrust into the middle of a traditional wedding parade, with a bride and groom, two three-meter-tall marionettes dancing down the street and a huge twirling globe. I clap with delight and watch as the wedding procession, with traditionally dressed women dancing with baskets of flowers on their heads, follows them closely.
I come to learn that parades are almost an everyday occurrence on the streets of Oaxaca – and here, everyone is invited, tourist or not. In my five weeks in Oaxaca, I see (and hear) many parades where mezcal and snacks are offered, and giant dancing dolls, called mojigangas, are dressed for all occasions. There's dancing, singing, dancing, marching bands and traditional dress that's unique to Oaxaca – not to mention the fireworks, which accompany almost every celebration.
It's May and I can only imagine what Oaxaca is like during Day of the Dead (Oaxaca Dia de Muertos ) in November or the Guelaguetza Festival in Oaxaca (Los Lunes del Cerro), which takes place on the last two Mondays in July.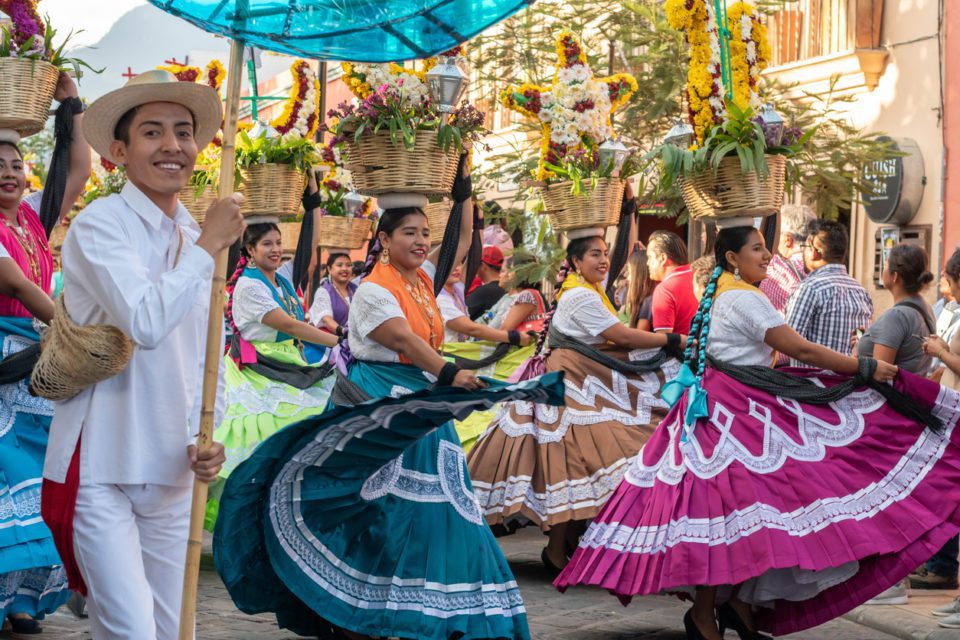 People dressed in traditional clothes during Guelaguetza in Oaxaca, Mexico
Is Oaxaca safe for solo travellers?
If you're looking for a safe, welcoming place, Oaxaca might just be the place for you. During my five weeks in Oaxaca, I had the pleasure of meeting several JourneyWoman readers who have made the move from the US to Oaxaca.
Due to the frequency of earthquakes (and hurricanes), register with your government program (STEP in the US or Canadians Abroad) to receive alerts and make it easier to find you in an emergency. I also downloaded an earthquake apps, SkyAlert, after I felt a 5.3 earthquake in Oaxaca. If you hear sirens go off, make sure you get to a safe place.
While much of Mexico suffers from travel warnings, high crime rates and dangerous drug dealings, Oaxaca remains relatively safe.  Although I felt very safe in the evenings, be cautious walking alone at night. Cash is not required for most purchases in Oaxaca unless you're at a market or buying food on the street. Oaxaca is not a showy place, so you don't need to worry about bringing jewelry or expensive clothes. Most days I wore my typical lululemon shirt and skirt, with a waist belt for my wallet and phone. Recently, I've started to travel with Apple Tags which I put in my computer, wallet, and carry-on luggage. Taxis in Oaxaca are very safe and seem to be everywhere, making it easy to flag one at any time.
Mexico has had almost 6 million cases of Covid-19 and more than 325,600 deaths as of June 29. Masks are still being worn most of the time, so I did as the locals do and wore them on the streets. They are required on certain tours and inside buildings, and most places will ask you to sanitize your hands upon entry.
Seven ways to explore Oaxaca
 I spent five weeks in Oaxaca state, and most mornings I awoke without a plan. Without an agenda. I opened the door and let the city guide me. If you want to be in a place where you can simply walk out your door, feel safe and follow your intuition.
There is a wide range of accommodations available in Oaxaca for all tastes and budgets, ranging from hostels to casitas to the luxury Quinta Real. I stayed at five different places in my time there, which you can read about here.
Oaxaca is also home to what was once the largest and most important metropolis in North America – Monte Alban – and its temperate climate (warm in the day, cool at night) makes life pretty relaxed.
One: Nothing — Just Wander
Oaxaca is built on a grid format bookended with the Zocalo at one end and Santo Domingo Church at the other, connected by a pedestrian street. If you walk north, you reach Xochomilco and if you walk south you reach the famous Mercado 20 Noviembre.
Standing amongst street art in Oaxaca / Photo provided by Carolyn Ray
It's a bright, colourful, and clean city, although many of the buildings are boarded up. Behind its walls, you'll discover beautiful courtyards and inner gardens. Even umbrellas (near the Textile Museum). There are many churches in Oaxaca, some ornate, and some simple. Don't miss the small statues on the street corners. A large aqueduct runs through the city, providing a scenic backdrop, right up into Xochomilo.
Street art is everywhere and it's not possible to make a wrong turn. Jatalaco is one of my favorite places and you'll come across parades, festivals and weddings and be invited to join the celebrations with mezcal and snacks.
Two: Eat without guilt
 Ladies, do not feel guilty for one minute that you're enjoying the cuisine. There is virtually no processed food – everything is fresh, natural, and delicious. The moles, tomatoes, tortillas, guacamole, even the chapulites – let your taste buds take over!
There are tastes for every budget — from the Lechoncito food cart that serves pork tostadas for a few pesos to Casa Oaxaca which looks over Santa Domingo to Crudo the Japanese fusion experience that seats only four people at a time (at 3, 5, 7 and 9 pm). My only rule is not to eat anywhere with photos on a menu – otherwise, go for it.
I was there in a lull but where possible make reservations (usually on the website or through messaging on Instagram or facebook). Here are some recommendations to get you started on your culinary adventures, and don't forget to explore cocktail and mezcal bars. Believe me, everything is delicious.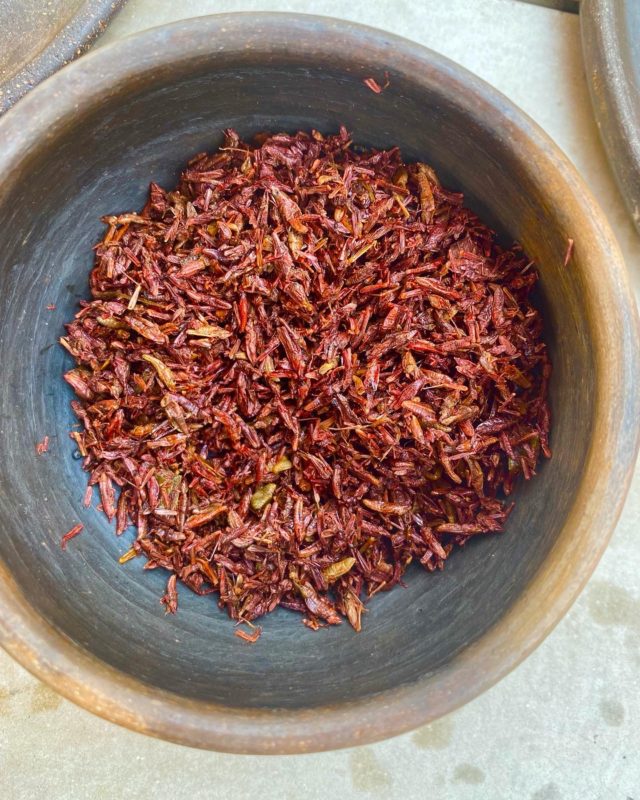 Grasshoppers are a local delicacy! / Photo provided by Carolyn Ray
Creative, delicious avocado salad at Casa Taviche / Photo provided by Carolyn Ray
Three: Explore with Walking Tours
 There are a plethora of guided walking tours.
The Botanical Gardens has 'free' English tours (cash donation 100 pesos) every day at 11 am. Get there by 10:30 am at the very latest. My guide was Carol, originally from Montreal, who has lived in Oaxaca since 1967.  Located on 2.32 acres of the former monastic grounds of the Church of Santo Domingo, this ethnobotanic garden is an example of Oaxaca's biodiversity and helps you understand the interconnection between humans and nature. After the tour, go to the Oaxaca Cultural Center and take beautiful photos of the gardens from above.
Mezcal, Chocolate and Coffee Tours can be found everywhere. I did a new one being offered by women-owned tour company Tlaydona which features women-owned businesses. Learning about mezcal is about as important to understanding Oaxaca as breathing the air. Once you have been converted to mezcal's superiority, you will never drink tequila, that watered-down agave cousin, again.
Graffiti Tours are also plentiful. I did a four-hour bike tour with Coyote Adventures and while I had seen most of the graffiti from my walks around Jatalaco and Xochimilco, it gave me a much deeper appreciation for the symbols of Oaxaca. Find even more things to do in Oaxaca right here!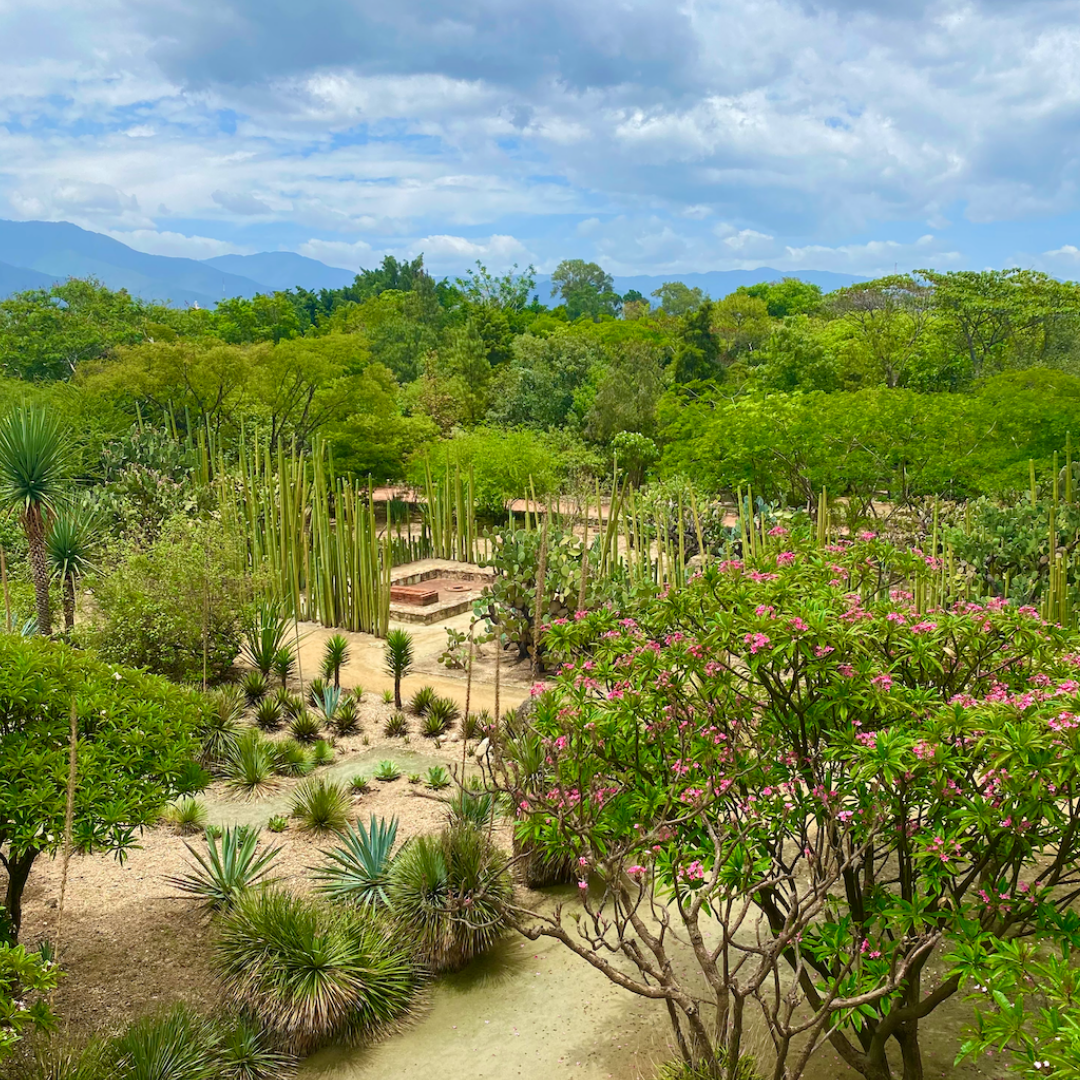 The Botanical Gardens is a shining example of Oaxaca's biodiversity.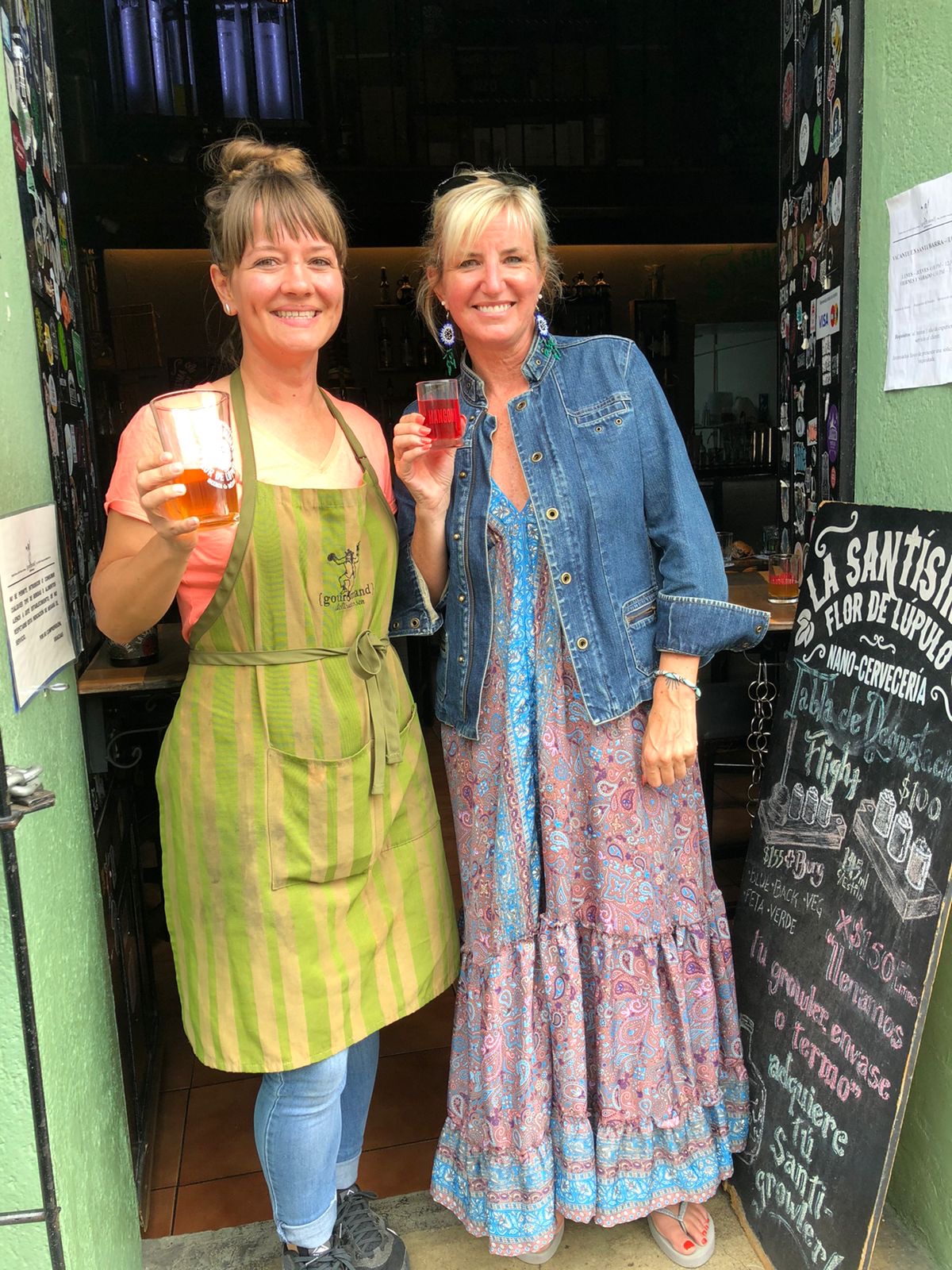 Even if you're not a Cerveza aficionado, it's worth trying – stop by Santisima Flor de Lupulo to see Nicole, the owner.
Mezcal is integral to understanding Oaxaca – you'll never drink tequila again. Jennifer, Carolyn, Tania at a mezcal tasting.
Four: Visit Monte Alban
You cannot come to Oaxaca without a visit up to Monte Alban, into the city in the clouds. It's easy to access, by taxi or bus, and you can hire a guide on site if you'd like. Don't buy a tour package but do go early in the morning to avoid the heat, bring your largest hat, lots of water and wear sunscreen as there is no tree coverage.
Monte Alban was once the largest city in Mesoamerica. For 13 centuries, between 500 BC and 800 AD, this ancient Zapotec metropolis overlooked the city of Oaxaca and functioned as its capital from 6000 feet up. As one of the oldest cities in the entire Western Hemisphere, it was the center of an ancient and complex civilization and is the most important archaeological site in this part of Mexico.
The remains are impressive – pyramids, canals and terraces spreading out over 6.5 square kilometres. It feels carved out of the earth, with astonishing views of the Oaxaca Valley _ it's no wonder that one ancient name of the site was Sahandevui, meaning, 'at the foot of heaven.' Zapotec tradition says their ancestors were supernatural beings who lived in the clouds. The complex contains great plazas, numerous pyramids, a ball game court, underground passageways, and over 170 tombs.
Unlike the great Mayan pyramids of the Yucatan, which were built over or near cenotes, Monte Alban has no source of water. So why was this place chosen? These buildings were extremely hard to construct, with rocks carved from the valley below. This immense endeavour could have only been achieved through an accurate execution of engineering, architectonic, and astronomical knowledge.  One unique idea discussed focuses on energy lines conversing at this point, a similar finding at other spiritual temples and shrines around the world.  There is a spiritual feeling here, where the sun and wind awaken your senses — is it cosmic energy?
After you've visited, stop by the Oaxaca Cultural Center (next to Santo Domingo Church) to see the remains from Tomb 7, including the famous turquoise skull and other artifacts.
The famous Jade Mask from Monte Alban.

Five: Swim at Hierve el Agua (and stop by Mitla and Tule)
Rising up from the valley, the calcified waterfalls of Hierve el Agua take your breath away. Go early in the morning and bring your bathing suit; you'll need to go with a guide. It's about 90 minutes from Oaxaca, and the drive up (and down) on a rough mountain road is steep and twisty. The hike to the second waterfall, which has no swimmable pools, is mostly inhabited by vultures. It's a steep one, with trails down to the valley, but worth it for the stunning view.
Translated literally, Hierve el Agua means 'the water that boils' but the name seems to have little to do with the actual temperature, and more with the process of pushing water up to the surface of the rocks.
As a water lover, I was eager to see this rare natural phenomenon of white petrified waterfalls, created over thousands of years by the flow of calcium carbonate and other minerals over the cliffs. There are two man-made pools atop two rock cliffs. From the first rock shelf, you can see the 30-metre cascada grande, and enjoy natural and man-made swimming pools. I chose an infinity-like pool that teeters on the edge of the cliff, coming eye to eye with mountains, looking down on the valley below. After stepping gingerly into the cloudy turquoise-green water, I luxuriated in the waist-deep water, which seems to flow right over the cliff.
Nearby is Mitla, the second-most important archeological site in the state of Oaxaca, and the most important of the Zapotec culture. Surrounded by the mountains of the Sierra Madre del Sur, it was established as a sacred burial site by the Zapotec and its distinctive feature is its elaborate and intricate mosaic fretwork and geometric designs made with small, finely cut and polished stone pieces that have been fitted together without the use of mortar. These designs cover tombs, panels, friezes, and even entire walls of the complex.
On the way back visit El Arbol del Tule. El árbol del Tule is the world's widest tree (a Montezuma Cypress) over 2,000 years old. When you stand beside its massive canopy (there is a fence around it) you will be surprised to know that DNA has shown it's all one tree.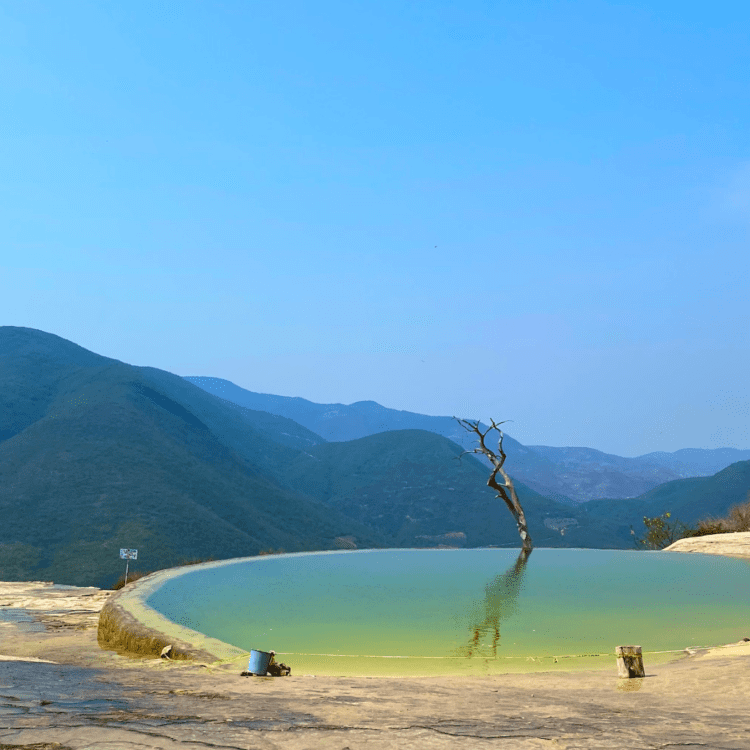 Hierve del Agua's calcified waterfalls and bathing pools up in the mountains / Photo by Carolyn Ray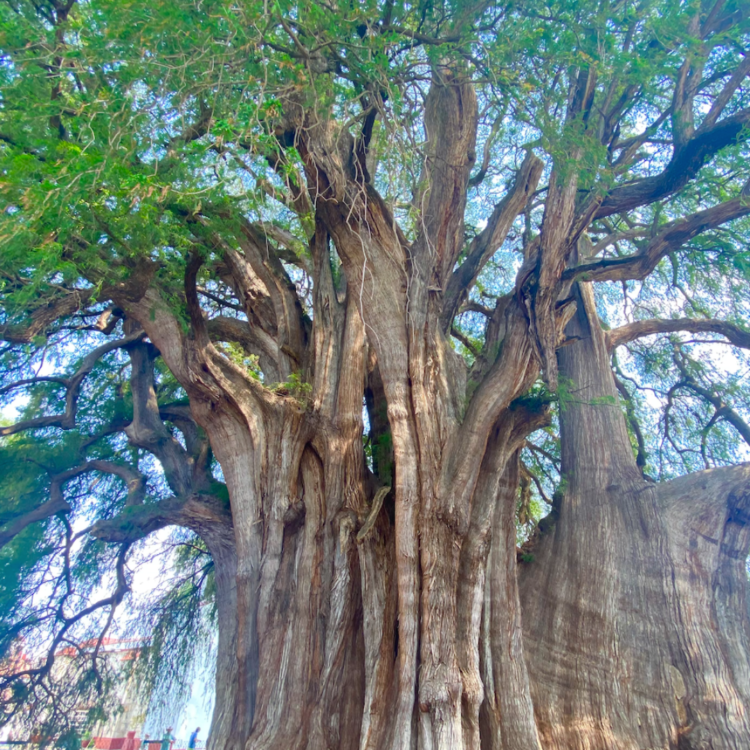 El Arbor del Tule, the widest tree in the world / Photo by Carolyn Ray
Six: Go to the coast – Puerto Escondido or Huatulco
Now that I've been to both Puerto Escondido and Huatulco, I can say that. Puerto definitely has more going on – surfing, turtle release, restaurants, and shopping.
Huatculco is more of a place you go to do nothing except read, write, swim at beaches and enjoy the ocean. Both have their own airports, so you can fly (about 40 minutes on Aerotucan, not for the faint of heart). You can also drive (about 6 hours) which I'm told is stunning. The last choice is a bus which takes longer than driving due to the roads.
If you stay in Huatulco, you have a choice of resorts or private villas. Food choices are very limited in Huatculco to a Soriana, small markets and a Chedraui. However, restaurants on the beach serve delicious food (make sure to try shrimp in a pineapple). I'm personally not a fan of all-inclusives but they are right on the water (like Senses) whereas most of the vacation rentals are not.  If you stay in Cruceita or Santa Cruz there is a cruise ship dock; thankfully no cruises arrived while I was there.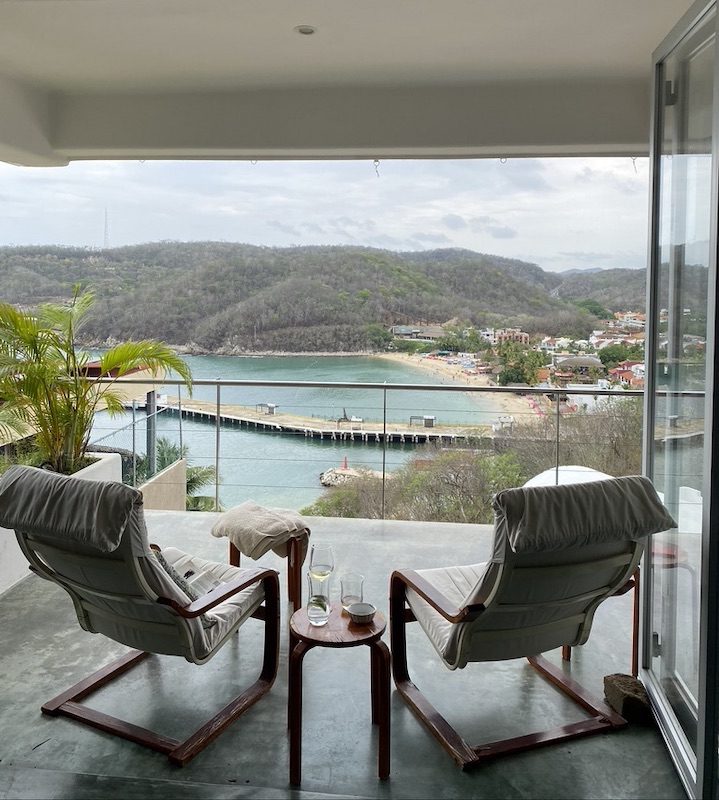 View of Playa Santa Cruz from my rental home / Photo by Carolyn Ray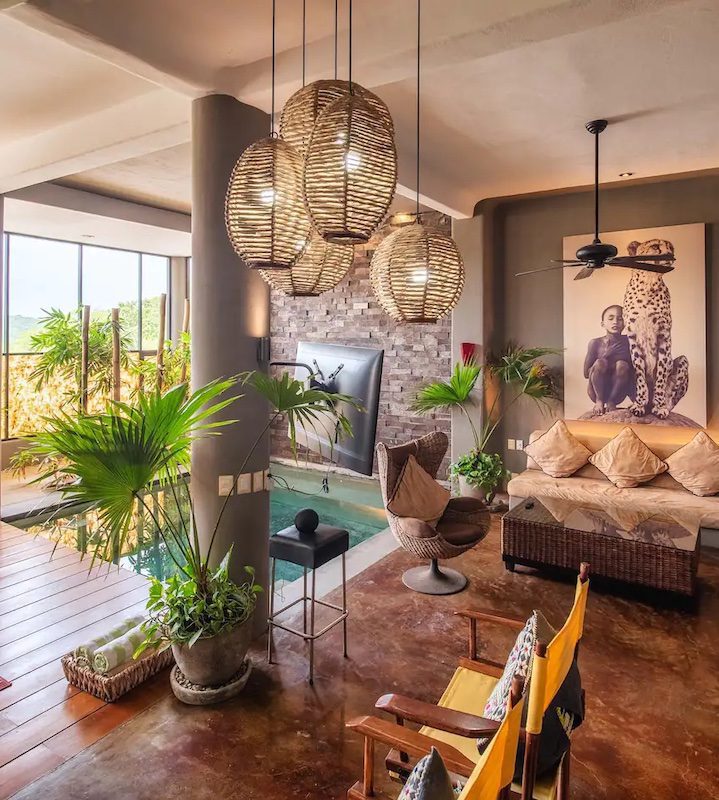 Indoor pool and beautifully decorated interior of Casa Volare / Photo by Casa Volare
Seven: Spend time in the villages
The real Oaxaca can be found in its villages. When I asked JourneyWoman readers about tour guides in Oaxaca, one name kept rising to the top – Tlayudona, created by Jennifer Furlong in 2015. Jennifer is something of a legend in Oaxaca – she is known as a supporter of women, an innovator, and in the few days since I met her (eating breakfast at another woman-owned business Café bre), always smiling and optimistic. Tlayudona has an ethical approach to travel and its commitment to intercultural connection, and a host-centered, women-led model is exactly what travel needs.
Since she founded it in 2015, she curates over 30 experiences that range from weaving to open fire cooking.
"When I started Tlayudona, I wanted the women that I had gotten to know in the villages that had all of this immense amount of ancestral knowledge to be able to share that knowledge and those stories," she says. "Also, the economic component but to create a dignified living wage out of doing so was important to me. Their ability to live in harmony with cycles and understand that we don't need to always have an upward growth trajectory and balance like health, family, community.
Whne we travel, we take a piece of that place and a piece of that knowledge. If we can apply just a little bit of that knowledge back in our home countries then we're better people, then we're better members of the community. We're better members of the planet.
If you look at some NGOs or Airbnb experiences, some have social ethics that operate informally. There's been a splurge of people giving experiences that on the surface use the buzzwords like authenticity, but they're not doing anything for the local community. As a traveller it might be difficult to weed out who's actually generating a positive impact and who's just taking people out to an Indigenous village and then pocketing the cash."
Doña Juana, Cooking in the Campo
Doña Juana, who lives just outside of Oaxaca. She supports three generations of her family, including her mother, husband and their four children, offering cooking classes.
Dona Juana's guidance, I ground corn by hand, sliced and diced herbs and plants, folding and tying tamales. Over a fiery outdoor stove, I made four kinds of hand-pressed tamales — the quintessential black bean tamal, the "chepil" tamal, the tamal de rajas, and the pumpkin flower and "quesillo" (Oaxacan string cheese) tamal. As she showed us how to make tortillas and tlayundas. I couldn't help but notice how engaged her three young boys were, making sure the fire was hot, clearing the table we ate at together, and asking questions as best I could with my limited Spanish. This experience helped understand the hard work and care that goes into making food and our connection to the earth and its cycles.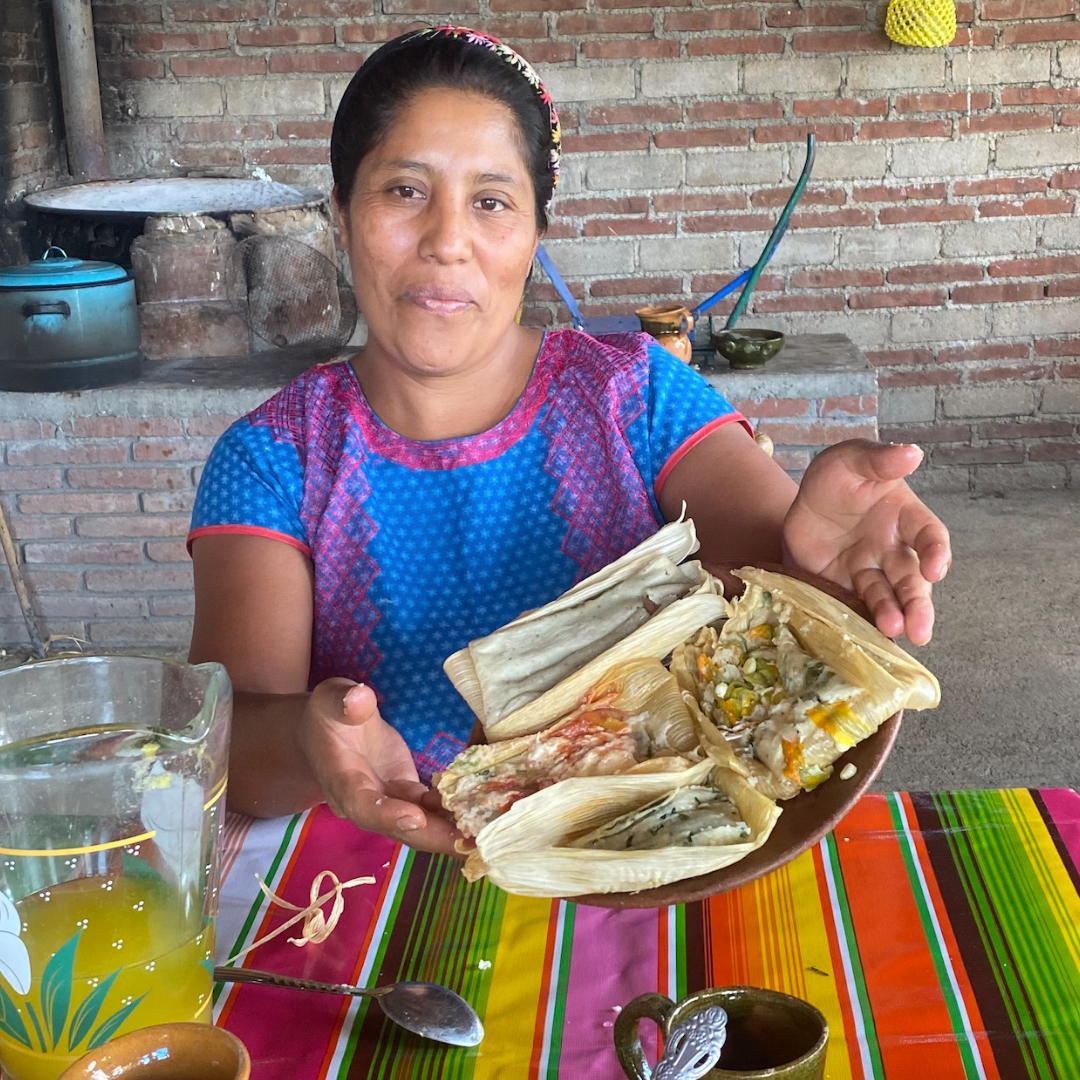 Doña Josefina, Women's Weaving Collective
Teotitlán del Valle is a small village in the foothills of the Sierra Juárez mountains just outside Oaxaca, known textiles, especially rugs, which are woven on hand-operated looms from local wool. In Teotitlán, I met Doña Josefina from the women´s weaving collective. She leads Las Mujeres que Tejen, the first group of women to organize and sell their own work in a traditionally male-dominated marketplace. This collective took six years to organize, and there are now 29 single mothers involved.
Through our wonderful translator Tania, we talked about the courage, patience and discipline needed to make these gorgeous works of art and the hard work it has taken to break boundaries with the formation of this collective. Doña Josefina also offers a two-day dyeing and weaving class and gave me a little taste of it, showing me the traditional ways of dyeing wool with marigold, cactus bug, indigo plant, quartz and other organic pigments.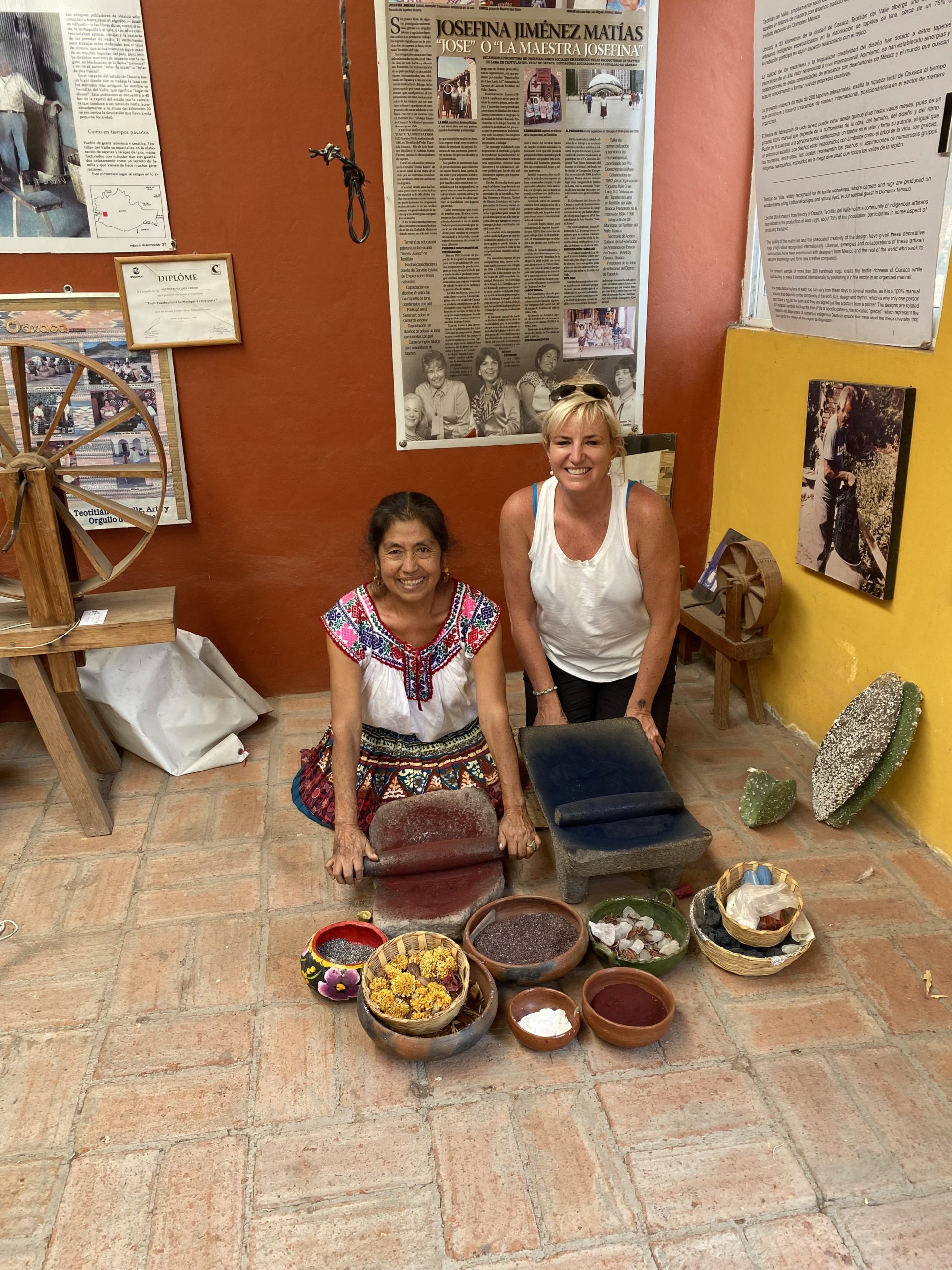 Note; This trip was not sponsored or financially supported by anyone other than me, so you can trust that my views are unbiased. I am simply trying to live the life of my dreams, living in places that I find safe, creative and educational.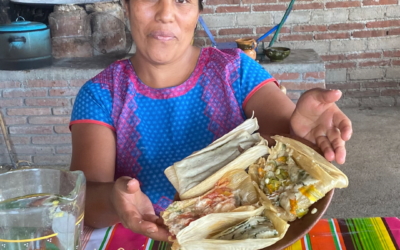 Enjoy all the fresh cuisine you can in Oaxaca, Mexico — from street food to upscale rooftop restaurants, you'll love every bite.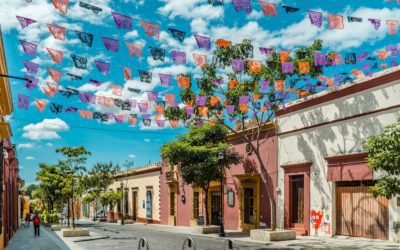 From hostels to boutique bed and breakfasts, a selection of safe places for women to stay in Oaxaca, Mexico, to fit any budget and style.
Observations from four months in Mexico to help you enjoy the little differences including etiquette, tipping, driving and shopping.