Last updated on November 19th, 2023
Must-Do Italy: Cinque Terre
Christy Kummer is a twenty-something Journeywoman and staffing coordinator living in Santa Cruz, California. Last year she travelled with four friends to Cinque Terre and offers this mini report on one of her favorite places in Italy. Christy writes…
I spent a few weeks traveling through Italy almost one year ago and I am still dreaming about it. It's magnificent! I highly recommend the area called Cinque Terra (Five Lands). These are five tiny seafront villages that are on the west coast of Italy, not easily accessible by car but very easy to get to by train. The train stops at all five villages so you can get off as you choose or take the amazing hike from the first to the last village. My suggestion is not to do the full hike in one day. If you do, be prepared to take the train back to whereever you started from because your legs will be jello by the time you finish. Whether hiking or sightseeing through a train window you will enjoy scenery unlike any other you have ever seen before. I promise!
We stayed in Riomaggiore…
We decided to stay in the village called Riomaggiorre. This is the fifth and last village in the chain. There is a small rental office right in the village that can rent rooms in homes (these are not hotel rooms by any stretch of the imagination). There are no hotels in Riomaggiore but we did manage to get a room with a kitchen and three sets of bunk beds. My suggestion regarding accommodation is to try to arrive in town as early in the day as possible. This way you'll have a better chance of securing a room before the other tourists start arriving.
Pizza and a cute gelato guy…
After we settled in, we each ordered and finished a wonderfully big, whole pizza (that's the only way they serve pizza here) and topped that off with the best gelato I have ever tasted. Not to mention, the most beautiful man I have ever seen serving gelato. I felt like I was 12 again hanging outside the ice cream shop to get a look at the cute boy. We ate an awful lot of gelato while we were there. The cute boy even started giving us 2 for 1.
It was a treat to be there…
We found that the best thing to do in Riomaggiore was to shop for produce from the local markets (there are two in the village we stayed in) and then prepare our own Italian specialities. A stop at the town's wine shop helped to keep us within our daily travel budget.
Reminder: The shops and businesses here are only open from 10:00 am – 2:00pm and 3:00pm – 5:00pm. Two to three o'clock is siesta time in Cinque Terre.
There is a beach in Riomaggiorre — perfect for catching some rays (if you get lucky, that is). It rained when we were there but it was so warm we stayed in our bikinis. There are some tourists in this area but not the number that we were expecting. In fact, most tourists come in on tour buses for an hour's stop and then they leave. Cinque Terre still very much belongs to its residents and they want to keep it that way.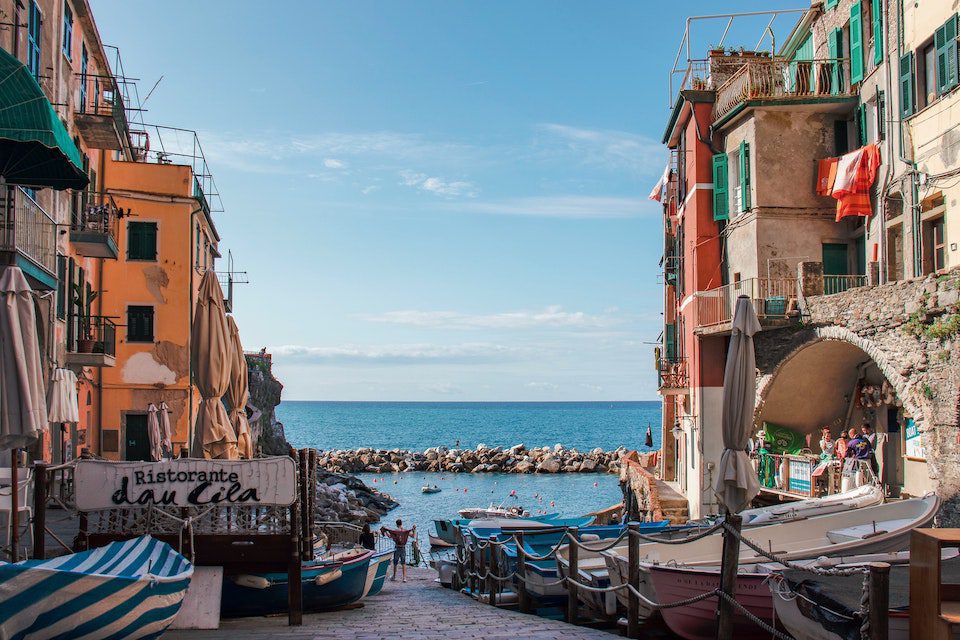 The quiet city of Riomaggiore, Cinque Terre
One last bit of advice…
We spent three wonderful days in Riomaggiorre. It was one of the most magical experiences of my travelling life.
One last bit of advice to other Journeywomen visiting this area. Have some hot chocolate while you are in this part of Italy. By comparison we, North Americans, have no idea how to make this drink. This was the richest, creamiest, most chocolatey hot chocolate ever to pass my lips. It actually was more like 'drinkable pudding.'
Oh, how I want to go back to Cinque Terre!
Travel addict and social media enthusiast, Simon Falvo is an Italian travel writer sharing her wild journeys on her blog Wild About Travel. Here are her 20 things women should know about Milan.
Cinque Terre advice from other JourneyWomen
Denise Riesen from Schaumburg, USA writes:
Although you can take the train and boat between towns, the Cinque Terre is great for hiking between villages. My tip is to hike from North to South (Monterrosa, Vernazza, Corniglia, Manarola, then Riomaggiore). The hike from Monterossa to Vernazza is long and tough, and requires sturdy shoes, and A LOT of water (most of the hikes are not shaded), as is the hike from Vernazza to Corniglia. We brought hiking sticks with us, that were very useful, as some paths are narrow, and there is some climbing — we had people along the way wanting to buy them from us! The hikes from Corniglia to Manarola, as well as Manarola to Riomaggiore are shorter distances and less strenuous. Although you can mix your hiking between towns with either train or boat services, my recommendation is to be sure to hike into Corniglia from Vernazza, as you will avoid having to climb UP the 365 stairs into the town that you would otherwise have to climb if you hiked the other direction, or took the train or boat. We broke up our hiking through the Cinque Terre into two days. The first day, we hiked from Monterrosa to Vernazza, and took the boat back to Monterrosa. The second day, we took the train to Vernazza (where we left off with hiking) and hiked the rest of the towns the same day, and took a train back from Riomaggiore to Monterrosa.
My favorite town was Vernazza. We did not stay in Cinque Terre — we stayed in Devia Marina (two five-minute train stops away from Cinque Terre) at Hotel Ristorante Clelia, Corso Italia 23, tel: 0187-815827. Recommended!
Editor's note: If you are going to Cinque Terre, it's probably a good idea to print off Denise's advice. It could come in very handy when planning your hiking itinerary.
Sandra Burns from Courtenay, Canada writes:
There are no roads to connect the five glorious villages of Cinque Terre. They are connected by thousand year old donkey paths and small trains and are spectacular as they cling to the cliffs above the Mediterranean. We walked there for a week, using the self guided maps from Sherpa Walking Holidays in the U.K.
Editor's note: According to The National Geographic Traveler Italy,' the well-signed Via dell'Amore (Path of Love) between Manarolla and Riomaggiore is the most famous hike and covers just 1 mile (1.6 km).
Cinque Terre Tourist Info Center
Address: Via Fegina 38, Monterosso Al Mare.
Tel: 0187-817506
Fax: 0187-817825
Located directly under the train station
Website: www.cinqueterre.it
E-mail: [email protected]
(Source: Hello Italy, Best Budget Hotels in Italy)
Ed. note: I had the wonderful opportunity of visiting Cinque Terre about 20 years ago. That stay still remains one of my most favoured travel memories. Part of the reason I loved it then was simply because it was an oasis — with no real tourism and no hype to cope with. There was little to do during the day except hike, eat gelato and explore the beach areas (Monterosso had the biggest beach). If I remember correctly, there was also a very cute man serving very good pizza and his restaurant was always full.
The homes up in the hills of Riomaggiore
Back to GirlTalk Italy…
The articles in GIRLTALK Italy have been independently researched by Journeywoman Online. We thank the Italian Government Tourist Board and Air France for sponsoring this female-friendly information. Together it is our aim to inspire women to visit Italy and to travel safely and well.
P.S. Did you know that Charles-de-Gaulle's airport in Paris is Air France's hub? And from Paris, Air France can connect you to 10 Italian cities!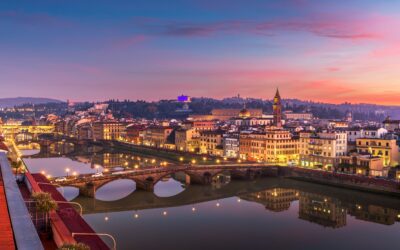 Sarah Winman's captivating novel "Still Life", set in Florence, Italy, brings the magic of chance encounters and kindred spirits to life.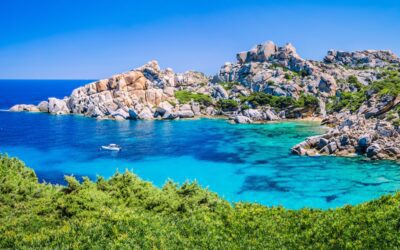 These ten books set in the Mediterranean will have you planning travels to less-travelled islands like Alba, Crete and Sardinia in no time!
Four places solo women shouldn't miss along the Croatian coast, including Dubrovnik, Istria, Split, and the Islands of Hvar and Korčula.