Last updated on December 8th, 2022
Life isn't about what you know, it's about what you don't know
By Carolyn Ray, Editor, JourneyWoman
A year ago, I started planning a women's wellness retreat with Doni Belau of Girls' Guide to the World. Our vision was to help us connect and heal from the pandemic, and step into our power as women.
We imagined bringing together incredible women to rediscover our true selves and get re-energized. We imagined a place where women could reconnect in nature and give themselves much-needed time and space to heal, dream and grow.
To make our vision real, we invited women with diverse and profound life experiences – infused with the curiosity learned from travel –  to join us as speakers and facilitators. Women who have dedicated their lives to empowering other women. Women we love, admire and respect. All of them said yes, and our retreat was born!
What happens when we say yes?
This past weekend, our retreat came to life Over five days, 40 women came together from North America and beyond.
We had epic speakers who shared their own knowledge and wisdom and together, we created something very special. We were travelers and women interested in deepening our conscious, opening our hearts, connecting with one another, learning something deep and walking away with a plan.
I'm grateful to the women who supported the idea of this retreat and said yes. I'm grateful to the women with diverse and profound life experiences who joined us as speakers and guests and actively participated in all the discussions, from mindfulness to human rights and everything in between.
Every day started with yoga and meditation and was organized around themes: Heart, Now, Dream, Transform and Zeal. We also designed special activities in support of these themes, including sound healing,  sunset rituals and lots of time for connection and reflection. And, of course, the Goddess Dance on the last night. The entire event, which was held at Mandala Springs Wellness Centre in Northern California, was vegetarian and alcohol-free.
Debbie Phillips: Why We Travel: Overcoming Fear & Finding Joy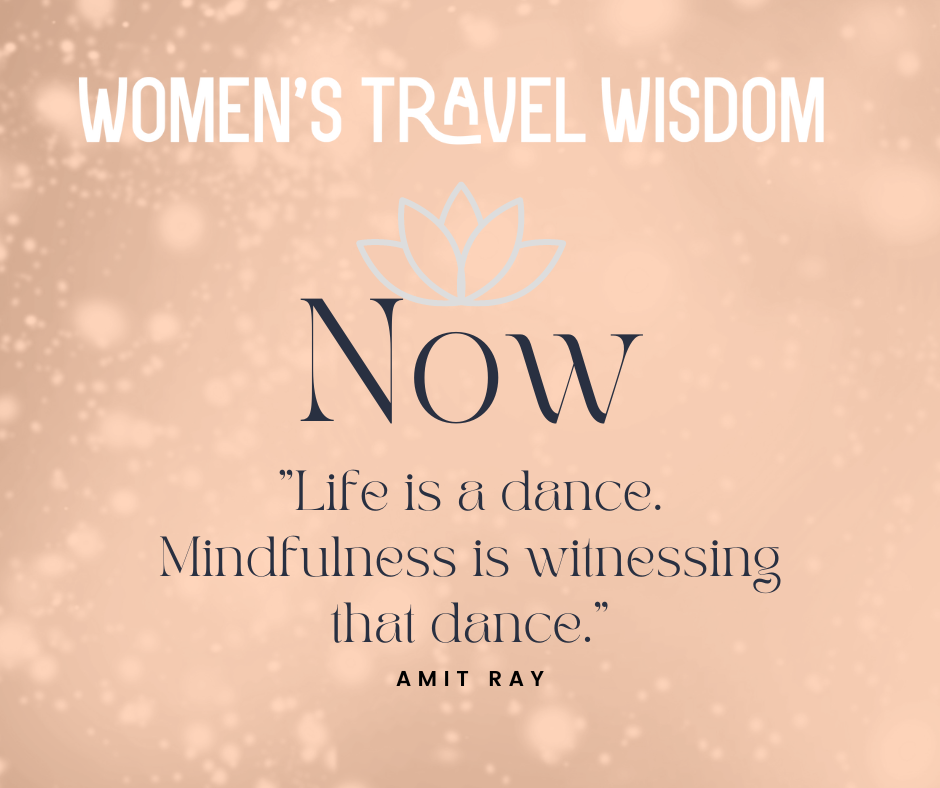 Lola Akinmade Akerstrom: Finding Your Own Balance / Caren Osten: The Power of Mindfulness / Shawna Robins: How to Reignite Your Energy/ Robin Griggs Lawrence: Exploring Wabi Sabi
Doni Belau: Finding Magic in the Unexpected / Diana Eden: Traveling Like a Rockstar in Your 80s / Caren Osten: Practical Tools for Mindfulness on the Road / Dr. Krista Stanley: The Sacred Traveler
Carolyn Ray: Living the Life of Your Dreams / Tracey Breeden: Women's Highs and Human Rights / Julie Cottineau: Telling Your Story with a Twist / Loung Ung: A Call to Action For All Women
Give the universe a chance to support you
As a result of this retreat, I'm re-energized, knowing that the universe supports me when I say 'hell yes' and step into the unknown.
Every day we are invited to do something new. It might be something that scares us or makes us uncomfortable. We have a choice. We can say no and stay in our comfort zone or we can say yes! and discover something new about ourselves and the world. That has been my journey, and it has been profound.
Over the past four years, I've stood in awe as one magical thing after another unfolds. A year after I downsized to travel the world, I was invited to carry on the legacy of JourneyWoman, continuing Evelyn Hannon's decades of service to solo women travellers.
Last year, I was introduced to a women's travel website and brought it into the JourneyWoman family to help women find women-friendly tours and retreats and connect small women-led businesses, which fit perfectly into my vision to support other women entrepreneurs.
In ny presentation, I shared my desire to follow my heart, manage my fear and made my own rules. Saying yes is the start, but having the right mindset to step into your potential is what gets you there.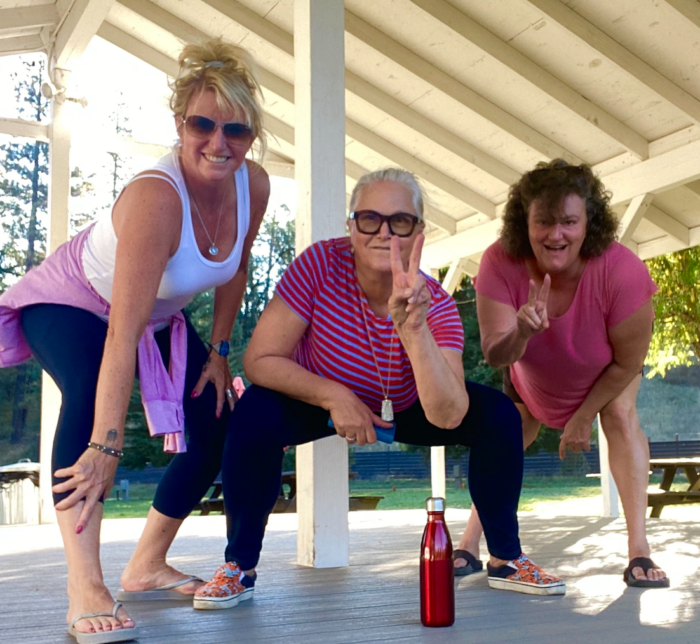 Carolyn, Doni and Cheri our event planner a week before the retreat began / Photo credit: Carolyn Ray
Five days of inspiring women 
Here are just some of the most memorable quotes from the women that showed us the way.
"Give the universe a chance to show you, 'I got you'" – Debbie Phillips
"Between stimulus and response there is a space. In that space is our power to choose our response. In our response lies our growth and freedom." By Victor Frankel, From Caren Osten's talk
"The first time I travelled, I had to go in so deep, into the DNA part of me. I had to go into that divine spark, into that ancestry of womanhood to find my power" – Loung Ung
 "We are beautiful. We are extraordinary. We are warriors. We're going to uphold human rights. We're rising up!" – Tracey Breeden
 "Eat the gelato, check the bags, buy the shoes, take naps, sleep with the guitar player, travel like a rock star?" – Diana Eden, from her talk about Traveling like a Rockstar into your 80s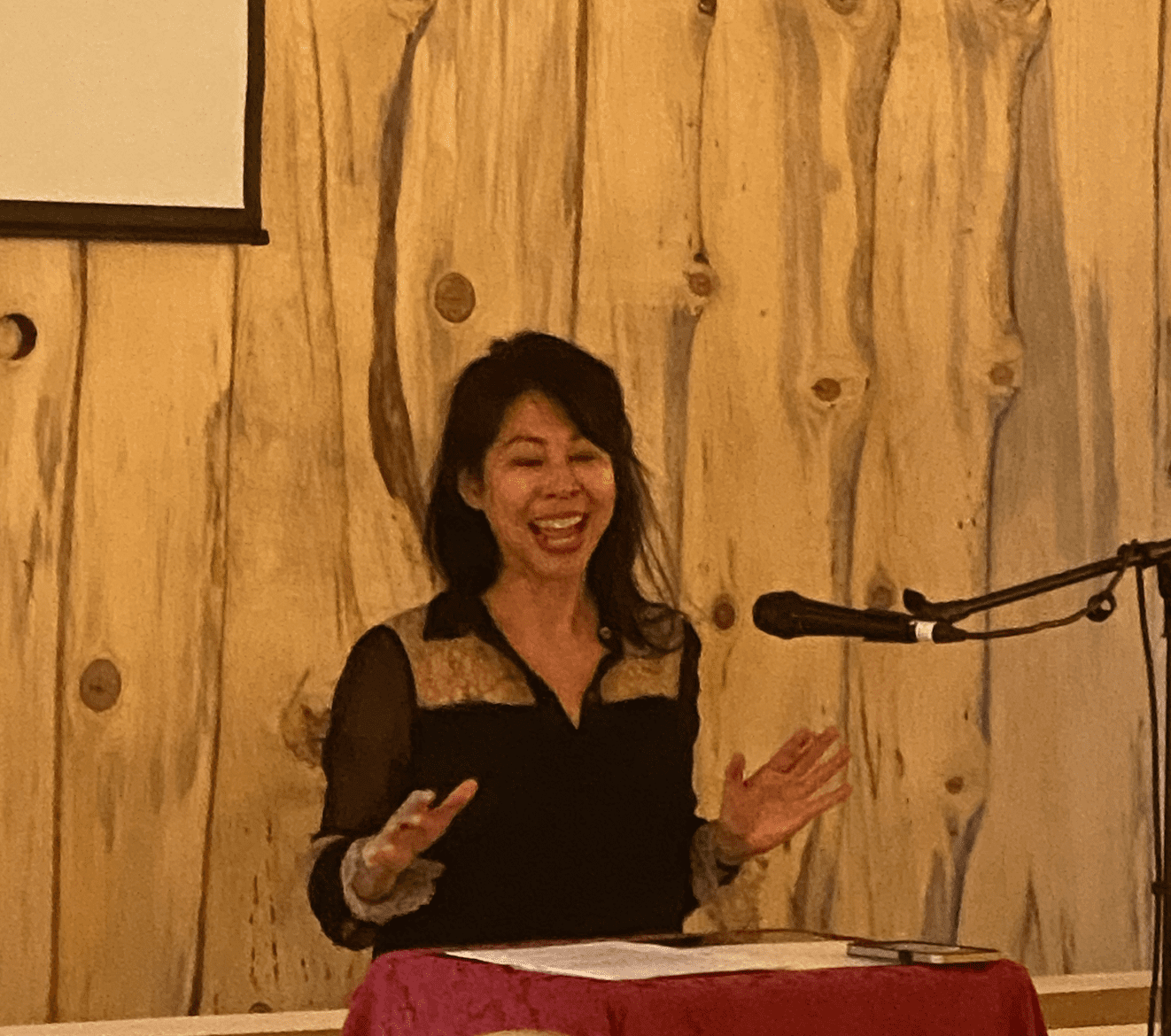 "A Call to Action for Women" with Loung Ung / Photo credit Carolyn Ray
Candid photos from the event
Here are just some of the photographs from the retreat. To see more, visit our Instagram at @journeywoman_original.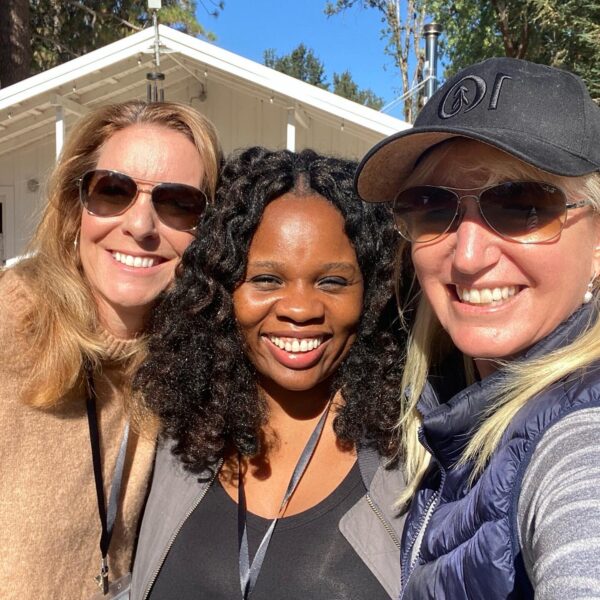 With speakers Shawna Robbins, Sleep Expert and Lola Akinmade Akerstrom, Author, Lagöm: The Swedish Secret of Wellness / Photo credit: Carolyn Ray
With attendees Andrea and Janelle and speaker Tracey Breeden, who spoke about Women's Rights and Human Rights / Photo credit: Carolyn Ray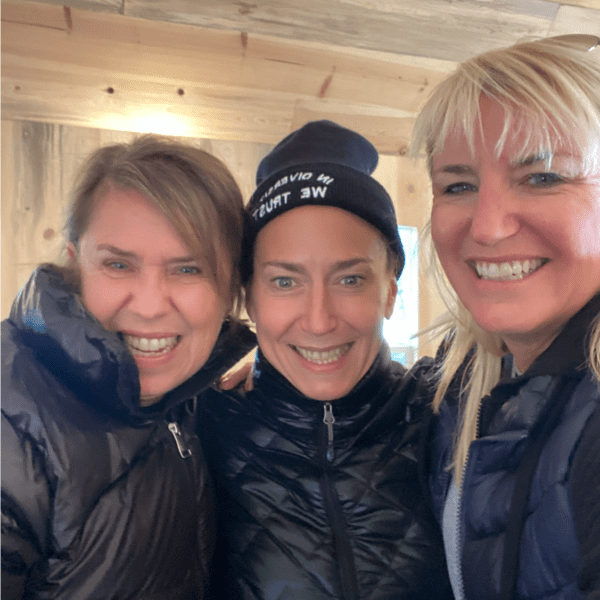 With speaker Debbie Phillips and guest Andrea / Photo credit: Carolyn Ray
Shifting from passive to active
So much has happened in the world in the past year. More than ever, the world needs women to help right the wrongs of the past. We can't sit and watch anymore — we have to use our wisdom and our voices to make meaningful change happen, starting with our own lives. In some ways, this is the beginning of a movement – one that inspires us to live passionately, consciously and fully, with our purpose as the red thread that binds everything together
The pandemic has changed everything. This is the perfect time to take stock of what's important to us personally and take time to breathe, calibrate and focus our energy where it will have the most impact.
As travelers, we see first-hand what others do not. We make good choices because we know we're all connected, and that what we do affects others. We are inspired to take action to make our world a better place.
Where do you think we need to start?
The Goddesses!
On the last night, we dressed in white and danced the night away! (Well, until 10 pm anyways!)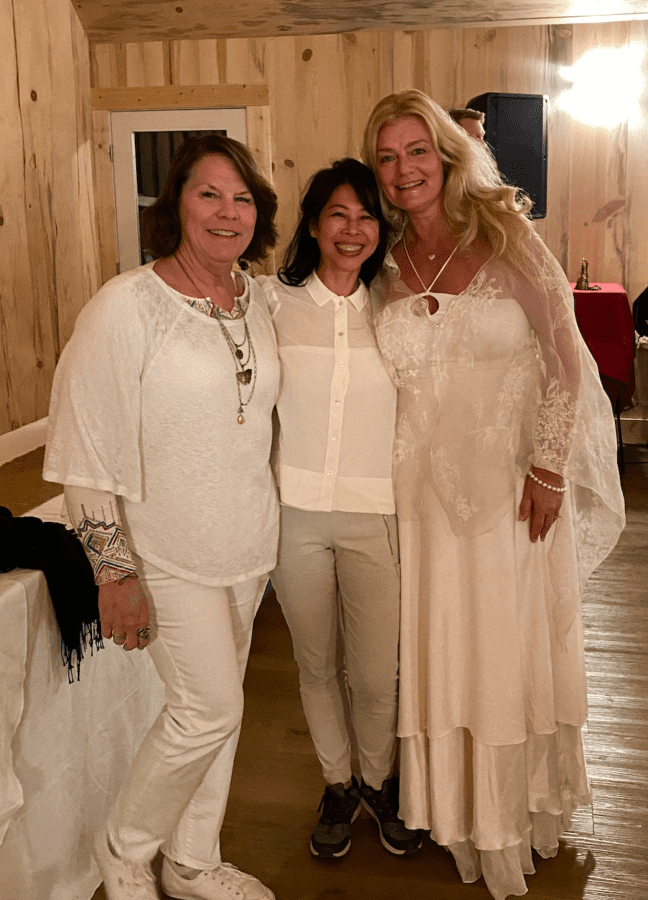 Linda, Loung and Nina / Photo credit Carolyn Ray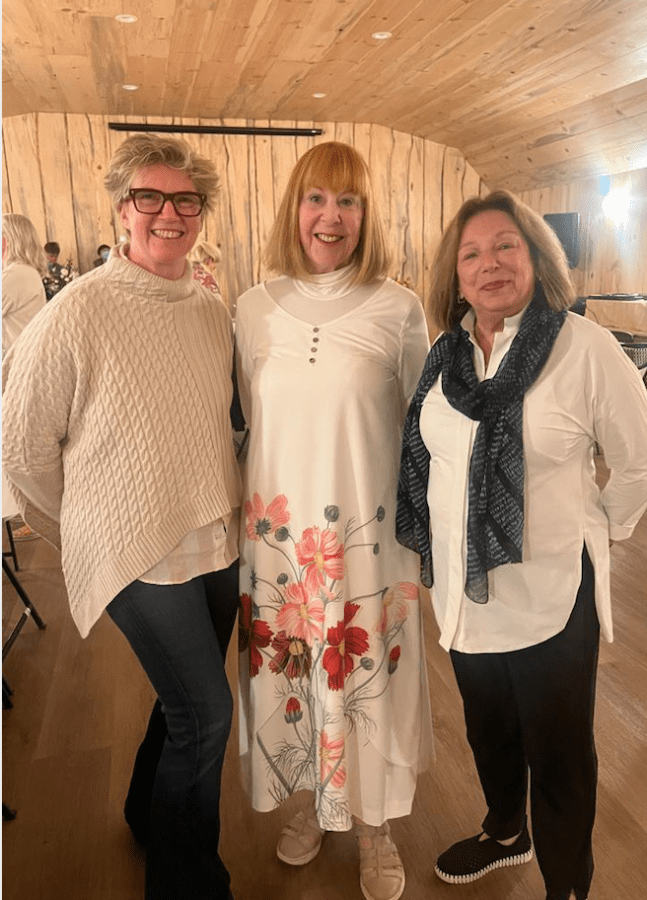 Krista, Diana and Judith / Photo credit: Nina S.
Read more about our speakers and the event here or visit the event website here.
Thank you to our sponsors, who helped make this dream come alive! 
Match Group (NASDAQ: MTCH), through our portfolio companies, is a leading provider of digital technologies designed to help people make meaningful connections. Our global portfolio of brands includes Tinder®, Match®, Meetic®, OkCupid®, Hinge®, Pairs™, PlentyOfFish®, OurTime®, Azar®, Hakuna Live™, and more, each built to increase our users' likelihood of connecting with others. Through its trusted brands, Match provides tailored services to meet the varying preferences of our users. Match's services are available in over 40 languages to our users all over the world. Learn more at https://mtch.com/.

Founded in 1947, Trafalgar Tours is the world's most awarded travel company. From exclusive access at iconic sites to breaking bread with locals at private Be My Guest experiences, Trafalgar aims to make a positive impact on the places we visit and connect guests to all 7 continents like no other. From dreaming to planning to booking, our guests travel worry free with a 3-step wellbeing protocol aligned to standards set by the World Travel and Tourism Council (WTTC), enjoy risk-free and flexible booking terms and have the confidence knowing that Trafalgar is part of the family-owned and run The Travel Corporation (TTC). To see Trafalgar's Women-only tours visit https://directory.journeywoman.com/tour-company/trafalgar/ 

Hymnologie is skincare crafted from the practices of ancient Ayurvedic wisdom, designed to provide radiant, glowing skin and holistic harmony from the outside in. Founded by Dr. Jigyasa Sharma, from the valleys of the Himalayas to the palms of your hands – every formula is handcrafted on the principle of uncompromised quality and backed by the natural healing properties of Ayurvedic medicine. Each ingredient is carefully selected in order to create harmony between the body's constitution (prakriti) and life forces (doshas), as we believe healthy skin comes from the interconnectedness of mind, body, and soul. Visit https://hymnologie.com/ to learn more.

Founded by Tara Tomulka, Rawcology is a family-owned business that creates revolutionary organic and nutritious plant-powered snacks that can be enjoyed by all individuals regardless of dietary restrictions. Our line of Grain Free Granola and Superfood Coconut Chips are always raw, organic, plant-based, dairy-free, gluten-free, nut-free, and refined sugar-free. Visit rawcology.com to learn more.
Founded by Julie Cottineau, BrandTwist is a consultancy that helps entrepreneurs and corporations build stronger, more profitable brands. BrandTwist offers Brand School Master Class, the exclusive premier program for small business owners and entrepreneurs who want to build stronger, more profitable brands. In her best-selling book, TWIST: How Fresh Perspectives Build Breakthrough Brands (Panoma Press, May 2016), Julie illustrates why your brand, not your budget, is your strongest secret weapon. Learn more at www.brandtwist.com.