Last updated on November 4th, 2023
Featured image:  Two men in Nepal make use of Alice Chun's solar lights | Photo provided by Alice Chun
Bringing light to families and children in Ukraine and Türkiye
By Carolyn Ray, Editor, JourneyWoman
What do entrepreneurs and travellers have in common? Quite a bit, it turns out. From finding our passion to embracing the unknown, women are stepping in to make the world a safer, more equitable place.
Korean-born entrepreneur Alice Min Soo Chun is the inventor of the SolarPuff, the world's only self-inflatable, portable solar light. Her origami-style solar lights transform from a flat polygon into beautiful cube and pyramid shapes with a simple pull-open action.  According to Chun, a small solar light, just used one hour a day every day, can save 90 pounds of carbon emissions every year.
"More than 1.6 billion people live without access to electricity," she says. "They're using kerosene to light their world at night, which is a deadly toxic fuel. Some spend up to 30% of their income on kerosene, which could be used for food, clothing or education. With our solar light, not only are they saving money, but they're also improving their health and their environment. It's a win-win situation."
Since inventing this eco-friendly, sustainable light in 2009, Chun has travelled to war and disaster zones around the world, including Haiti, the Bahamas, Senegal, Syria, Mozambique, Puerto Rico, Nepal, Miami, the Florida Keys, Ghana, Ecuador, Cameroon,  Dominica, Afghanistan, Burundi, Ukraine, and Cambodia. In Ukraine, she hand-delivered her solar light to refugees and the homeless, lighting up the darkness. Soon, she is travelling to Türkiye. By her own estimate, over a million people have been impacted by these lights. In her 2016 Ted Talk: "10 Million Rays of Light", she shares her journey as an entrepreneur, inspired by her son Quinn, who developed asthma from pollution. 
"Most recently I went to Ukraine," she says. "I'm going to Turkiye in a couple of weeks because of the earthquake. There are many families that are in tents because of the earthquake. The homeless have nowhere to go. There are many temporary settlements in Türkiye because of the earthquake."
Not only has Chun won numerous awards for her inventions, including the U.S. Patent Award for Humanity, but her products have been exhibited at MOMA in New York City. Her latest one, transparent face shields and respirator masks, SEEUS95, have been featured on Hillary and Chelsea Clinton's docuseries, 'Gutsy.'  Chun also holds four U.S. patents for her solar lights, including one for its origami design.
Alice Min Soo Chun speaking at Women's Travel Fest in March 2023 / Photo credit Carolyn Ray
Four things that entrepreneurs and travellers have in common
When I met Chun at this year's Women's Travel Fest, I was struck by her humility and passion.  Hearing her stories reminded me that of the many things that all women entrepreneurs and travellers have in common.
1. We follow our passion
Every quest starts with a spark, or an idea, that fill us with energy and ambition. When we follow our heart, we build resilience and confidence and overcome unforeseen obstacles.
Chun's entrepreneurial journey began when her son Quinn was diagnosed with asthma in 2004.
"Because of pollution in urban areas, 75% of the pollution comes from HVAC heating, cooling, charging phones, computers, lighting," she says. "In New York, when my son was born in 2004, one out of four kids had asthma, which was 40% higher than the rest of the country. Now it's 50% of the kids have asthma. It's too early for our gene pool to be changing that rapidly, so it has to be because of the environment that so many children are getting asthma and eczema."
Chun's son, Quinn, holding her SolarPuff solar light / Photo provided by Alice Chun
An architecture professor at Colombia University, she dedicated herself to finding alternatives to fossil fuels, like solar energy.
"I researched every solar light out there on the market," she says. "They were all very heavy, bulky, hard plastic, non-recyclable, made out of toxic materials. Because hard polycarbonate, hard plastic, is actually non-recyclable and it's very toxic to the environment when they're making the product and will last thousands of years in the landfill."
Drawing on her life and professional experiences, Chun created a solar light with strong, durable sail cloth, made with a triaxial weave.
"That triaxial weave is what makes it strong enough that it holds its shape when it's expanded into a cube and soft enough so that it's foldable," she says. "I was hoping to make an impact with this light and our other products."
2. We are role models for others
As women over 50, we are aware and accountable for the impact of our decisions on others. We know the world is watching and learning from us, and that we are often role models for others, including the next generation.
Chun was named to Fortune's 50 Over 50 list in 2022, and often meets with young women who are pursuing careers in science, engineering and entrepreneurship.
"I tell the girls and young women that I meet if I can do it, you can do it," she says. "I'm a poor Korean girl that immigrated to the United States when I was a teenager and I had the privilege of having an education."
She encourages young girls and young women to ask themselves 'what gives you energy? What gives you passion? And is it something greater than yourself? Is it helping others? Is it for making lives better?'
"Once it's outside of yourself, there's this other level of responsibility and love or commitment," she says. "And once it's something that's greater than yourself, the passion and the impact becomes so much more meaningful. And if you go on that path, it's so important that you love what you do because if you don't love what you do most people will give up."
In a male-dominated industry, Chun has had her share of challenges prototyping and manufacturing her solar lights.
"I have yet to meet a female woman that owns a factory in China," she says. "I've always dealt with men. You have to convince them that it's possible and you can't convince someone else if you're not convinced yourself."
Chun says that only eight per cent of women have a patent where they're the sole, female owner of a patent and that 0.02% are female entrepreneurs have a company that has had an IPO in the history of IPOs.
"I think we've come a long way, but we are far behind what men are able to achieve in terms of investments for companies," she says.
She believes things are changing. "The more and more I talk to people that share common goals and stories, the easier it is to set up a ripple effect within the community of young women and girls so that they feel empowered to step up and fight for their abilities and their talents and their worth. It's sad we have to fight for it, but we do."
Visiting children in a Ukranian hospital / Photo from Alice Chun
Visiting children in Ukraine / Photo from Alice Chun
3. We act with authenticity
When our actions align with our values, we're more likely to pursue our passions, feel confident and act with courage, curiosity and generosity to make our world a better place.
True to her values, when Chun visited Ukraine, she went alon, without fanfare. She stayed with a friend who is a nurse at one of the children's hospitals in Lviv. The friend connected her to more hospitals and a refugee camp, where she hand delivered her own lights to those who needed them.
"I prefer working with people that are actually on the ground," she says. "With the real communities that are there. A lot of the NGOs aren't even in Ukraine at all; they're in Moldova, in Poland. You don't know what happens to the donations that you give. But with us, you just give a light, you buy a light to give and you know exactly where it's going and what your money is going for."
"I feel so responsible. I am so grateful and so blessed and humbled that people want to support our mission," she says. "I have a debt of gratitude. I want to show them what this light is doing and what your donation has done and the power of it is so incredibly impactful that – that's one of the reasons why I go."
The other reason, according to Chun, is for the children.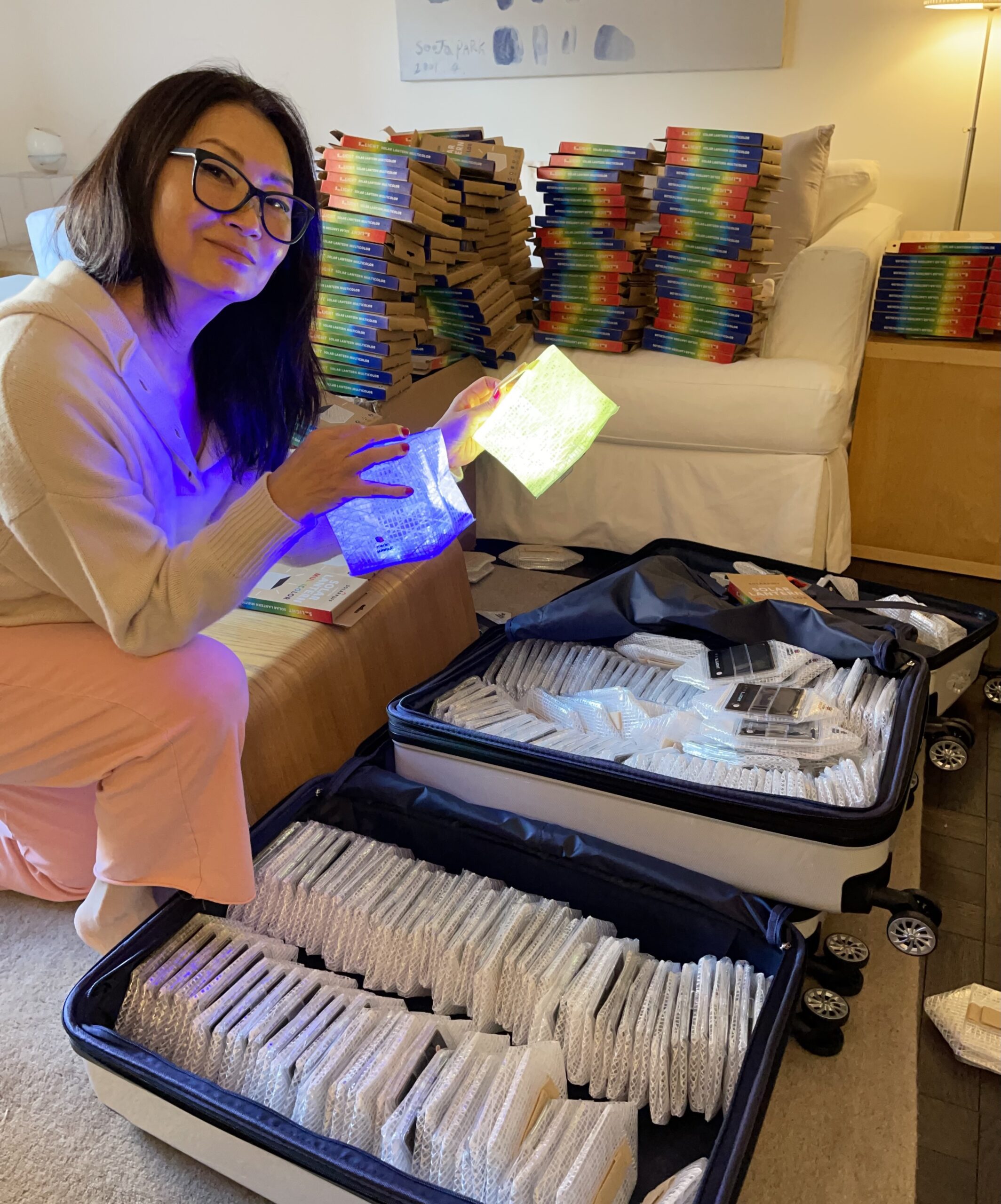 Unpacking the solar lights in Ukraine / Photo provided by Alice Chun
"Whether it's a hurricane or a war zone, the children are very traumatized," she says. "For the rest of their lives, these kids are incredibly traumatized. Imagine losing your home from a hurricane or losing parents because of a disaster or losing your whole family because they were shot and killed in front of you. These are the kids that I meet. Some of them were amazing to actually meet because I found so much joy, gratitude, perseverance and forgiveness."
4. We embrace the unknown
Every day we are invited to do something new. It might be something that scares us or makes us uncomfortable. We have a choice. We can say no and stay in our comfort zone or we can discover something new about ourselves and the world.
"In Ukraine, people were really struggling and they're trying to thrive," Chun says. "They had blackouts. You know, getting off the train it was so dark. I was just really struck by how dark it was in the streets because all you had were the cars. The streetlights were really very, very minimal. And the buildings were all dark."
She plans to go back to some of the villages and deliver more lights.
"I think more continuous power is going into the major cities but the villages on the front line are completely decimated," she says. "There are still many families that need help. In Türkiye, what I understand is happening through my research is, and also from my experience with the earthquake in Haiti, is that people don't want to live in their homes even if they're still there around the epicentre because if your home has a crack in it and there's another tremor that house could go."
Children and women are the most vulnerable after a disaster, Chun says. By bringing light into tent camps, she hopes to reduce sexual assaults and human trafficking. According to the United Nations, human trafficking is a massive problem, with estimates ranging as high as 50 million people worldwide. Wars and conflicts, such as the crisis in Ukraine, increase the possibility of trafficking in and outside of conflict areas. To make her case, Chun found a research paper where proper lighting decreased sexual assaults by 20% to 30% in Haiti.
"Imagine being a child," she says. "You've lost your parents. You don't know where to go. That's when human trafficking comes to light. In the tent camps, the women get assaulted because they're in a tent, and then there are public bathrooms and when they go to the bathroom at night they get assaulted. If there's no light you can't point your finger at an attacker because you can't see your attacker at night. That's also the reason why I want to go immediately."
"When I go to these red zones, I'm always very excited to go," Chun says. "I go because I want to prove that there is another perspective to the situation. There's always another story. And usually, I come back with the most amazing stories of perseverance and light. It's one step closer to my destiny. Make the decision and follow through with it. Don't be afraid and just keep going."
"I'm not afraid to die — I'm just not," she says. "My son is the only one that I kind of worry about. When I went to Haiti I did check my life insurance before I left and I told Qwinn, you know, I love you so much. You're my life. And I love you so much. But I have to go to help these children because it also affects you and your life as well. We're all interconnected in this world. And the things we do to humankind, we do to ourselves."
When I ask Chun about her dreams for the future, she smiles brightly.
"If I were to dream big, every child would have a solar light, would have a solar puff, and know the power of the sun and the light inside themselves, being able to understand that help is not out there," she says. "Help is in your hands. Small things matter. If we all work together we can make a huge impact."
How you can help
Chun has three suggestions for women who want to help her:
1. Go to the Solight website and donate a light to Türkiye or Ukraine.
2. Buy a light for yourself here.
Use it in your home, in your living room or your garden, and save 20% on your electric bill just by using these lights instead of tapping into the grid. They're also great for camping and fold up flat and small.
3. Share the story. Just share the message.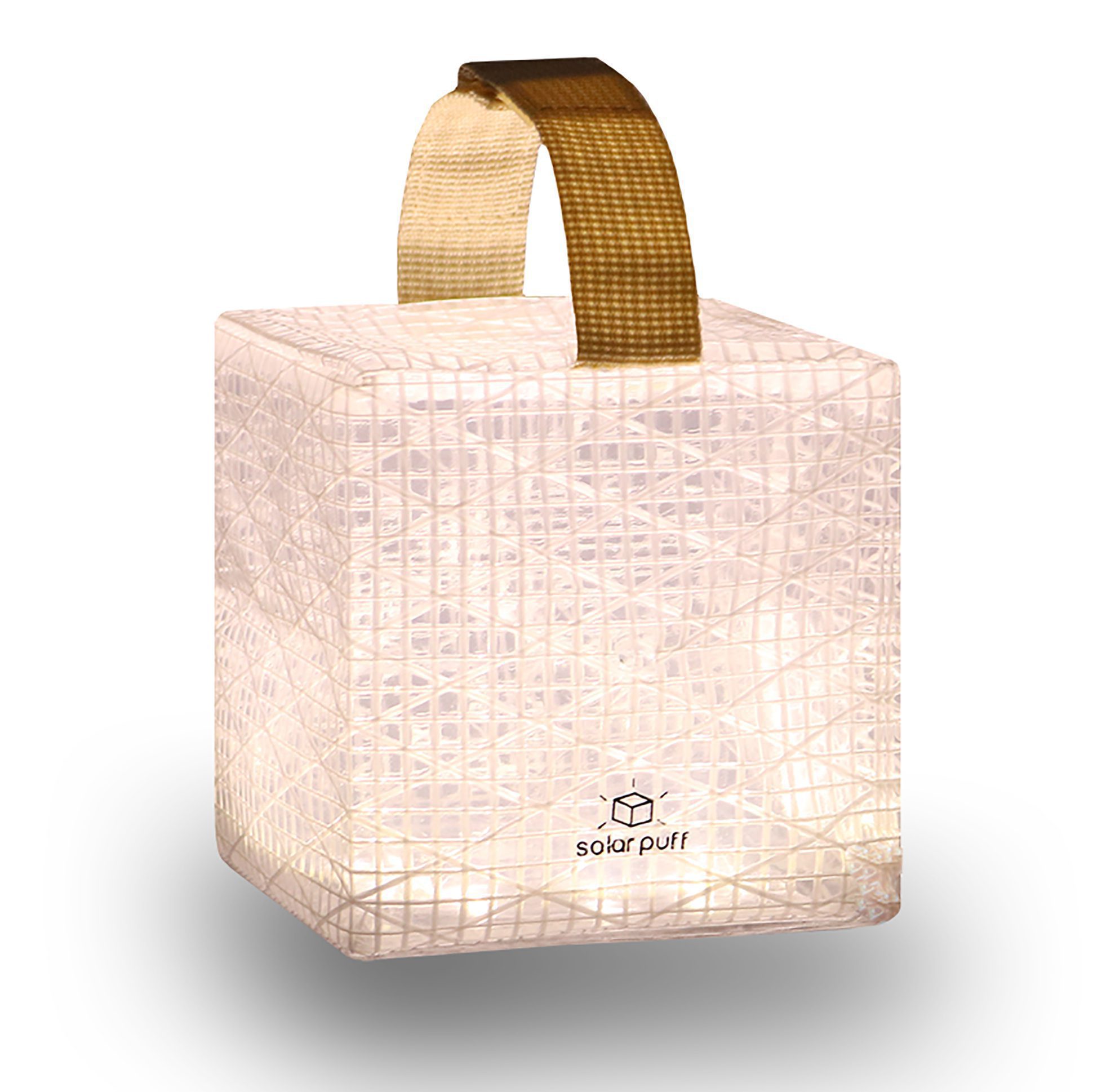 The Solar Puff light / Photo from Alice Chun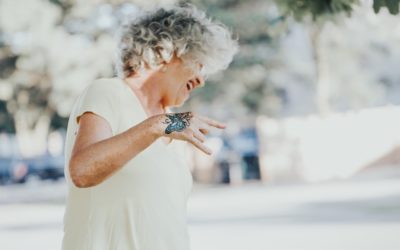 Solo traveller Christine Pope's tattoos tell stories of strength, resilience, hope, and life after breast cancer.
Women travellers share the deep interests, hobbies, and passions that they weave into their travels or build entire trips around.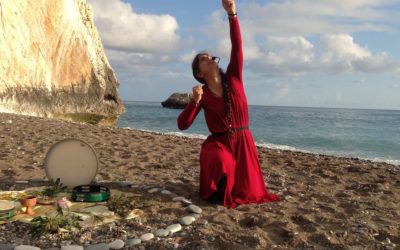 In the first article in a series exploring interest-based travel, we recount the story of a travelling storyteller from Colombia who made her passion her soul's purpose.