Last updated on July 20th, 2022
Featured image: Moroccan guides Chama and Kheira share a laugh / Photo by Julie-Anne Davies
Honoring women 'behind the scenes' of travel  
By Carolyn Ray, Editor-in-chief, JourneyWoman
For our annual International Women's Day Photo Exhibition, we invited our readers to share their photos and stories.  These photos show a woman who helped create a memorable travel experience, past or present. This year, we've invited three experienced photographers from our Women's Travel Directory to curate submissions and provide feedback: April Bielefeldt of Your Photo Tour Guide, Amina Mohamed of Triple F Photo Tours, and Mindy Véissid, Art of Intuitive Photography. Thank you to everyone who sent in entries and took the time to send in their heartfelt stories.  Our three finalists will receive complimentary passes to one of Mindy's photography classes (either on Intuitive photography or technical skills). All the winners including the five honourable mentions will receive a special gift from the JourneyWoman Shop including our recycled luggage tags and eco-friendly. notebook and pen.
The IWD 2022 theme is "Break the Bias": "Imagine a gender-equal world. A world free of bias, stereotypes, and discrimination. A world that is diverse, equitable, and inclusive. A world where difference is valued and celebrated. Together we can forge women's equality. Collectively we can all #BreakTheBias." If you're curious about what we can do as travellers to empower women, read "12 Ways to Empower Women Through Travel" and join us at our 10 am ET Community Call on Friday, March 11 to talk more about the role of women in travel.
Congratulations to Our 2022 Winners!
#1: Nomadic Woman in Morocco
Photo By: Julie-Anne Davies for Wild Women Expeditions 
Morocco | March 2022
The story: "A nomad woman with traditional Amazigh facial tattoos. These highly symbolic tattoos were historically used to distinguish members of different groups and were believed to induce fertility, cure illness and protect against spirits, beginning at a young age as a rite of passage. The ancient tradition is disappearing as globalization continues to cause shifts in cultural dynamics and ways of life across Northern Africa." -Julie
Judge's Notes:
April: "Beautiful portrait nice balance of the colour – pink and greens."
Amina: "I love love this photo – everything from the composition, the expression on the woman's face, the tattoos on her face and the lovely bokeh in the background."
Mindy: "Love this portrait! Great composition, light and colors."
#2: The Courageous Women at Sheroes Hangout Cafe, India
Photo By: Bonnie Hershberger, Broad Escapes – Tours for Women
Agra, India | January 2019
The story: "In 2019, while leading a group of women through India, I brought them to Sheroes Hangout, a café not far from the Taj Mahal. The café is managed by incredibly courageous women who are all acid attack survivors. These women have bravely gathered to run a successful business, creating more than just employment opportunities. Together the women now have valuable career skills and the confidence to celebrate their lives with pride, friendship and smiles on their faces. I was forever touched by their stories of strength and determination and will never forget this visit and the impact it had on all of us. If you're travelling to India, you can support these courageous women by visiting their café." – Bonnie
Judge's Notes:
April: "I love the use of black white here — it forces us to really SEE these women-their smiles. I also like that they are not staring straight at the camera."
Amina: "I love that Bonnie decided to feature this photo of her and the Sheroes in India in black and white. I can feel her joy and that of the women in the photo. I also like that the women and Bonnie are looking off to the side instead of straight to the camera."
Mindy: "I love that she decided to convert the photo to black and white. Often colours in a photo can be distracting, taking away from the story in the photo. I also like how close she is to the subject, allowing us to feel what she saw."
#3: Sara Lamzouwaq, Moroccan Guide (middle) with local women cooks
Photo By: Julie-Anne Davies for Wild Women Expeditions
Morocco | March 2022
The story: "Sara inspired me from the moment we shared our first smiles. She can confidently answer any question posed to her from religion to geography to culture. Sara is building an encouraging foundation of leadership for Moroccan women. With a law degree in her back pocket, I am so impressed by her ease, education and dedication to sharing her knowledge with fellow women in an indelible way. She also has a contagious sense of humour!" – Julie
"As a young, female Moroccan female tour leader, I feel like I'm making history in my own modest way, paving the way for other girls to join in and be part of the adventure. I appreciate the freedom I am given by the companies I work with to design my own tours. I can build relations with local women, and empower them with an opportunity to generate an income and help support their families." ~ Sara
Judge's Notes: 
April: "The portrait is nicely framed, the background is soft- well done."
Amina: "Love the capture and the colours of the background, coupled with the clothing and the people is very well balanced. I would like to see a horizontal photo s well."
Mindy: "I like how the background is soft and clean with no distractions allowing our eyes to focus on their faces. The bright colours of the clothing is slightly distracting so I would suggest to crop it into a horizontal shot." 
Honourable Mention #1
Dora Martin, owner/operator of Dora Taxi
Photo By: Deborah Guy
Bora Bora, French Polynesia | February 2020
The story: "On arriving at the Vaitape ferry dock, I couldn't manage the resort shuttle's stairs. The driver called Dora Taxi for help. Dora and I instantly bonded on the ride to the MaiTai Polynesia. By the time we arrived, we'd already negotiated a circle island tour the next day. Dora picked me up from my resort following breakfast. Along with showing me the usual sights, Dora showed me her home and her favorite karaoke bar! We went pareo shopping. She showed me medicinal plants. Dora dropped me off at Bloody Mary's for lunch, then returned for me an hour later. We shared dessert. When my glass-bottom boat tour got cancelled, Dora consoled me with a Matira Beach sunset from the Bora Bora Beach Club. At the end of my stay, Dora drove me back to Vaitape. As we bid farewell, Dora gifted me with two small bags of black pearls." – Deborah
Judge's Notes: 
April: "I like that she is not centered– you gave her space-but simple crop to remove a tad more of the window."
Amina: "Lovely story and it gives the photo context. Technically the background is sharper than the subject, however I love the woman's expression and I can see she is holding Noni Tree Fruits in Bora Bora."
Mindy: "Love the story and lovely smile. I'd crop the bottom out so the focus is more on her."
Honourable Mention #2
Nora Kravis, Chianti Cashmere Goat Farm, Tuscany
Photo By: Kathy Wood, European Experiences 
Chianti, Tuscany, Italy | June 2019
The story:  " Nora Kravis is an American expat in Tuscany, a veterinarian, a farmer, and an entrepreneur. She's also one of the hardest-working people I know. Nora bought an isolated farm in Chianti 30 years ago and now raises cashmere goats, painstakingly combing fiber that's eventually used to make beautiful cashmere products. She has created a sustainable, and ethically-correct livestock program that reclaimed abandoned farmland and created local jobs and income in her rural community. I'm always inspired by Nora. She's dedicated to her animals and has creatively dealt with many different challenges. She's been involved in global projects to help develop cashmere farms in less-developed countries and provide opportunities for women. Much of her income comes from tourism—farm experiences and the sale of her cashmere products to visitors—and she was seriously impacted by the pandemic. Our visits to Nora's farm are always a highlight of our Chianti week." – Kathy
Judge's Notes: 
April: "Overall an interesting portrait although I find the tires a bit distracting."
Amina; "I love how sharp she got the woman's eyes, which are the window to the soul. I would also suggest cropping out the bottom of the photo as the white parts are distracting and the focus should be on the woman and the goats"
Mindy: "Sweet photo. I'd want the bottom and right cropped to focus more on her face and the goats."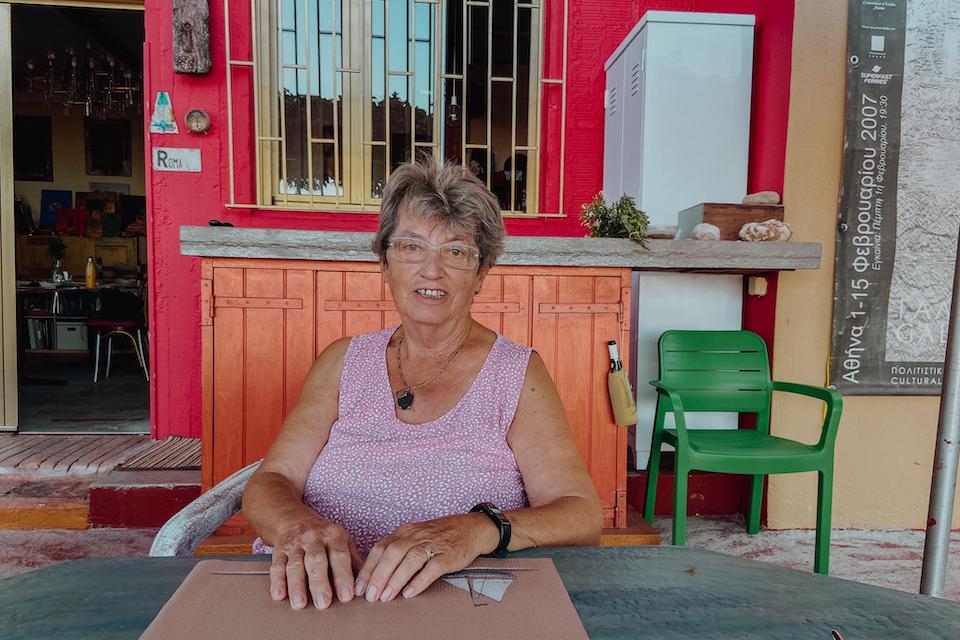 Honourable Mention #3
Francesca Bossi
Photo By: Gisela Etter
Kefalonia Island, Greece | August 2021
The story: "This is Francesca, the starting point of my hitchhiking trip around the globe. Citizen of the world and former tour leader for American tourists in Europe. At 75 years old, she keeps reinventing herself blending her Italian charisma with her lifetime tourism expertise. I met Francesca in her Art Studio, a creative villa where she enthusiastically welcomes international travelers. As part of a travel writing workshop, I had the chance to spend one week with Francesca at her Mediterranean oasis. Two women with passion and background in the tourism industry. Her life is the story of a strong woman who has never been afraid of changes. To me the perfect figure to meet right at the beginning of my world trip. Of Francesca I keep her courage, her adventurous soul and her desire to keep learning. She inspired me to open up my travel blog focused on the stories of people I meet on the road. Francesca is my first of 99 happy place stories around the world." – Gisela
Judge's Notes:
April: "The colors work well and the whole photo tells a story."
Amina: "Very nice and sharp but I cannot tell if Francisca is happy to have her photo taken! I do like that Gisela set the woman in front of the restaurant, where I assume they were dining. The colors in the background and what she is wearing merge very well."
Mindy: "Great environmental shot. Love the open door and colors in the background. Would prefer to have it cropped tighter – perhaps eliminating quite a bit of the table and the right side to the green chair."
Honourable Mention #4
Judy Colaneri, Spanish Steps
Photo By: Jeni Martinez
Las Ubinas-La Mesa Parque Natural, Asturias, Spain | September 2021
The story: "Judy, the hiker second from the left wearing shorts, is the founder of Spanish Steps Camino Tours and owner of Hotel Fuentes de Lucia in northern Spain. I first met Judy when I led a hiking & yoga retreat at her hotel in the Quiros Valley in 2017. I wanted a location that offered great hiking along with a hotel that offered a space for yoga. The hotel, located in a tiny village called Faedo, sits high on a hill overlooking the Quiros Valley in rural Asturias. With Hotel Fuentes de Lucia and Spanish Steps, I got more than I could have imagined.
Originally from Colorado, Judy converted a 700-year-old farm house in rural Asturias into an 8 bedroom/ 8 bathroom hotel with a fully equipped yoga studio. Dedicated to supporting her community, Judy hired most of the 8 people living in her village to help in the hotel and hired local mountaineers as guides. As I taught the first morning's yoga class, the sun slowly rose over the valley, illuminating the beautiful mountains and other nearby villages. After a hearty breakfast, we headed out for our first day of hiking. Judy and all of her Spanish Steps guides are extremely knowledgeable about the trails, the geography, and the plant life, as well as, the history and culture of the area. Each day brought a new trail to explore and more things to learn.
Since the first retreat, I have hosted four additional retreats at Hotel Fuentes de Lucia, introducing guests from all over the United States and Guam to this little-known part of Spain. Along the way, I fell in love with Asturias, and moved to Gijon, Spain in March 2021. Of course, I'm planning another retreat at Hotel Fuentes de Lucia this fall. This photo is from one of our hikes at Parque Natural Las Ubinas-La Mesa in September, 2021. Judy was waiting at the end of the trail for the rest of the gang to finish up. Although she is a hotel owner, fabulous chef, and yogini, she is never happier than when she is guiding hikers on a trail. Buen Camino, Judy!" – Jeni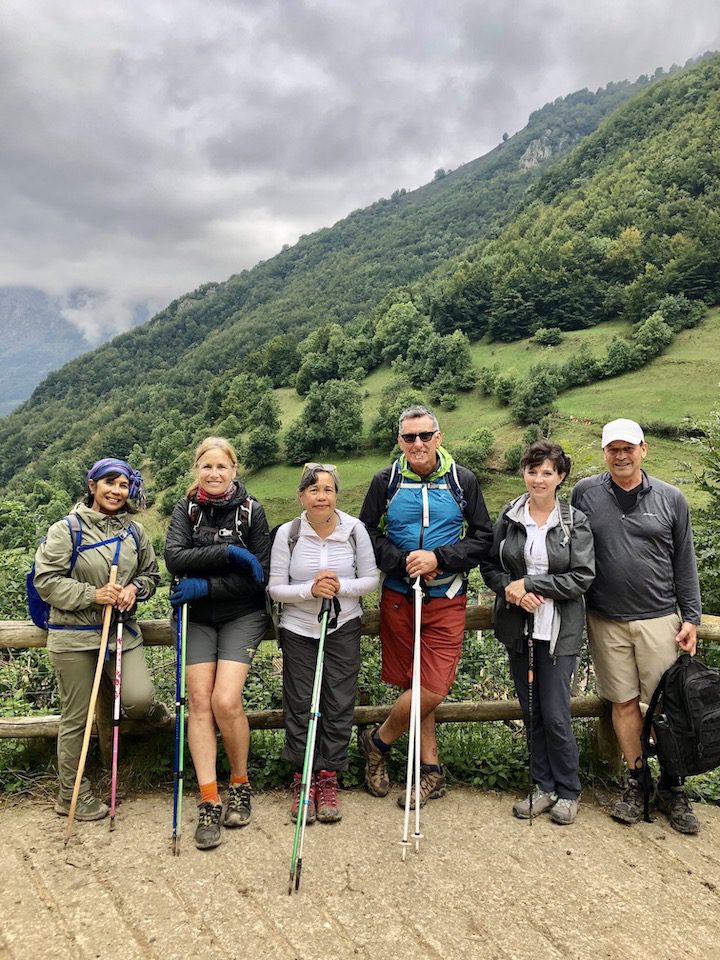 Judge's Notes:
April: "This photo makes me smile- I feel like a part of the group. It's not overposed but some thought has gone into having the woman on the far left lean into the right. It feels balanced-by placing the tallest person slighty off center — wonderful photo– one of my favorites!!"
Amina: "Nicely done and even though I don't like posed photos, it's a nice memory of a hiking trip. The editing is really nice and she made the colors pop even amidst a very cloudy and stormy day."
Mindy: "Good composition and colors."
Honourable Mention #5: Editor's choice
Moroccan Guides Chama and Kheira
Photo by Julie-Anne Davies for Wild Women Expeditions
The story: "Female guides Chama (left) and Kheira share an intimate laugh while chatting about life in their Berber language."
Carolyn: "I love this casual yet intimate moment between two women. It doesn't feel posed to me – and in some ways it makes me want to return to Morocco and experience it through their eyes. I love the relaxed simplicity of this photo but I also appreciate that their courage and tenacity as they build careers in a male-dominated profession — I'm curious to know more about them. I am sure they are positive role models for other young women who seek independence and meaningful work sharing their culture and stories."