Last updated on April 23rd, 2022
(Lead Image Photo Credit: Shutterstock)
Through your generosity, w
e can make a difference
 by Carolyn Ray, JourneyWoman Publisher 
The Covid-19 pandemic teaches us that our actions have profound consequences, good and bad. We've adopted new behaviours, reexamined our role in making our communities safe and healthy and witnessed a spirit of renewal that is a testament to our resiliency.
Like so many in our community, I believe it's important to give back, particularly when I travel.  In addition to helping build a school in Kenya, one of my most recent and rewarding experiences was volunteering at a women-owned farm in Puerto Rico. This was a meaningful way to connect with people in the community and demonstrate my personal commitment as a traveller.
 Our Pay-What-You-Can Model
We're asking JourneyWomen to help us do our part by participating in a Pay-What-You-Can model for our virtual events, where we take proceeds from each event and make a donation to an organization chosen by our speakers or panelists.  To date, these are organizations that focus on key areas that support women, education/research and the environment.
Thank you for your generosity and kindness! Although we issue receipts for our events, we do not issue charitable tax receipts, so if you'd like to donate directly please do so using the links provided for each non-profit.
We also welcome your thoughts on what organizations could use some extra support from our community. Please email [email protected] if you have suggestions. 
Carolyn volunteering while travelling in Puerto Rico, with Tadilka Rivera, owner of La MicroFinca in Camuy, Puerto Rico. Read more about this experience here.
Organizations JourneyWomen Are Supporting
Tree Sisters: Women Seeding Change
Trees are the lungs of our planet and every effort to improve our environment serves all humankind. On Earth Day 2020 (April 24), we announced a partnership with Tree Sisters and a goal to plant 100,000 trees by Earth Day 2025. This will contribute to growing initiatives in the rain forests of Brazil, the upland forests of Mount Kenya, Mount Bamboutos in Cameroon, Khasi Hills in North East India and mangroves in Madagascar and Mozambique.
How you can help us reach our goal
Every time someone subscribes to our magazine, we'll make a donation on their behalf.
You can help us by:
1 – Refer JourneyWoman.com to the amazing women in your life and ask them to Subscribe to our newsletter.
2- When you register for events on our website (free or paid), we will ask you to make a small donation of $1.99 to help us plant a tree.
3- Whenever JourneyWoman branded merchandise is sold, we will ask you to make a small donation of $1.99 to help us plant a tree.
4- You can also make a donation directly to the JourneyWoman Tree Sisters Fund here. (You will receive a tax receipt). 
Earth is fast becoming a grateful beneficiary of this global crisis. The resurgence of wildlife, the healing of water byways and the abatement of urban pollution is evidence that healing is pervasive. The lessons learned must not be ignored, allowing a return to the past but rather applied to further our acts of generosity in pursuit of our recovery.
 Walking the Camino to Raise Awareness of Period Stigma 
 In October 2021, Carolyn walked the Camino de Santiago in Spain in support of The Period Purse, a non-profit registered charity that strives to achieve menstrual equity and reduce the stigma surrounding periods.
"As I go through menopause, I've become more connected to my period and to my body than ever before. I can't imagine not having access to menstrual products or being limited in my career options – can you?  But this is the case in many countries, where period stigma limits women and girls from education and career opportunities." – Carolyn Ray, CEO, JourneyWoman
Thanks to JourneyWomen around the world, we raised $2,000 for this cause- Thank you!
Read more about Period Poverty here.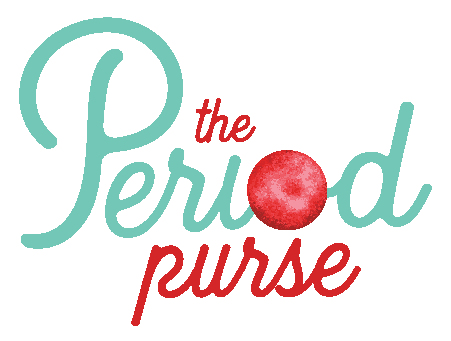 Donating JourneyWoman Shop Proceeds to Generation Rise in Rwanda for #GivingTuesday
JourneyWoman Marillee Carroll, a member of our Women's Travel Advisory Council, met the co-founder of Generation Rise, Solange Impanoyimana, in Kigali, Rwanda, several years ago and urged us to consider donating process from our store to this worthwhile organization, which empowers young women in small rural communities. Generation Rise uses a novel approach of reading and group discussions to examine how self-awareness, confidence, critical thinking, resilience, and civic engagement are key to empowerment. I spoke with Solange in October to learn more about the impact of the pandemic on girls in Rwanda, school closures and her desire to expand her reading program to more schools. She told me how important teachers are to helping facilitate positive, constructive conversations about issues like sexual health, unwanted pregnancy and disease, and building confidence and leadership skills.   
Solange says: "Even a little support counts and helps us to make an impact in rural communities. All of the proceeds will be allocated towards the establishment of the safe space at one of our partner schools. This space allows girls in the "Her Voice Matters" programme to come together to discuss the issues they are facing. The space also includes books so that girls can enjoy reading and discussions as they form new perspectives."  
Feeding America & Food Banks Canada
Ernestine's Women's Shelter: Standing Up For Women, Toronto
 iErnestine's has been our choice for several events, including our February 4 session on Downsizing for Travel and our March 11 Downsizing #2: Travel LIfestyles Events,  and our Solo Travel Wisdom Packing webinars.  Ernestine's Women's Shelter is an organization Carolyn has supported in the past that supports women and children leaving abusive relationships.
Learn more about this organization here: https://ernestines.ca/
From Angela at Ernestine's:
"Dear Carolyn,
We at Ernestine's are always grateful to hear that a new donor joined our family of community supporters, but your decision to join us and support us during this challenging period makes it all the more special and means so much more! Thank you so much for your kind words of encouragement and we're so grateful that we are able to provide a safe space for women and children, thanks to donors like you who support our mission.
 I was just on your website and learned about the wonderful work that you do helping women travel safely and well. Helping empower women to seek new adventures and build confidence is also part of what we do at Ernestine's, so I admire the work that you do at JourneyWoman. Warmest wishes to everyone at JourneyWoman and thank you so much for supporting the women and children at Ernestine's." 
Women's College Hospital, Mental Health Research, Toronto
For our #TravelReady Travel Vision sessions, facilitator Amanda Burgess asked for donations to support mental health research at Women's College Hospital. The first session was held on January 16, the day before Blue Monday. There ae additional sessions in February and March; depending on interest we'll do more.
Learn more about this organization here: https://www.womenscollegehospital.ca/care-programs/mental-health/
These sessions are not recorded, but you can learn more about them here.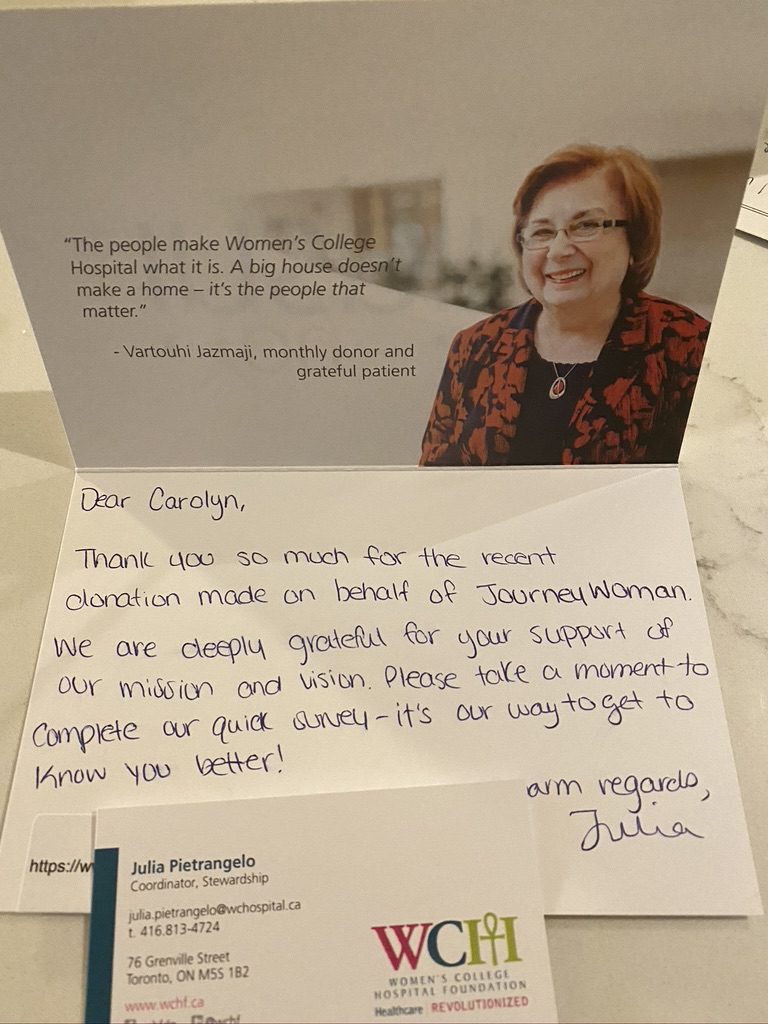 Hospice Toronto: the Young Carers
For our February 14  Valentine's Day event, Nadine asked that we donate proceeds to the Young Carers of Hospice Toronto. 
Young Carers are kids under the age of 18, who are in a care-giving role for a parent, grandparent, sibling or relative with a chronic or life threatening illness, disability, addiction, mental illness, or language barrier. YCP aims to provide therapeutic and recreational programming to help children and youth with care-giving responsibilities cope and interact with other young folks that have similar experiences.  For more information: https://www.ycptoronto.com/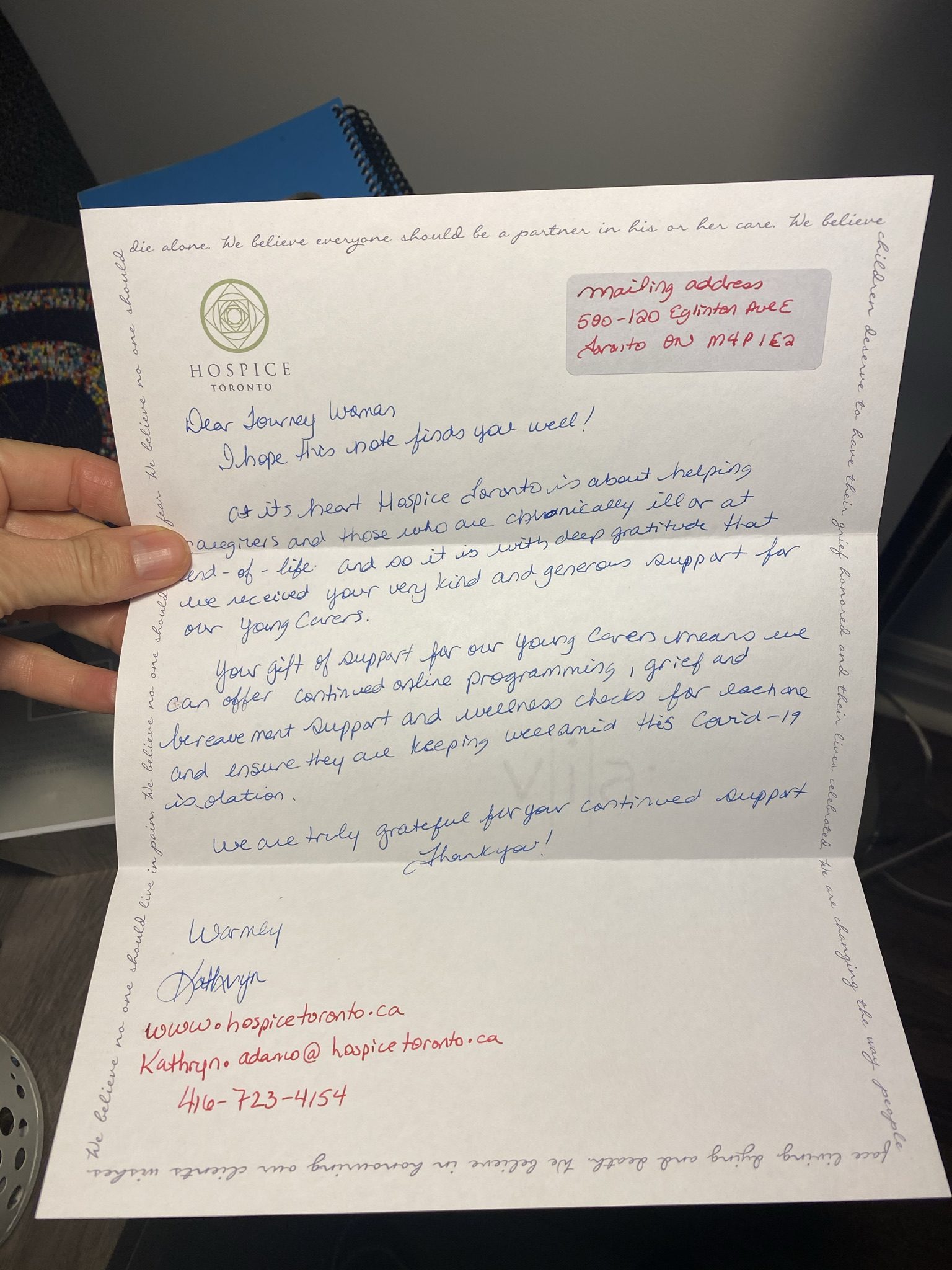 Slow Food Foundation for Biodiversity
For our February Book Club on Orvieto, Italy, our guest speaker Michelle Logue from Adventures in Italy asked that we support the Slow Food Foundation for Biodiversity, which supports the efforts of more than 10.000 small scale farmers around the world.  Inaugurated in Florence in 2003 with contribution from the Tuscany Regional Authority, it coordinates and promotes Slow Food's projects to protect food biodiversity across the world: Presidia, Ark of Taste, gardens in Africa, Slow Food Chefs' Alliance and Earth Markets.
Learn more about this organization here: https://www.fondazioneslowfood.com/en/
You can learn more about our book club here.
James Madison's Montpelier
For our September Book Club on "The Kitchen House" by Kathleen Grissom,  our co-host Wendy asked for a donation in support of our guest speaker Dr. Mary Furlong-Minkoff, PhD, Curator of Archaeological Collections at Montpelier. Montpelier is the home of James Madison, the United States' fourth President. A memorial to James Madison and the Enslaved Community, a museum of American history, and a center for constitutional education that engages the public with the enduring legacy of Madison's most powerful idea: government by the people.
Learn more about this organization here:  https://www.montpelier.org/
Missed this event? You can watch it here.

Gems for Gems: Empowering Women to Empower Themselves
For our April 7 and 15 sessions on Solo Travel Safety: Tips from a Self-Defense Expert, our keynote speaker Lorna Selig asked that we donate proceeds to Gems for Gems.  She says: "I would love to support Gems for Gems. This is an organization the offers support and scholarships to women leaving abusive relationships. This is a group that has been near and dear to my heart since it first began."
 "
The cycle of abuse can only end by igniting the desire to initiate actions which create lasting change. We facilitate this change by executing monthly motivational events, in collaboration with community leaders, privately within the shelters, and exclusively for women who have survived domestic abuse. This, in addition to our Gems for Gems National Scholarship Program, will use motivation and education to change the lives of all women and children touched by this initiative. The potential is as limitless as the need itself. Gems for Gems is focused on satisfying that need one woman at a time." 
Yayasan Widya Guna Orphanage, Bali
For our January session on Travel Essentials and Travel Insurance, panelist Cathy Gotfried of Babes in Bali requested that we support Yayasan Widya Guna, an orphanage in Bali that helps special needs children.
We will also be supporting this group again at our January Book Club "Tales of a Female Nomad: Living at Large in the World," where Cathy is our expert guest speaker on Bali. You can read more on that event here.
Learn more about this organization here: http://www.yayasanwidyaguna.org/
Missed the Travel Essentials event? Watch it here!  
From Noyman at Yaysan Widya Guna:
"Dear Carolyn, 
Warm greeting from Bali, school for the special needs and orphan children. 
I am Nyoman, the treasurer of the school.
On behalf of all children, we would like to thank you for your generous donation  in which it really means a lot for the children in this difficult time. 
This pandemic is really difficult for us in Bali  as we are dependent on tourism. 
With some support from the people in the world, we can keep operating the school and keep helping the children, so thank you so much! With love and light!"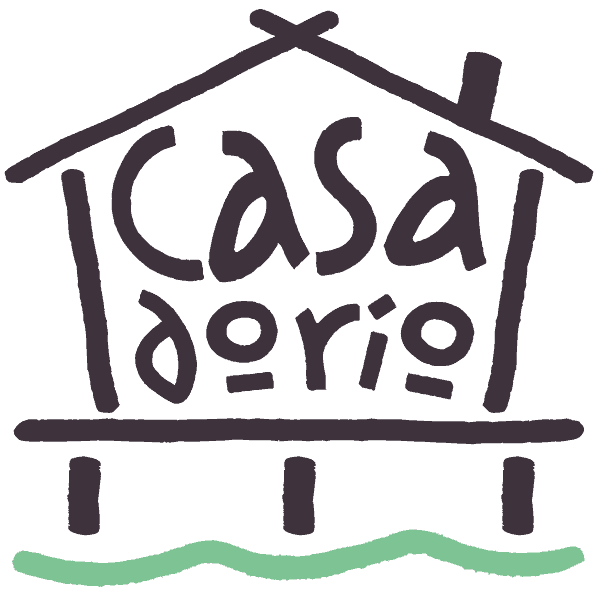 Casa do Rio, Brazil
For our Book Club on "State of Wonder" by Ann Patchett, our guest expert on Brazil, Daniella Bianchi, asked that we make a donation to Casa do Rio, an organization that advances biodiversity in the Amazon.
Learn more about this organization here: https://casadorio.org/
Missed this event? Watch it here!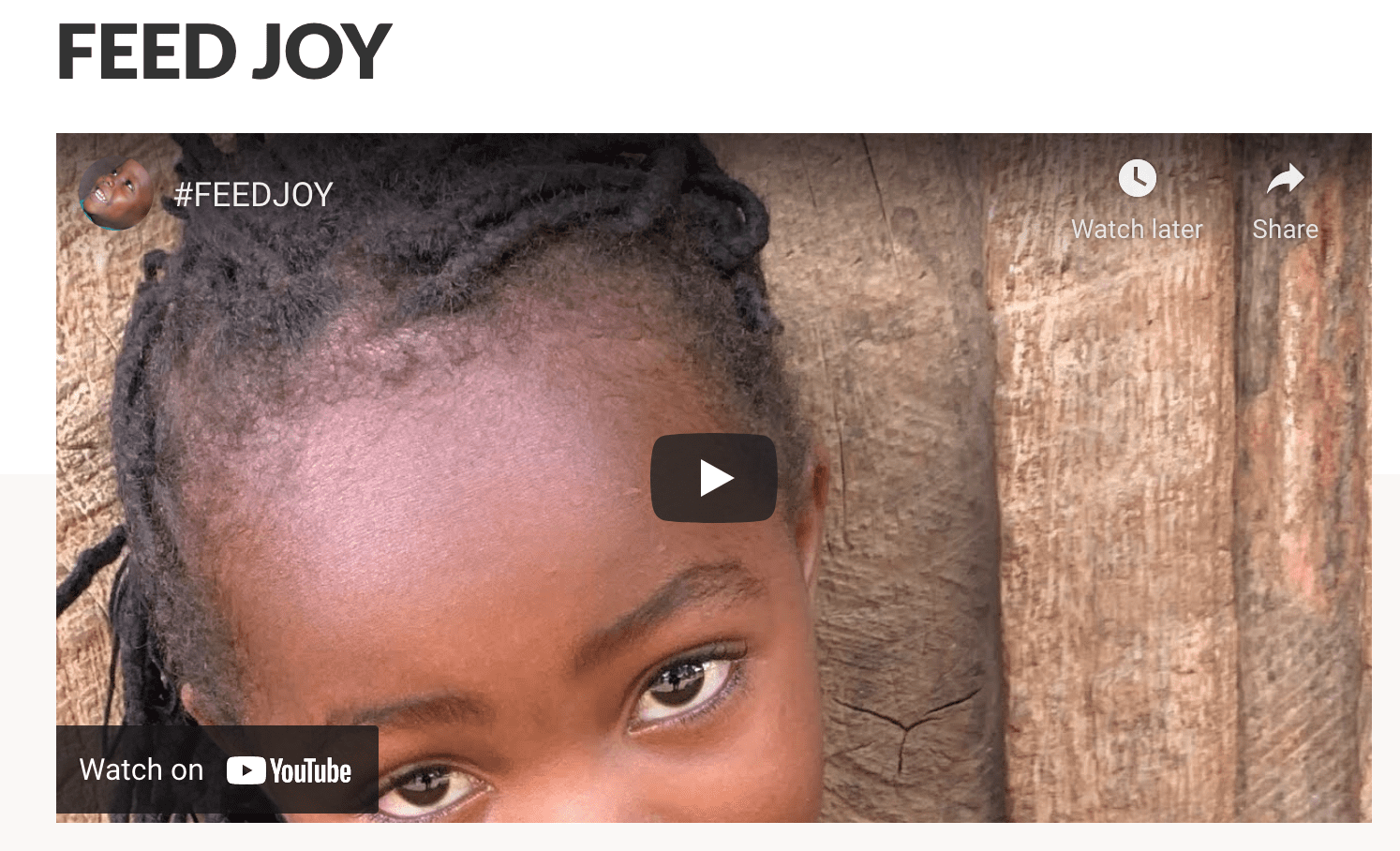 For our March Book Club on Zimbabwe, we supported a fundraiser to help feed children in a remote farming valley in central Kenya. Founded by JourneyWoman Advisory Council member Linda Higdon, who has worked with the women of Kenya for over 20 years. 
One Goal
For our West Coast Community Call, host Marillee Stratton has asked that we support OneGoal, which helps low-income students in the US graduate from college and university.
Learn more about this organization here: https://www.onegoalgraduation.org/
These sessions are not recorded but you can sign up here.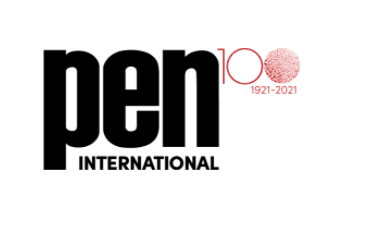 Pen International
For our April book club on "Lands of Lost Borders:  Out of Bounds on the Silk Road", author Kate Harris asked us to donate proceeds to Pen International, which works to defend freedom of expression, protect writers at risk, defend linguistic rights, and promote literature across frontiers for 100 years. 
Latin American Sea Turtles
For our April 22 Spring Social for Earth Day, we supported Latin American Sea Turtles (LAST) Association, a group that works to change sea turtle conservation and avoid the extinction of the species. Special thanks to our guests Nora Livingston from Animal Experiences International and Eduardo Altamirano Urbina who joined us live from Costa Rica! 
Learn more here: Latin American Sea Turtle (LAST) Association, (formerly WIDECAST-Costa Rica).
Wildlife Friends Foundation Thailand (WFFT)
For our May 13 session on Ethics in Animal Tourism, proceeds are going to Wildlife Friends Foundation Thailand (WFFT). WFFT was founded in 2001 by Edwin Wiek with the help of the local people from Petchaburi province, including the Abbot of Wat Khao Look Chang who loaned a large piece of land to the foundation to house rescued animals. In Thailand, like in every country in the world, animals are abused and exploited for profit and human gratification. There are many examples of animal exploitation within the tourist industry, for example, photo animals, animals performing in degrading shows, and elephant camps. There is still a thriving illegal trade in wild animals for pets and medicine.
Learn more about this organization here: https://www.wfft.org/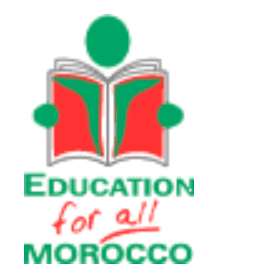 Education for All (EFA)
For our May book club on "Morocco to Timbuktu: An Arabian Adventure", author Alice Morrison asked us to donate proceeds to Education for All, which provides boarding houses for girls so they can continue secondary school in Morocco.
Very few girls from the rural communities of the High Atlas Mountains get the opportunity of continuing their education beyond primary school. Secondary schools, mostly several kilometres away in larger towns, are not accessible to them because:
Their parents cannot afford to pay for lodgings or transport near secondary schools
Their parents do not have the confidence in existing facilities to entrust their daughters to be away from home.
Learn more here https://www.efamorocco.org/donate/