Featured image: Amanda gets her hawk tattoo done in Canggu, Bali
Learning to Accept What Was, Be With What Is, and Create What Will Be
By Amanda Burgess, Editor, JourneyWoman
I never expected that I would become a woman with two full sleeves of tattoos, the largest of them inked in my 40s. Then again, I never expected that I would lose so many loved ones—father, mother-in-law, dog, grandmother, husband, mother—in a span of 10 years. My arms are a living art installation that tells so many stories of love and life. What was missing were tattoos that tell my own story. I needed to live it first.
In early 2020, I embarked on a two-month travel adventure spanning three countries: Australia, New Zealand, and Bali. It was a grief journey—I'd lost my husband to pancreatic cancer two years earlier, and I wanted to rediscover myself and the power of alone. To sit with my grief, face my fears, and challenge my body and soul. I decided to do something I'd never done: Get inked in a foreign country. One tattoo for each leg of the adventure.
The First Tattoo: Accepting What Was
I knew I'd need something wild to follow my mad "adrenaline junkie" tour of New Zealand. Before I left Australia for New Zealand, I had a consult with artist Michael Medusa at Tora Sumi in Balmain—a boho chic neighbourhood in Sydney. I got the tattoo two weeks later: A peony-and-lavender shoulder piece that stands for What Was. 
I chose the delicate-yet-steadfast peony as a symbol of resilience and lavender as a symbol of grace. Both convey the need to accept what cannot be changed—the past, the challenges life throws at us—and moving forward with the lessons that loss teaches us.
The peony-and-lavender shoulder piece Amanda had done at Tora Sumi in Sydney, Australia
The Second Tattoo: Being With What Is
I spent a month in Bali on my own to close out my journey and received two tattoos in my time there. The wrist mandala tattoo I received in Bali—where I began and ended my journey, where I faced my grief, where I harnessed the infinite power of alone—serves as a constant visual reminder to be present, to sit with What Is. Whatever is.
The day I got my tattoo was International Women's Day. I spent six hours at Koloni Tattoo in Canggu sitting for a master mandala artist named Ipin. Derived from Sanskrit, the word mandala translates to circle. While a mandala tattoo is composed of multiple shapes, the circle is always present and holds the deepest meaning. It is traditionally used to focus the mind while the self takes a spiritual journey, such as during meditation.
A true mandala is highly personalized to the person whose body it graces. Where it is placed often holds as much significance as the tattoo itself. Mine, which runs from wrist to hand, is an offering from me, the wearer, to the world. Ipin asked me to choose a symbol to place in the centre of the old sun tattoo that has sat alone on my left wrist since 2008. I have deep affinity for my Celtic roots, so I chose the ancient Awen (inspiration), a symbol of divine illumination for writers, artists and creatives. The three rays of light are said to represent the harmony of opposites, with the outer rays standing for male and female energy and the centre the balance between them.
I sat there in silence for hours, meditating to manage the pain. I didn't request a break once. Why delay pain? At one point, Ipin turned to me, looked deep into my eyes and said: "You. You are strong. I know what this one feels like." I shrugged and said simply: "I'm a woman." He stared at me a beat longer, nodded solemnly, and said: "True enough. Happy International Women's Day, by the way."
When you see a woman who is strong but not hardened, you know she has an ironclad circle of women in her life who stand by, support, celebrate, uplift, defend, and inspire her. I may have been travelling solo by choice, testing my own strength, but my circle was with me. That's the power of a circle. Once formed, it holds.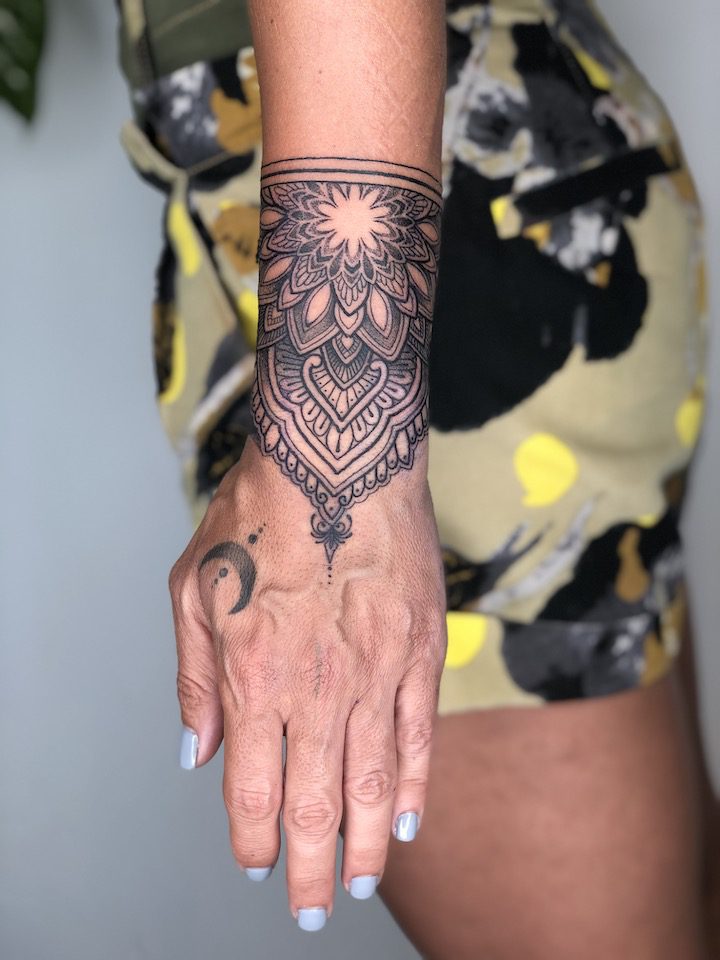 A mandala tattoo is highly personalized to the wearer. Two years later, Amanda is still finding new meaning in this intricate design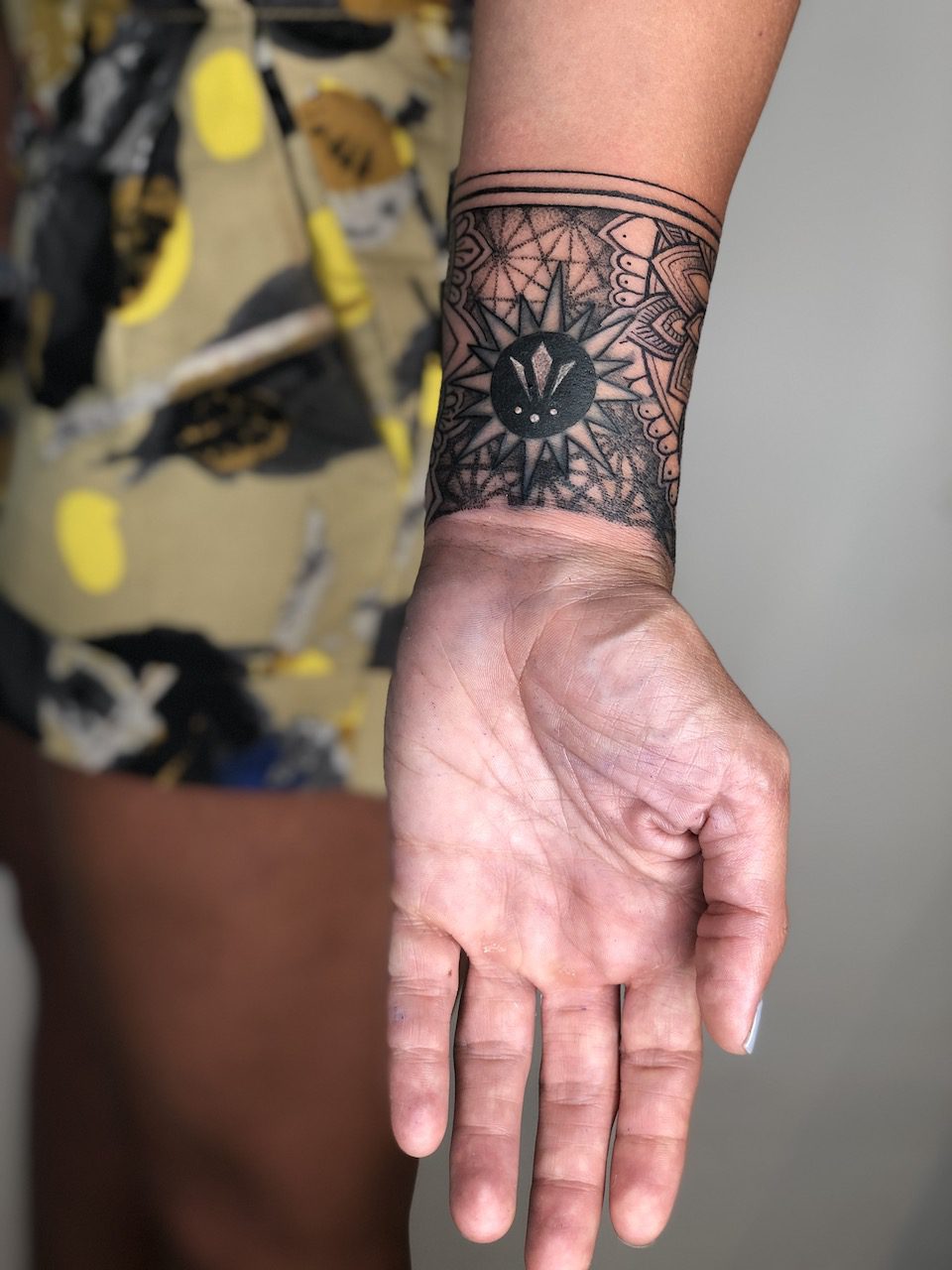 The ancient Celtic Awen (the symbol in the centre of the sun) is a symbol of divine illumination for writers, artists and creatives
England is one of my heart places. It's where I grew up, have moved back to twice, and have spent many holidays. I will never get tired of visiting. Here are a few tips for you if you decide to go.
The Third Tattoo: Creating What Will Be
The future always feels less tangible, a little less clear, than past or present. It requires accepting What Was and What Is. It requires trusting the voice of your intuition. Having vision and focus. What better symbol of this than my own spirit guide—the red-tailed hawk? 
My eldest daughter's therapist, who has an interest in shamanism, once explained the disconnect in our communication styles by revealing our guides. The red-tailed hawk is a bird of flight with laser vision which, like me, prefers to view things from the 30,000-foot level, loves to travel long distances, and gets impatient when asked to perch on the ground for too long. It's a symbol of courage, wisdom, illumination, creativity, truth, experience, focus, and magic.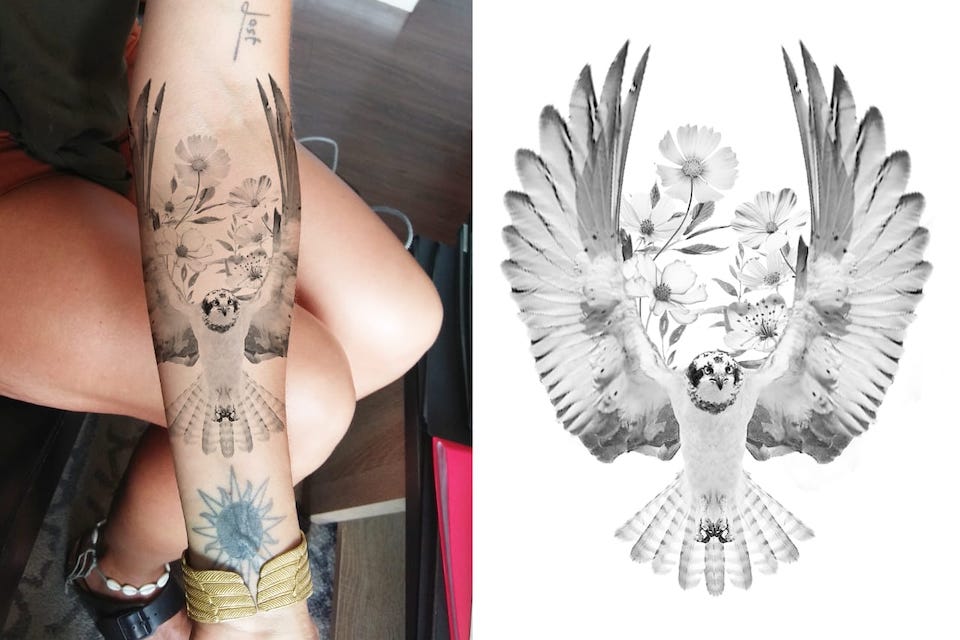 From sketch to skin – Amanda's hawk tattoo
The eagle cuffs I bought in Ubud as enduring symbols of where I've been, the freedom I have to fly, what I choose to be a slave to, and my personal power still grace my wrists. As they ever will. But the hawk's image kept materializing in my mind as I contemplated my third tattoo. 
So, I went with it, working with hyper-realism artist Chrysantia Lyra at Altar Altar Tattoo in Canggu on what is, arguably, my coolest and most ethereally beautiful tattoo. Because the hawk is such a strong image, I requested a delicate fine-line style and softer black-and-grey colouring. My forearm was the perfect spot to depict one in full flight, wings spread. That is how I want to create What Will Be. By invoking the hawk spirit that dwells within. Unclipping my wings. Remembering that I have them, and the power to soar.
My left arm now tells quite the visual story. I've been living and penning mine ever since.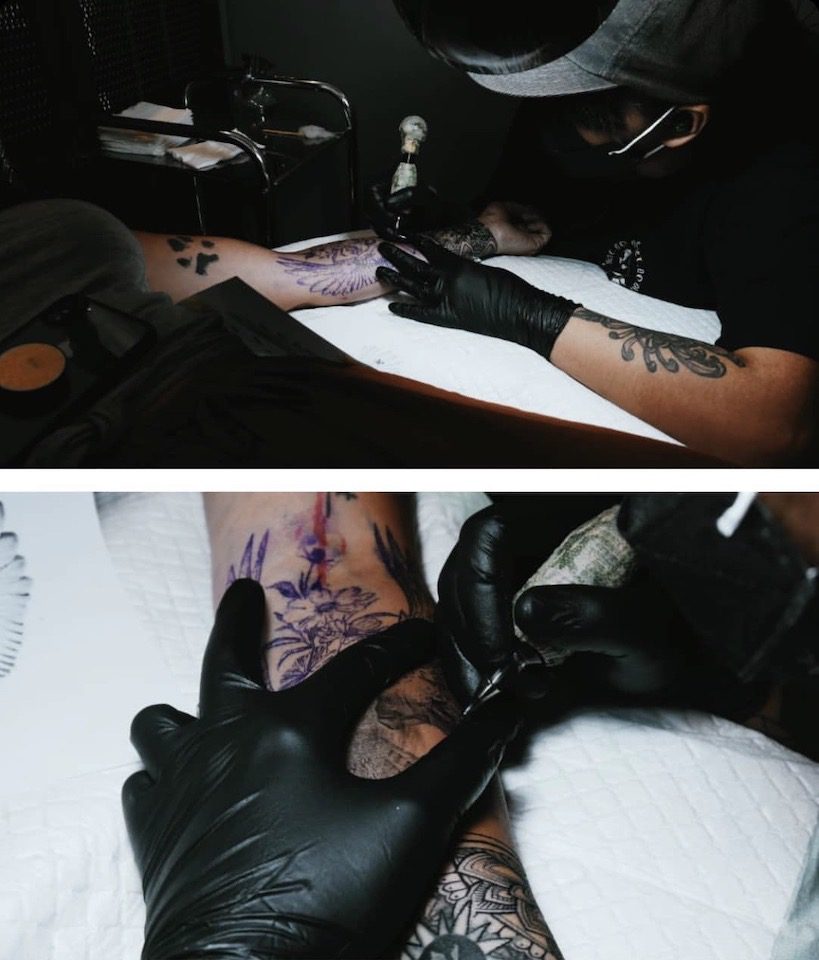 Amanda's hawk tattoo in progress
Read More From Amanda Burgess
After the death of her husband Gabe in 2018, the prospect of going through life solo filled Amanda with dread. She faced her grief, anger and loneliness in a two-week solo travel adventure in New Zealand.
Looking for physical healing post knee surgery, Maria S. booked a wellness retreat – and walked away with a 'prescription' for a lifetime of health in mind, body and spirit.
How one woman went from rock bottom to the top, burned herself out, and found rejuvenation in the healing mineral springs of New Mexico.