Last updated on November 18th, 2023
Featured image: One of the hidden gems Sandra discovered during her project to slow travel at home … thanks to a local! | Photo provided by Sandra Phinney
What do we really know about where we live?
by Sandra Phinney
For the past eight years, I've thought about—and tried to put into practice—what I've learned about slow travel at home. It all started with a challenge from Melanie Chambers, a travel writing colleague in Toronto. 
For 31 days in July 2015, Melanie and I went somewhere different in our own hoods every day and wrote about it. There's no doubt in my mind that taking the blinders off while exploring my own backyard changed my approach to travel. It also changed where I now choose to travel. 
In this series, I will share some of these experiences and "lessons learned" about slow travel at home, and invite you to join our "July Project".  Hope that you will tune in for the next instalment! For this septuagenarian, the journey is ongoing.
Slow travel at home: The Beginning… 
It happened four days before spring in 2015. At the time, little did I know this would alter the course of my summer—perhaps the rest of my life. By chance, I happened to read a colleague's blog, titled "Toronto Bound." Melanie Chambers is a fellow travel writer whom I admire, but what did she mean? As she lived in Toronto, that didn't make sense to me.   
I kept reading. 
"When I'm away, I become someone else. Instinct and spontaneity return. Without the stress of work, without the familiarity locking me into habits and patterns, I listen to my gut, which means, I also take risks. I become more, well, more me!" 
As her post unfolded, I discovered that instead of heading to far-off regions around the world, Melanie planned to spend that summer at home in Toronto. She would be a tourist in her own backyard. Melanie finished with a challenge: "Move. Take a bite of something weird, talk to someone, reveal yourself, take a leap of faith—and grow."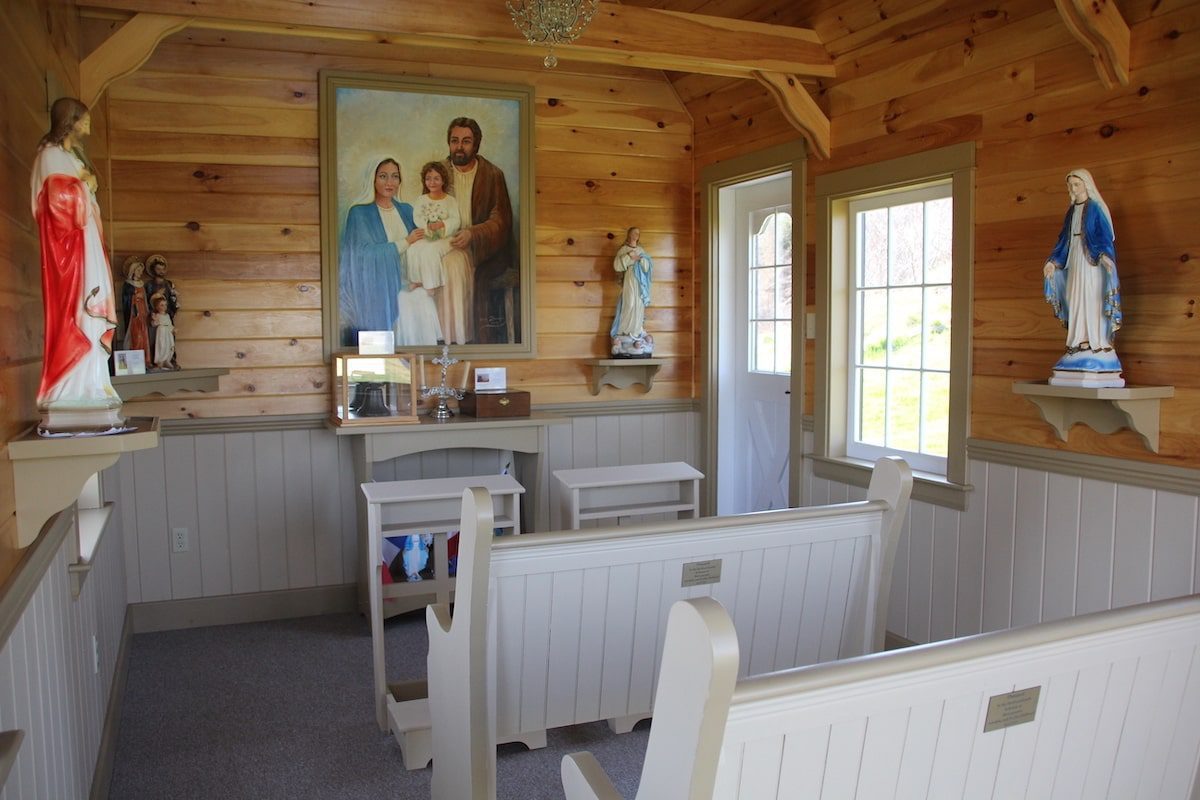 Another treasure Sandra discovered mere minutes from her home / Photo provided by Sandra Phinney
Being a tourist in our own backyards
My first reaction was that I already knew my hometown and this part of our province. Hadn't I written numerous travel stories about Yarmouth and surrounding regions during the past several years? 
Simultaneously, that inner wee voice said, "But what do you really know about where you live, Sandra?" 
So, I replied to Melanie: "Why not?" Before I could digest what, exactly, this commitment meant, my inbox pinged with an email from my friend. 
"OK," she wrote, "How about we do it together. Are you home for 30 continuous days this summer?" I answered, "Yes."
We Skyped a couple of days later and chatted about what would become The July Project. Just thinking about it, I felt lightheaded, giddy even—much like a kid about to explore a cave for the first time, or getting ready to board a plane for Mongolia. It felt new, even risqué.
Melanie visited me a few weeks later, and, over three days we teased out the who, what, why, when, where, and how of the project (hey, we're journalists!)  For me, the parameters would include going 100 km anywhere in Southwest Nova Scotia. This included the counties of Shelburne, Yarmouth, and Digby. Melanie would concentrate on the Greater Toronto Area referred to as the GTA, with a side trip to Algonquin Provincial Park.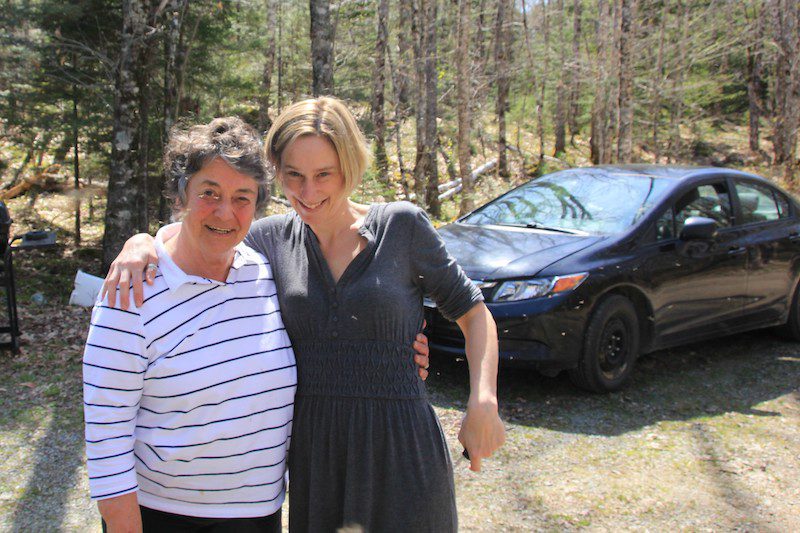 Sandra and Melanie (and a swarm of flies) when she visited Canaan for a planning session / Photo provided by Sandra Phinney
Melanie Chambers during her visit to a goat farm with Sandra / Photo provided by Sandra Phinney
Writing field notes on a daily basis 
We also agreed to write field notes on a daily basis. This could be 50 words or 5,000 a day; mattered not. What mattered was that we were committed to doing something in our own 'hoods for 31 days, and that we would post our experiences and some photos on our respective websites. 
At the outset, we couldn't define it more than that, but we also knew we'd be comparing notes. After all, Melanie was 42, footloose and fancy-free, and lived with her partner in Toronto, Ontario. I was 70, married, a grandmother, and lived in Canaan, Nova Scotia—a place so small it doesn't even qualify as a village. Yet we both knew we were about to experience our own backyards like never before. This meant being willing to make some mental shifts. Intuitively, we both knew that a whole lot of wonder was about to happen.
Around that time, I was introduced to a concept called "psychogeography," and started to research the topic. Much of what I read sounded like psychobabble, but I liked what author Merlin Coverley had to say. In his book by the same title, Coverley describes psychogeography as "a means to overcome the processes of 'banalization' by which the everyday experiences of our surroundings become drab monotony." Coverley maintains that if we looked at a city as a site of mystery, and wandered/walked in an area with our blinders off, we'd discover "the true nature that lies beneath the flux of the everyday." Of course, because there are no cities within 100 km of where I live, in my head I substituted the words "backyard," "village," and "town" for the word "city."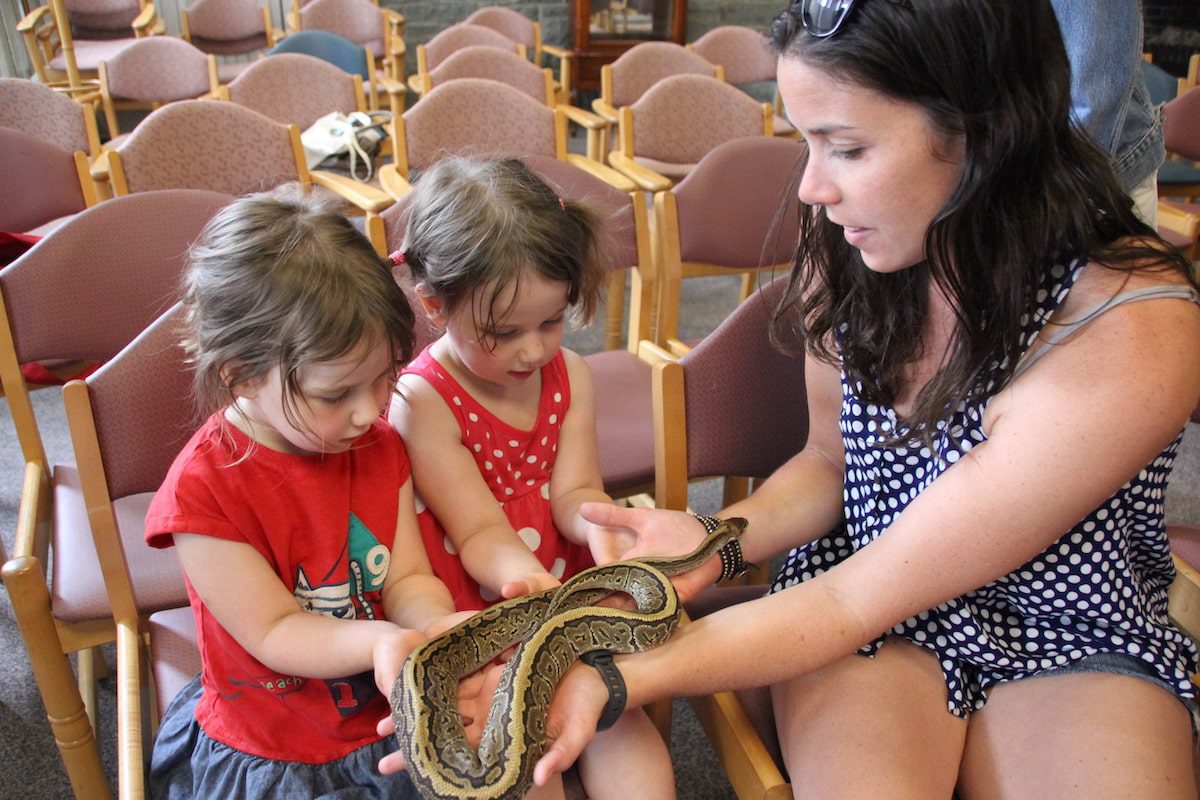 When family visited in July, they took part in the project / Photo provided by Sandra Phinney
Inspiration from Mary Oliver
I had also just read Mary Oliver's book Our World. I've been a lifelong fan of Oliver, and was initially drawn to this particular book not only for her poetry and prose, but also for the photography of her partner, Mary Malone Cook (now deceased). 
At some point in the book, Oliver writes about Malone's ability to pay attention and her deep sense of empathy, adding: "She instilled in me this deeper level of looking and working, of seeing through the heavenly visibles to the heavenly invisibles." 
I yearned to tap into those "heavenly invisibles" that Oliver alluded to, but I wasn't sure where to start or what to do. Sure, I knew how to observe and report on the five senses – sight, sound, smell, touch, and taste – the tricks of the trade when it comes to good reportage. But I didn't classify that as really paying attention.  Although I wasn't sure what the connection was between Oliver's comments, psychogeography, and Melanie's challenge, intuitively I felt that somehow, they were linked.
Yes, Sandra found the perfect spot for a skinny dip! / Photo provided by Sandra Phinney
Another "heavenly invisible" Sandra discovered … a village museum within 10 km of her home / Photo provided by Sandra Phinney
The journey had begun. 
Join Sandra on your own "July Project" and share your inspirations about slow travel at home in the comments below. We'd love to hear your stories!

More Canadian Travel Inspiration
Inspired by the idea of 'psychogeography, when we take time to slow down and experience things, we can discover extraordinary things close to home.
A quick trip from Toronto, Stratford, Ontario is a welcoming place for a solo getaway for women who enjoy arts and culinary experiences.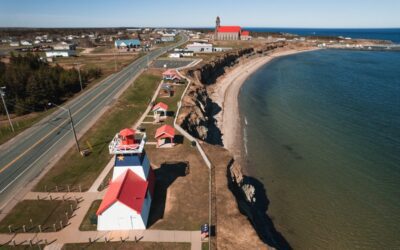 Located in New Brunswick, the stunning Acadian Peninsula Veloroute is a network of 14 cycling circuits perfect for a three-day trek.