Last updated on January 21st, 2023
Featured image: Gardening is one of the many interests that gave Brenda inspiration throughout isolation | Photo by crystalsing on Envato
Solo Traveler Brenda McCrank shares her advice to embrace change
By Carolyn Ray, Editor, JourneyWoman
Brenda McCrank hasn't touched or hugged another human being for three years. While many of us spent the holidays with friends and family, Brenda was at home in her Toronto apartment. Instead of joining festive gatherings for Christmas Dinner and New Year's Eve, she was at her dining room table, happily connecting with friends around the world on zoom. 
Despite her isolation, her world has expanded – in fact, she is thriving. Brenda's isolation teaches us some valuable lessons about curiosity, creativity and how travel helped her adapt to change.  She has launched several collections around her interests of gardening and tea: oneseedwonders and a multi-functional travel wardrobe of statement textiles and jewelry accessories made from sustainable and natural fabrics.
Due to a rare allergy to polyethylene glycol, an ingredient in the Pfizer BioNTech and Moderna mRNA vaccines, Brenda can't get vaccinated. Even more concerning, she can't be treated if she gets COVID. Polyethylene glycol (PEG) is used in numerous medications, health care products, cosmetics, and foods. The allergic reaction is immediate, potentially life-threatening and in her case, complicated by other medical factors.  As a result, Brenda follows stricter protocols than those who have been vaccinated. 
How solo travel prepared her for isolation
A solo traveller for most of her life, Brenda found inspiration to embrace isolation from her travels and career as an art teacher, both of which fed her curiosity and need for creativity. 
"In the past, travel allowed me the luxury of viewing my life from various perspectives," she says. "I always returned home with a renewed appreciation for home and all it implied." 
She calls this three-year journey of isolation "the longest journey I've been on yet … it's been one intense solo inner journey. I knew it had to be an inside job. I made peace with capsule living from day one through to today."
Brenda's pre-covid jewellery-making/ Photos provided by Brenda McCrank
"This is the longest journey I've been on yet … it has been one intense solo inner journey."


— Brenda McCrank
The decision to adapt to isolation
In her first year of isolation, 2020, Brenda got grounded, did a review and set goals. 
"In March 2020, I'd taken every available jewellery-making course at Central Tech, done George Brown's Enamelling Course, was signed up to study Cloisonne with Sandra McEwan in Levis, Quebec," she recalls. "I'd been back and forth between Ottawa and Toronto, staying in AirBnB's settling my mother's estate. I was working up to my elbows delivering a collection of 20 silver charms to a group of jewellers who had set a January Challenge. I was working out of a jewellery studio in Artscape Daniels Launchpad at Queen's Quay. Everyone assumed covid would be over by the fall and so I left my materials and tools behind when the doors shut and I focused that summer solely on gardening at the allotment in High Park." 
Brenda had just had her roof deck renovated and was looking forward to putting houseplants out and keeping it uncluttered with just a table and hammock. She envisioned it as a place to escape to with a cup of tea or a glass of wine at the end of the day.
"I'd lost the ability to work out of a downtown jewelry studio as Toronto went into the March lockdown," she recalls. "In November, I discovered tea. The gardening year ended and I knew I needed something to fill in time. I sat with a cup of tea and thought … and the leaf didn't fall far from the tree … I bought my first ever advent tea calendar and lucked in with an exquisitely beautiful set of 24 teas from Vahdam. I had a month to contemplate and daily google teas before I drank them and listened to many enchanting tales. I found I could vicariously travel far and wide to where the leaves originated. It sent me down an online rabbit hole I have yet to properly emerge from." 
When Toronto went into lockdown in November 2020, Brenda explored the possibility of getting vaccinated. 
 "I knew I was one of 'the more vulnerable' based on my age and medical issues. I'd been unable to be vaccinated for flu after having a telling reaction back in the early 90s." However, her specialist advised her not to get vaccinated, and she had to make a decision about how to move forward. 
 "It really is an extrovert's dream we were living in before COVID," she says. "Through this, I discovered my inner introvert. I know I'm not the only one doing better than merely surviving under similar circumstances. Many are thriving in isolation. I have a few friends I keep in close in touch with and we've been laughing at how easy it has been to adapt and if we'd only known sooner!"
These images represent Brenda's first year in isolation, 2020 / Photos provided by Brenda McCrank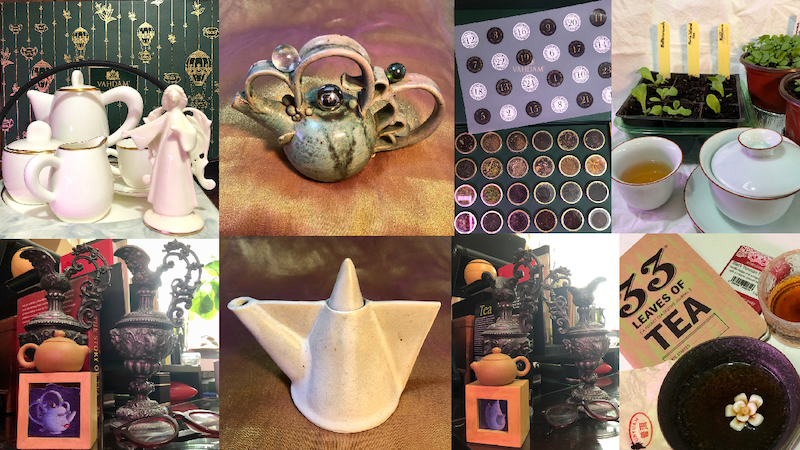 Brenda's growing tea collection from November 2020 / Photos provided by Brenda McCrank
Thriving during COVID
"Gardening and tea were my muses," she says. "As an educator, I know an ongoing pursuit of knowledge is as essential as life itself. I've made time to take courses I never even imagined I'd ever take. One of my favourites was the Sunday sewing couture class I gifted myself for my 70th birthday in September with a group of women embroidering in Paris and learned beading and embroidery techniques using 'house' materials."
Brenda's rooftop garden allows her to connect with plants as one way of coping, while continuing to nurture herself and the many seedlings she grows. 
"For six months of the year, the weather in Toronto allows me to get outside," she says. "I garden on my roof deck and have an allotment garden in High Park. I am surrounded by plants indoors, too. There are herbs, flowers, vegetables and fruit trees on my deck. This summer, I put up a greenhouse and this winter I am visiting all my perennials hibernating there during daily SunRuns I do in the front part of the structure. I winter sow and also start seedlings indoors under lights in the space between my kitchen and my dining room and over-winter garden plants in south-facing living room and bedroom windows". 
To connect with other gardeners, she joins Happy Hour Garden Zooms where gardeners far and wide share thoughts, seeds and plants.  She also stays in close contact with friends through texts, e-mails, social media, phone calls, zooming and all the various online platform ways of connecting.
"We've resumed a different kind of relationship connection," she says. "Many friendships have become even closer." 
"I structure my day around teatime," she says. "It's when I sit and review my day and renew what needs to happen to complete what I want to do before turning in at the end of the day. I've made this review/renew a weekly check-in as well as monthly, quarterly and an annual event."
Brenda is a member of the JourneyWoman Women's Advisory Council. Learn more here.
Ask any traveller who or what first inspired her to travel, and the answer will bubble up in her unbidden. This month, three globetrotting JourneyWomen – Brenda, Karen and Sue – divulge their earliest travel inspirations and the impact that travel has had on their lives and adventures.
A flourishing of creativity despite isolation
Since being in lockdown, Brenda has also designed her own collection of whimsical teagarden jewelry to wear during teatime borne after learning about tea pets while making exotic tea purchases online. 
In 2021, year two, she started to design a collection using pure silver. 
"I had a lot on hand because I had been planning on using it for cloisonne pieces," she says. "Gardening and tea were my muses. I set up a temporary studio downstairs using my stove fan to vent soldering and fusing fumes outside." 
In 2022, year three, she launched her first online shop, Oneseedwonders after designing a capsule jewelry line, the teagarden jewelry collection. She was approached by a gallery in Montreal to sell some of her botanical photos using a sublimation print process, which means using polyesters for the series of furoshiki she asked them to add to their product line.
In 2023, year three, she began working with natural textiles (merino wool and organic cotton) and designed the Rose Merry Pop-Ins and The Cotton Knotties a multi-functional travel wardrobe of soft statement-piece accessories that are sustainable.
"It's gestalt!" she says. "The whole is larger than the sum of its parts. This Holiday Collection presently sells out of The Maker's Mark, a bricks-and-mortar shop run by two young women, Meghan and Erin, who just won Best New Business Award for their endeavours to support local artists. I'm working on a commission at the moment and my contract with The Maker's Mark has just been renewed.
Brenda is in the midst of adding a new line of all-organic natural textile botanicals in 2023 focused on essentials, the nuts and bolts of a vacation wardrobe stemming from travel.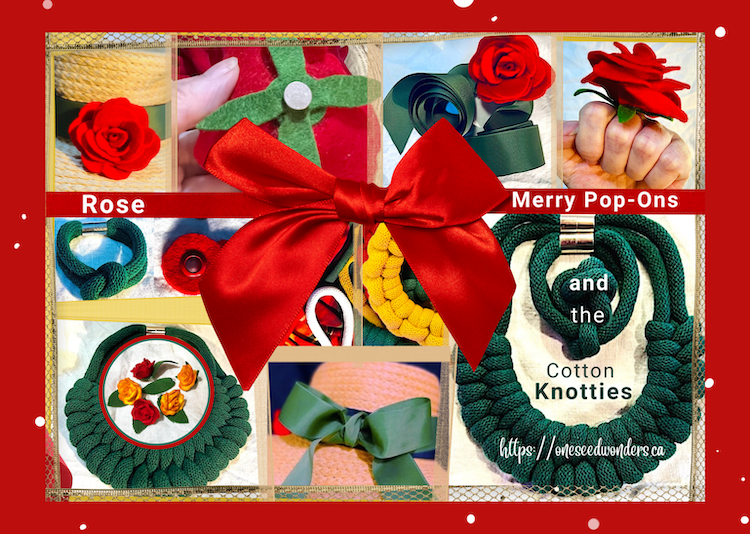 Rose Merry Pop-ins and Cotton Knotties / Photos provided by Brenda McCrank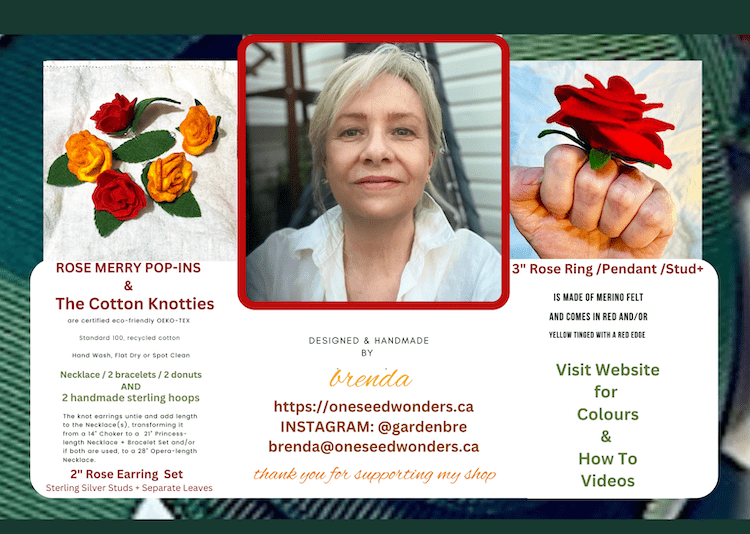 Rose Merry Pop-ins and Cotton Knotties / Photos provided by Brenda McCrank
"Souvenirs and gifts from countries I visited were usually textiles," she says. "They were easy to pack and multi-task the heck out of them. I containerized everything, as I have with life in isolation. When I was still travelling, I used them in and on my carry-on, my purses and suitcases instead of using packing cubes. I used them to decorate and personalize homes away from home by draping them over chairs, sofas, doors, photos and tables. I wore them, in my hair, as tops, neck scarves, dresses/skirts (sarongs), towels … picnic cloths, placemats, napkins, blankets, bracelets, suitcase identifiers, shawls, shopping bags (furoshiki)j, etc."
—Brenda McCrank
Soon, Brenda hopes to make her next solo journey and visit her brother on the West Coast. Her plan is to use her travel savings to buy a new car and camping equipment so that she can make the same drive her brother made when he drove across Canada. 
"Isolation enabled me to make huge changes to my life," she says. "Changes I've always wanted to make. It's given me time to write, to work on home projects that were piling up (well I'll get to those soon enough), time to relax, to really fully relax and set up a daily yoga practice and exercise practice, to take advantage of grocery delivery and to prep and meal plan, to cook and bake, and most of all to set up a solid daily creative practice where I can actually draw and paint and design." 
Brenda's tips for others dealing with isolation
1.  Dig deep into the chaos and search for pockets of opportunity that can help you make life better for yourself – don't go small – make it better than it has ever been. But start small.

2. Seek support from others. Find reliable and supportive communities. Develop friendships and extend yourself and help provide support to others who reach out.

3. Invest in your own happiness. Use your strengths to help support yourself and others who need it. Don't rush the process. You need to become strong first. If there's work to be done, take the time you've been gifted with to do it. There is much we can do and there are resources available … people who will connect and can help. I've watched friends who were about to go under persist under dire circumstances and come out the other side stronger after being brave enough to connect with others privately and publicly.
4. Don't be afraid to ask for help. Years ago, after a car accident, I had to accept help. It was one of the hardest lessons I learned. How to accept help. I wanted to continue to be independent. Connecting with others helped me continue to be. What I learned back then kicked in during the pandemic and I have thrived. What you learn now can stay with you forever. There is a strong community in places like JourneyWoman. There are book clubs and online courses. There are groups to be formed by you, too, if you can't find the one you want. There's help to be had and to be given. 
5. Record the positives. I think my real journey started after picking up the 5 Minute Journal which I now keep by my bedside to record positives of each day and put to paper ideas that will make my day amazing. When The Artist's Way first came out in the early 90s, I borrowed it from the library and haven't looked back since. I've been doing morning pages since then. Julia Cameron's new book, Write for Life, was just released and I've got it on pre-order. Spend time discovering the little things that provide you with happiness.
6. Take time to exercise. Set up a daily yoga practice and exercise! 
7. Count your accomplishments. Don't count what you didn't get done. Put those things on a list so you can see all the things you get to do and spend quality time doing them. Make them fun by listening to a favourite audiobook or podcast as you do them. 
8. Get on social media and join groups that you enjoy and make virtual friendships. Some of my best real friends are people I first met online. AND take time to relax – to really relax.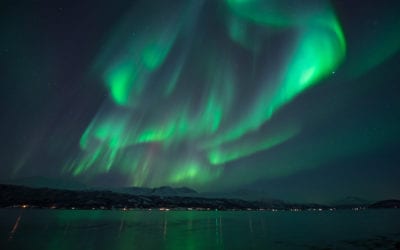 We reveal the top seven Once-in-a-Lifetime Travel Experiences recommended by women, including the Northern LIghts, the Camino de Santiago, Canada's Rocky Mountains, a Safari in Africa, an Antarctica expedition, Machu Picchu and Bali.