Last updated on November 30th, 2023
Featured Image: Marion, seen above as a baby, was inspired by her grandmother Minnie / Photo provided by Marion B.
Her Inspiring Journey Through Childhood, Marriage, and Widowhood
By Amanda Burgess, Editor
Marion B. isn't one to follow convention or allow what people think to influence her choices. She inherited those traits from her grandmother, Malka (Minnie) Rodnunsky, who emigrated to Canada by ship in 1908 when she was only 18 to escape the growing persecution of Jews in Russia.
"The family sewed jewelry, money and heirlooms into my grandmother's coat – a long and heavy coat," says Marion. "Sometime during the voyage, my uncle made a deal with another emigre to marry Minnie to Moishe Rodnunsky on the ship. She had no choice."
Starting their new life in Toronto, the couple eventually made their way to Alberta, Minnie heavily pregnant with one of Marion's uncles. They had five children over the years, with Marion's mother born last in 1919.
Minnie may not have had the choice when it came to marriage or starting a new life in Canada, but she – a woman with a shrewd mind for business and investments – made several convention-defying choices that ensured her family's success.
"She was a powerhouse. She was the matriarch of the family, starting businesses – including a candy factory at the age of 22. She sold the recipe for Sweet Marie to Cadbury's in the 30s before the economy went down with WWII coming on because she had the patent for it," says Marion. "She'd go to the bank and say: 'I want to buy this house.' And she would talk them into it in her broken English and standing all of 4'9. They loved her."
Marion loved her, too. Her grandmother lived with her, in the bedroom above Marion's, until she died of a stroke in 1964. The pair would go off on little adventures together – to the bank, to the Pacific Hotel in downtown Edmonton for tea.
"She taught me her love of cooking and baking, the need to get a good education, and that seeing the world as a free woman is the best education of all," says Marion. "Her words carry in my heart and soul. I treasure those days and remember them vividly."
A vintage family portrait / Photo provided by Marion B.
After Minnie passed away, Marion's mother travelled with her via train to Toronto to see where her grandmother had lived for a short time. The trip cemented Marion's love of trains and train travel, and it gifted her with a rare opportunity for an 11-year-old: Her first concert. It was a little band called The Beatles, and the tickets were $4 each (CAN. YOU. IMAGINE?!).
Harnessing her grandmother's indomitable spirit of independence
By the time Marion was 17, she was looking to escape her very Jewish, very conservative home life. "I was going to public school, not Hebrew school, and all my friends were able to go out on dates. They were allowed to go out in the evenings and on weekends, and I wasn't allowed to because they weren't Jewish. I wanted to run away a lot – and I actually did a few times."
Perhaps looking to invoke Minnie's spirit, Marion decided to hitchhike to Montreal, where some of her grandmother's family had landed. She was young, and eager to see the world. She had only $75, her camera, and no plan – she just knew there were adventures out there waiting for her.
The motorcycle Marion rode to Montreal as a teen / Photo provided by Marion B.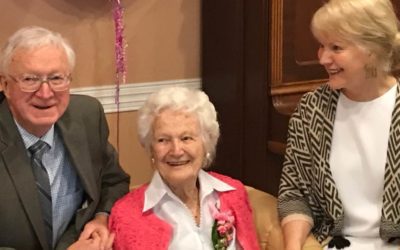 Solo traveller Karen Barclay shares how she learned to embrace adventure and trust the universe at a young age, inspiring her lifelong travels to Africa, Indonesia and places in between.
read more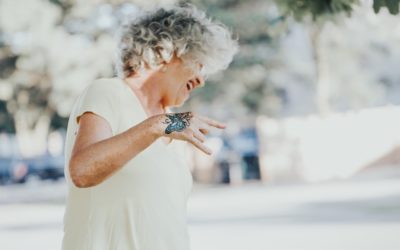 Solo traveller Christine Pope's tattoos tell stories of strength, resilience, hope, and life after breast cancer.
read more
In July of 1969, a free-spirited but foolhardy Marion headed out on the back of a Norton Commando motorbike with a complete stranger – unheard of today, and unadvisable even back then. Leaving her home city of Edmonton, she tasted freedom, and crossing over the Saskatchewan border three hours later was a solo travel milestone for her.
Marion's travel companion paid for food – cooked on an open fire – and the pair stayed in a lean-to along the way with Southern Comfort for warmth at night. It was an adventure, and Marion took rolls upon rolls of film to document it.
"On the fifth day, we made it to Montreal and, tired and disheveled, I landed at my mother's cousin's home, where I stayed for the summer," says Marion. "I was scolded and counselled by my family, and my parents arranged for a train ticket home at the end of the summer. I know I could have suffered all manner of issues, but I was fine – and I'll always have those memories of my first adventure away from home in the summer of 1969."
Marion and her travel companion camped out on the way to Montreal / Photo provided by Marion B.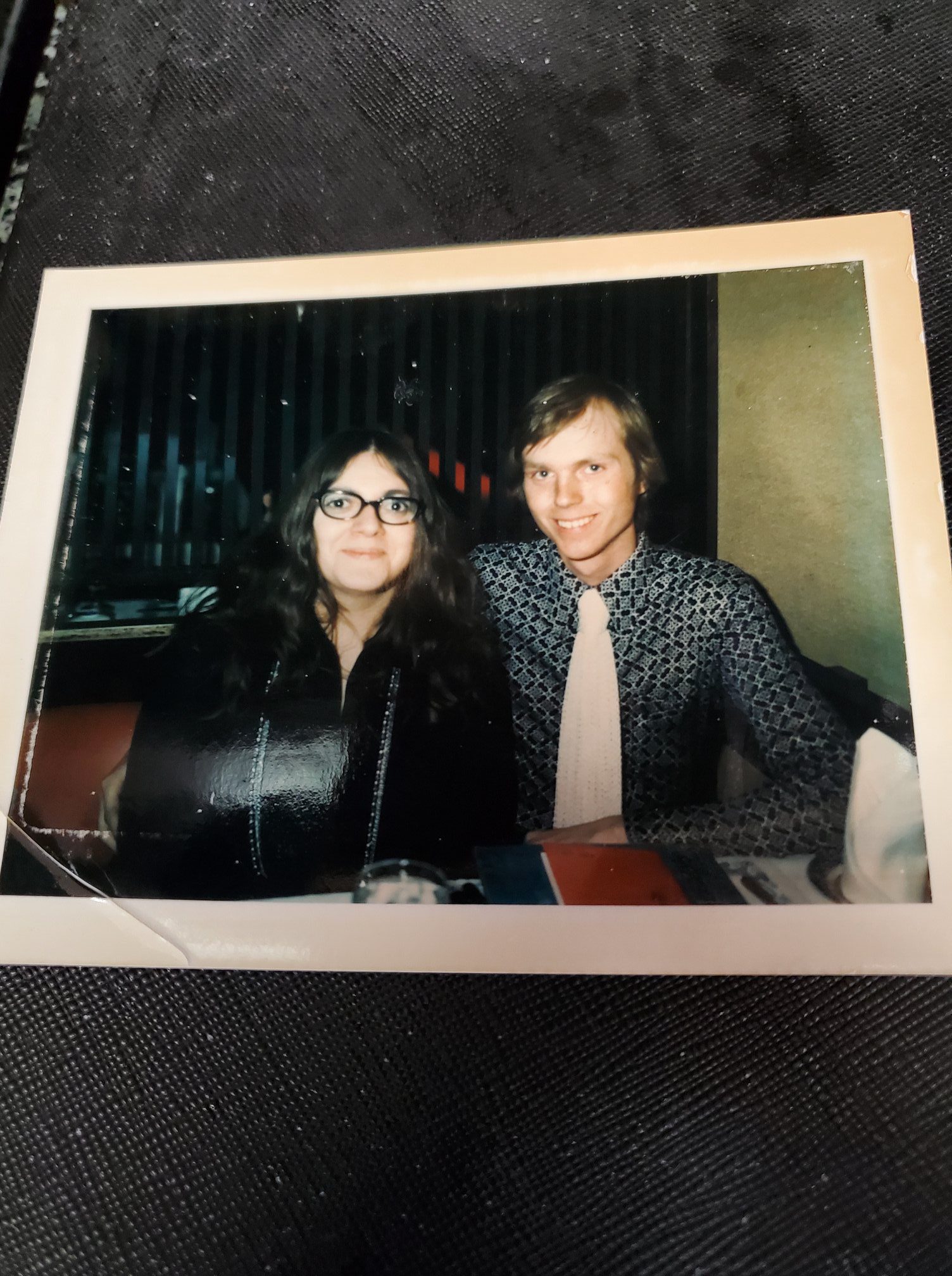 A teenaged Marion and her travelling companion / Photo provided by Marion B.
Chasing a career that would allow her to see the world
Marion returned to finish high school but was already looking for ways to get back to Montreal. She decided to attend Sir George Williams University in Montreal – which merged with Loyola to become Concordia University in 1974 – for journalism. She believed that writing was her ticket to see the world.
"I found that I couldn't get copy jobs because I was a woman, so I came back home to Edmonton, met my first husband, got pregnant and got married," she says. "I worked, had my daughter and helped put my husband through university. Then he ran off with my best friend," she says.
But single motherhood didn't get Marion down. She had her grandmother's unsinkable, unbreakable spirit. She went back to university, got her librarian degree, and ended up working at the University of Edmonton for 30 years.
"The only people who understood my lifestyle were my father and my uncle – my mom's brother. They bought me groceries. They took care of the kids when I had to go to school at night. They stayed with my kids if I wanted to get away for a couple of days," she says. "So that's how I started seeing Canada. My first trip was to Vancouver and Victoria. I'd always been landlocked, and I discovered how I liked to be close to water. In Edmonton, it takes us three hours to get to a lake."
Later in her library career, she returned to where she'd started – the University's Health Sciences library. She'd decided she wanted to do something other than library work, and the department suggested she become the Receiver of Materials, going to publishers, book shops and book fairs to purchase volumes for them and handle rare books.
That's when Marion finally secured what she'd been grasping for as a teen – a career that would allow her to see the world. "I got to go to auctions in London, Germany, and New York. I loved every minute of it and was able to take extra days and travel – by then, my kids were out on their own," she says.
Her work with rare books also fed her wanderlust. There was a rare books room in the basement of the Health Sciences Library with skeletons from the 1500s, an original set of Frontenac's travel diaries, and medical diaries from the 1600s.
"They had so many different interesting items. That made me think, well, I want to go see so libraries where they originated from," she says. "I went to some libraries in Germany that were run by monks – you had to get special permission to go and view some of the material, and you couldn't touch anything."
That started a lingering trend of visiting libraries and book shops everywhere she went. Her favourites are The Leed's Library in England, and the vast libraries found in castles. She visited one such library that wasn't a library of books but of tapestries. She had to cross the castle's moat by boat and get special permission to view the tapestries.
"Some of my favourite libraries aren't for books. There's a maps library in Munich that is quite interesting, with maps drawn by hand and inkwell. I thought it was pretty cool," she says.
Finding love again, but maintaining her independence
Years after a post-divorce tryst that left her feeling broken, Marion found love again – with her second husband, Dana. She'd finally met someone who shared her love of travel. The pair took road trips through the US, cruises, and more together.
"It was anything goes with him. He'd say: 'Well, it's the weekend. Let's go off to the mountains. And I'd say: 'Okay!' For us, we enjoyed being wherever we were as long as we were together," she says. "We basically did whatever we both wanted – he would go off and do his thing, and I would do mine. He was an avid scuba diver, so he would go scuba diving. I'd hunt for books, go hiking, or find a spa. It was an unspoken mutual agreement for what we'd do while travelling, and we travelled two or three times a year."
In 2011, Marion's husband passed away, and she faced a new life on her own as a widow. It was then that she decided to retire. She needed time to grieve. What better way to do that than with a trip that would allow her to explore her emotions and a destination?
Cultivating a life of solo travel
Marion joined the JourneyWoman community and read about a travel company called Gutsy Women. It was kismet. She booked her first trip through them and Trafalgar, meeting up with small group of widowed women from all over the world in Rome, Italy. It was the salve she needed.
"I was able to chat when I needed to and be alone when I had to be. I found out my inner strengths and how to attack my lonely times," she says. "Grief travel is an interesting concept. At night, you cry yourself to sleep. In the morning, you wake up with the pillows wet. But then you get up, have your coffee, shower, get dressed, and go out – or you don't. You do whatever you want to do."
What inspired her to do it alone? Being told that she couldn't – or shouldn't.
"Well now, I hate when I am made to feel inferior. People said: 'Oh, but you can't go all that way on your own. What will happen?' What will happen?! I'll get on the plane. I'll get off the plane. I'll get met at the airport, or I won't, and I can take a bus and get to where I'm going. And when I'm done, I'll come home," she says. "I was told that I was an older woman of 59, and that it wasn't safe out there on my own in a foreign place without a man to hold my hand or protect me. For some reason, well-meaning family, friends, co-workers and acquaintances were 'looking out' for me. I rejected their concern. If someone tells you that you are too old or it's too scary out there on your own, well…you won't know until you try. Big girl panties – put them on and carry on! You are stronger and wiser than you think."
Minnie would have been proud.
Since then, Marion has travelled to many more places solo, meeting up with the original group of widows twice to visit Southern Italy and Sicily. She's travelled extensively throughout the US, Mexico and Canada.
What's next on her post-pandemic radar? Historical train travel through Spain. Having watched a Nat Geo segment on train trips in Spain, Marion learned that one of the most well-known Spanish train routes, El Transcantabrico, takes you across northwestern Spain, from the pilgrimage town of Santiago de Compostela to the food capital of San Sebastian. The train ride from Barcelona to Montserrat is relatively short, lasting less than an hour, but offers incredible vistas of the mountain as you approach from down in the valley. Train of the Lakes is a sightseeing train ride which runs from Lleida in Spain to Saint Girons in France and was first inaugurated in 1929. These are a few of the various rides she is considering.
 "It's my plan to form an easy three-week stay, securing apartments in Madrid and Barcelona at different points of my journey, and enjoy this mode of travel at my leisure," she says. "My second husband encouraged me to do what felt good for me to do, and I find that's what I've carried with me. I say to myself: Will this be something that I will benefit from, learn from or gain experience from? Those are the three things that keep me wanting to see and experience different places and things."
Read these other solo travel memoires from the JW Community