Last updated on April 11th, 2022
Featured image: Whether we choose to travel at home or abroad, we're managing a range of emotions / Photo by svitlanah on Envato
Latest TravelReady Survey Reveals Optimism and Caution
By Carolyn Ray, Publisher, JourneyWoman
As we look at another year of pandemic travel, predictions abound about what will happen next. In December, we invited women to share their views on 2022 travel in our sixth TravelReady survey of the year. Women are the most influential demographic in travel; we make 80 to 85 per cent of travel decisions and comprise two-thirds of all travellers. The majority (93%) of our survey respondents are 45 and older, with 43% in Canada, 43% in the US and the remaining 14% in over 100 other countries.
Our first question was about the new variant and its impact on 2022 travel plans. Most women (43%) are taking a 'wait and see' approach':  more than one-third (33%) are sticking with their travel plans, whereas only 20% have cancelled or postponed.  While we hear frustration and fear, there is also hope and optimism. One reader said: "I think that we are going to see a lot of different variants come up and this will be our new normal so we just need to ebb and flow and continue living and travelling while being safe."
There are also those who feel increasing pressure to travel.  We heard: "I feel hopeless. I don't think I'll be travelling next year, and I'll soon be 70. I feel my time is running out for the kind of trips I had hoped to take!" Another commented: "I lost a year of my life to a pandemic. I want to travel now, before I can't." Another said she is "somewhat concerned but I am stubborn and have looked forward to traveling in my retirement for far too long. I turn 70 in 2022 so I have booked several trips and I am going!"
Many solo travellers have a certain comfort with the unknown, but there is also concern about changes in variants. One reader said: "I want to travel but am concerned that I may get "stuck " due to Covid variants and the changes they may cause me even though I have been vaccinated with a booster." Another commented:  "Travel is very difficult with all the testing. I do not believe it will change. I am going ahead with my 2022 trips." Another noted: "more than anything else it's the bureaucracy – tests and forms and delays – that really bothers me."
Those who have travelled feel more confident. One woman said: "I just returned from a trip to Italy with a friend, on our own not on a tour, and I felt very safe. I have three trips booked for 2022."
Whatever your mindset, it goes without saying that we should avoid traveling to countries with high infection rates, low vaccination rates, and overwhelmed medical infrastructure—all factors that can fluctuate rapidly. The CDC publishes travel recommendations which are updated regularly, and as of today, most of the world is Level 4 (very high), which should be cause for concern for all of us.
1. Women are planning solo travel in 2022
The pandemic hasn't diminished women's desire for solo travel. In fact, as of mid-December, 30% of women are still planning to travel internationally from January and June 2022, and 43% are taking a 'wait and see' approach, dependent on pandemic guidance and travel advisories.
As we know from previous surveys, group travel is an appealing option for many solo travellers. This year, 37% of women have booked a group tour, and 23% are undecided or considering one. The remainder (38%) will continue to travel solo on their own.
Visit our Women's Travel Directory to find small, highly personalized tours for women from small businesses that understand your unique needs.  
2. Will spend more on travel
Our previous surveys have shown that pre-pandemic, solo women spent $3,000 a week on travel and accommodation. Women hold the most purchasing power of any demographic, spending an average of $3,000 per week on multiple trips per year, according to our June 2020 study "Embracing the Unknown: The Risk and Reward of Travel."
With the additional cost of travel insurance and covid testing, budgeting more for travel is a necessity.  The majority of women (82%) said they will purchase comprehensive insurance and 66% said they will purchase COVID insurance when they travel.
Afraid to travel? You're not alone. Seasoned life coach Debbie Phillips shares her tips for women to overcome travel fears as we look to a post-pandemic world.
3. Ready to discover new places 
While some may claim the pandemic has restricted our opportunities, solo women see opportunity for new adventures. Driven by curiosity, a solo traveller is always ready to step outside her comfort zone.
Our survey showed that 62% of women want to go somewhere new, and 51% said they will book closer to the departure date than before the pandemic.
Twenty-six per cent will stay close to home. For those considering international travel, Europe continues to lead our list of top international destinations where solo travellers will travel first at 32%, followed by the UK and Ireland (15%). Contrasted with our August research, Canada has re-entered the top five, along with the Caribbean and Mexico and the US.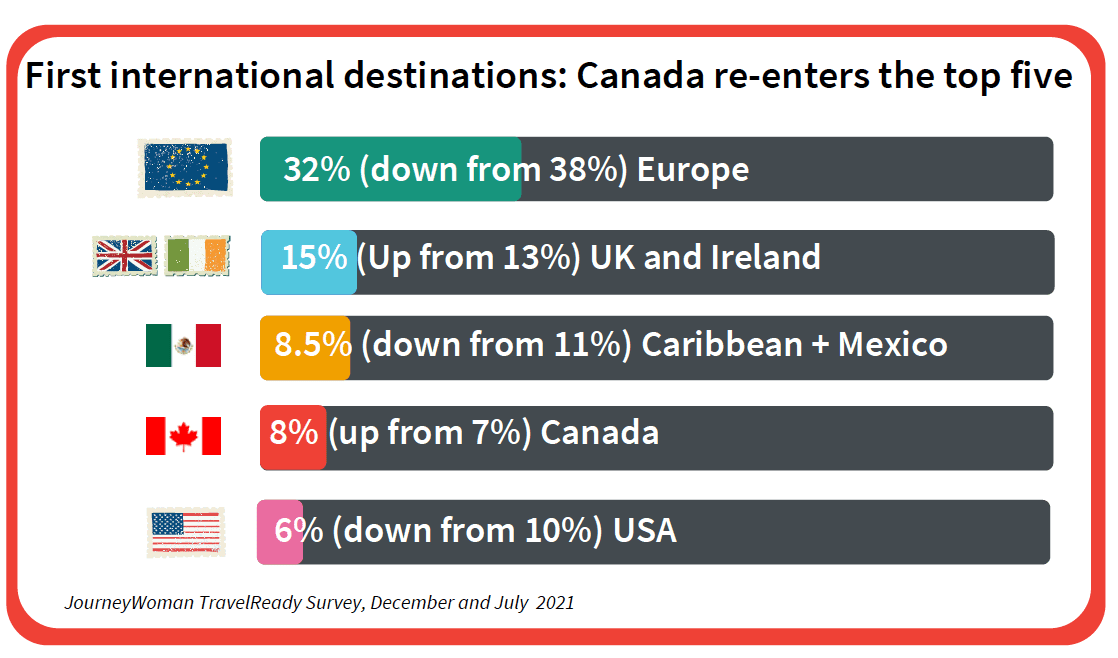 4. Prefer to book their own travel
Almost half (47%) of women said they do not plan to use a travel agent, preferring to plan their own travel, up significantly from 34% in our last survey.
In our August survey, 42% of women said they might consider using a travel agent. This has now dropped significantly to 19% of women who said 'maybe' to using a travel agent.
Less than a quarter (24%) said they plan to use a travel agent, which is the same as our previous survey in August.
5. Advocates for vaccination
Although it wasn't part of this survey, it's becoming more apparent that proof of vaccination is becoming a de facto standard for those who want to travel, particularly as new variants emerge. While some countries, like Mexico, have no travel restrictions, the EU is considering vaccine passports across Europe, and Canada has mandated that anyone travelling by plane or train must be vaccinated. 
Our August TravelReady survey showed that 98.4% of respondents said they were vaccinated or planning to get vaccinated for travel. (1.6% preferred not to answer, and 0% said they were not planning to get vaccinated). In that same survey, 90% said they agreed with countries asking for proof of vaccination and 94% felt it was appropriate for tour operators and accommodation owners to ask if guests are fully vaccinated.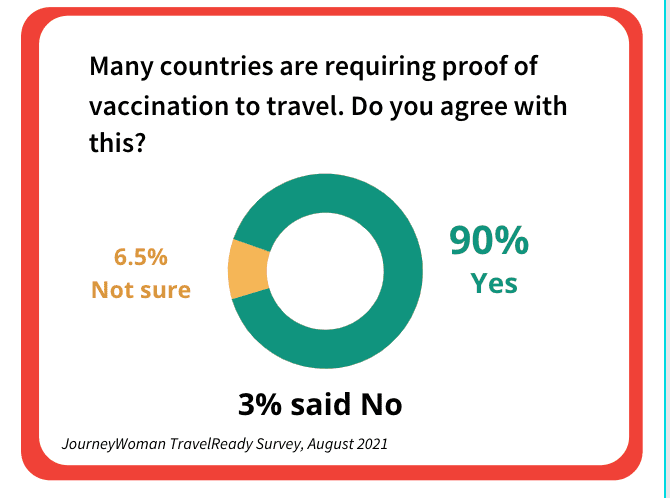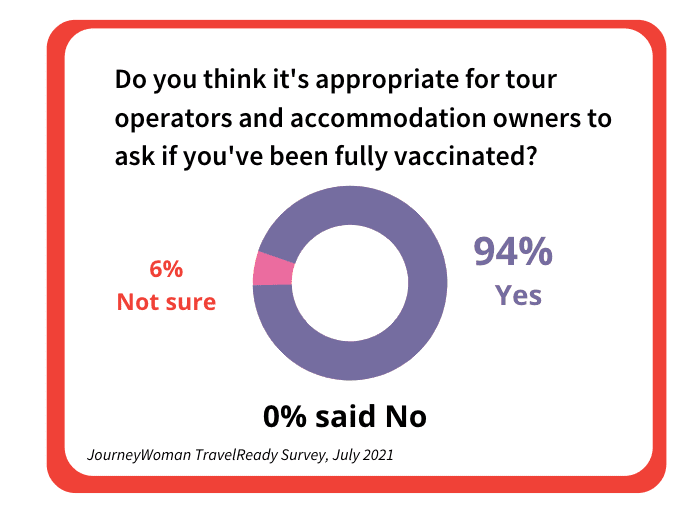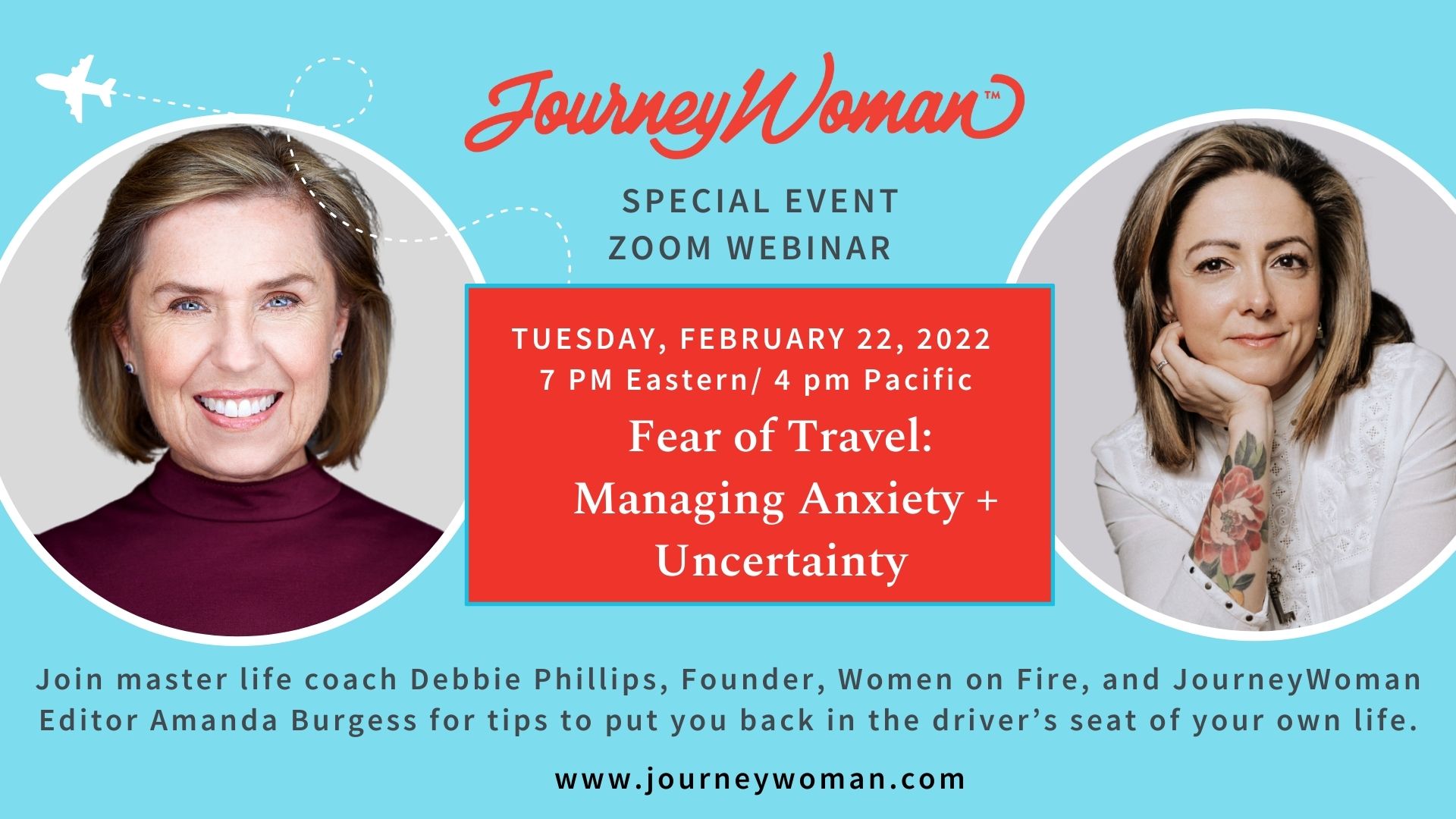 More Insights from Women on Travel
Solo travel Boomer and GenX statistics and studies from JourneyWoman, the original solo travel publication for women over 50.
Women divulge their top tips to save money on airfare, meals and accommodations – without sacrificing on experience.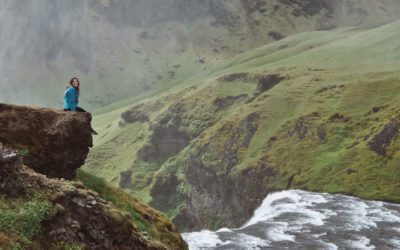 The JourneyWoman team selects their favourite off-the-beaten path travel destinations every woman should experience, from Ethiopia to Thailand.