Last updated on May 6th, 2023
Featured image: Find connection with other travelers on a group tour | Photo by Envato
More than anything, women seek intimacy and shared connection
By Carolyn Ray, Editor, JourneyWoman
As the publisher of the world's largest Women's Travel Directory, JourneyWoman offers an unparalleled resource for solo travelers seeking a women-friendly tour. We don't operate tours but we do work closely with hundreds of women-owned businesses around the world, including those that offer women-only tours like African safaris and Antarctic expeditions.
While many solo travellers prefer to travel alone, there are occasions when we want to join a group tour. Perhaps it's your first solo trip, you've recently become widowed, or you just want to travel on your own. Not to mention many. of us have felt isolated from each other and the world.  It can be overwhelming for women to travel at all after a global pandemic, so tour operators have an opportunity to over-index on the experience rather than focus only on the logistics.
And let's face it, as women over 50, we have shared life experiences that connect us in all kinds of unique ways that many men just can't relate to. When it comes to group travel, most women I've talked to want to travel with other women, so it's no surprise that in our soon-to-be published 2022 Solo Travel Survey: Embracing the Unknown, 65% of solo women said they prefer tour companies that offer women-only group tours. Joining a group tour with other women is a great way to take that first step into solo travel, particularly in parts of the world where cultural perspectives are different from those we are used to at home.
A women-only tour in the Luberon in Provence, France with European Experiences / Photo credit Christian Linke
What's the secret to creating long-lasting connections?
In the past year, I've had the good fortune to join three women-only tours as a solo traveller. My first tour was a horseback riding tour to the backcountry of Banff, Alberta with Wild Women Expeditions (something you can't even do on your own). Following this, I walked the Camino de Santiago in Spain with Wild Women last October, when hotels and restaurants in Europe were just starting to open up. Not only did this tour with a local guide make walking the Camino stress-free, I also found plenty of time to be on my own. Most recently, I joined Insight Vacations for their first-ever women-only tour to the Croatian Coast. Most of these women had not travelled outside their home countries in almost two years, so being with a larger tour company gave them confidence.
In my experience, solo women over 50 who join group tours are looking for connection with other women. As a result of the pandemic, many women have felt isolated and view group travel with other solo women as an opportunity to explore a destination that appeals to them. But more importantly, they want to meet other women who can relate to their life experiences.
Even though we might choose a trip for the destination, I've come to realize that the secret to success is the tour company's ability to foster intimacy. Not physical intimacy, but a closeness that makes you feel safe, supercharges connections and forges new friendships. For some women, intimacy in a group setting happens naturally, but for others, it needs a little encouragement.
On group tours, there are many moments to create intimacy among women, almost from the moment travel is booked. The starting point for any tour is to know your guests. Not just their age, but their level of travel experience, comfort with group travel, dietary requirements and mobility and accessibility needs. Then, find the right tour director to guide and lead women through the experience.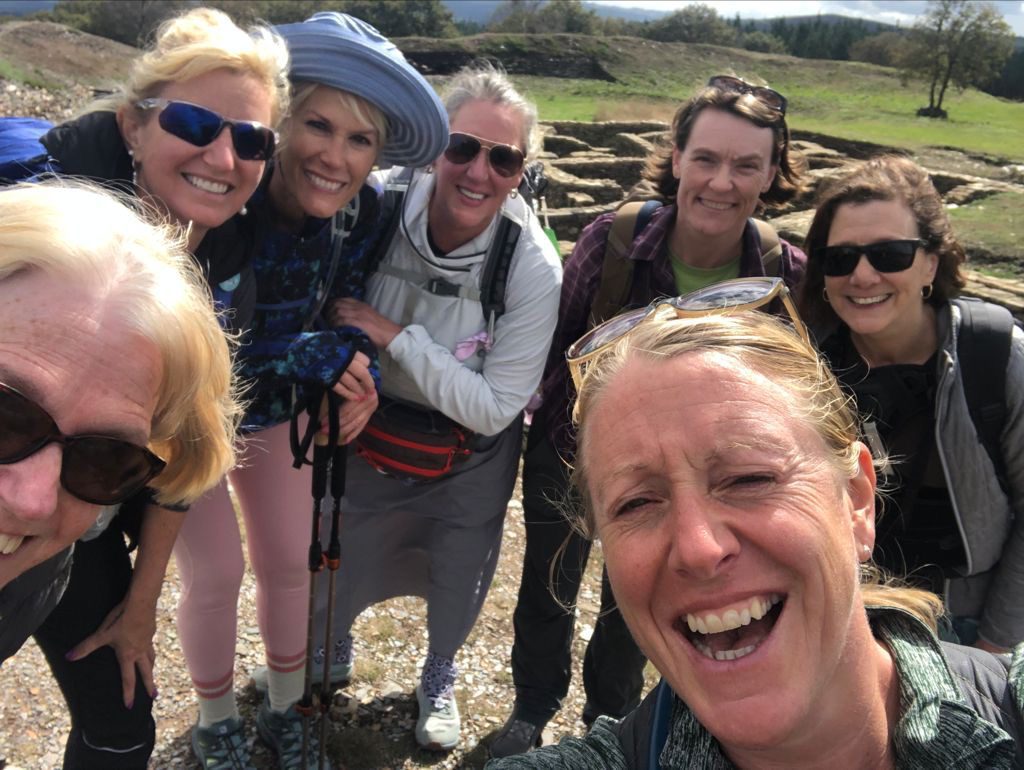 Our Camino de Santiago group from October 2021, with our wonderful guide Lu Sutton from
Wild Women Expeditions
/ Photo provided by Carolyn Ray
Six ways to create intimacy and connection among women
1. Embrace small and slow travel
Small groups make it easier to build connections among women. Small groups also allow women to experience culture in smaller venues, from hotels to restaurants. The trend to slow travel, where you spend more time in one place, facilitates this.
"In 15 years of hosting groups, we've found that the group dynamic is a very important part of the overall experience," says Kathy Wood, CEO, European Experiences, which runs women-only tours in England and France. "Our groups mostly base for one week in one place, usually in smaller, locally-owned hotels, so we're really living together for a week, on most days from breakfast through dinner. Our accommodations include communal areas, where group members can gather before or after meals or during free time."
We also know from our research that women prefer small boutique hotels and bed and breakfasts over large hotels. With a small group, there is an opportunity to look beyond large, busy hotels frequented by tour groups and conventions, most of which are outside the city centre. Not only does a smaller hotel send a positive message about supporting local businesses, it also provides a more intimate setting and may allow for hotels closer to the centre centres, which helps with transportation and mobility.
2. Facilitate pre-trip bonding
Many of the tour operators I've spoken to create multiple ways for women to connect before a tour.
While email is helpful for booking information, consider setting up a welcome call, a group zoom call, a private Facebook group or a Whatsapp group to start creating connections. A private WhatsApp also assists with questions during the trip and should be set up several days in advance to help guests helps with connection as well as arrival/ logistics, packing questions, eSim cards, etc. These can both be presented as optional for those who wish to participate.
"My experience leading women's tours since 2002 is the connection with other participants happens very organically," says Cathy Gotfried, CEO, Babes in Bali, who has led small, women-only tours to Bali for over 25 years. "For months we've exchanged emails, questions and suggestions so we already have an idea of who's on the tour. Women are natural nurturers and that really comes across on a women's tour. It's like having a van full of your sisters all together and having fun at the same time."
Cathy Gotfried has been leading trips to Bali for decades  / Photo credit Cathy Gotfried
3. Create informal and participatory social opportunities
The first night sets the stage for intimacy. In a small group, the female tour director should facilitate introductions where each person has the opportunity to introduce themselves to the larger group.
Ideally, the tour director should join meals where possible to ensure connections are being made. The tour director is an important part of the group and can help those who are more introverted to connect with others.
"I'm finding on my post-pandemic trips that women are tired of being isolated and super keen to have meaningful conversations with their new travel mates," Gotfried says. "No time is wasted in sharing life's successes and joys but also being vulnerable and honest about what their challenges are. And best of all, there's no judgement.  Only encouragement and kindness."
Time should be facilitated and included in the schedule for women to connect before/after meals, and in the evening. Opportunities might include a movie night, meeting local female entrepreneurs, or inviting local artisans to show their craft.
"Our travelers begin to form our connections the first afternoon, as we travel from our meeting place to our hotel," says Kathy Wood, CEO, European Experiences. " We always begin with an ice-breaker of some type… an introductory tour or a fun activity. For example, our Mediterranean Provence and Riviera Hillsides groups begin with a fun game of boules, a traditional "sport" in Provence. Later we'll meet for a drink and then share our first meal together, with time for introductions and casual conversation."
A hands-on class to teach women about Balinese offerings used in temple ceremonies / Photo credit Cathy Gotfried, Babes in Bali
4. Build in authentic experiences with women-owned businesses and entrepreneurs
These offer deeper opportunities for women to connect with other women. Many women over 50 are entrepreneurs or have had decade-long careers (even though we may be retired now) and have wisdom to share with women in other countries. Slow down the experience and allow for time to questions and discussions. Also, make sure the entrepreneurs are prepared to share their story in a concise, inspirational format. This is an opportunity for them to create lifelong advocates.  
Insight Vacations' women-only tours include experiences with female entrepreneurs and have a focus on sustainable travel. On my Croatian Coast trip, I met entrepreneur Dr. Irene Fonda, who owns a sustainable fish farm in Istria, which we toured by boat. This fish farm was chosen as Alpe Adria's most sustainable project in 2019 and Slovenia's hidden gem award in 2022. Afterwards, we enjoyed her fish (called "Fonda") at a local restaurant  – it was delicious.
"Our
June 2023 women-only tour in Iceland
includes a storytelling walk in Eyrarbakki with Ásta Kristrún, author, musician and director of heritage museum Bakkastofa," says Melissa DaSilva, President, Group Tours, Trafalgar. "Ásta and her husband have turned the house in which she and her 19th-century ancestors grew up into an intriguing cultural center, sharing stories of her family and learning how they coexisted with volcanoes and geysers as neighbors."
5. Foster connection at meals
One of the things I love about tours is that I don't have the stress of finding a fabulous restaurant. There's nothing better than discovering a hole-in-the-wall restaurant owned by a local family, which can often be the most memorable part of an experience. While a large restaurant may have cost efficiencies, it lacks intimacy.
"Intimacy especially develops over meals, as we "break bread" together in a variety of settings, in special restaurants or casual cafes, in private homes, or on picnics," European Experiences' Wood says. "At meals we usually share one or two big tables, providing the opportunity for conversation about the food, the area, and our day's activities but also about our lives and our hopes and dreams.  Some trips include a cooking class, a creative project, or an outdoor activity like a hike. These shared experiences also help create intimacy, as we're involved together, not just sightseeing."
Where possible, avoid large restaurants with other tour groups. I also recommend allowing women to choose from a set group of items at the time of meal where possible. Make every effort to arrange for tables outside, as women are still concerned about covid. Also ensure vegetarian and gluten-free options are available.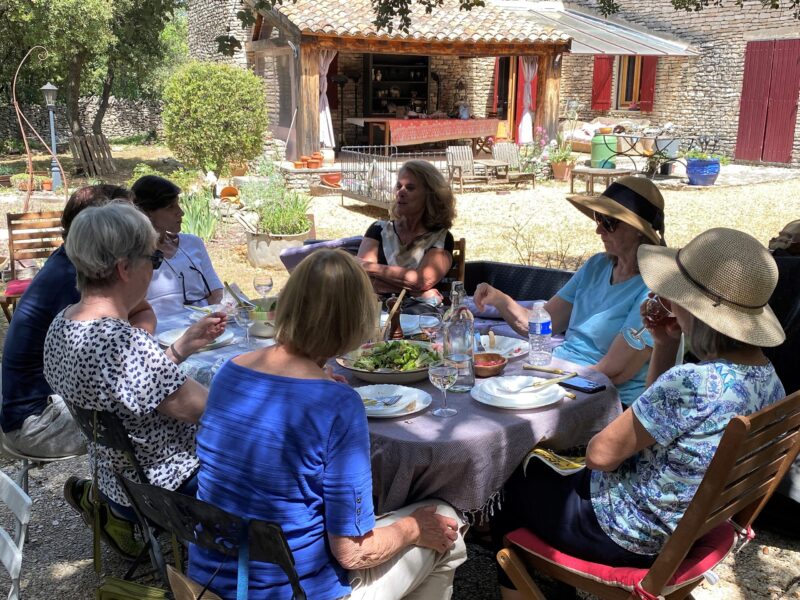 Lunch at a family home in Luberon / Photo credit Kathy Wood, European Experiences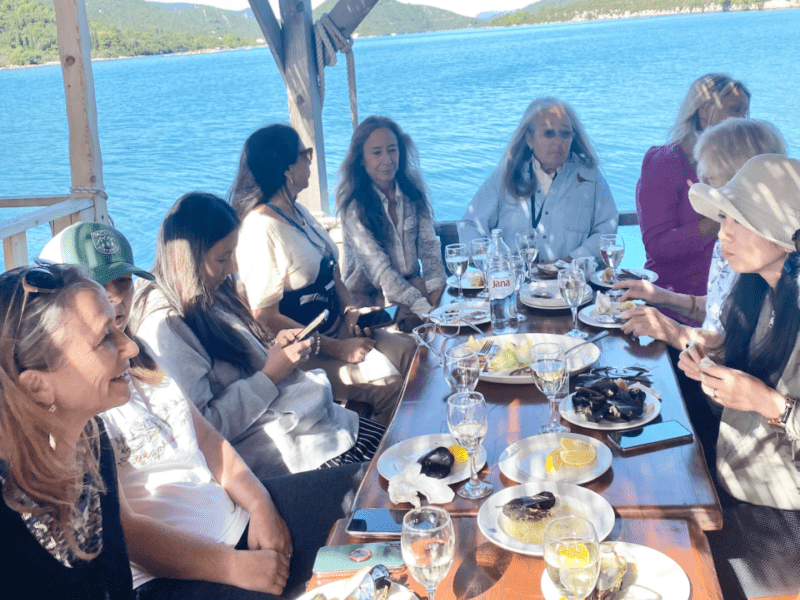 A memorable lunch at a locally owned seafood restaurant in Croatia with Insight Vacations / Photo credit Carolyn Ray
6. Prioritize safety, mobility and accessibility needs
Nothing can disrupt intimacy and connection more than not understanding women's safety requirements.  Safety goes beyond physical safety and includes mobility and accessibility.
Many women over 50 have had knee replacements, have mobility aids or can't navigate stairs in the same way we used to.  While some privacy policies make it hard to ask about mobility directly, women's group tours should always include some discussion of the physical risks involved with an activity. Some tour operators have told me they now bring walking sticks and other mobility aids.
It's also important to state physical requirements for walking and physical exertion. For example, Intrepid's women-only Inca Trail tour mentions the possibility of altitude sickness and 'strenuous walking'. That's a start, but mobility also needs to include transportation, hotel rooms and restaurants.
There's a lot of information available now to help tour operators with this requirement, which I believe will be required in the future. One of our partners, Wheel the World, provides detailed accessibility information on over 160 destinations and hotel-specific data on bed height, door width, type of shower, and more, plus specialized tours for wheelchair users. AccessibleGo provides accessibility information for US hotels, including assistive listening devices, lower hanging space in closets, service animals, step-free entrances, whether TDD is available and doorway size, to name a few. There's really no excuse not to consider mobility.
According to the AARP, only a small fraction of hotel rooms are designed for guests who have disabilities. The Americans with Disabilities Act (ADA) mandates that hotels with 151 to 200 guest rooms have six accessible rooms, and only two must include a roll-in shower (a shower that is typically larger with a zero-barrier threshold, a handheld shower sprayer and a bench so the wheelchair user can transfer and sit while bathing). Hotels with 50 or fewer rooms are not required to have any roll-in showers.
Are you a tour operator who wants to learn more about creating intimate group tours for women? Join our Women's Travel Directory and you can meet hundreds of small businesses that have been catering to women for decades. We host monthly global calls with tour operators and host a private Facebook group to share ideas and resources.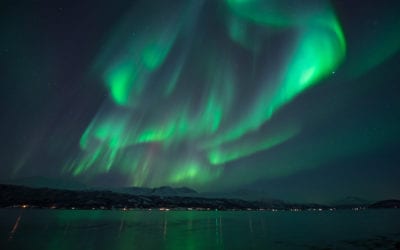 We reveal the top seven Once-in-a-Lifetime Travel Experiences recommended by women, including the Northern LIghts, the Camino de Santiago, Canada's Rocky Mountains, a Safari in Africa, an Antarctica expedition, Machu Picchu and Bali.