Featured image: Small ships offer access to less-travelled and unique destinations | Photo by Envato
The benefits of small ship travel for solo women
by Carolyn Ray
In recent months, I've had the opportunity to travel on four small ships, all under 100 passengers. On all of them, I've had the chance to meet and build friendships with like-minded travellers and solo women. Instead of 3,000 to 6,000 passengers, most small ships have under 300 passengers and many have less than 100. From river cruising to sailing to barges to expedition ships, there are a wide range of small ships to choose from, offering accessible and sustainable travel choices for those who desire a more intimate and meaningful experience.
Not only are smaller ships better for the environment, they also offer access to less-travelled destinations and smaller ports, and provide a more personalized experience for guests and solo women. And then there's the star gazing — what better place to get clear, unobstructed views than on a small ship on the open seas!
Seeking authenticity in travel
I grew up in South Florida, so boating has always been part of my life. Over the holidays, my family travelled on large cruise ships, like Royal Caribbean. In those days, as a teenager, cruising felt glamorous and exclusive. I'm embarrassed to admit that one of my first crushes was on a Royal Caribbean Splendour of the Seas wine steward, who I even wrote letters to after the cruise! We dressed up for dinner, met the Captain at a private event, took dancing lessons to prepare, and enjoyed live Broadway-style entertainment on the high seas. 
While I loved visiting new places, reflecting on those trips today brings a new set of images — of lining up at an endless buffet, watching five or six other massive ships enter a port as thousands of tourists swarmed a city, and trailing after my mother as she visited all the duty-free shops looking for deals, instead of spending time in the destination itself.  I also remember the endless walk from our room to the other end of the ship and spending hours disembarking or waiting for visas. I'm sure some of that has changed, but just the idea of travelling with thousands of people on a floating city isn't my idea of authentic travel anymore.
In the past year, I've had the opportunity to travel on four small ships for several weeks at a time in Ecuador, Europe, the Middle East and Africa. In Ecuador, I stayed on the Amazon Explorer riverboat, which had 23 rooms and three public floors. In the Galapagos Islands, I spent 10 days on the Queen Beatrice, which hosts 18 people over two floors. Most recently, I joined a brand new Swan Hellenic expedition ship, the SH Diana, which has 96 bedrooms on three floors, from Cyprus to the Seychelles. Needless to say, I'm learning a lot about this mode of travel.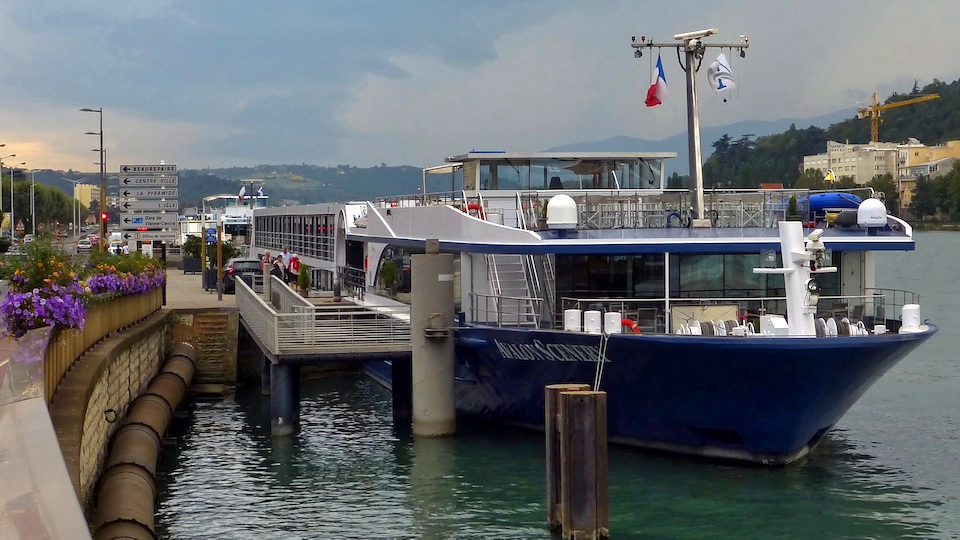 Questions to ask when considering cruise travel
Recently, I attended a professional development session at the Society of American Travel Writers conference that featured representatives from cruise companies incuding Windstar, Celestial Cruises and the Cruise Line Industry Association (CLIA).  Here are some of the questions that they suggested travellers ask when considering cruise travel that go beyond ship size and consider the larger impact of the ship on the community and environment. 
How many passengers and crew are on the ship?
When was the ship built? What kind of fuel does it run on? Can it run on battery power in sensitive locations like the Arctic or Antarctic?
Where is food sourced from? Is it local and fresh? Or is it frozen?
How is garbage and wastewater treated? What is recycled or not?
Where does fresh water come from? Is water desalinized onboard, or does it have to be brought in in plastic bottles or contaners?
How does the ship reduce drag, anchoring or damage to coral reefs?
How is the ship supporting local communities? It is simply writing a cheque or is there more that passengers can participate in?
What is the itinerary, and how does the ship work with local providers to benefit the community?
How many ships are in a particular port at the same time?
Other tips: 
Read the ship's Sustainability Policy (it should be on their website)
The Cruise Line Association has a Sustainability page with more information about how ships are adapting to change. Read more here.
Whatever you're reading, consider the source and ask why sustainability isn't mentioned in articles. Many industry publications on cruising are financially supported by the cruise lines through advertising. 
Six reasons to consider small ships for travel
1. Small ships are kinder to the environment
Other than knowing how many passengers are on a ship, there are many questions you can ask to find out about sustainability. While we know that small ships create less waste, there are many other things that can impact the environment.  
On newer ships, there is a lot of new technology being used that is reducing the impact on the environment. For example, instead of using an anchor, the SH Diana uses a Global Positioning Satellite (GPS) to keep the boat in place. Another thing that impressed me about the SH Diana is that it uses battery power in regions like the Arctic, recycles and cleans wastewater and desalinates water from the ocean. 
If you have a concern about motion sickness, small ships might be the answer. The new ships have high-tech stabilizers that spread out like wings below the water and dynamically move to adjust to the waves. Read more about how to avoid motion sickness here.
One of the things we can ask about is food and food waste. On the SH Diana, I met with Eddy, the executive chef, who told me that all of the food is purchased locally along the way and the menu changes to align with the destination. Unlike larger ships, which often serve frozen food or food made by machines, he took great pride in the fact that they make food such as mashed potatoes, by hand, not by machine. There is very little waste and all the water used is recycled. 
2. Small ships have less people and more personalized service
On a small ship, there is a high staff-to-guest ratio which means you're getting very personalized service.  On the small ships I've been on, the crew knew my name by the second day. Even though there is a set itinerary, there is also the choice to opt out if you don't want to join a tour or excursion. 
I always meet solo women on my travels and notice that they connect easily with others. They rarely eat alone as they invite conversation and companionship. On the SH Diana, solo women ate together and often the crew and guides joined them. If you're feeling lonely on a small ship, just ask the staff to help you meet others. In my experience, they are all supportive and want to help you create connections. I've also been able to tour the bridge, the engineering room and the galley, and meet the entire crew including the captain. 
Another thing I like about smaller ships is that it's easier to connect with people over meals. Usually, there are no reservations required and no set seating time.  You are free to eat when and where you want, instead of being assigned to a table. On the SH Diana, there is also 24-room service included for all guests if you want to be on your own. 
When travelling to different countries, another thing I've noticed is that immigration is quick and efficient with fewer people. On the SH Diana, all of the processing was handled on the ship, and we only had to show our passports when leaving, instead of standing in a line for hours with hundreds of other people.  Getting on and off the ship is also a breeze, with no long lineups, and the excursion sizes are small, which allows for more conversation both with other guests and the guides.
 3. Small ships can get access to smaller ports, less-travelled destinations and support smaller communities 
One of the biggest concerns about larger ships is that they often overwhelm a city with tourists. We've all experienced that moment in our travels when several large cruise ships come into a port. It changes the entire experience. 
In the Galapagos, for example, ship size is limited to 100 people. Intrepid's ship of 20 people was able to come very close to the islands and we would simply hop in a zodiac to visit the islands. On the SH Diana, we visited places that are simply not available to large cruise ships. Because small ships can go to places large ships can't, there is an opportunity to spend quality time in less-travelled places and contribute to the local economy. Another dimension of sustainable travel for me is the inclusion of female staff, local female guides, and women-owned businesses in itineraries. I want to know that travel companies are seeking to support women through travel.
Intrepid's Queen Beatriz in The Galapagos / Photo credit Carolyn Ray
4. Small ships have flexible pricing, a more walkable layout and various room sizes
All of the ships I've been on have had beautifully designed rooms and floor layouts.  Who wants to spend all your time walking from one end of the ship to the other, from your room to eat breakfast or get off the ship?  
On the smaller ships, you always get an ocean view, even though you may not get a balcony. On my Avalon Christmas Markets cruise in November, every room had a sliding glass door to watch the journey along the Danube. Accessible rooms are also being included on the newer ships; there are two on the Swan Hellenic's SH Diana, for example. On the riverboat and Galapagos cruise, all the rooms were fairly similar in terms of size and style. On the river cruise, there was some variation in room sizes but the biggest difference was whether there were balconies or not.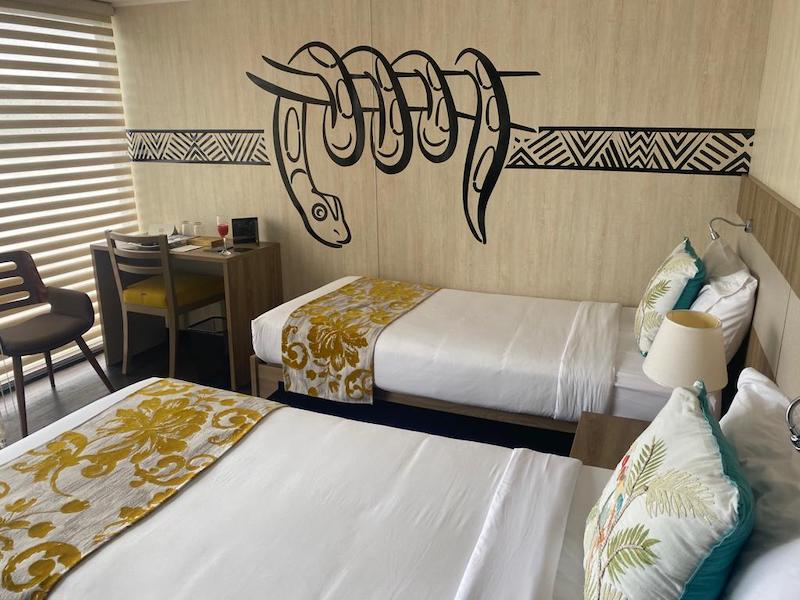 A room aboard the Amazon Explorer ship in Ecuador / Photo by Carolyn Ray
Panorama Room on an Avalon River Cruise / Photo credit Avalon 
Queen Beatriz Room in the Galapagos / Photo credit Carolyn Ray
5. Small ships cater to the solo traveller, in terms of cost, safety and experience 
Increasingly small ship companies are recognizing the value of the solo traveller and providing incentives in terms of pricing and room size. To accelerate this trend, we've created a Small Ships directory that features companies like Uniworld and Swan Hellenic that cater to solo women.  We've also negotiated discounts and special pricing for solo women with no single supplement.  We also send out Hot Flash last-minute discount emails to women who are interested in small ship cruising. You can sign up here. 
When it comes to cost, most activities on small ships are also included, there are no additional fees. On the SH Diana, all meals, lectures, tipping and excursions are included. There are additional excursions available for those who want to do them, or even private tours. On the Galapagos trip, our snorkel gear, wetsuits and guides were part of our everyday experience, at no charge. On the SH Diana, there is a spa, sauna and pool and a gym, which are free to use. Transportation to and from the airport is included as well.
On Swan Hellenic's SH Diana, there are four different room sizes and an accessible room. I had a junior suite on the sixth (top) floor with a double bed, which was almost the same size as a room on the fourth floor (about 200 square feet). The main difference is the balcony.  This ship also has two accessible rooms with an extra-wide door to the balcony, accessible bathroom and entrance.
On Intrepid's Queen Beatrice in the Galapagos, I didn't have a balcony, but rarely spent time in the room on my 10 days on the ship. All of the rooms on the Amazon Explorer riverboat had a balcony. More important than room size, is what's above your room. Try not to choose a room that has a kitchen or common space above it, so that you don't hear noise. 
SH Diana's Junior Suite with adjoining bedroom / Photo by Carolyn Ray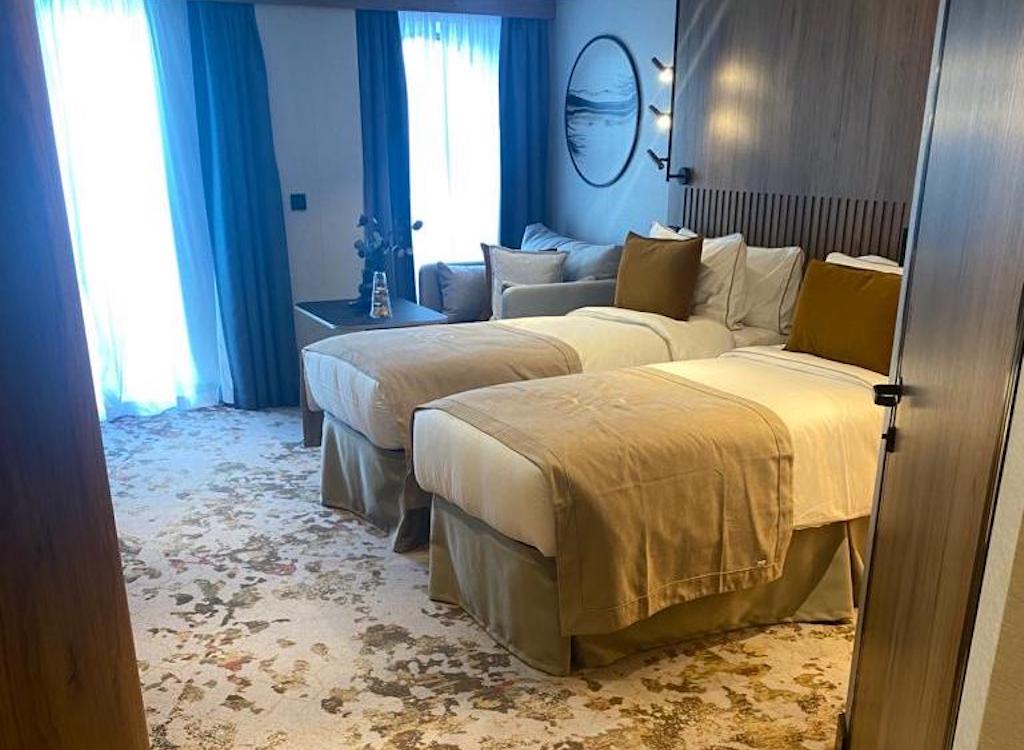 SH Diana's accessible room with step free bathroom and balcony / Photo by Carolyn Ray
SH Diana's single room with fireplace / Photo by Carolyn Ray
6. Small ships make safety and hygiene a shared responsibility
While safety and hygeiene are important on all ships, with less passengers and smaller groups, the risk of infection can be lower on a small ship. The small ships I've travelled on have top-of-the-line air purifcation systems, provide spaces with lots of fresh air, stringent safety and sanitation protocols.  I've noticed that small ships reinforce the need for everyone – passengers and crew alike – to play a part in keeping each other safe. This starts with the safety briefing and continues through to lifejacket usage and safety on the zodiacs.
During the pandemic, we watched as COVID-19 spread through thousands of people on large ships. This year, we've also seen the norovirus, which surged on cruise ships, reaching the highest levels seen in 10 years. On the SH Diana, there is an onboard doctor and nurse, and a full-service medical facility. In speaking with them, I learned that even the most minor health concern is taken seriously, so much so that they report all illnesses to the CDC and isolate guests for 24 hours if needed to avoid outbreaks. I had to complete a medical questionnaire before joining the ship. My room was cleaned twice a day, and there are hand washing stations throughout the ship, as well as sanitizer.  On a ship where everyone sees you, there is no hiding when you're sick. 
What do you love most about travelling on small ships? Share with us in the comments below!

Is expedition cruising right for you? Join our free December 5 webinar with Swan Hellenic and find out about this hot trend for women.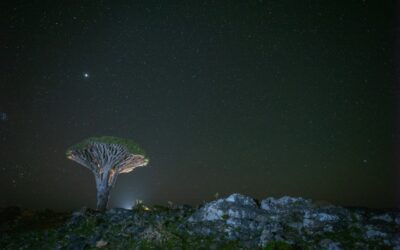 Highlights from 21 days of adventure on Swan Hellenic's SH Diana expedition cruise ship, in Egypt, Jordan, Saudi Arabia, Djibouti and Socotra.
A 21-day expedition cruise from the Suez Canal to the Indian Ocean is an opportunity to see less-travelled places and embrace new adventures.