Last updated on May 6th, 2023
Growth trends include women-only tours, smaller groups and expansion into South America
Women over 55 are driving growth in women's tours, says a new survey from JourneyWoman, the world's largest solo travel publication for women.
"This points to the power of solo women over 55 as a driving force in travel," says Carolyn Ray, CEO, JourneyWoman. "Gen X and Baby Boomer women have the time, flexibility and financial means to travel, and they're not waiting any longer to fulfill their travel dreams, whether in a group or travelling solo on their own."
The survey, conducted among JourneyWoman's global tour operator network in mid-August, shows that over 77% of all bookings in 2022 came from female solo travellers age 55+. Respondents noted that 73% of guests were experienced solo travellers and 53% were first-time solo travellers.
Growth is being driven by Gen X and Baby Boomers, the majority of whom are making booking decisions in a 4-6 month window. The survey also revealed a higher propensity for faster decision making, with 60% of bookings made between two and six months.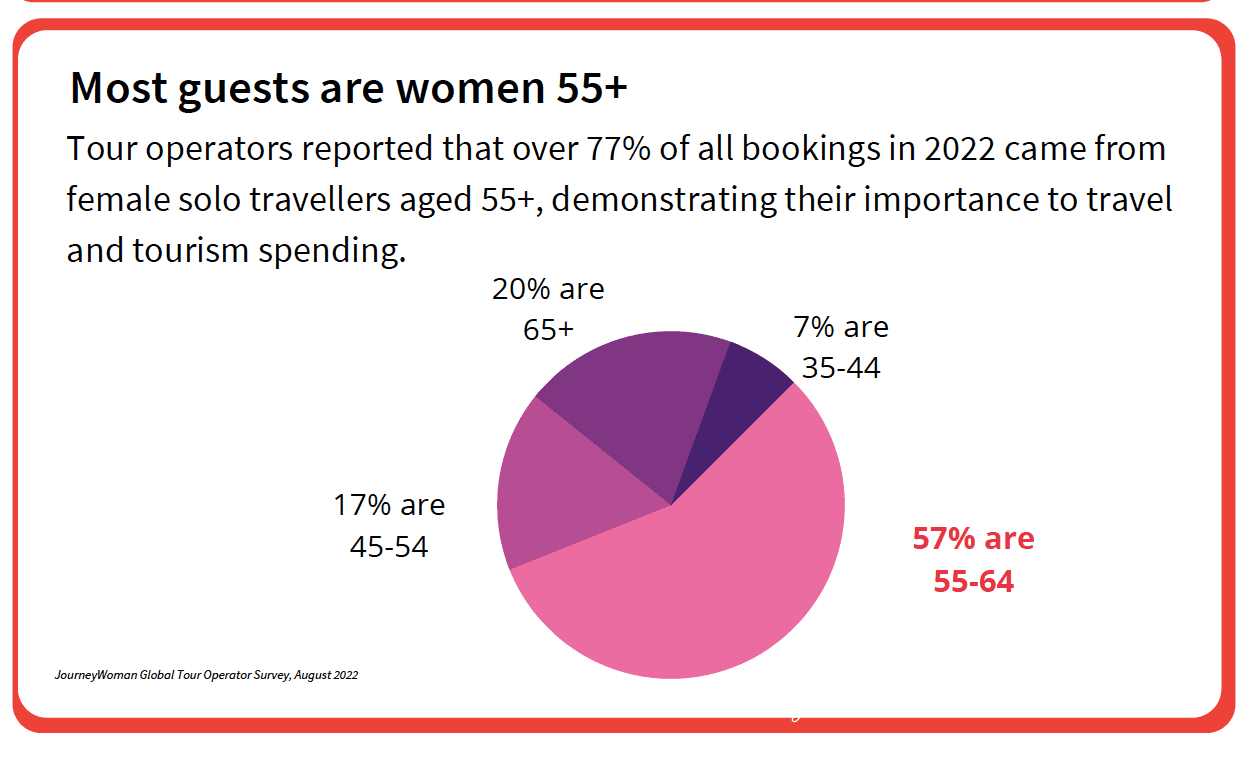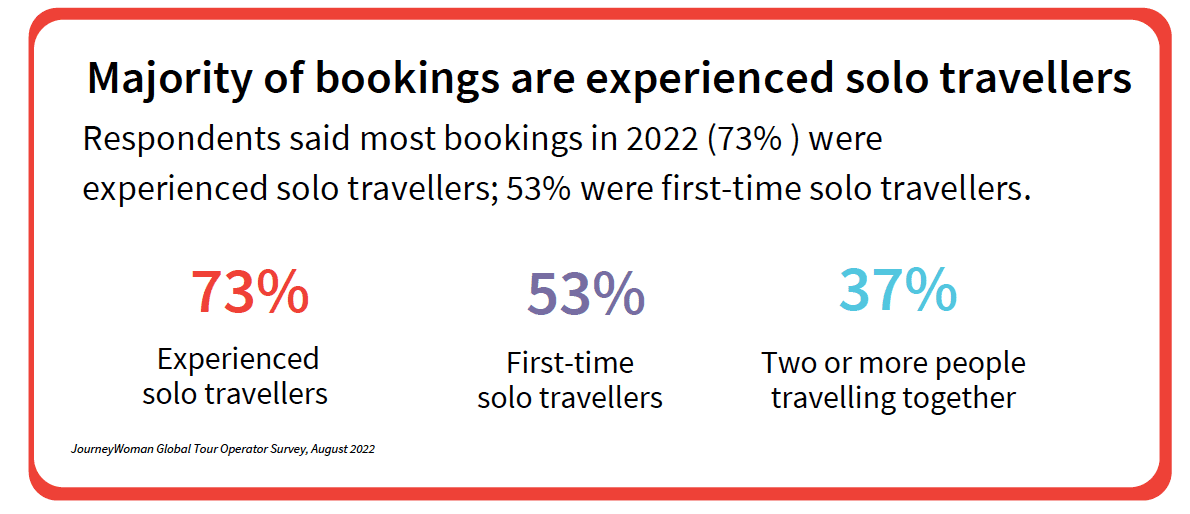 Growth trends include women-only tours and smaller groups
Group travel is often the first step for new solo travellers seeking safe, customized experiences designed by women who understand their unique needs. More than 83% of respondents offer women-only groups, and 60% cite a growing trend to smaller groups.
South America emerges as growth destination
While most tour operators anticipate demand continuing in traditional markets such as Europe, the UK and Scandinavia, attention is turning to South and North America as growth markets.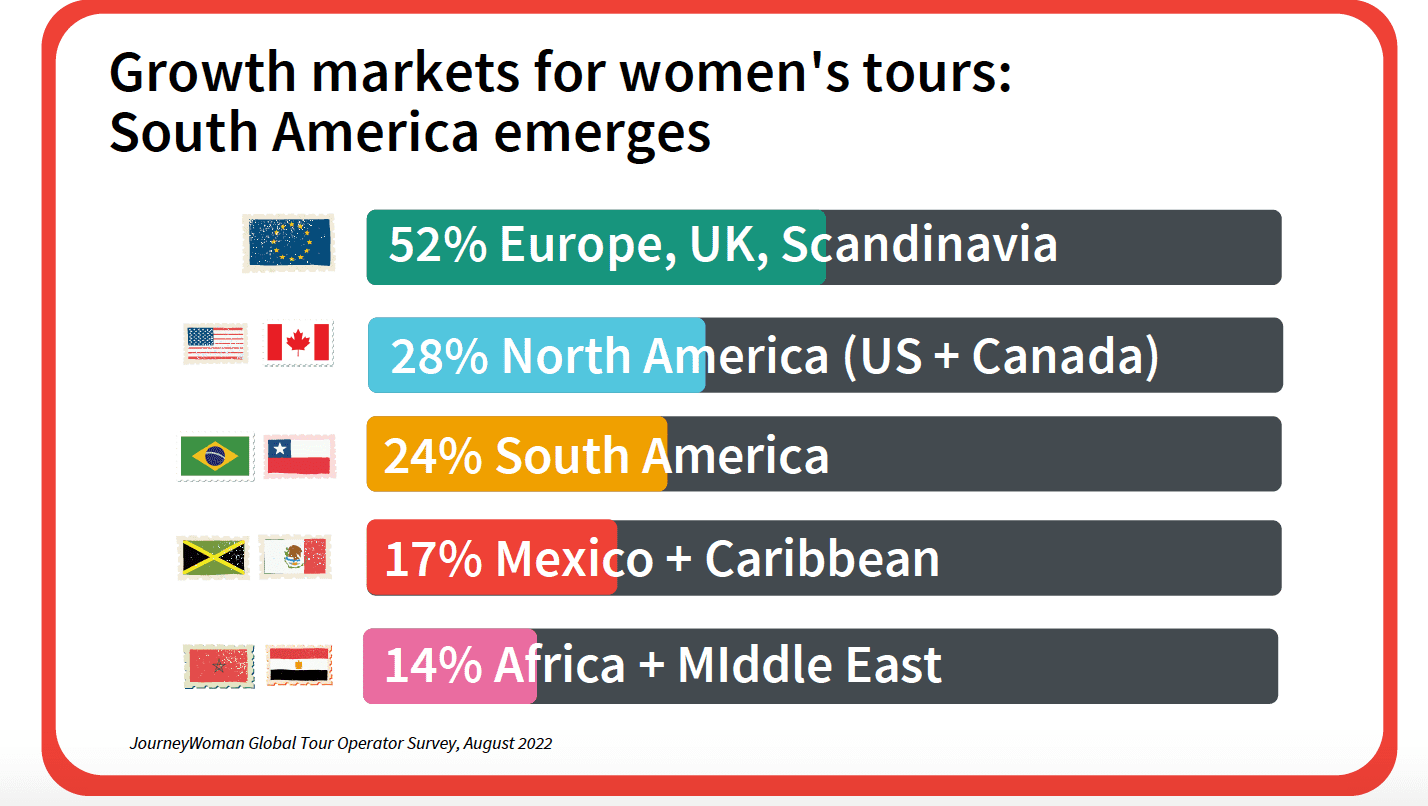 Sales drivers: Reputation, destination and safety 
Reputation was cited by 87% of operators as the top sales driver, followed by destination. Safety ranked just behind destination at 53%, ahead of cost. 
The majority of tour operators (96%) feel very or moderately optimistic about growth, noting that they have fulfilled pre-pandemic demand and turning their attention to the recruitment of new clients. Tour operators report that (unpaid) social media, word of mouth and email marketing are significantly more effective than paid advertising to generate sales.
The world's largest resource for women-friendly travel
JourneyWoman's Women's Travel Directory is the world's largest resource for women-friendly travel, and provides women with a one-stop searchable directory for women's tours, retreats, guides and accommodations in over 100 countries around the world, while supporting small businesses in their recovery from the pandemic.
Book your listing before end of October and use the code WOMEN55 to get $50 off!
Is expedition cruising right for you? Join our free December 5 webinar with Swan Hellenic and find out about this hot trend for women.
read more