Last updated on November 8th, 2022
Featured image: A Porter Airlines plane at Billy Bishop, or "Toronto Island" Airport | Photo by Andrew Scheer CC0, via Wikimedia Commons
Tips for low-stress travel in and out of Toronto
by Carolyn Ray, CEO, JourneyWoman
For those who are travelling to or from Toronto and have heard about the horrific lineups and long waits at Pearson International Airport, I have a little tip for you: consider Toronto's other airport, Billy Bishop Airport (or the "Island Airport" as it's known here).  Located at the bottom of Bathurst Street, Toronto Island was always my first choice for business travel when I had to fly to Montreal and Ottawa because of its proximity to the downtown core. 
From arrival to coffee in the lounge – 12 minutes. No lines, only a relaxed, friendly atmosphere. This smaller airport is located right downtown on Lake Ontario and there is a free shuttle bus to the UP Express train or subway. You can fly to several US cities and within Canada. In a year, an underground tunnel was added, making it accessible to everyone and replacing the ferry which was chilly in the winter! 
I arrived at 630 am and my flight for New York left at 7:55 am right on time, no waiting on the runway. 
I flew Porter, which has always been wonderful since it launched. I love the adorable magazine which has tons of practical tips. Coffee and free snacks like almonds and granola bars. Porter flies a Dash-8 so it's not great for working but the seats didn't feel cramped. 
Upon arrival in Newark (Porter doesn't fly to LGA or JFK), customs was empty and no bags strewn around the claim area. Out in about 15 minutes (I have Nexus but it was still fast). 
Landing at Newark means you can take New Jersey transit to Penn Station, which is undergoing extensive renovations. From Penn Station you can get on the subway and go anywhere you need to. The trip in took about 25 minutes on the train and I took the subway to Grand Central where I had lunch before getting on my next train north.
Tips to get through security quickly
I always use a carry-on bag, packing cubes and Apple Air Tags. Don't overpack your carry-on. If you can't lift it, repack it!
3. I wear a small Lululemon waist bag when I travel across my chest. I only put what I need in it for the airport. My wallet, passport, Nexus card, phone, printed ticket, and proof of vaccination.
4. I use a small shoulder bag or backpack that my waist bag can fit into if required. This is where I keep my sunglasses, computer, medication, books, electronics, chargers, and scarf. I put my name inside every item, even my sunglass case, just in case I forget it.I have an Airtag on all my items including my computer, as I've been known to leave it on the security line. 
5. I pack a flat black purse that works for both casual and formal occasions, nothing too bulky.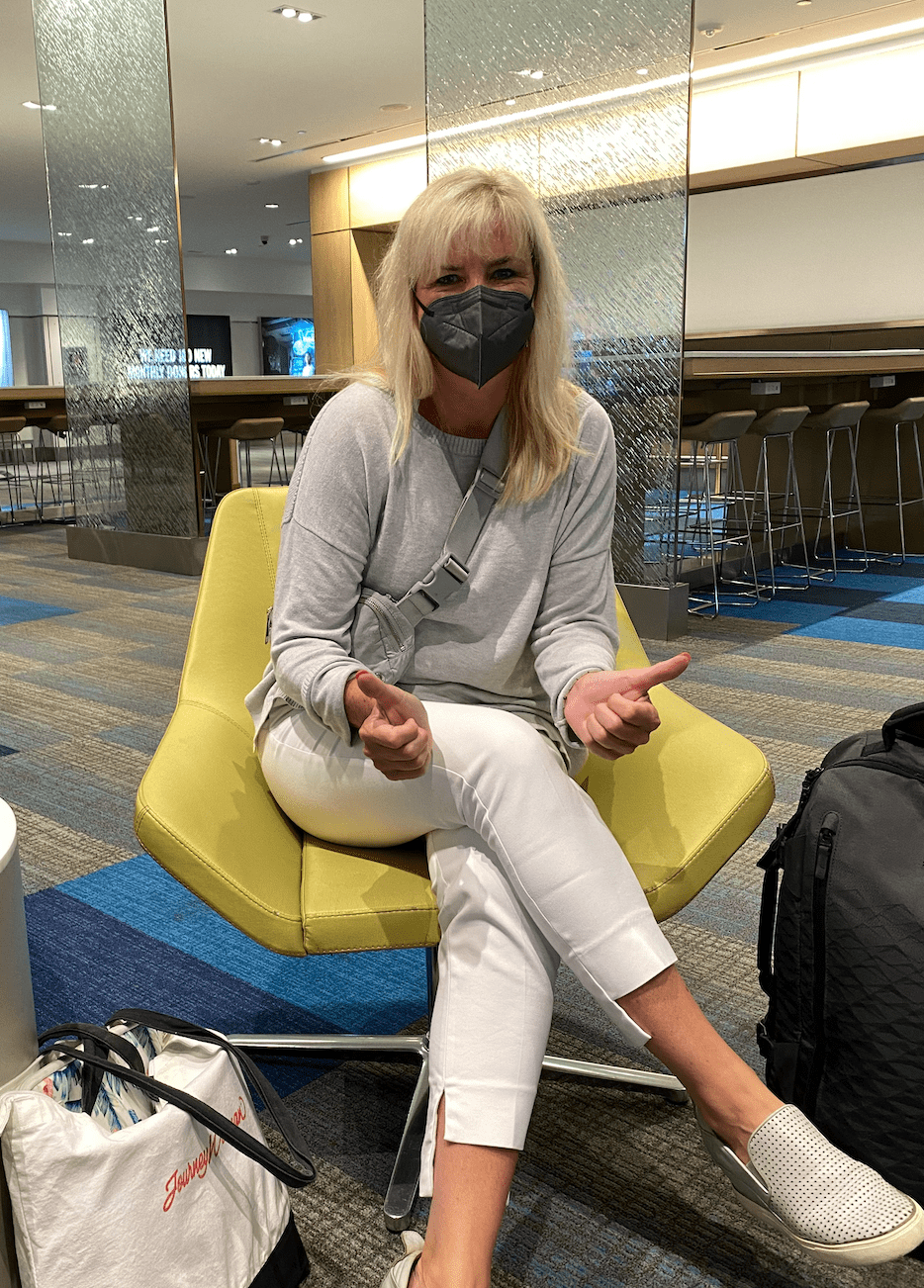 A good start! At the gate in 12 minutes.  
Seven lightweight spinner brands recommended by JourneyWoman readers, sized for carry-on in most overhead bins.
When in New York
However, my biggest aha in New York was about my hotel. 
I only needed to stay in Manhattan one night so I didn't spend too much time looking around. I chose a hotel I've stayed at before in New York on business, the Royalton, for its location, high-energy vibe and stylish rooms.  The cost on booking.com was $200 USD, which fit my budget. 
However, I was in for a surprise. When I arrived in the afternoon, the lobby was completely silent. I couldn't even find anyone to check me in. I walked around for about five minutes, shouting 'hello, is anyone here?' and actually wondered if it was even open.
After I called the main phone number, a woman appeared from the back of the hotel. She told me they had no bar or food service, even though the hotel was fully occupied. There is no timeline of when it will reopen, I was told.
 TIP: Before you book a hotel – check not just booking.com but also the hotel website, which did indicate the bar was closed. Despite having no amenities, that didn't stop the Royalton from charging a $35 facility fee – for what?  Check both the listings and hotel websites carefully, don't book just on price (which is what I did).
The empty lobby of my hotel. 
Returning to Toronto was a breeze
I am still mystified why ArriveCAN is needed.  It has never been user friendly and if feels unnecessary now that testing requirements have been removed. Plus, it adds stress to travel experience. 
I took the train back to Newark from Penn Station on a Sunday morning. The security lineup could have used a lot more hustle and took about 25 minutes. There are limited restaurant options at the departure gate back to Toronto which is disappointing, so consider eating outside security. 
The flight left on time from Newark and arrived early in Toronto, where there was a slight delay waiting for ground support. There are four Nexus machines (one not working) and about 12 regular machines. I was outside within 25 minutes of landing. 
Planning a long-haul trip? Check out our list of the Best Airports For Layovers.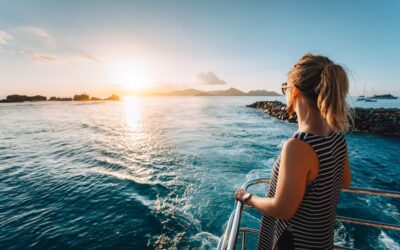 Motion sickness can deter women from adventures, but there are a variety of cures available to help you pursue your travel dreams.
Women share their top pet peeves about flying, including some surprising new additions and ideas on how to be better travellers.
These five day trips from Paris by train will whisk you away for a day of discovery, each into a different universe.