Last updated on November 19th, 2023
Featured image: Tanzila Khan discovers Istanbul is welcoming and accommodating | Photo by Seqoya on iStock
Three things to do on a stopover in Istanbul
by Tanzila Khan
Today, I take you on a delightful stopover in Istanbul, discovering the enchanting tapestry of culture, history, and awe-inspiring sights that this magnificent city has to offer. With its intoxicating blend of old-world charm and modern vibrancy, Istanbul left an indelible mark on my heart. 
As a solo traveler in a wheelchair, I discovered that this city is a true testament to inclusivity, with many tourist attractions and public spaces designed to accommodate everyone. My two-day stay gave me a chance to see that Turkey is slow in investing in accessibility but most of it is directed towards the tourist. Living as a resident is still a challenge to a wheelchair user, though improvements are being made.
Planning a Stopover in Istanbul
Imagine this: You've already packed for your exciting trip to South Asia (or Africa?), but guess what? There's an awesome little twist that can make your adventure even more appetizing! International airlines have come up with a fantastic idea to let you explore more. It's called a "complimentary stopover," and it's perfect for solo travelers who have already booked an international ticket with the airline. 
These stopovers can range from 24 hours to 2 days, and they come with some amazing perks like free accommodation, transport, and even visa assistance, depending on the current offer. If you're up for some additional adventures, this is a fantastic opportunity to make the most of your journey. All you need to do is check the airline's website and get in touch with them for more details. Oh, and don't worry if you're traveling with a disability – they've got you covered too! Just shoot them an email in advance, letting them know your needs. Remember, booking your stopover in advance is a must, so make sure to follow the instructions on the website. 
I find Stopovers amazing because I can send my main luggage straight to my destination and carry a smaller bag for the transit. I had two options, One is called "Touristanbul." It's a planned tour for travelers who have layovers of 6 to 24 hours in Istanbul while flying with Turkish Airlines.
Ready to go? Check flight prices now!
Depending on the day of the week, they pick travelers and take them on a complimentary tour around Istanbul, making sure they get back in time for their flight. But for adventurous wanderers like me, who love exploring new places on their own, another option is called "Stopover." This includes two nights of free accommodation at one of their partner hotels. Of course, for this option, I had to apply and pay for the Visa and arrange my own transportation, but trust me, it's totally worth it. Let me tell you why!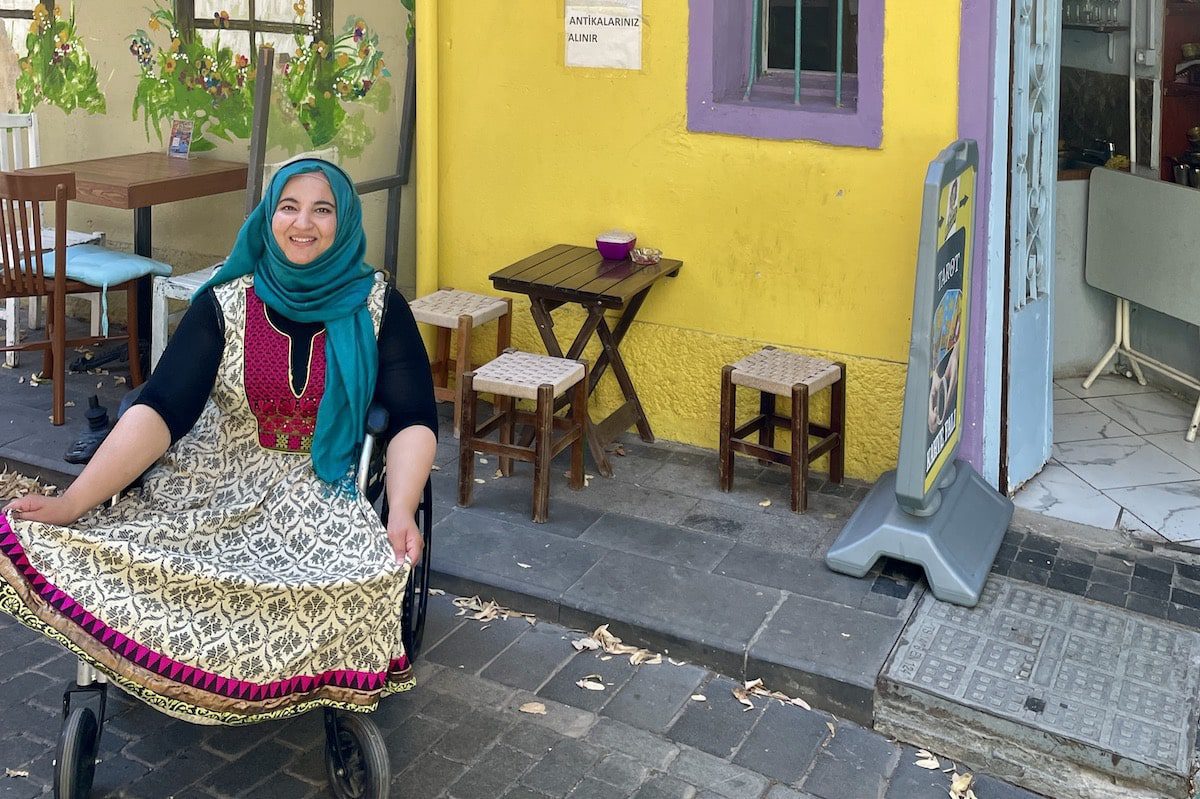 Tanzila in the colourful streets of Istanbul / Photo by Tanzila Khan
Quick notes: Transportation
Istanbul, with its division over two continents, water, and hills, boasts stunning beauty, but transportation can be quite complex. As a wheelchair user, the most suitable options are either taking a meter taxi or Uber if the wheelchair can be folded. If not, the better choices are Big metered taxis or UberXL, as these larger vehicles allow the wheelchairs to be placed inside without folding. 
However, using these options often requires seeking assistance from kind-hearted individuals, who are always willing to lend a helping hand. Additionally, there are other alternatives like buses, trains, and ferries, which are free for wheelchair users. Though these modes have ramps for accessibility, they still lack the complete independence that wheelchair users desire, leading to the need to ask for assistance when using them.

Three things to do during a stopover in Istanbul
1. Basilica Cistern: A Subterranean Serenade
After checking into the Pullman Hotel, and getting a sound sleep with a sheet mask for hydration (One has to be the glowing traveler!), I was ready to explore the city. 
Although I love continental breakfast, I skipped breakfasts both days considering the fact I will be 'on the go' and may not find the best accessible bathrooms. Instead, I just kept some snacks and water in my bag. I took an Uber and my first destination was the Basillica Cistern. It's a historical water system attraction that has recently reopened. It is free for people with disabilities and can be accessed through a lift operated by a second person. Descending into this underground marvel, I was captivated by the soft glow of the dimly lit surroundings. The cistern is a true architectural marvel, supported by rows of towering marble columns that seem to stretch into infinity.
Click here to find local day trips and activities here!
In my wheelchair, I glided along the wooden pathways, admiring the magical reflections of the columns in the water below. Legend has it that if you place your hand on the Medusa-headed columns, you'll be blessed with good luck. I eagerly reached out, hoping for an extra sprinkle of luck in my travels!
Basilica Cistern, Istanbul / Photo by Tanzila Khan
2. Grand Bazaar: A Shopper's Wonderland or a grand show?
For my second destination, I took a tram to the legendary Grand Bazaar, an absolute paradise for shopaholics and culture enthusiasts alike. 
As I rolled through the labyrinthine alleys, I was greeted by a kaleidoscope of colors, fragrances, and sounds. The bustling market is home to thousands of shops, offering a treasure trove of traditional Turkish carpets, intricate ceramics, luxurious textiles, and dazzling jewelry.
Navigating the cobblestone paths in my wheelchair, I felt the warmth of friendly shopkeepers as they proudly showcased their wares. Bargaining is an art here, so I put my negotiation skills to the test and managed to snag some incredible deals! I bought pomegranate tea and donkey milk soap. The Grand Bazaar is not just a place to shop; it's a place to connect with the heart and soul of Istanbul's vibrant culture. I ended the day with having beef steak at a local restaurant and took an Uber back to the hotel.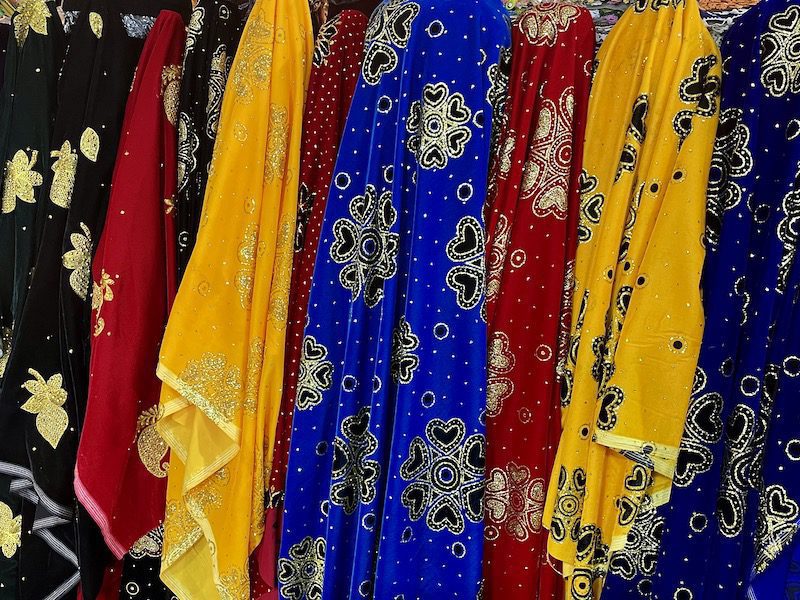 Fabrics on display at the Grand Bazaar / Photo by Tanzila Khan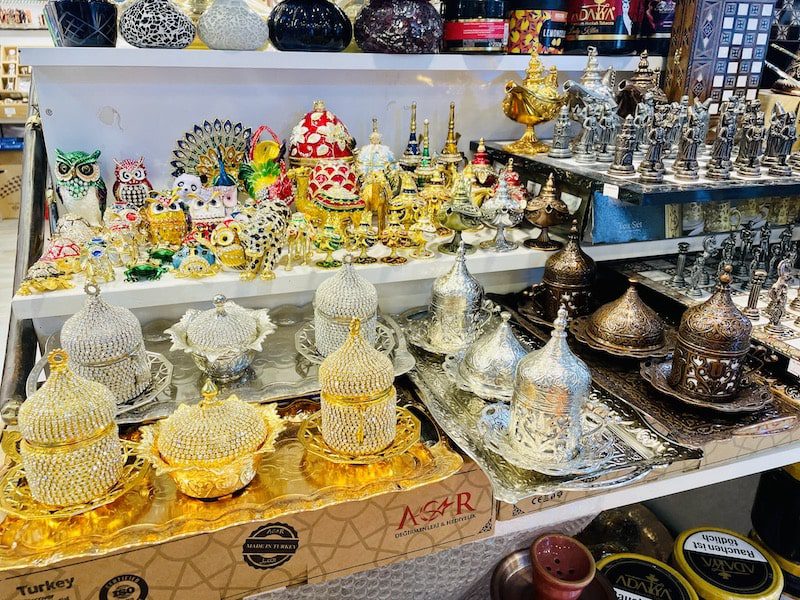 Colorful trinkets for sale at the Grand Bazaar / Photo by Tanzila Khan
3. Miniaturk: Where the World Shrinks
The next day I met some old friends but I had time to see one more place before my flight. Feeling like a giant in this miniature wonderland, I rolled into Miniaturk, a park that brings together Turkey's most iconic landmarks and famous world sites, all in perfect miniature form. Well, who doesn't like doll versions of everything? It's a park that is accessible and also free for wheelchair users. From the majestic Hagia Sophia to the impressive Mount Ararat, every detail was meticulously crafted to awe and inspire. 
As I explored this enchanting park, I couldn't help but imagine myself as Gulliver's Travels (on wheels) adventuring through a whimsical world. The park offers a unique perspective, allowing visitors to appreciate the country's rich heritage and diverse landscapes. A highlight for me was a miniature replica of the Turkish Airways plane that brought me to this wonderful city, as if a nod to my travel journey.
A fleet of planes at a miniature airport at Miniaturk / Photo by Tanzila Khan
Tanzila in front of miniature Hagia Sophia / Photo by Tanzila Khan
Stopover in Istanbul: Just a teaser for a longer trip ahead?
I found more accessibility information from other travelers such as A piece of traveler, Sage traveling and Heytripster that is always helpful to know even if I am exploring like a wanderer.  Whether you're a seasoned traveler or a first-timer, Istanbul promises an unforgettable adventure. 
So, all JourneyWomen, let your wanderlust take flight, and let Istanbul weave its spell on you. Embrace the spirit of exploration, and like me, you'll find that the world is accessible and waiting to be explored – one wheelchair roll at a time!

Read More on Accessible Travel
Can a woman in a wheelchair go on an adventurous hot air balloon ride? Definitely, if you are open to a thrilling journey in the sky.
Our Accessible Travel writer Tanzila Khan discovers that kayaking is possible for adventurous women in a wheelchair, in Stockholm, Sweden.
Accessible solo travel writer Tanzila Khan explores the medieval city of Tallinn, Estonia, and lets the city guide her.