Last updated on November 19th, 2023
Featured image:  An Avalon river cruise on the Danube/ Photo provided by Avalon Waterways
River cruises are a safe, sustainable way for women to travel
By Carolyn Ray, Editor, JourneyWoman
Last December, I took my first river cruise on the Danube as a guest of Avalon Waterways. Normally, I prefer more active adventures like walking the Camino or horseback riding in Banff. Never did I imagine I was the 'river cruise type', but after spending nine days floating down the Danube, I am now a convert. Yes please!
The opportunity to stay in one beautifully appointed room, visit Christmas Markets in picturesque places like Nuremberg, Regensburg, and Salzburg and Vienna without having to lift a finger, and have delicious food served to me every day was just too much to pass up. I loved watching the world go by, reading and writing from my room, and never felt uncomfortable. In fact, the staff were incredibly kind and friendly, making every effort to ensure I was enjoying myself.
Not only are river cruises safe for solo women, they are also a much more sustainable option than ocean cruises. Most river vessels accommodate about 150 guests over four decks, compared to larger ocean cruises, which can carry as many as 5,000 passengers. For example, the largest cruise ship in the world, Royal Caribbean's Wonder of the Seas, has a total capacity of almost 7,000 guests, 2,300 crew, and 18 decks. A single 3,000 capacity cruise ship generates 150,000 gallons of sewage and graywater, enough to fill 10 swimming pools, and more greenhouse gases daily than 13 million cars.
While many river cruise companies have catered to the solo traveller for years, some have recently announced pricing with no single supplement at all, or heavy discounts to attract the single traveller.  Avalon, for example, has waived the single supplement on most Europe departure and select sailings on the Mekong in Southeast Asia. The company also reserves staterooms for each departure to accommodate solo travellers, including its award-winning Panorama Suites. What's not to love?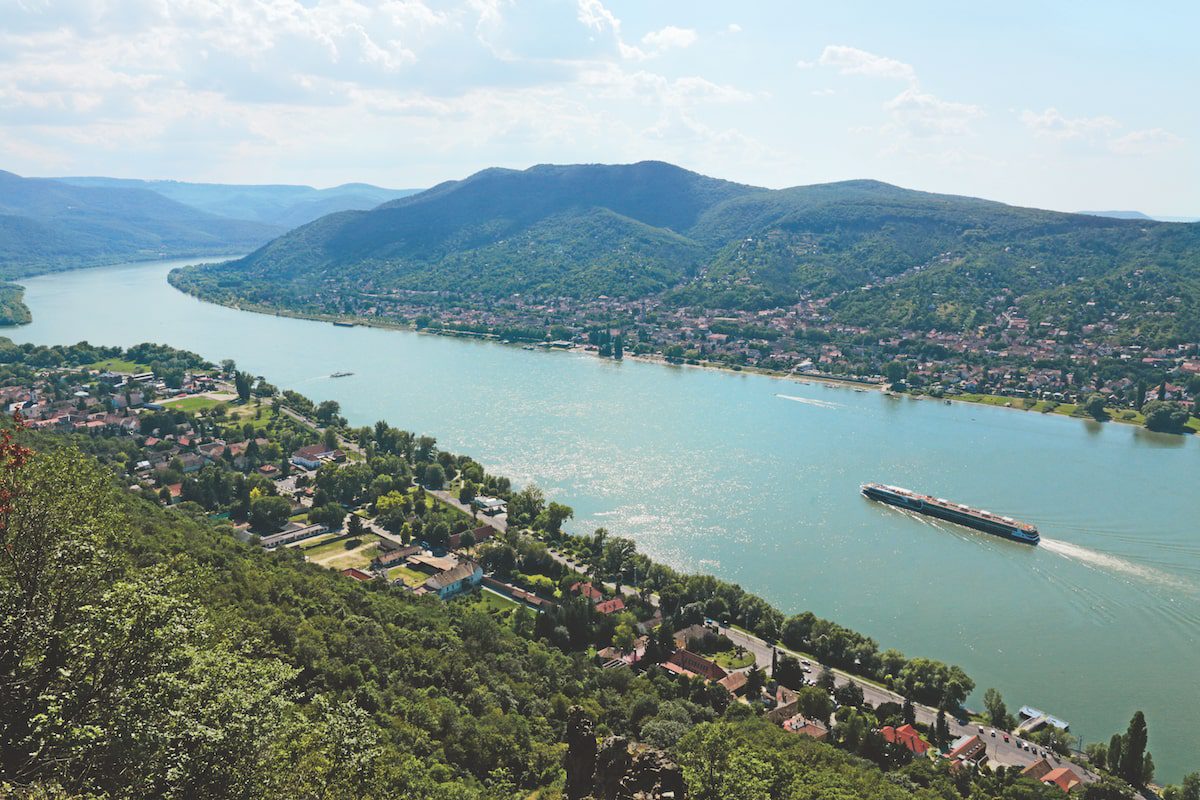 A view of the Danube / Photo credit Avalon Waterways
Why Choose a River Cruise
River cruises have a reputation of being pricey. But when you consider what it costs for accommodation, guides, food, beverages and service, a river cruise can actually be surprisngly cost effective when you look for deals. Just make sure you read the fine print.  The one thing to note is tipping, as mentioned below.
The views alone are worth it. There is no bad view (or bad room) on a river cruise because there are usually only three or four floors, all above water. Even in November, I loved sitting with the windows open in my room, watching the world go by. And if you haven't been through locks, that's fascinating too.
1. When to go: While many river cruises happen in the spring and fall, December was the perfect time for me – less crowded than the summer, and an opportunity to get to know my fellow passengers and the crew. For those who prefer cooler temperatures, May, June and September are recommended times.
2. Look for deals: Most river cruises, including Avalon, offer rates for solo women. Some even offer special rooms for one person and roommate matching, although I can't imagine sharing a room with stranger.  (Read Which River Cruises Cater to Solo Women – coming soon ) 
3. Room size: Check the floor maps and diagrams to understand the size of your room and whether it has windows or a deck. Avalon's Panaroma rooms have floor-to-ceiling windows and a sliding door, which was wonderful because I had more space in the room. The room and bathroom is very well designed to help keep everything in its place. 
4. Accessibility: There are elevators on the boat but getting on and off can be challenging for anyone in a wheelchair. This is especially true when you have to walk across other boats at the docks. Bathrooms are also small, accommodating one person at a time, with showers only to limit water consumption. On my ship, there were no accessible rooms. 
5. Check the itinerary before you book: On Sundays, the shops in many of these smaller towns are closed by law, as in Germany. By changing from an eastbound to westbound journey you might have more options.   
6. Many food options: The food is plentiful and delicious. I especially liked the coffee and tea stations at the stern, which had tables perfect for chatting or working. There is a choice of selections for each meal, including vegetarian options.
There are elevators on all floors except to the roof/ Photo credit Avalon Waterways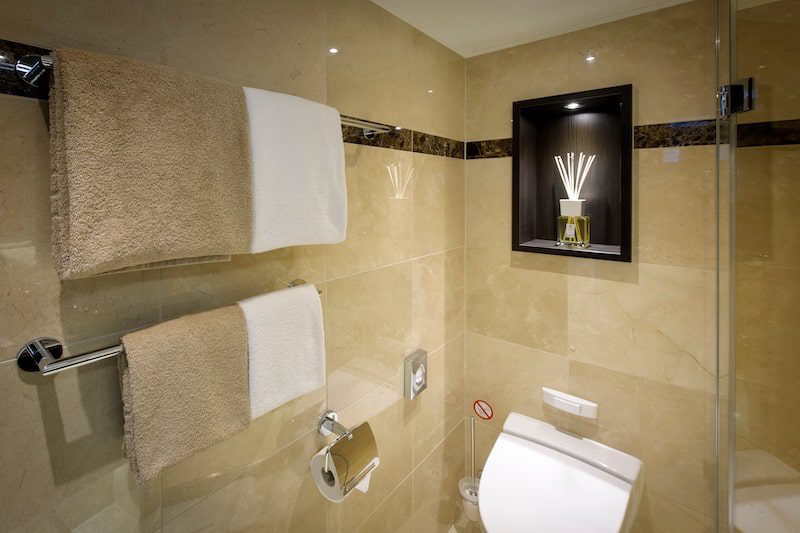 Bathrooms are as spacious as most hotels / Photo credit Avalon Waterways
7. Tipping: You will need to tip the cruise director, and the staff, including the room stewards and the restaurant staff. The recommended rate for the crew is €12 per day, per person and €3 for the cruise director, per day, per person. Gratituties are not equired for local guides, but it's always a nice idea. In all cases, cash is preferred, so make sure you have some on hand the night before you leave the ship.
8. Weather: Wherever we go in the world, the weather is our invisible partner. In 2022, drought caused disruption to the Danube and other rivers. In November and December the weather was mild but not as cold as Canada. Bring an umbrella or poncho for the rain, like this one from Frogg Toggs.  
9. Pack carefully: There are strict requirements for luggage given the space in the room. On my boat, you could only bring one piece of large luggage. Most people wear casual clothing, although I did try to dress up a little for dinner. My bag fit easily under the bed. 
10. Bring everything you need: There is no 'ship's store' on board. Make sure you bring everything you need, including all of your medications.  
11. Wifi and cellular service: There is free wifi on board, but it doesn't always work well. When you're passing through fairly remote areas and concrete locks, you can lose cellular service, sometimes for several hours.
Stay connected anywhere in the world with an eSIM from Airalo. Learn more here!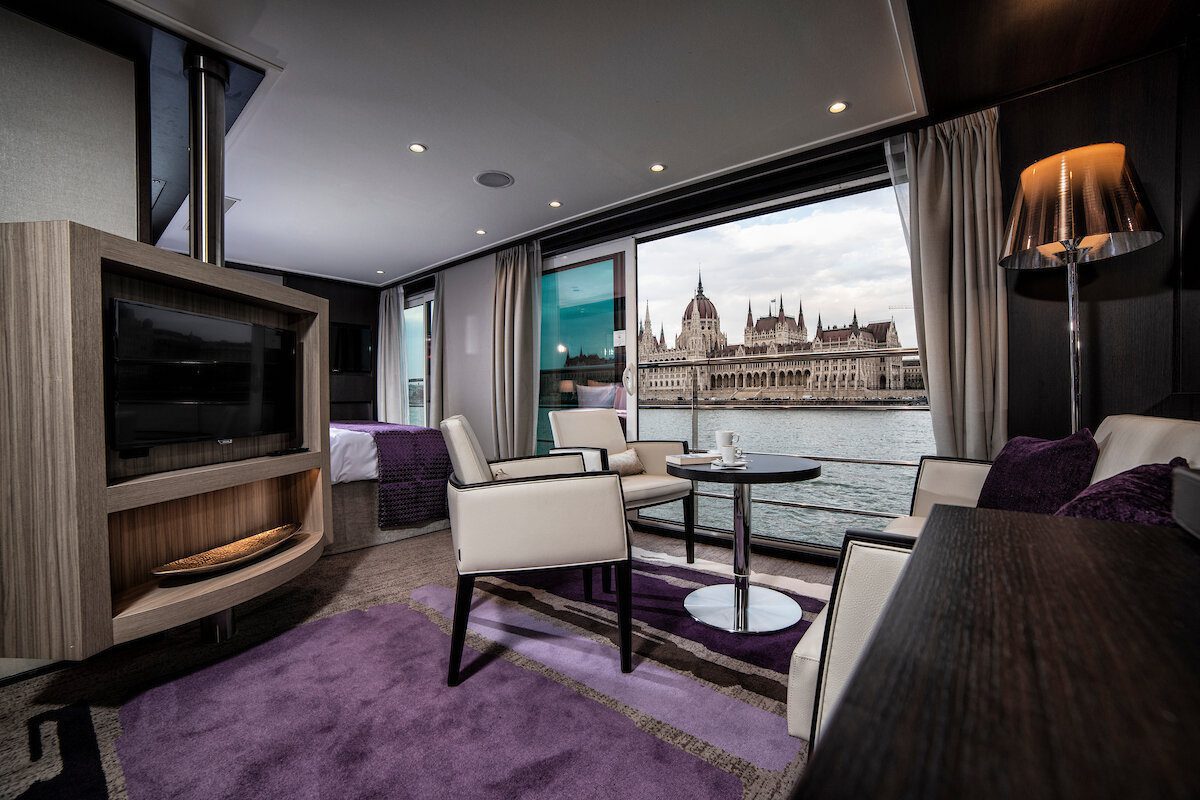 A suite on Avalon's ships / Photo credit Avalon Waterways
12. Checking in and out: You need your room key to check on and off the boat, so don't lose it!  Also, make sure you are on the right boat, as many look similar. On our trip, four people accidentally went on another ship that looked similar. Fortunately, they were given a room overnight but had to spend the night without any of their things.  
13. Stay in Vienna or Prague before or after: I spent a week in Prague prior to the river cruise and four days in Vienna afterwards. I'm so glad I added on those days to explore these cities. Avalon also had great tour guides so I learned even more in both cities. 
14. Travel by train: In Europe you can travel easily by train and bus, and it's more enjoyable. Try to avoid short-haul flights and take the train if you're spending time in different countries. Book ahead to get the lowest rates. Most train services offer seniors discounts for those over 65. Get your train tickets here!   
15. Enjoy every moment!  River cruises are a wonderful way to explore the world at your own pace in a small group setting, particularly when compared to ocean liners. Best of all, you only have to unpack once. 
Disclaimer: I was a guest of Avalon Waterways who covered the cost of the river cruise, with the exception of tips and travel insurance. Avalon did not review this article prior to publication. 
Learn More About River Cruises
Is expedition cruising right for you? Join our free December 5 webinar with Swan Hellenic and find out about this hot trend for women.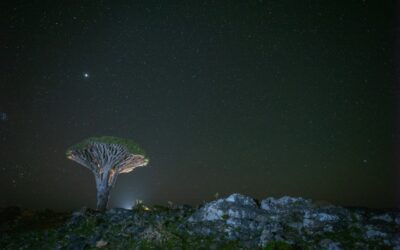 Highlights from 21 days of adventure on Swan Hellenic's SH Diana expedition cruise ship, in Egypt, Jordan, Saudi Arabia, Djibouti and Socotra.
A 21-day expedition cruise from the Suez Canal to the Indian Ocean is an opportunity to see less-travelled places and embrace new adventures.