Last updated on November 19th, 2023
Featured image: Ariel view of the Amazon River in Ecuador | Photo by wirestock on Envato
Magical encounters in the Amazon
by Carolyn Ray
I'm in a motorized canoe in the Amazon when I hear: "In the trees! Look up!" A spread-eagled squirrel monkey leaps above our heads, flying in mid-air to crash into a palm tree. Mouth agape, I squint into the sun, as three more monkeys follow the first, each one hanging on to nearby bushes. Over the next 10 minutes, more monkeys scatter above our heads as we giggle like schoolchildren enjoying their antics.
It's experiences like this that make Ecuador's Amazonian region so special. As a first-time visitor, I'm enthralled by the diversity of plants, trees, insects, bees, mammals and yes, even spiders that I've seen in my four days in the jungle. From rare sightings of pink dolphins (a sign of a healthy ecosystem), to fishing and swimming with piranhas to watching pink tarantulas that blend into tree trunks, the Amazon overwhelms me with magical encounters and invites my adventurous side out to play.
Surprises in the tropical rain forest
Ecuador's Amazon region may be lesser known that its Peruvian counterpart, but big surprises await for women adventurous enough to brave its frothy waters, black lagoons and tropical forests. It's only a short 35-minute flight from Quito to Coca, close to the border of Peru.
I'm on the Amazon Manatee Explorer riverboat, which has 10 rooms named after the creatures that live in this region, like Dolphin, Jaguar and Anaconda, my room. The suites are comfortable, with two single beds, a bathtub and a small patio to sit outside and watch the world go by. Over four days, we travel down the murky Napo River in Ecuador's second largest national park, Yasuni National Park. Created in 1979, this park is the second-largest in Ecuador after the Galapagos Islands National Park.
Edwin navigating the Capo River, a tributary of the Amazon River / Photo credit Carolyn Ray
The significance of the Amazon Basin
Only three per cent of the Amazon is in Ecuador. Typical features of the Amazonian region include a tropical climate, gigantic trees, a canopy ecosystem and lush vegetation on the ground.
In Coca, 1200 rivers merge to create the Amazon Basin, which feeds into the Amazon River and flows down the bottom of South America, a journey that takes nine months and pushes out 300 km into the Atlantic Ocean. My guide, Alex Aguinda, lives in this area and has worked in tourism for 14 years. He calls this area one of the seven natural wonders of the world, saying that 23 per cent of the world's fresh water and oxygen is created in this area.
Biodiversity on display 
The Amazon is incredibly diverse – home to 191 mammals, bats, insects, and other animals. It's no wonder that  Darwin wrote the Origin of the Species after visiting this area along the Equator, which is a nexus for flora and fauna over one million hectares.    
Days start early, around 6 am, the best time to see wildlife before the days warm up. After a light breakfast, I'm on the riverboat and by 9 am, I've seen an astonishing array of mammals, bats, birds, insects and fish. While some are familiar to me, I see pink tarantulas that blend into tree bark, green tree frogs that resemble leaves and brown long nosed bats that blend into logs. Then there are barber shop bees, catydids, bullet ants, caimans and snakes. 
Our motorized canoe driver, Edwin, read the currents skillfully, guiding us around sandbars and tree branches floating downstream. He tells me that the river changes every day, determined by the rain in the Andes. Today it is two feet deep, but tomorrow, it may be impassable.
One sunny morning, our group is treated to a rare sighting of two pink dolphins in a black lagoon. I am astonished to learn that their cervical bones in their necks have adapted to bend around underground tree branches. Above me, howler monkeys relax in 300-year old kapok trees high above the forest. These howler monkeys are red, not black as in the Pacific zone. It's a place of adaptation and evolution, much like the Galapagos.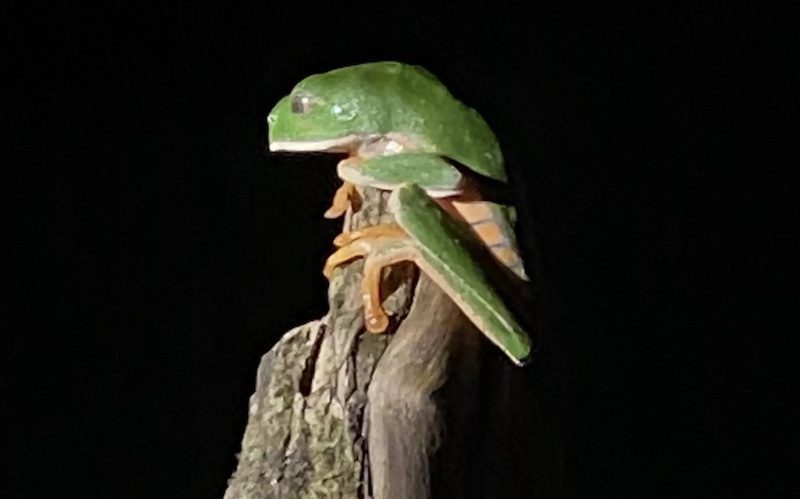 A tree frog that looks like a leaf / Photo credit Carolyn Ray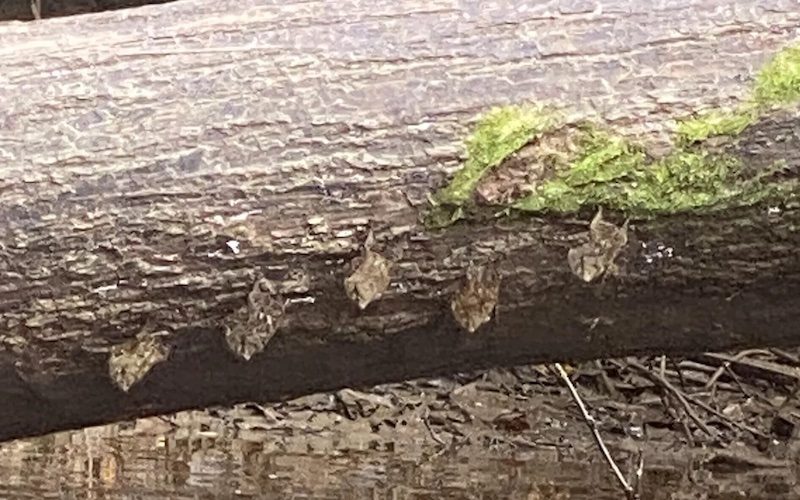 Brown-nosed bats that resemble leaves on a log / Photo credit Carolyn Ray
Everywhere in the forest, insects, trees and animals co-exist together.  Wiffle birds build nests with wasp nests on nearby branches. For some reason, the wasps don't sting the birds, so it's a safe place for their babies. In the woods, anthills are next to wasp nests, yet one doesn't disturb the other.
One morning, around 7 am, we wait on the river below a parrot clay lick, a clay rock where parrots come to lick minerals like salt and potassium to help them digest food and neutralize toxins.  It has rained the night before making the lick too wet for the usual crowd, but just watching the green parakeets and parrots is entertaining. Our guide tells us that often, snakes will hang in the trees waiting for an opportunity for lunch.
Ecuador's Indigenous peoples
In Ecuador, there are 10 different Indigenous tribes that speak seven different languages.
Most of this country was invaded by the Incas and then colonized by the Spanish. All the staff is from this area, including the Captain, who points out his village as we float by, as does our guide Alex Aguinda, who has lived in this area for most of his life.
"This is my neighborhood," he says, as we drive by a group of islands on the Napo River. "Now is the time to come to the Amazon," he says, so that we can learn to do something for our our planet and for generations. Sustainable thinking is the future."
During the pandemic, the Indigenous people developed their own treatment for COVID long before the western world had a vaccine. Made from a blend of sugarcane, tree roots and herbs, they were able to treat themselves until vaccines were available.
We spend a day at an Indigenous interpretation centre, learning about culture, food and farming. Ania is one of the female guides, and shows us how she cultivates and cooks beetle larvae over a fire, along with Chica juice, which is made from fermented tubers. I enjoy the juice but can't swallow the crunchy beetle, although I try!
With my Amazon guide, Alex / Photo credit Carolyn Ray
Each woman has her own machete, which is used for multiple purposes, including cooking, gardening and handicrafts. Life here is primitive by our standards, but the women are close. They work together, laugh and share responsibilities in the community.
Who should come to the Amazon
Aguinda says that the people best suited to come here tend to be active learners who are curious about nature.
"A couple arrived one evening, and asked when we were going shopping," he says. "When I told them we were going into the forest, they hired a private boat and left. You have to be the right kind of person to come here."
The next morning we leave at 7 am for a leisurely trip along a black river en route to Pañacocha, otherwise known as Piranha Lagoon.  After using a line and some raw meat to fish for some piranha (I catch one), we hop in for a swim, trusting that the piranha are not interested in us. Afterwards, Aguinda tells me that it's the electric eels that live in the mud bottom that he really fears, a fact I'm happy I didn't know in advance.
At the end of the cruise, I am given a certificate that says I'm now an Amazon explorer, and to be an ambassador for the region, asking me to promote the conservation of this magical destination by choosing responsible tourism, signed by Captain Raúl Garcia, signed in the province of Francisco de Orellana, the country of the Four Worlds.

How to get to the Amazon in Ecuador
To reach this area, you'll fly from Quito to Coca. Driving is more expensive and takes significantly longer as it is through the mountains. Find a flight here.
There are many lodges in this part of the Amazon but my preference is to be on the water. I loved waking up in the mornings and sitting on the small balcony on this small ship enjoying my first coffee, watching the water rush by.
The Manatee Amazon Explorer and its sister ship, the Anaconda, can about 30 people. There are four suites on the top floor with sliding doors and small patios. Meals are included, but tips are not, so you'll need to bring US cash. If you're on a tour like this, the cost of the airline ticket is included in the boat trip and they will pick you up at the airport and take you to the boat, which is about two hours on a riverboat.
There is no cell service in this area. The boat offers wifi for an exorbitant fee but it only allows for text messaging. Don't do it! Enjoy the solitude.
Keep your packing light, knowing you will probably wear the same clothes every day. Shoes aren't permitted on the ship but bring hiking shoes. Water shoes aren't needed as boots are provided on the ship for muddy areas. Bring all medicines and menstrual supplies, as there is no shopping and no pharmacies.
At night, the Amazon Explorer ties to the side of the river/ Photo by Carolyn Ray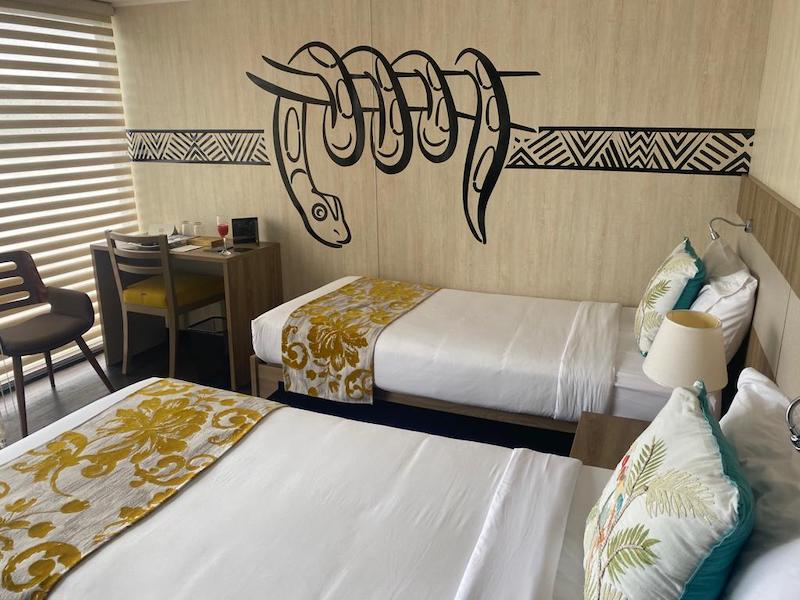 Room with a view on the Amazon Explorer / Photo by Carolyn Ray
Disclaimer: On this four-day trip, Rebecca Adventure Travel assisted with planning and provided a discounted rate on this experience as part of my travel during five weeks in Ecuador, most of which I funded. Learn more about the four and five-day Manatee Explorer trips here.
Adventures in Ecuador's Amazon Basin, the Andes and the Galapagos Islands show us that travel is a two-way relationship.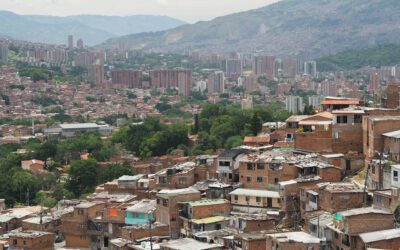 Set in South America, our February Book is Isabel Allende's "Eva Luna" which explores the transformative power of words and stories.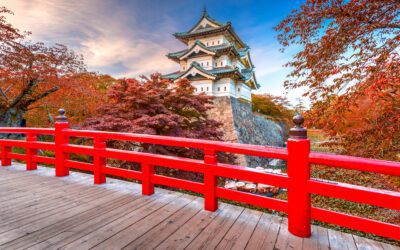 When it comes to 2023 travel, 12 countries top the list for solo women over 50, according to our latest survey results.