Last updated on November 17th, 2023
Featured image: Brookgreen Gardens in South Carolina, one of the 60 gardens featured in Lonely Planet's "The Joy of Exploring Gardens" guidebook | Photo provided by Lonely Planet
The world's most beloved gardens to uplift, thrill and inspire your travels
by Carolyn Ray
Losing yourself in a garden, whether it be your own or another's beautifully nurtured creation, is surely one of life's greatest joys. Lonely Planet's new Guide, "The Joy of Exploring Gardens"  takes readers on a journey to some of the most enchanting and awe-inspiring gardens across the globe and is a celebration of the uplifting effect of nature and its ability to bring joy to our lives. 
From the desert landscapes of Arizona's Desert Botanical Garden, the native bush at the Australian Botanic Garden in Mt Annan NSW, the eco-sanctuary of Zealandia in Wellington, to the ethereal woodlands of the UK's Lost Gardens of Heligan and the ornamental splendour of Japan's Kenroku-en, this book showcases a diverse range of gardens that cater to different passions and interests.
"Whenever I travel, I always make a beeline for a destination's botanical gardens, parklands or significant green spaces," says Chris Zeiher from Lonely Planet. "These botanical oases' always reveal something unique about that destination and provide much-needed respite and renewal when you're setting a hectic pace on the road. Gardens have the incredible power to make us feel excited, awed, inspired, serene, exhilarated, rejuvenated, and joyful."
When is the best time to see your favourite gardens?
The book contains 60 remarkable gardens from all corners of the world, and 120 ideas for inspiring green spaces to visit. While we may know renowned gardens like Monet's House and Garden, the High Line, and the Jardin Majorelle, this book also uncovers many hidden gems and goes beyond botanical gardens to include sanctuaries, forests, sculpture gardens, and rock gardens – all green spaces for us to find joy and solace in. 
A month-by-month guide to gardens 
January – Bosque Humido Tropical, Bogota, Colombia
The largest botanical garden in Colombia is not only a serene escape from the capital city's hectic streets but also a journey around the country through its plants, trees, and medicinal herbs.  The signature exhibition area is the futuristic Tropicario, the largest greenhouse in South America, encompassing six glass domes – one reserved for changing exhibitions, the others recreating specific botanical environments found across the country.  Learn more here.
February – Babylonstoren Citrus Garden, Cape Town, South Africa
The inspiration for the town's company garden Babylonstoren was a similar garden planted in 1652 by the Dutch East India Company when it established a settlement at the southern tip of Africa.  Everything in Cape Town's Company Garden (which still exists) was edible and had medicinal value, and it's the same at Babylonstoren, one of the oldest working farms in the Cape Winelands.  When you go, enjoy the rambling roses on the garden's 48 pergolas. More here.
March – The Alcazar, Seville, Spain
Walking through the gardens of Seville's 1000–year–old Christian-Moorish royal palace complex could rank as one of Spain's most majestic strolls. Like the regal buildings they complement, the lush green spaces have grown organically through the ages. Today, they fill 14 acres (6 hectares) and contain over 170 species of plants from honeysuckle to fig trees. Don't miss walking through the maze and strolling along the Galeria de Grutesco. Learn more here.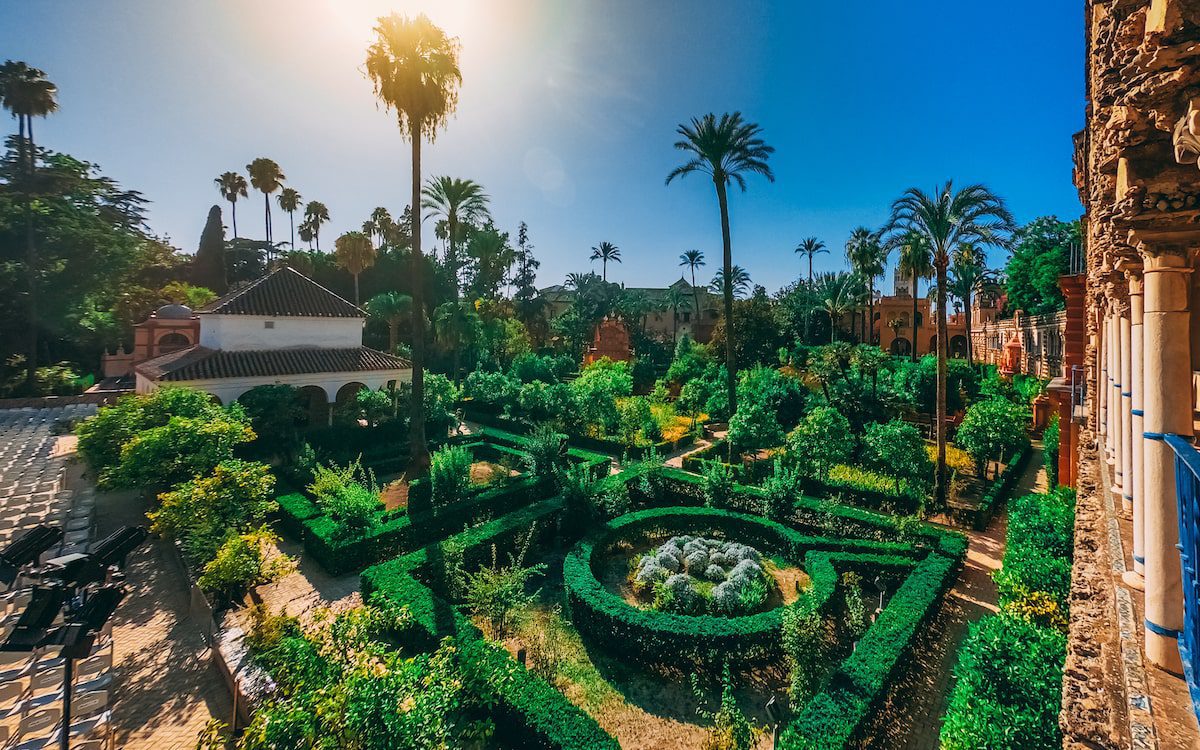 The beautiful gardens in Royal Alcazar, Seville / Photo by wirestock on Envato
April – Koko Krater Botanical Garden, Honolulu, Hawaii, USA
While eastern O'ahu is best known for snorkelling and bodysurfing, 'it's walking the 2.3. mile (3.7km) loop trail inside Koko Crater that will appeal to plant lovers.  Here you'll find tropical colours, intense fragrances and bizarre shapes that invade and intrigue the senses, from yellow and pink plumeria to bat-pollinated African sausage trees and sprawling octopus cacti. While the gardens are lovely year-round, plumerias bloom from April to September.  More here.
May – Spirited Garden, Jeju, Korea
As you enter the Spirited Garden, it's as if you've passed through a portal into a fantasy botanical world. You'll feel delight and wonder as you stand on the bridge gazing down onto the pond teeming with golden car, Basalt stone pathways lead you through a landscape of pines, palms, lawns, meditative areas and waterfalls. And all around, displayed in pots are artfully contorted miniature trees and shrubs: bunjae, the Korean style of bonsai.  In May, wisteria blooms are at their finest. More here.
June – Arctic–Alpine Botanic Garden, Tromso
,

Norway

The Arctic Circle is not an easy place to be a plant. Except in Tromso's Botanical Garden, that is.  Located 217 miles (350km) above the Arctic Circle at 69.694°N, this northern oasis exists at a latitude that would have most sensible plants shrivelling in their roots. It's 714 miles (1149 km) north of Oslo, and cloaked in snow most of the year – and yet the garden offers a profusion of floral colour more reminiscent of a midsummer day.  The experience is as awe-inspiring as it is bewildering. Don't miss seeking the super-rare Himalayan blue poppy. More here.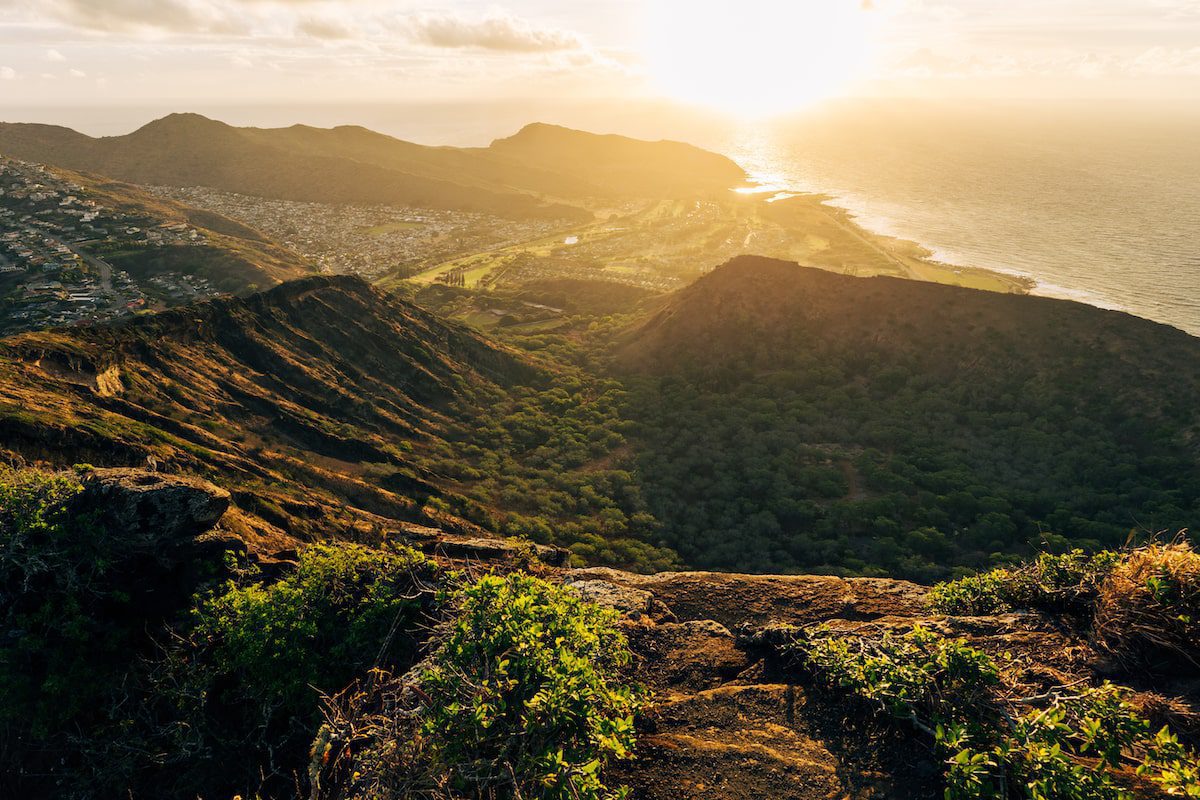 Koko Crater botanical garden at sunset / Photo by wirestock on Envato
July –  White Garden at Sissinghurst Castle, UK
White, green, grey and silver: these are the only colours that writer Vita Sackville-West permitted in her White Garden at Sissinghurst. It's a bold, much-copied concept for a garden, one that evokes purity while creating drama through the juxtaposition of a rich variety of shapes, textures and forms. Walk the box hedge-lined paths between borders out of which grow such diverse blooms as gladioli, irises, pompom dahlias and Japanese anemones and imagine this garden as Vita di- glowing in the moonlight. More here.
August – Kirstenbosch National Botanic Garden, South Africa
If you could click your fingers and magic up a garden encompassing all of South Africa's diverse wonders, you would end up with something a lot like Kirstenbosch. This legendary botanical garden is abuzz with wildlife, alive with unique plants and blooms and framed by the jagged and familiar profile of South Africa's most famous summit.  Today it harbours over 7,000 of South Africa's native species.  Enter and feel your pulse tangibly slow as the noise of Cape Town melts away to a murmur. More here.
September – Royal Botanic Garden, Sydney, Australia
Forget any fuddy-duddy ideas about a day out in a botanica garden. The Australian Botanic Garden, southwest of Sydney is unlike anything you could imagine. For starters, although it's in the middle of the fastest growing residential regions in the country, it's managed to remain an oasis of undulating green countryside and gardens.  What was once old farming land, with just a patch of endangered native vegetation left, has been transformed over 40 years into a garden that showcases native plants across Australia's vast continent. Learn more here.

October – Nek Chand's Rock Garden, India
Nek Chand's Rock Garden in Chandigarh is like nowhere on Earth. Imagine prising open an artist's head and climbing into their imagination – that's the experience of diving into this surreal collection of sculptures, fantasy pavilions and maze-like pathways. Though there's hardly a flower bed in sight, a hoarder's trove of recycled rubbish has been transformed into a fascinating facsimile of real life.  It's the kind of garden an astronaut marooned on the moon would build as a reminder of home – an apt analogy perhaps, as this was all the work of just one person. Don't miss swinging on rope swings in the garden's arches. More here.
November – Kenroku-en Garden, Kanazawa, Ishikawa, Japan
Begun in the early 17th Century by the feudal lords of Kaga, Kenroku-en was crafted over 200 years before it opened to the public in 1871. Its name which means "combine six gardens" refers to the sextet of attributes it perfectly embodies: seclusion; spaciousness; artificiality; antiquity; water courses; and panoramas. Designed as a classical strolling garden, it has specific geographical features, including streams connecting several ponds and man-made hills planted with a rich variety of plum trees. Learn more here.
December: Brookgreen Gardens, South Carolina 
Founded by Archer and Anna Hyatt Huntington in 1931, this 14-square-mile property protects an area of South Carolina's Low Country region of salt marshes, live oaks, longleaf pines and heritage sites of the Gullah-Geechee people.  On Thursday to Sunday evenings in December, the majestic Live Oak Allée at Brookgreen Gardens is transformed during the Night of a Thousand Candles, when twinkling white lights sway beneath the branches of 250-year-old trees, casting a haunting glow across the Spanish moss. More here.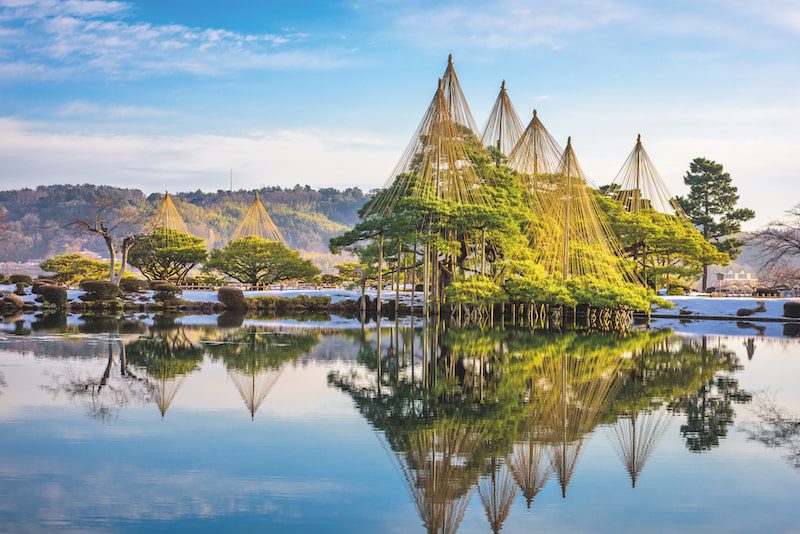 Kenroku-en Garden, Japan / Photo provided by Lonely Planet

More Off-The-Beaten Path Destinations to Discover
Our Accessible Travel writer Tanzila Khan discovers that kayaking is possible for adventurous women in a wheelchair, in Stockholm, Sweden.
Five spectacular gardens in France, including Versailles, the Monet Gardens at Giverny, and Villa Ephrussi de Rothschild in southern France.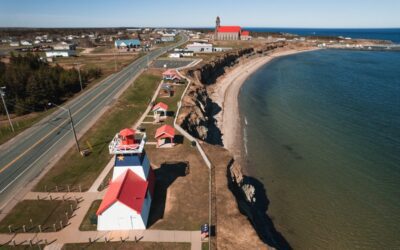 Located in New Brunswick, the stunning Acadian Peninsula Veloroute is a network of 14 cycling circuits perfect for a three-day trek.