Last updated on November 30th, 2023
Featured image: Carla Geyser and Erica Ward having fun in the Kruger National Park area | Photo provided by Carla Geyser
Reflections on the passion and power of women to protect wildlife
by Carla Geyser, Founder, Blue Sky Expeditions 
It's never too late to be spontaneous or to redirect your life. This was a lesson I learned a few years ago after hearing about the unprecedented poaching of our elephant and rhino populations. Animals were being killed daily in tragic numbers. It made me feel helpless, but also, that I couldn't just sit back and do nothing. I had to take some action. 
I decided I would go into Africa – but I would do it differently. I wanted to share the magnificent beauty of Africa with international travellers but at the same time provide them with unique exposure to a range of specialized conservation experiences. I hoped to lead like-minded women of different ages and stages in their lives; anyone bonded by a shared love of the open road and a passion for wildlife and wild places. 
I wanted to visit people working in conservation and experience first-hand the often incredibly difficult, but rewarding, work they undertake. I believed that by collaborating together, women could help provide resources for important conservation projects and help weave a powerful web of support for these incredible wildlife heroes.
Creating the Blue Sky Society Trust
I started Blue Sky Society Trust in 2012 – I had always wanted to do more for conservation since growing up. My Dad and I always used to talk about starting a "club" and calling it the Blue Sky Society; it would be about being positive and focussing on positive things. So when I started the Blue Sky Society Trust – an organization that would explore the possibilities and attract like-minded members and supporters to deal with challenges that we face daily proactively, it was a no-brainer for me to name it. The entrance would be 'free', but all you had to do was support each other, give back, and remain positive in times of need, giving us tools to lead a more productive way of handling life and its challenges. 
At that same time, I started hearing about the poaching crisis ravaging Africa, where we were losing 2 rangers, 3 rhino,  98 elephant, and countless pangolin to poachers each day. These stats were shocking, devastating and completely unacceptable.
I have always worked on the fringes of the hospitality industry since 2000, and this led me to have an abiding love of nature and the environment. I was always attracted to adventure and helping animals. In  2013 and 2014, I worked with the Kingsley Holgate Foundation promoting their rhino art project. Kingsley has always been one of my African travel heroes. He is a humanitarian adventurer, author, TV personality, and Fellow of the Royal Geographical Society– he is the most travelled man in Africa and inspired me to get out there and make a difference. So I did.
Carla Geyser, Founder of Blue Sky Expeditions / Photo provided by Carla Geyser
In the last decade, I have become increasingly aware of the importance of conservation and that we cannot sit back and wait for a miracle to happen.  Every one of us must be involved in fighting for a better world. One problem with the world today is that people think that Somebody else will take care of it, save our wildlife, And help our children or our communities. But I have sadly realized that we CANNOT rely on future generations to make a difference. It has to be US, and it has to be NOW. We simply don't have the time. We are the ones that have created all these problems, and we are the ones that need to come up with solutions. There is still SO much worth fighting for. And I will do my damndest to support these conservation organizations doing phenomenal work. 
Early beginnings 
My love for travel and adventure led to organizing and leading two expeditions for international tourists who wanted to explore Africa, called 'Dtours African Expedition' 2014 and 2016. This experience and watching as these foreigners fell in love with beautiful  Africa made me more determined to expose people to nature and, at the same time, make them aware of the conservation issues. This then lead to me combining my two passions – conservation and travel. And that how the story unfolded. 😊 
On meeting Kingsley in 2013, He said that Africa was ready for women. That's why I decided to do an all-female expedition from South Africa to Kenya and for it to be female only. 
My first all-female expedition  
I led my first all-female expedition in 2016. It was called the "Elephant Ignite Expedition." We drove more than 16,000 km in 100 days through 10 countries from South Africa to Kenya. Since then, on all the many all-female trips I have led, the main focus is always giving back to nature and to conservation, while at the same time, exploring new and exciting places. 
I have always believed that a change in landscape can re-ignite one's soul and redirect one's life path, so in May 2022, I undertook our first post-Covid pandemic expedition, calling it "The Rise of the Matriarch."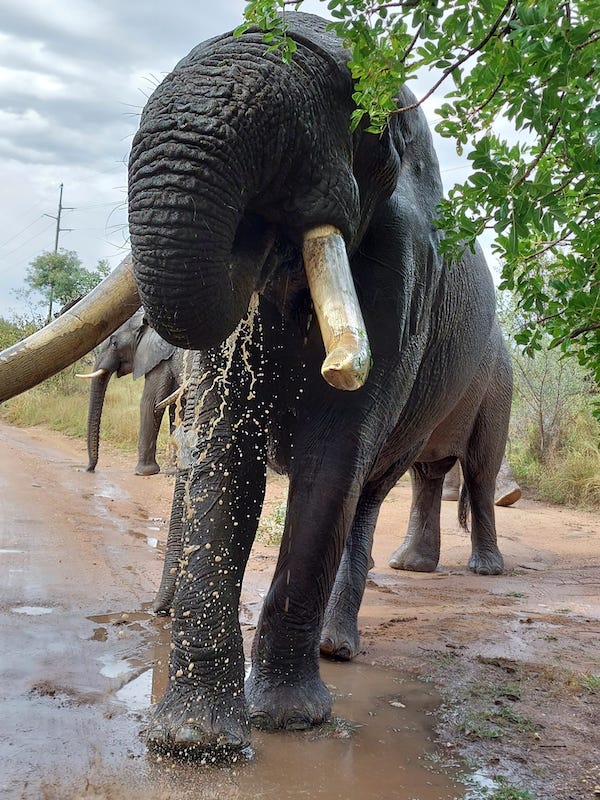 Ezulwini, a magnificent Elephant Bull / Photo provided by Carla Geyser
I actually did my first Rise of the Matriarch trip in 2018. I believe it is a very powerful name that symbolizes so much about women and the journey we have travelled. I believed in every bone in my body that like a herd of elephants which is led by a Matriarch we are very strong. 
Elephants have always been one of my passions – they seem to embody everything that is good about AFRICA and FAMILY. Elephants are wise old souls and they are deeply intelligent. The herd is managed by a matriarch. And there are so many things that we as a species can learn from the matriarch. She leads her herd with great strength and confidence, secure in any decisions she needs to make BUT at the same time leading with a gentle  BUT firm hand. Elephants are full of compassion and empathy, and they are not shy to show their emotions. BUT Most of all a matriarch relies on her network of sisters. She does NOTHING alone and has her family and all the other elephants to lean on. I believe that everyone of us ladies belongs to some type of herd. but I believe that when we pull together and support each other, no matter what the circumstance we are VERY powerful.
The group of travellers that came on this trip spent a month on the road in magical South Africa, visiting three different provinces and eight diverse conservation projects, to which, as always, a portion of the participants fees was donated.  Through our enthusiastic team on the "Rise of the Matriarch" female travellers and another all-female trip we helped raised more than R290 000. (US$18,000) for conservation projects in 2022.
Our days began in the early hours as crested francolin, hadeda ibis and other birds called us from our beds beckoning us to get out there and start the day. Through breath-taking landscapes and memorable wildlife encounters, this group shared endless cups of coffee and rooibos tea, just a little sip of gin, swapped stories and belly laughed our way through to nights where we spent sitting around the fire under the bright Milky Way surrounded by an explosion of starts, watching the moon waxing towards full. 
This was reflected in our human interactions as our friendships grew and our hearts filled with inspiration to protect this natural beauty around us. Many nights, we fell asleep listening to a lullaby of nightjars, whooping hyena, yelping jackals, and often, the deep, iconic roar of lion. A great way to finish a perfect day.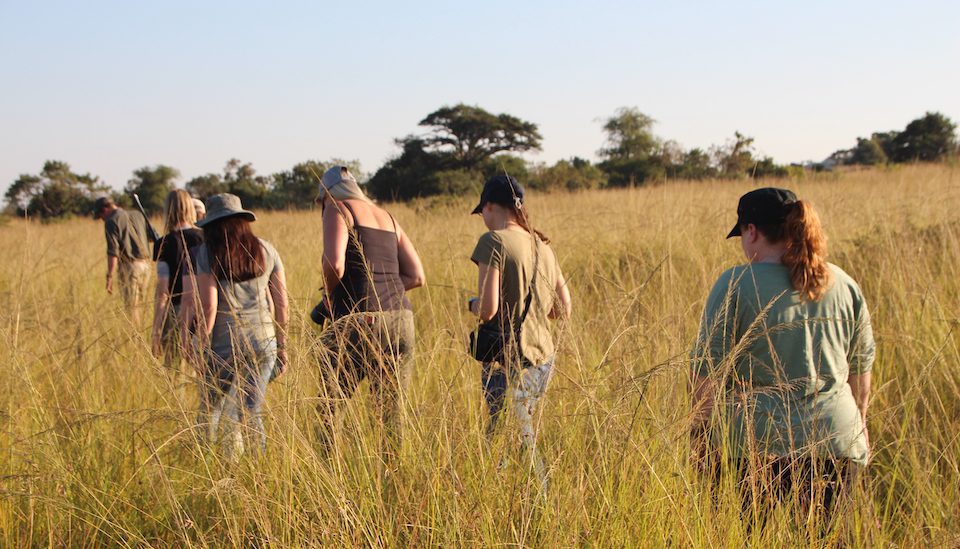 The Rise of the Matriarch ladies with the Pangolin monitor during feeding time walk at a Kwazulu natal Game Reserve / Photo provided by Carla Geyser
Visiting Wildlife Conservation Groups
Travelling north in the province of KwaZulu-Natal (KZN), we headed up the wild South African coastline into the heart of Zululand, where we visited the Zululand Conservation Trust Orphanage and were able to donate money towards milk powder and rhino pellets for three small, recently orphaned rhino. 
Pangolin are some of the most endangered and rare animals in Africa. Very few people ever see them. However, we were fortunate to stay at Phinda Bayete Camp and experience vital Pangolin rehabilitation conservation work. Our donation was towards a scale needed to weigh Pangolin and also to the monitoring and Satellite tagging of these beautifully shy little creatures, enabling researchers to keep them safe.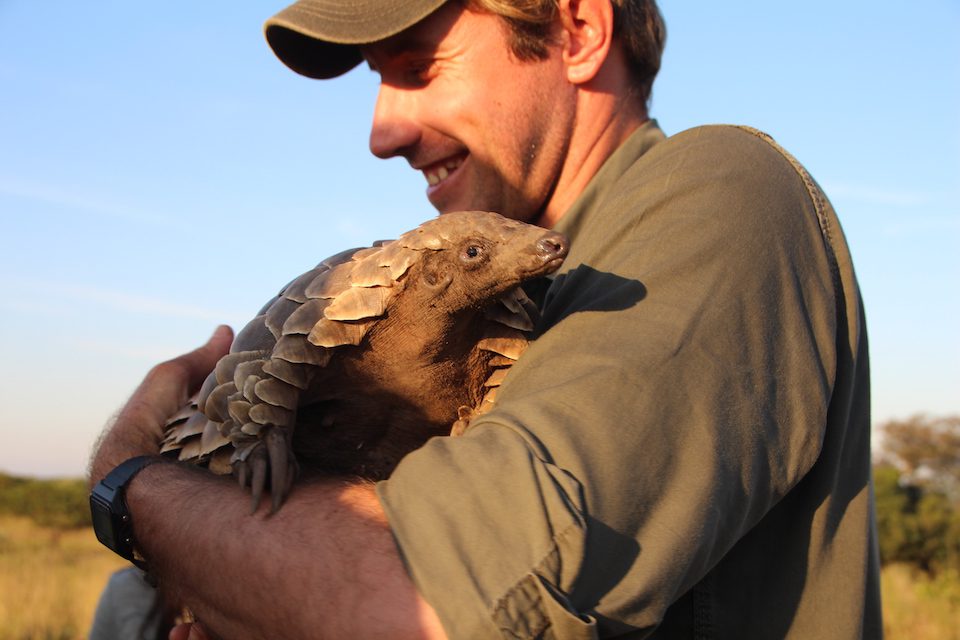 Pangolins are one of the rarest and most endangered animals in Africa / Photo provided by Carla Geyser
At Pongola Game Reserve, we provided support to the Black Rhino Range Expansion Project and spent time with passionate conservationist Suzette Boshoff who is the Pongola rhino and elephant monitor and veterinarian Doctor Heinz Kohrs, who is involved in the collaring and notching of black rhino as part of the DNA collection and genetic research project. Our money went towards a collar for a rhino and helicopter fees for monitoring these prehistoric mammals. 
Elephant conservation in Kruger National Park 
There is a magic in South Africa's world-famous Kruger National Park. It was here, in the heart of the Lowveld of Mpumalanga province, that we participated in elephant conservation work with the Elephants Alive organization. This allows researchers to monitor the movement of elephants. Elephant DNA samples, which, in addition to blood and fecal sampling, allow researchers to monitor the diet and health of elephants. To date, Blue Sky Society Trust has taken part in 19 collaring events with Dr Michelle Henley and her amazing team, and we were happy to, once again, be in a position to donate an elephant collar during our visit. An elephant collar is a tracking device that emits a signal that helps the conservationists monitor their movements, to prevent human wildlife conflict and also to study its behavioural patterns in order to understand them better so we can look after them.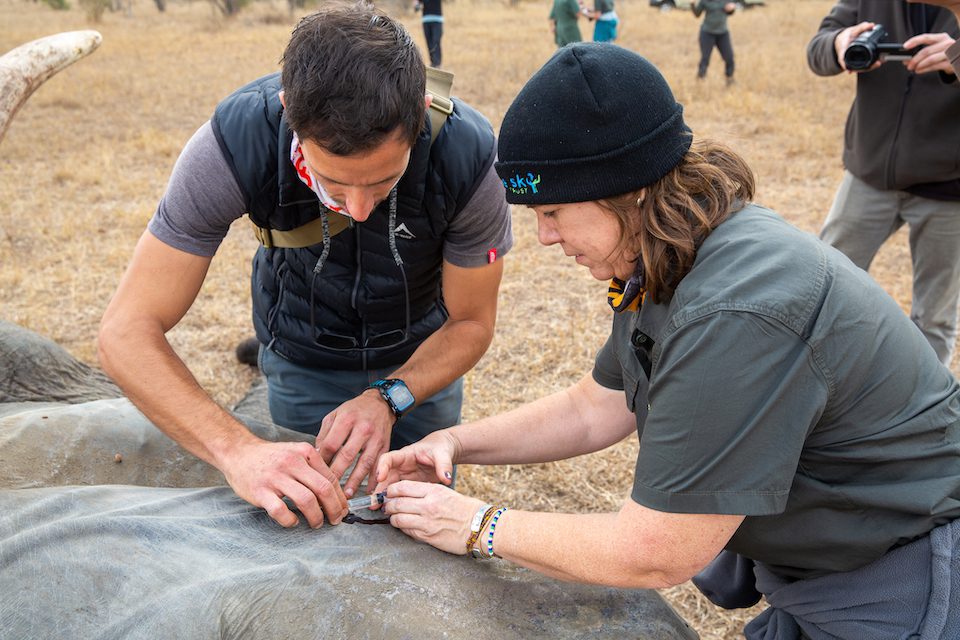 Carla Geyser working with wildlife vet Dr Joel Alves / Photo provided by Carla Geyser

Endangered dogs in Limpopo
We also spent an exciting time with researchers from the Endangered Wildlife Trust (EWT) African Wild Dog Expansion Project in Limpopo, where we donated towards Wild Dog Conservation and donated a camera trap to the Association of Private Nature Reserves (APNR) Ground Hornbill project to help monitored the nests of this endangered bird. In Limpopo, we visited another wild bird project at Endangered Wildlife Trust (EWT) Birds of Prey Programme where they monitor the extremely rare and seldom seen Pels Fishing Owls. There is also a Vulture rehab programme, where they rescue and rehabilitated birds which have been victims to poisoning incidences. EWT will be a major beneficiary in our upcoming trip in May 2023 
Limpopo is famous for its Baobab trees, large, mystical trees, which, due to their root like branches, are often described as "upside-down trees". These trees seemed to reflect the rather upside-down lives many of us have recently experienced during Covid19 and its aftermath. Happily, it is one of the missions of these trips, to allow women to immerse themselves in nature, right themselves and feel purposefully alive again. 
Wilderness at its best 
This means that, even though there is a serious aspect to these journeys, it is also about having fun on 4×4 adventures and camping wild. The mopane bushveld was touched with autumn gold, was also green and thick due to the late rains. This is wildness at its best. Along the beautiful water courses, screeching brown headed parrots, plump green pigeons and the occasional, brown-hooded kingfisher occupied the tall jackal berry trees, while north of Punda Maria camp, the landscape is punctuated with big, eerily lime-green fever trees, majestic mahogany and nyala berry trees.
Now more than ever people are feeling the need to reconnect with themselves and each other, and many of us instinctively know, nature is a great healer – especially when coupled with companiable fireside laughter, good food and fresh air. We know we need to slow down, listen to the sound of nature around us, breath in her fragrances and enjoy the truly beautiful smaller things in life. This is one sure-fire way of taking care of all those aspects of one's life, while also making invaluable contributions to conserving and protecting the world we live in.
What to look for in a wildlife conservation tour
For women looking for an ethical wildlife conservation tour, do comprehensive research. 
Research – go online, Google the organization or company, and see what comes up. Look for reviews or comments on social media, TripAdvisor or other reputable search engines and see what people say to make sure the tour is legit. A sort of 'online verification' to find feedback to see if they provide

meaningful and responsible trips. 

Check the organization's website to see who they are associated with. This can often filter out the scam artists. Sustainability – How long have they been around, and who are they aligned or partnered with? Look for any of the more prominent international organizations like TUSK, WWF, IFAW, Panthera, Jane Goodall Institute etc.
Are there any newspaper articles or stories? Look for any third-party recommendations – someone who has commented and who you could reach out to for a referral. Look to see if they have won any awards or certificates. This can also tell you if they are doing good work. Are they registered with any tourism associations or organisations? In South Africa one to look for is South African Tourism Services Association (SATSA) or Tourism Business council of SA (TBCSA), Association of South Africa Travel Agents (ASATA).
The Rise of the Matriarch ladies at Pongola Game Reserve / Photo provided by Carla Geyser
EXPERIENCE South Africa – If you would like to experience an exciting trip of this nature, then a Journey with Purpose is for you. I am currently planning two expeditions, one a more marine based trip which will include rare sea turtle research work in February 2023, and another which will include more elephant conservation work in July 2023. If you are interested in hearing more and doing something with purpose, then please contact me on [email protected] or on our social media platforms or website www.blueskysociety.org
JourneyWoman readers get $150 off the "Turtles & Tusks" tour with the code JWPT&T01 or $150 off the "Wild Callings" tour with the code JWPWC03! Learn more here!

Read More on Sustainable Travel
Meet Dr. Shirley Strum, founder of Uaso Ngiro Baboon Project in Kenya, who has created baboon eco-tourism projects at Twala-Tenebo Cultural Village to employ women in Kenya.
For women, the benefits of small ship travel include sustainability, access to less-travelled places and a more personalized experience that includes safety and hygiene.
A small ship expedition to Ecuador's Galapagos Islands is an opportunity to witness some of the world's most spectacular wildlife, while learning first-hand about evolution and adaptation.