Last updated on November 19th, 2023
Featured image: The incomparable Qalansiyah Beach on Socotra Island, accessible via expedition cruise | Photo by Holger Leue for Swan Hellenic
Adventures on a 21-Day Expedition Cruise With Swan Hellenic
by Carolyn Ray
It's 4:00 am as I stumble out of my small tent, awakened by the call to prayers and the first hints of an orange sunrise on the horizon. As the mist rises along the canyon, I see the outlines of strange, umbrella-like trees. Not just one or two, but more than I can count. These unique trees, called 'Dragon's blood' were once harvested for their crimson red resin, which was highly prized in the ancient world as a cure-all for diseases. Here on Socotra's Diksam Plateau, these captivating trees are everywhere, but there are hardly any other tourists. In fact, we are the first cruise ship to come to this island – ever.
This is not a traditional cruise — it's an expedition cruise.
What's an expedition cruise, you might wonder? The SH Diana is a brand new PC 6 polar ice class expedition ship, launched by Swan Hellenic in April 2023. Not only does this ship have the power to crush through ice, but it's energy energy-efficient and luxurious. The SH Diana is beautifully designed and offers gourmet gastronomy in two restaurants and 24-hour room service. There is considerable effort made to educate travellers, with academic lectures about history and wildlife, plus lots of time and space to relax and unwind. Due to the smaller size of the ship, we are able to visit smaller ports and less-travelled places like Socotra, making for a one-of-a-kind, memorable travel experience.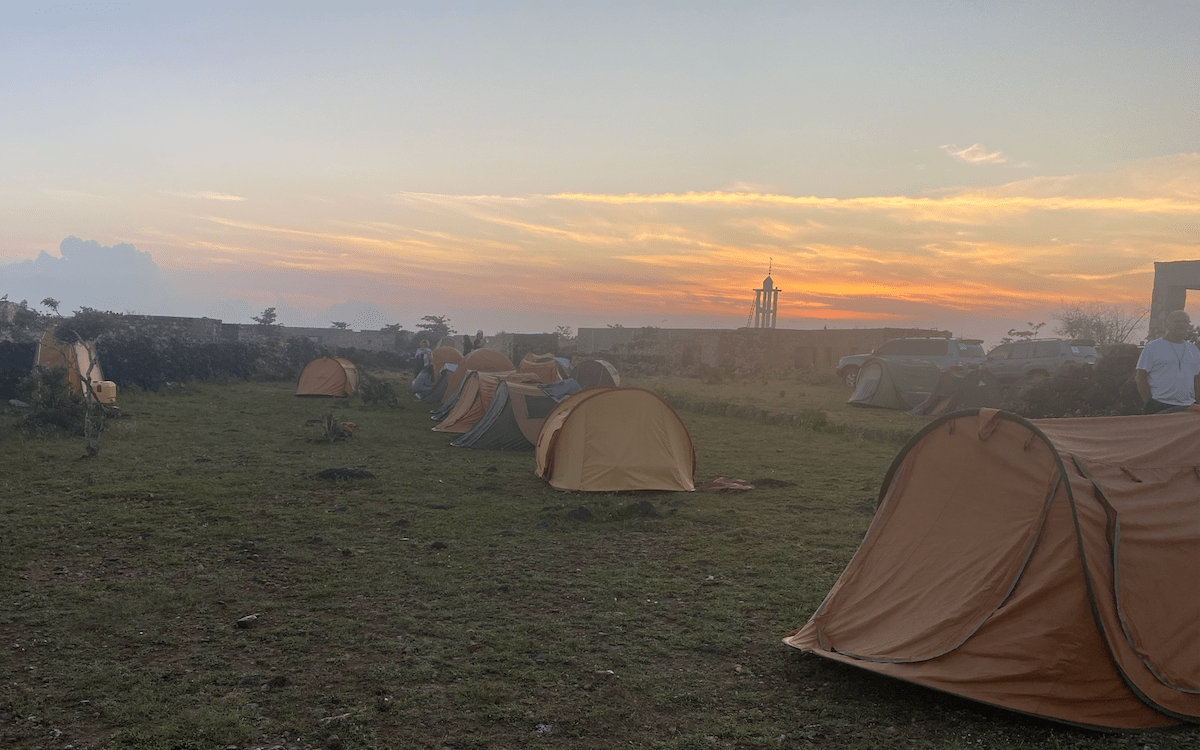 Morning at our campsite on the Diksam Plateau in Socotra / Photo by Carolyn Ray
"On an expedition cruise, it's better to do a few things well than a lot of things," says SH Diana Expedition Leader Scottie Kiefer. "As we move away from civilization, we do less land excursions and more expeditions using zodiacs. The excitement for me as an adventurer is to go to these places before they get well known, which is part of our DNA of seeing what others don't. But you have to be prepared for the unknowns."
In Swan Hellenic's case, each of its three ships, the Minevra, Vega and Diana, travels on a circuit to different destinations rather than the same place each week. On my 21-day expedition cruise, we visit smaller ports along ancient trading routes, including Aqaba, Yanbu and Jeddah, making for an unconventional entrance into a city. The same itinerary is never repeated and the company works with local tour operators to design unique experiences and adapt to the passenger interests, like jumping in a zodiac to snorkel on Ras Al Baradi Beach, a small uninhabited white-sand island in the middle of the Red Sea near Jeddah.
21 days of surprises on an expedition cruise
Unfortunately, my time here is overshadowed by the war in Israel, which begins on the third day of my 12-day cruise. After my trip, I had planned to spend time in Jordan and Israel and to fly out of Tel Aviv. However, in a surprising act of generosity, Swan Hellenic invited me to stay on the ship for another 10 days. This isn't a public trip – it's an exploratory one to develop new itineraries with stops in Djibouti, Africa and Socotra Island (part of Yemen), ending in the Seychelles. How can I refuse?
My adventure begins in Cyprus and ends over 2600 nautical miles later in the Indian Ocean. On my 21 days on the SH Diana, I see places that very few tourists have ventured to. The ship travels from the Mediterranean Sea through the 193-km Suez Canal, into the Red Sea and through Bab-el-Mandeb, otherwise known as the Gate of Grief, into the Indian Ocean. There are stops in Cyprus, Egypt, Jordan, and Saudi Arabia, including Yanbu, Jeddah and Djibouti, Africa. We also spend two days on the remote island of Socotra, just off the coast of Yemen, which has been inaccessible to many tourists for years.At most of these ports, there are no splashy cruise terminals with duty-free shopping. Instead, I enter a city from its grittiest point, surrounded by tankers, cranes, fishing trawlers and tugboats, and welcomed warmly by the local community. 
Along the way, the ocean comes to life, with blue whales, porpoises and flying fish. There's nothing more magical than watching hundreds of dolphins leap across the water or blue whales surface only metres away. I quickly learn an important rule of expedition cruising: never leave your room without your binoculars.
From Port Said, Egypt, we travelled to Cairo and Egypt / Photo credit Carolyn Ray
From Aqaba, Jordan, we travelled to Petra / Photo credit Carolyn Ray
My home away from home
On the SH Diana, there are only 96 passenger rooms. On Deck 3, there's a library, basecamp for polar explorations, and the entry point for the zodiacs. Passenger cabins are on Decks 4 to 6, with a laundry room on Deck 4. Deck 7 is the Observation Lounge and main lecture area, and Deck 8 has a gym, spa and sauna as well as the bridge. The top deck, Deck 9, is open to the skies. Perfect for stargazing.
My room, on Deck 6, is a beautifully designed Junior Suite. Some of the special touches include a branded Swan Hellenic dry bag with a water bottle, binoculars, and an Illy coffee maker. The bed is comfortable, there's a cozy robe and sustainable shampoos. Across the hall from me is an Accessible Room, which not only has a wider entrance to the room, but a larger door on the balcony, and raised platform so that guests can go outside. There are also stabilizers that spread out like wings underneath the ship so that it's a smooth ride. Swan Hellenic has thought of everything.
One of the things that surprises me is the diversity of the passengers. There are several solo women from all over the world, and women travelling with other women, mothers and daughters, and couples. The solo women range in age from 30s to 80s, and often eat meals together. While excursions are included, those who want to opt out can do so and stay on board or hire their own guides for customized experiences. 
SH Diana's Junior Suite with adjoining bedroom / Photo by Carolyn Ray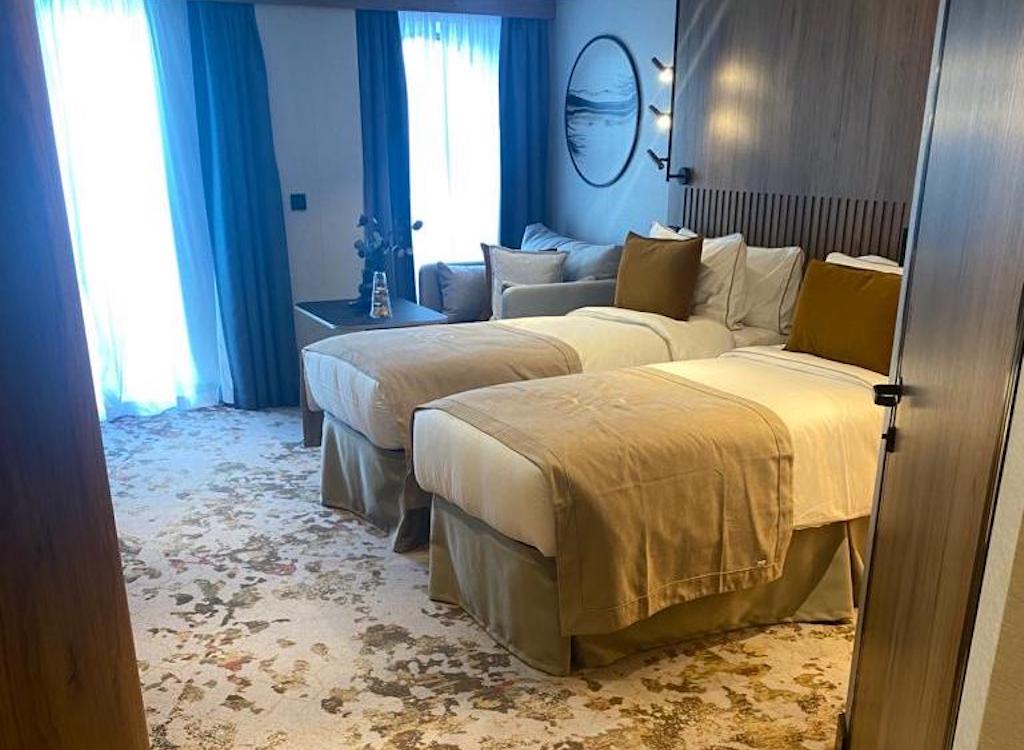 SH Diana's accessible room with step free bathroom and balcony / Photo by Carolyn Ray
SH Diana's single room with fireplace / Photo by Carolyn Ray
Lectures that go beyond the everyday
Another benefit of expedition cruising is how much you learn. The expedition team, which includes highly qualified academics and experts, host lectures every day on topics from history to wildlife.
On our ship, David Kampfer, who holds a Doctoral degree from the University of Iceland, provides lectures on topics ranging from British imperialism to Egyptian history with titles like "Sugar and Spice: Tales from the Indian Ocean" and "Chinese Takeaway: The New Scramble for Africa". It's through his lectures that I gain a different perspective on the region, learning about initiatives such as China's One Belt-One Road (BRI), which is creating the largest network of transportation infrastructure across 155 countries, mostly in the developing world. I'm surprised to learn that the UK has one of the world's largest collections of Indian art at the Clive Museum at Powis Castle in Wales. And that China has built a 750-km railway from land-locked Ethiopia to Djibouti's port. 
"With my lectures, I try to provide the backstory and help travellers understand the impact of geopolitical issues so that they have a more complete understanding of the places we visit," says Kampfer, who's a fan of all things industrial, like ports. "From a cultural point of view, the Suez Canal is an incredible link between two continents, and there's no other way to get access to this part of the world without going 5,000 miles the other way. I also find that the slower pace on an expedition ship is useful to fully understand the juxtaposition of history, politics and culture. I think most curious travellers will see that as part of the experience."
Then there are the lectures on endangered species — whale sharks, dugongs, sea turtles — from Carine, a naturalist who is passionate about conservation. Sustainability is a theme on this ship, and it isn't just talk. The ship itself is a masterpiece of efficiency, creating its own desalinated water and recycling wastewater. Touring the engine room shows me how much happens behind the scenes and makes me more conscious of how I use water and electricity. In addition, the boat can run on battery power, as it does in the Arctic, and there is very little anchoring; instead, the ship uses dynamic positioning to stay in place using a Global Positioning Satellite (GPS) so that coral reefs aren't harmed. 
Our female guide in historic Yanbu in front of the home of T.E. Lawrence ("Lawrence of Arabia"), which is being restored in anticipation of more tourism / Photo by Carolyn Ray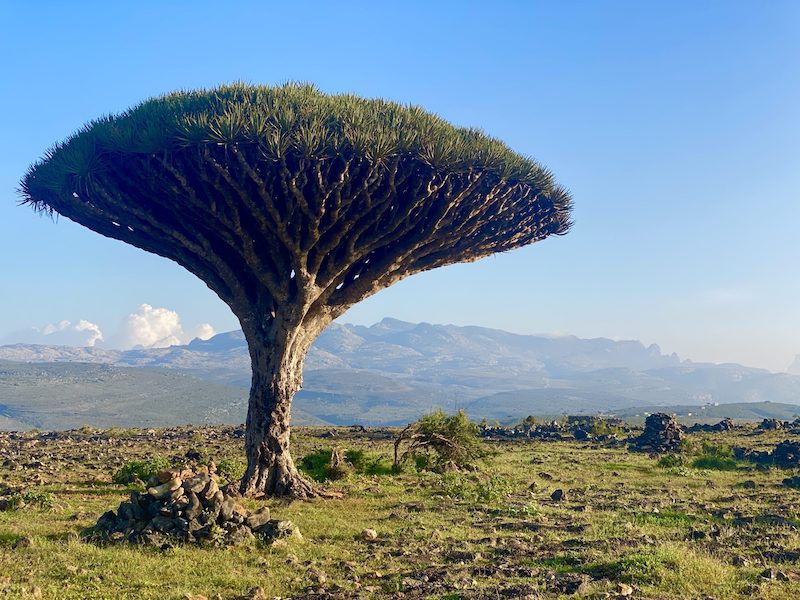 Dragon's Blood Trees on Socotra Island/ Photo credit Carolyn Ray
Revel in the spirit of discovery and adventure
Expedition cruising requires a different kind of mindset, starting with the ability to adapt to the unexpected. When you're travelling by water, the weather, the ocean and the situation in different countries can alter plans in a nanosecond. However, with such an experienced crew and expedition team, I was able to enjoy the ride and not worry about the details. While we were sometimes the only cruise passengers in a port, immigration was fairly fast, and the ship handled most of the behind-the-scenes process. 
The other important lesson of this trip is the realization of how many small countries need — and welcome — tourism. Many of these places have complicated histories and tourism is a new industry, one that can help elevate their standard of living and bring new ideas into their culture. In addition, countries like Saudi Arabia, which has only been open to tourism since 2019, are facing a dilemma as oil demand drops and need new ways to develop their economies. Perhaps by visiting we can help them adapt in positive ways. In visiting these countries, I'm struck by how fortunate we are to live freely and the responsibility that comes with that. There's so much we take for granted — our education, clean water, diverse sources of food and even clothing. 
If nothing else, this expedition cruise has shown me  how important it is to feel joy, even in the midst of so much conflict.  Joy is more than a fleeting emotion — joy can sustain us through good times and bad.  The opportunity to witness ancient wonders that have existed for thousands of years, meet curious children on a walk on a mountainside community or see blue whales swimming near the ship, are memories that I can pull on for years to come. This feeling of joy is also why we can't wait to make our dreams happen. As these pyramids show us, time can pass in the blink of an eye. It's up to us to make the most of it. 
Travel Tips on an Expedition Cruise
Make sure you have travel insurance, updated vaccination cards and your travel visas before you leave home.
Swan Hellenic provides binoculars but you may want to bring your own. I promise, you will never want to take them off! ( Mine are Occer 4x25s which worked well!)
Bring USD cash in small bills for the smaller cities so that you can support local markets and tip the local guides. (Tipping Swan Hellenic's guides and crew is included)
The dress code is casual, but bring some nice dresses and a wrap for dinner. I wore the same thing at least three times. Hiking shoes are a must.
Thankfully there is a hairdryer on the ship and lovely shampoos. The spa is worth a visit too, with the complimentary sauna, outdoor pool and steam bath. Note that treatments are not included.
Dress for the culture. Having clothing that covers your arms, shoulders and knees is the most respectful way to travel in this part of the world.
Don't expect to have good wifi. Go to the lectures, bring a good camera, disconnect and enjoy the adventure.
Disclaimer:  For my 21 days, I was a guest of Swan Hellenic, which provides no single supplement on several cruises. Sign up for our emails here and check out our Women's Travel Directory for more deals and discounts.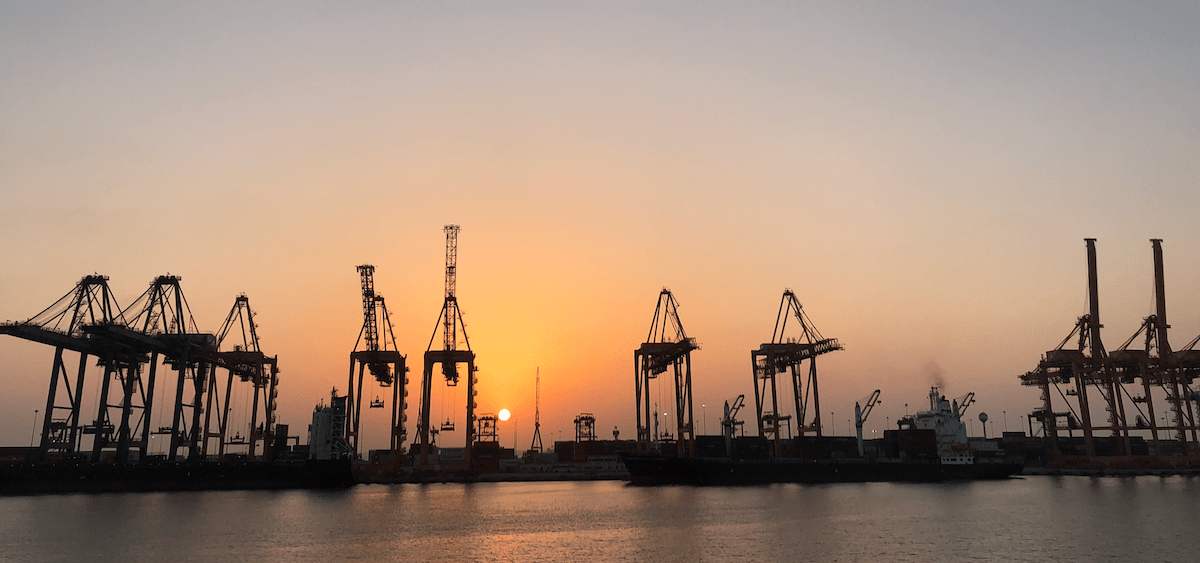 Sunset at the port in Jeddah, Saudi Arabia / Photo credit Carolyn Ray

Is expedition cruising right for you? Join our free December 5 webinar with Swan Hellenic and find out about this hot trend for women.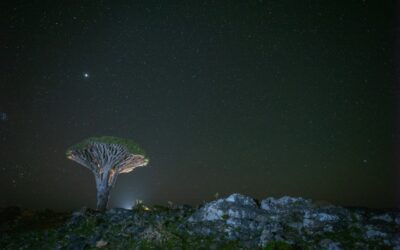 Highlights from 21 days of adventure on Swan Hellenic's SH Diana expedition cruise ship, in Egypt, Jordan, Saudi Arabia, Djibouti and Socotra.
For women, the benefits of small ship travel include sustainability, access to less-travelled places and a more personalized experience that includes safety and hygiene.