Last updated on November 30th, 2023
Featured image: The Retreat Costa Rica, the location of the author's menopause retreat. It's located on a mountainside near the town of Atenas, Alajuela, and considered "one of the best climates in the world" by the National Geographic Society | Photo provided by The Retreat
Practicing healthy self-care at a menopause retreat
by Cathy Donaldson
A mere two days after arriving at a mountainside property in the Costa Rican rainforest, I feel happier than I have in ages. It's like my spirit has been jumpstarted, my spark reignited with a joy that reminds me of the old me. The pre-menopause me. 
Or has this place unleashed a new and improved me?
"I'm not sure what's happening here but my soul is singing," I write in my journal on the second night of my stay at The Retreat Costa Rica, located 40 minutes west of San José, Costa Rica's bustling capital.
Opened in 2016, The Retreat Costa Rica has been lauded with numerous awards over the years, including a ninth-place ranking in the 'Best Destination Spa in the World' category in Condé Nast Traveller's 2023 Readers' Choice Awards. 
Menopause retreats are hot!
I've travelled to The Retreat to sample one of its health and wellness programs, "The Big M: Mastering Menopause". The minimum seven-day package aims to help women overcome physical and emotional challenges caused by hormone changes during one of the three stages of menopause:
perimenopause

(the time leading up to menopause when hormones begin to decline, menstrual cycles may become irregular and/or side effects of menopause like hot flashes can begin)

menopause

(when you have gone without a period for 12 months in a row) 

post-menopause

(the time after menopause when you still may be having lingering symptoms from night sweats to vaginal dryness, insomnia to urinary incontinence.)
The topic of menopause is a hot (pun intended) one lately, in the headlines after being stigmatized and largely ignored in our culture for decades. Celebs like Oprah Winfrey, Maria Shriver, Naomi Watts and Drew Barrymore have led the charge to create a new openness about menopause and women's health in general.
My own experiences as a menopausal woman contribute to my interest in the subject. Having faced my fair share of related symptoms—from weight gain and hot flashes to mental health wobbles—I hope to glean some learnings at The Retreat.
Finding paradise in Costa Rica
Of course, I'm also pumped because this is my first visit to the small Central American country of Costa Rica, considered one of the most bio-diverse regions of the world. Home to a plethora of exotic and tropical flora and fauna, it's also renowned for its stunning scenery, from beautiful beaches to incredible national parks, and a low-stress lifestyle. That vibe is reflected in the unofficial national slogan 'pura vida' or 'pure life'. 
A driver meets me at the Juan Santamaría International Airport in San José and speaks proudly of the region and its people during our winding journey through the green countryside to The Retreat, near the town of Atenas. Once we traverse a steep hill to the main gate, I'm escorted to the open-air front desk where friendly staff greet me with a cool cloth and rejuvenating, plant-based drink.

As I walk with a concierge to my room, my eyes dart around the resort's sprawling indoor and outdoor spaces, exquisite sanctuaries filled with unique Balinese pottery, a jungle of plants, cozy seating areas, an attractive bar and an ample saltwater pool near the edge of the property's main level, allowing expansive views of the lush vegetation of the Nicoya Peninsula below and deep blue of the Pacific Ocean beyond.
The concierge opens the door to my room and I'm transported into the pages of a design magazine. One of 18 private lofts on the 60-acre property, my temporary home is enormous, a tranquil paradise with simple yet elegant décor in a calming neutral colour palette and soaring 10-foot ceilings. A wall of windows reveals magnificent vistas. (There is no phone or television, I gladly notice.) 
My inaugural meal gives me more cause for delight, a dinner of local fish and fresh vegetables, the latter harvested from an on-site garden. While I gobble up the last of the flavourful morsels at a table in Sol Terrace: Nature's Gastronomy, the resort's main dining area, the sun begins to lower. Its descent casts pink, mauve and other pastel-coloured hues over the valley landscape. Sufficiently and happily fed, I sling my camera over my shoulder and stroll off to capture the moment.
When I finally return to my room for the night, I ponder my next steps: a sumptuous bath in the pristine stand-alone tub or a stint in the large, luxe shower, both of which open to dreamy panoramas. I opt for the bath, making use of lovely handmade products. A rare sound sleep follows. 
The sky explodes in an array of golden and pastel hues as sunset descends over the Nicoya Peninsula / Photo by Cathy Donaldson
The Retreat's luxurious mountain-facing lofts provide mesmerizing views of the rainforest and Pacific Ocean in the distance / Photo by Cathy Donaldson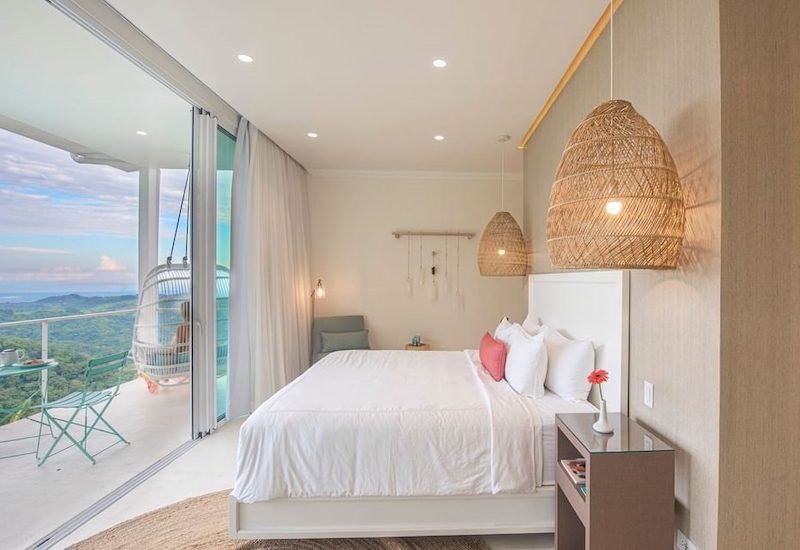 One of 18 private lofts on The Retreat's 60-acre property, the room featured elegant décor, a large vanity area and tub, a wall of windows with valley views and a spacious private deck with a swinging chair / Photo provided by The Retreat
Getting started on my menopause retreat
The next morning, I wake up early and take a self-guided tour along a mountain path. Enormous trees shelter me from the rising sun on the downhill jaunt. A creek babbles as I snap photos of an assortment of plants and landscapes. In the distance, lean cattle dot undulating hills. I squint to detect any coffee or sugar cane plantations, knowing they are plentiful in the vicinity. I also keep an eye out for monkeys, but spot none. No worries. The raft of winged creatures in the canopy above has me thoroughly entertained, their sounds a symphony of raucous cheer. 
With temperatures climbing and my tummy rumbling, I eventually circle back to my room, grab a shower and head to breakfast. A trio of herbal juices and a platter of fresh fruit start the meal. A yummy plantain cake with poached egg and shredded carrot, zucchini follows, along with a choice of teas and coffees. 
Menus here are based on an anti-inflammatory diet with virtually all organic items served. In addition to plant-based options, local and sustainably raised fish, fowl, beef and lamb are available. (Vegan and vegetarian options are also possible at any meal.)
The woman behind 'Mastering Menopause'
Later that day, I catch up with the founder of the luxury boutique hotel and destination spa, celebrity chef, author and life coach Diana Stobo. She also created the Mastering Menopause package.
The 58-year-old says past health struggles led her to remove sugar, wheat, dairy, meat and alcohol from her diet, resulting in significant improvements. During menopause, women need more protein and fat, she says, adding that she curated the menopause package to include wellness cooking classes so guests can learn how to incorporate plant-based fats and proteins into their diet.
"Women are entering a different part of their lives and there has never really been much to help them in this new stage," says Stobo. "Here, they learn tools—including recipes—that they can try and take back home to deal with some of the challenges of menopause."
During my cooking class, I join other participants in assisting the chef with a batch of homemade pecan and maple granola featuring sunflower and pumpkin seeds, almond slices, grated coconut, ground chia and coconut oil. Later, we watch as she creates a roasted tomato soup, the open kitchen quickly becoming fragrant with the smell of chopped onions, garlic and fresh herbs like rosemary, basil and thyme as they are added to the simmering red mixture.
Along with good nutrition, an appropriate exercise program is vital to maintaining good physical and mental health in menopause, says Stobo. To that end, The Retreat's Mastering Menopause package features a Kegel exercise class to strengthen the pelvic floor and core, as well as resistance and strength training to build bone density and increase fat metabolism.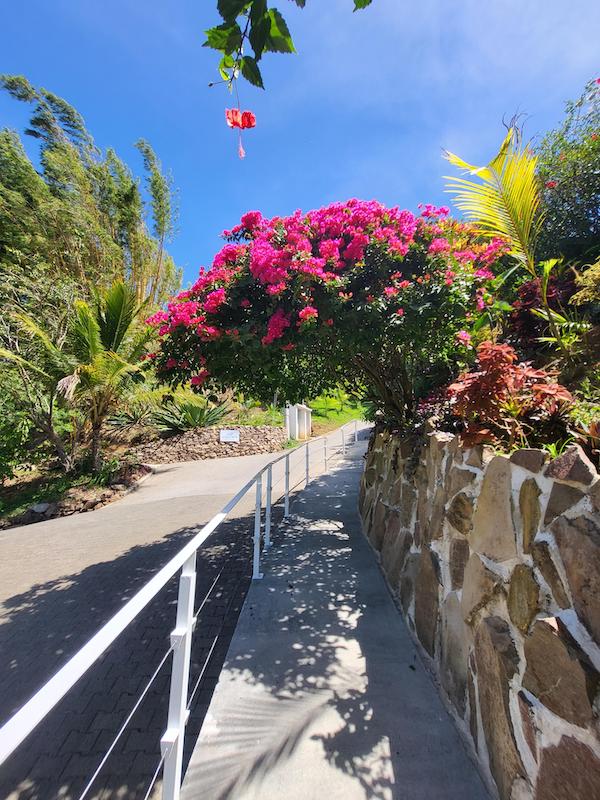 Colourful plants line pathways around the resort making every stroll a delight for the senses / Photo by Cathy Donaldson
Diana Stobo, left, founder of The Retreat, chats with guest Aviva Sharp of Miami, a participant in the Mastering Menopause program  / Photo by Cathy Donaldson
Spiritual wellness is important to menopause
Attention to the spiritual side is also crucial for menopausal women, says Stobo, noting the prevalence of mental health issues at the life stage. The 'Self-Discovery Workshop' and 'Heart Wall Clearing' session are meant to help women release trapped emotions and align with their true heart's desire, she says.
"Many need to address the core issue in their life that's causing them not to move forward," she says. "When you hit menopause, all the resentments and issues of your past that you may have pushed aside can come flooding back. That may cause resentment, anxiety, and depression. But that doesn't have to be your story."
There are yoga classes that teach practices such as mindfulness and Pranayama breathwork, the latter a method of deep abdominal breathing shown to help reduce stress, lower blood pressure, increase energy levels and help with hot flashes. 
Stobo lights up with pride as she describes how the relaxing spaces at the resort itself provide opportunities for self-reflection, renewal and healing, sometimes via conversations with others experiencing similar experiences. 
"Guests tell us they feel supported and safe here and develop deep connections," she says. "That's when their transformation can really happen. This is a big shift on many fronts. You may no longer be the nurturer, the caregiver, but you are a goddess emerging. You're becoming this new person with wisdom, grace and peace and so much to offer the world."
Meeting other solo women at the menopause retreat
Aviva Sharp of Miami, a participant of Mastering Menopause who started the program several days earlier, says she was initially nervous to travel solo to the resort from her Florida home but was quickly put at ease by staff and other guests.
"No one asks, 'What do you do?'" says Sharp. "It's more like, 'What are you doing today?' or 'How are you feeling?' or 'Oh my God, you're glowing! There's a safety to feeling vulnerable here, to really connect with others and to find your path into this next stage of life."
Dressed casually and with nary a stitch of makeup, the petite, 50-something woman radiates an inner and outer beauty, her eyes sparkling, her complexion vibrant, her relaxed body language communicating an authentic kindness.
"I decided to come here because I felt stuck," says Sharp. "My kids had (grown and) left the house. I needed time to be introspective. This was an ideal place."
Mastering Menopause has helped her to understand the changes she is going through and how to balance hormones through diet, exercise and lifestyle modifications, she says.
"The team here pay attention not just to the physical side, with things like yoga, but the spiritual, too," she says. "I had never really worked on that, never found the right people. But here I learned how to breathe, what it actually means to be meditating, how to really think about my life. I'm learning about things like chakra healing, what the chakras mean, and doing deep tissue massage for the aches and pains along with eating amazing food. It's all just brilliant."
Sol Terrace: Nature´s Gastronomy is the property's main restaurant, serving a chef's choice menu customizable by guests  / Photo provided by The Retreat
Menus at The Retreat are based on an anti-inflammatory diet with virtually all organic items served / Photo by Cathy Donaldson
Chef Lindsay jokes with participants as she whips up a yummy recipe during a cooking class at The Retreat's teaching kitchen / Photo by Cathy Donaldson
A personalized itinerary at my menopause retreat
Only a couple of days into my menopause retreat and I'm sensing positive changes with each experience on my personalized itinerary. Some of my favourites happen at The Retreat's 8,000-square-foot Vida Mia Healing Center and Spa. On its second level, the facility offers immaculate changing rooms, an air-conditioned fitness room, a covered Jacuzzi and cold-water cascade, and an outdoor resting area. On the first level, guests can find a meditation deck and one of two saltwater pools for resting, sunbathing and enjoying ocean views while awaiting spa sessions.
I'm a bowl of Jello after my deep tissue massage, which I'm told is meant to open fascial passageways, stimulate lymphatic flow and strengthen muscles. I'm feeling uber soft and light after a pink goddess empowerment crystal healing body scrub and crystal-infused water therapy, all supposed to light up my creative flow and release feelings of entrapment to find inner peace. 
I'm intrigued about the chakra balancing on my schedule but ready to awaken my chakras—aka energy centers—and receive the purported benefits: improved balance and peace in my body and mind. There will also be Reiki during the session, an energy healing technique in which the therapist uses gentle hand movements over the client's body that are intended to guide the flow of healthy energy to reduce stress and promote healing.
My spa angel informs me afterwards that I have a good energy but need more work on my third chakra, the solar plexus or navel chakra, which apparently governs our ability to be confident. Since the chakra is associated with the colour yellow, I should wear yellow more and carry yellow crystals to boost my self-esteem, she says.
As a fact-focused journalist for decades, I would normally have cast aside the crystal talk as ridiculous if it hadn't been for the therapist's question: What, if any, colours did I notice when my eyes were closed and covered during the treatment? I have to admit that the only colour I saw was yellow. Coincidence? Who knows, but you may see me sporting more yellow in the days ahead, just in case.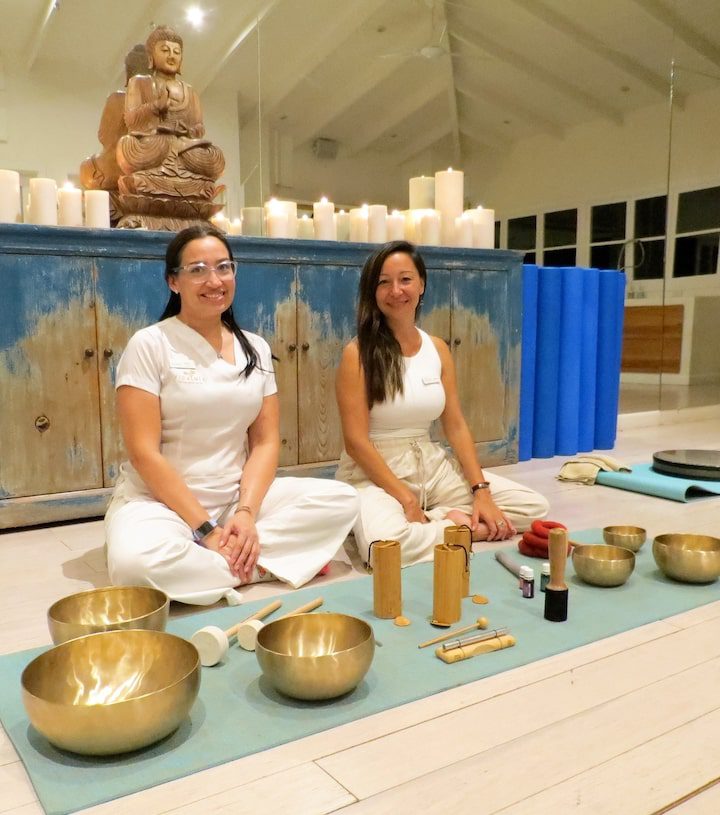 Staff members lead a sound healing session meant to promote deep rest, nervous system rebalancing and emotional release / Photo by Cathy Donaldson
From the second-floor window of The Retreat's Vida Mia Healing Center and Spa, the saltwater pool, swings and lounge area below beckons / Photo by Cathy Donaldson
Among treatments available at The Retreat are crystal therapies credited with promoting physical, emotional, and spiritual healing by positively interacting with the body's energy field / Photo by Cathy Donaldson
Sound healing inspires self-care euphoria
At an evening sound healing session, I join other participants in the yoga studio as two staff members use instruments to create a therapeutic atmosphere meant to promote deep rest, nervous system rebalancing and emotional release. Another solid night's sleep follows.
The list of treatments and enlightening moments goes on but suffice to say each left me in self-care euphoria. I make a mental note in my chillaxed brain to incorporate similar practices into my health regimen.
When I return home after the menopause retreat, I realize I may not be a menopause master, but the mix of experiences, learnings and dietary changes definitely kickstarts my metabolism, inspires me to improve my fitness regimen, spurs a desire to prioritize my physical and mental health, and reminds me to focus on the present moment.
I'm already contemplating a visit back to The Retreat in a few years, though it won't be for a menopause retreat. This time, I have my eye on a luxury spa package, which would be a wonderful way to celebrate a 60th birthday.
Cathy Donaldson is a Moncton, New Brunswick-based travel writer. She was a guest of The Retreat Costa Rica, which neither reviewed nor approved this article.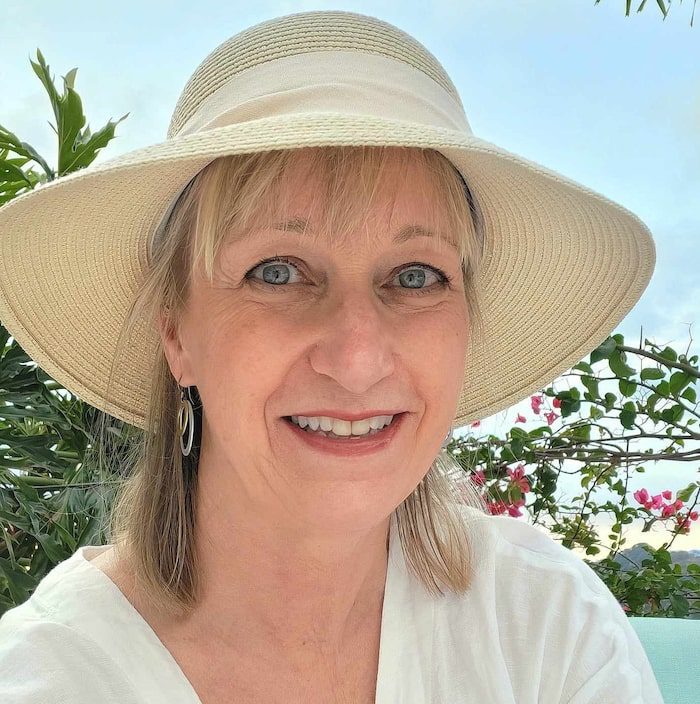 After working as a journalist in Nova Scotia, Quebec and British Columbia, Cathy (Krawchuk) Donaldson has been combining her passion for storytelling, photography and adventure as a freelance travel writer based in New Brunswick for more than two decades. She has contributed to publications and media outlets such as Lonely Planet, The Boston Globe, CBC Radio, The Halifax Chronicle Herald, The New Brunswick Telegraph Journal and The Moncton Times & Transcript. She is a member of the Travel Media Association of Canada.  More on her website here.

Read More on Healing Through Travel
For women in midlife, a transformational retreat can be an empowering, life-altering experience, as Carolyn Ray discovers at Le Monastère des Augustines in Quebec City.
For Global Wellness Day, five tips to find a wellness retreat that's right for you and support your journey of self-care and healing.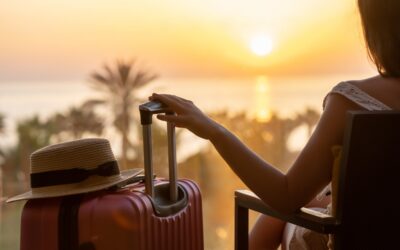 Author Becky Livingston shares the story of losing her 23-year old daughter, Rachel, and the solo journey that helped her to start healing.