Last updated on September 22nd, 2023
Featured image: The Pont-Vieux d'Albi, one of the most beautiful villages in France | Photo by Diana Eden
Three of France's 'most beautiful villages' to visit in shoulder season 
by Diana Eden
If you are looking for a peaceful vacation away from the maddening crowds of tourists in big cities in the summer heat, consider a shoulder-season visit to Les Plus Beaux Villages de France (the Most Beautiful Villages of France). September and October are perfect months for visiting, as the shops and restaurants are open, the visitors are fewer, and the weather is still warm.
These are small off-the-beaten-path gems that have not called themselves the most beautiful villages in France but, in fact, have been awarded that prestigious title by the Association of Les Plus Beaux Villages de France, created in 1982 to bring visibility to medieval villages worthy of more attention. Today, there are 172 towns classified under this demanding label, resulting from a rigorous selection process and spread over 14 regions.
Les Plus Beaux Villages de France – Beautiful Villages in France
Les Plus Beaux Villages de France considers the quality of the village's surroundings and roads, its vegetation and flowers, as well as the number of listed sites and noteworthy heritage spots.
"We want living villages and not museum villages, Disneyland-like sets," says Alain Di Stefano, Deputy Mayor of Yèvre-le-Châtel, LPBVF President. (Source)
I've visited three of the most beautiful villages in France, all near the lovely town of Albi. Toulouse is the nearest major airport, and you will need a car. However, the villages I describe are all within 40 minutes of each other and the roads are in good condition.
1. Cordes-sur-Ciel
Perched high on a hilltop and visible for miles, Cordes-sur-Ciel received its charter from the Count of Toulouse in 1222. It is generally considered to be the first of the "bastides" of Southwest France or "new towns," created to resettle and shelter people who had been displaced.
Overlooking the Cérou Valley, the town is a UNESCO World Heritage Site and one of the most popular tourist destinations in the region. Hundreds of visitors come in summer to climb the steep cobblestoned streets and enjoy the view of the surrounding valley from the top. The streets are lined with medieval houses, many of which have been converted into shops, galleries, and restaurants. The old town also has several churches and museums, including the 13th-century Church of Saint-Michel.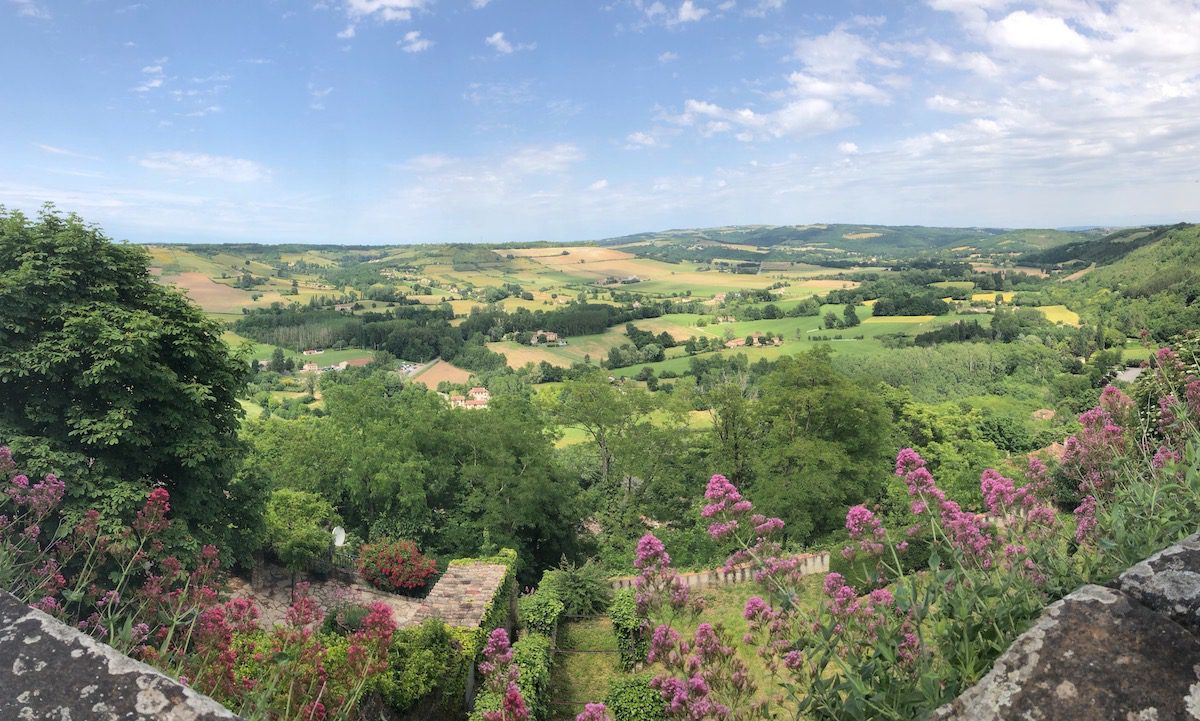 The view from Cordes-Sur-Ciel / Photo by Diana Eden
You can find quieter times if you visit in the off-season when it is easier to view and appreciate the architecture. There are several Gothic residences built between 1280 and 1350, a number of ancient gates, and several art museums.
For those older travellers or mobility challenged, don't worry. There is a little tourist train that goes from the parking area at the bottom to the top and runs frequently throughout the day. And there are lots of benches where you can stop and sit for a bit for some great people-watching.
Tip: don't forget to visit the more unusual attractions, such as the "Musée de L'Art du Sucre et du Chocolat" (The Museum of Sugar and Chocolate).
Though I did not eat here, the restaurant that received the highest rating by visitors on TripAdvisor is La Planche de Bacchus. It has a restaurant, a lovely terrace, a wine bar, and a shop with lots of local delicacies.
2. Castelnau-de-Montmiral
Also founded in 1222, Castelnau-de-Montmiral's famous central square looks like it has barely changed since villagers gathered there to socialize in the Middle Ages. No wonder it has been used as a location for several films. Nowadays, residents and visitors still gather there to meet their friends or eat in one of the two restaurants under the original arcades on the ground floor.
The day I was there, caterers were setting up for a wedding in the square, and around the back, we discovered chefs roasting pigs for the feast!
Castelnau-de-Montmiral is a beautiful village to walk through, with its mix of half-timbered medieval houses and ancient stone buildings. The terracotta roofs and wooden shutters add to the village's charm. Two of the original 13th-century gateways through the town ramparts still exist. Just beyond the church, at the edge of the village, there is a statue of the Virgin Mary, located on Pechmiral, a promontory that offers panoramic views of the village and the surrounding countryside.
Tip: Be sure to allow time to eat at one of the two restaurants in the main square. One is Le Menagier, an upscale establishment with an extensive menu, and the other, also on the main square, is the L'Auberge des Arcades, a more casual eatery and bar. We dined at both during our week's visit.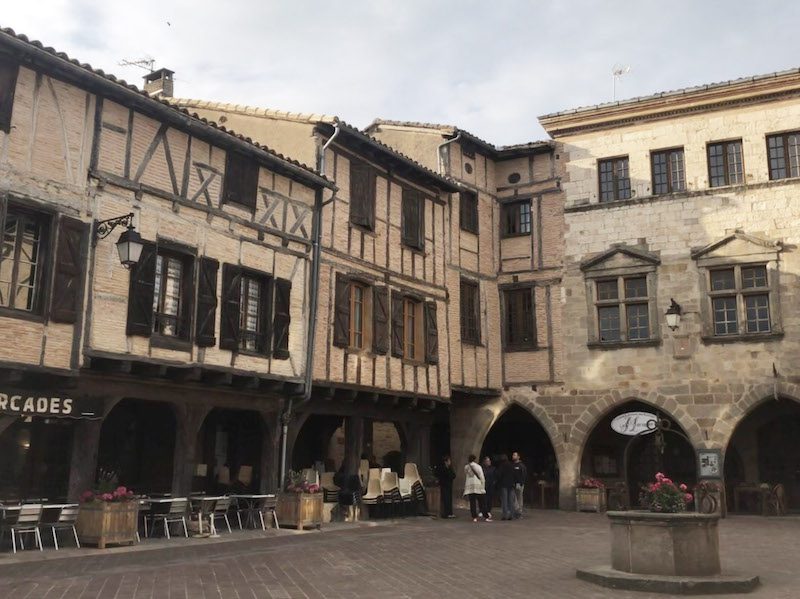 Castelnau-Le-Montmiral square / Photo by Diana Eden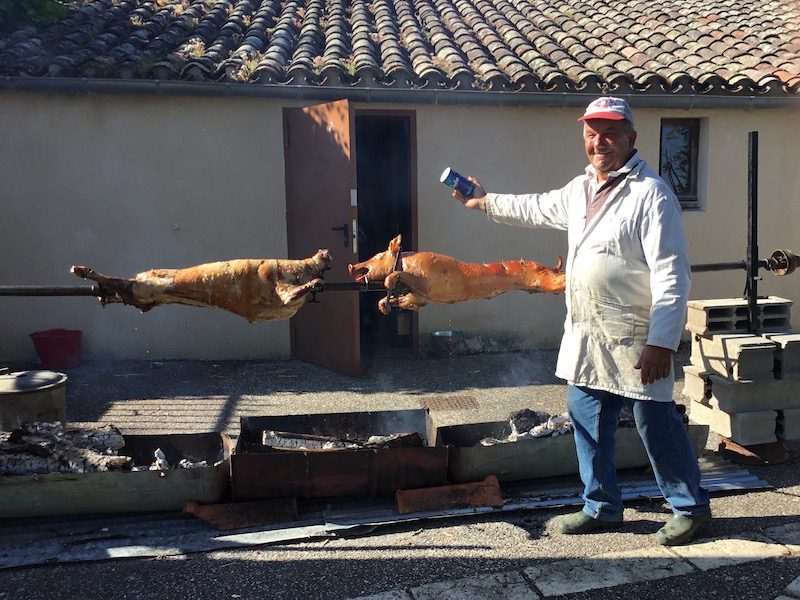 A man Roasting pigs in Castelnau-de-Montmiral / Photo by Diana Eden
3.
Puycelci
Only 13 km (9 miles) from here is another of the most beautiful villages in France, perched high on a peak with the hard-to-pronounce name of Puycelci.
On a promontory overlooking the Grésigne Forest, it is surrounded by over half a mile of ramparts. It makes for a lovely evening walk by the wall overlooking the forests below.
Around the town, there are 15th and 16th-century stone, brick, and half-timbered houses to admire, and new photo opportunities pop up around every corner. This is a place designed for "slow' travel, in that it is a place to wander, to listen to the birds, admire the flowers spilling from window boxes or planted in gardens,  or to smile at shutters unexpectedly painted lavender.
In the main square where you first arrived, you will see two lovely restaurants. I can recommend the Au Cabana de Puycelci, where we had dinner twice! There is also a bookstore with the delightful name of "Le Temps de Lire," (The Time to Read), perfect!
Typical street in Puycelci/ Photo by Diana Eden
Time to Read bookstore in Pulycelci / Photo by Diana Eden
Historic house in Pulycelci / Photo by Diana Eden
Stay Central in Albi
If you're looking for a centrally located place to use as a home base, look no further than Albi. Situated on the Tarn River, a picturesque town with a rich history and culture, Albi is a UNESCO World Heritage Site and home to a number of stunning landmarks.
On the main square is the massive 13th-century, red-brick Sainte-Cécile Cathedral, a Gothic landmark with large interior frescoes.
Next to it is the Palais de la Berbie which houses a terrific collection of work of Toulouse-Lautrec, who was born in Albi. It showcases his famous posters for the Moulin Rouges and also encompasses his early paintings, lithographs, and innovative works. I was truly mesmerized!
Be sure to go out into the classical palace gardens overlooking the river. From here, you can see The Pont-Vieux d'Albi, one of the old bridges of medieval origin (11th century) still in use.
Click here to find endless things to do in and round Albi, France!
Sainte-Cécile Cathedral in Albi / Photo by Diana Eden
Exterior of Sainte-Cécile Cathedral in Albi / Photo by Diana Eden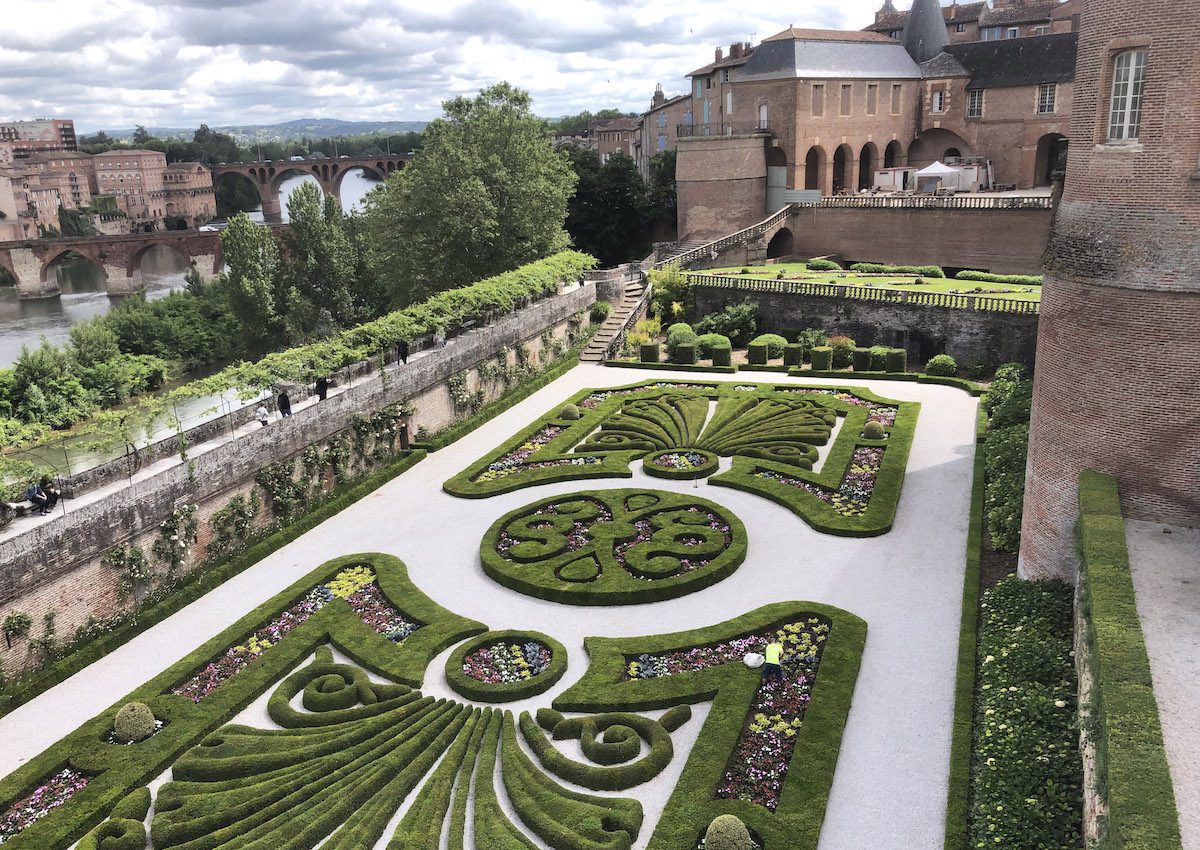 Classical palace gardens in Albi / Photo by Diana Eden
The town is a good size, with about 50,000 population, with plenty of fine restaurants. We dined happily at one such facing the main square, called La Boussole.
In both Albi and the surrounding countryside there are plenty of hotels of all types, plus B&Bs, and vacation rentals. I was lucky enough to stay with my sister, who had rented a very old house in the heart of Castelnau-Le-Montmiral, owned by a Canadian friend of hers.
You can expect very pleasant temperatures during the day in September and October. The average maximum daytime temperature in October is 67°F (19C). and at night the minimum temperature might reach 50F (10C). Rainfall during October is moderate.
So go and enjoy these beautiful villages in France. You won't regret it!

More Beautiful Places in France to Discover
Five spectacular gardens in France, including Versailles, the Monet Gardens at Giverny, and Villa Ephrussi de Rothschild in southern France.
Six ways you can reduce costs and save money when visiting Paris, including transportation, accommodation and more.
These five day trips from Paris by train will whisk you away for a day of discovery, each into a different universe.