Last updated on November 19th, 2023
Like many loves, Venice can be complicated
by Sally Peabody
Pure beauty, like that found in Venice, can enrobe you in awe. In October 2019, my first visit to Venice at age 69, just weeks before knee-replacement surgery, repeatedly stopped me in my tracks…. and not because of arthritis. How in 20 years of serious travelling had I missed this glorious, ephemeral place? How quickly can I discover the real Venice and to savour the art and architecture before this sinking city sustains serious lasting damage?
This beguiling palimpsest of sophisticated civilizations, seducing visitors through centuries with its palatial architecture set in a magical matrix of canals amidst the Adriatic lagoon continues to weave its entrancing, heartbreaking spell.
Venice offers so many feasts. Like Paris and other similarly entrancing cities, the place seems created for the art of simple wandering. Begin each day with one or two goals in mind, leaving room for serendipitous discoveries along the way. Like many loves, a relationship with Venice can be complicated. And ultimately worth every challenge!
Sally and her travelling companion Joanne with the singer of the naval band.
Five ways to discover the real Venice
1. Find less travelled routes in Venice
Venice is racing both the clock and political corruption against the watery onslaught of sea-level rise and intensified storms. Sadly, flood defense systems have proven ineffective.
Once-teeming tapestries of civic life are being shredded by a mass-tourism onslaught. Ancient habitations are converted to modern short-term lodgings sending prices skyrocketing. And looming cruise ships disgorging thousands of day-trippers regularly fill the inner harbor, obscuring sublime views and creating waves that destabilize small craft and iconic gondolas while disrupting the lagoon and the foundations of irreplaceable buildings. Canal-side palazzi require constant upkeep to maintain their ever-crumbling foundations and remain in danger of continuing inundation.
All those day-tripping visitors thronging Venice have created a situation in which local grocers, butchers, bakers, florists, wine merchants, mask-makers, and other specialty shop-owners keep giving way to stores offering cheap tchotchkes or expensive internationalized fashion of no direct connection to Venice itself.
Adding to the city's challenges, intrepid residents who adore their home and invest in fostering strong community are dramatically shrinking in numbers— the population of the seven sestieres that comprise the city is down, now, to no more than 55,000. Too many former residents have been displaced to the mainland by impossible home-ownership and rental prices. It is quite a litany.
Tourists stroll the side streets near the canals in Venice, Italy / Photo credit: Sally Peabody
If You Go
Sally's Secrets in the City of Serenity
2. Walk slowly, at a vaporetto pace
New arrivals sense that Venetian society is more than a little bit impenetrable to the casual visitor, what with all those alluring palacios secured behind massive wooden doors, where century-upon-century of family histories undergird subtly layered social class and status.  Yet every day my husband and I met engaging, diverse Venetians who were utterly hospitable to us, and who expressed remarkable optimism about their city's future and its continuing reinvention despite formidable challenges.  Indeed, life in Venice is a constant dance between everyday normality and dealing with its issues.
One middle-aged resident regaled us with tales of the quotidian tasks of hauling everything you purchase, from groceries to clothing to appliances like refrigerators, over the endless 'charming' bridges, through warrens of narrow streets and alleyways, and along narrow canals. And finally… everything has to be lugged up numerous flights of winding marble stairs to the upper-floor apartments where most people live.   One adapts one's sense of schedule to the exigencies of moving about in a city with no roads. No one moves faster than a brisk walk or a vaporetto ride. 
Despite the conundrums facing Venice, the city remains beguiling. Finding destinations, especially in out-of-the-way areas, often feels like a scavenger hunt.  There is no telling where a street will lead beyond that next medieval turn, regardless of how wide or narrow the passage is.  One strategy is simply to follow someone who seems to know where they are going, assuming that you will all pop out somewhere recognizable, maybe at one of the gorgeous plazas, fronted by one of the art-filled historic churches, that anchor many a neighbourhood. These are places off the bucket-list-trail, where locals and lovers of Venice gather. You are welcome to do the same.
3. Explore outlying areas on the waterbus
For people with mobility issues, it is helpful that central Venice does not cover a very sizable area, and that all of its quarters and outlying areas can be reached via the vaporetto waterbus system. The overall reach of the network of vaporettos is extensive and sadly, is wildly expensive for non-residents. It is essential to buy a daily or weekly pass (25 and 60 Euro respectively). Otherwise, you will be faced with exorbitant single-fare rates.
Once armed with your pass, a hop-on-hop-off strategy will make the entire reach of the city and its islands yours to explore, opening up places like the famous glass-blower's island of Murano. The pass also accesses the ferry-system that serves farther-out islands such as Burano with its history of fishing and lace-making, and its riotously coloured houses set along small rios. Press still further on for quiet Torcello, site of an intact 13th-century monastery with mosaics, or explore rural St. Erasmus, the island where ageing farmers grow those beautiful veggies for sale in the Rialto market. You can day-trip it as far as the Lido, the barrier-beach community where a stroll along the sands followed by a fresh-fish lunch make for a good-weather escape beloved by Venetians and visitors alike.
Venice remains intimate. Urban life is vibrant. Especially after hours, when the tourist bustle dies down, you hear the sound of conversation and laughter from people whose pathways may never cross yours. And the sound of luggage-wheels on uneven paving stones is ubiquitous at virtually any hour. There is frequently live music in the shadow of historic churches or under archways covering small streets. Conversations flow from cafes. Cultural life, including art, opera and concerts is rich.
4. Seek neighbourhoods away from St. Mark's Square
Those seeking to drink deeply of the city's pleasures will find countless opportunities for doing so. Get just a few blocks away from the ever-packed St. Mark's Square and you will discover neighbourhoods full of cafes and bars perfect for a spontaneous chat with residents or your fellow visitors. You will readily find excellent coffee, a glass of local wine, or a scintillating spritz, along with tasty chichetti. For instance, Adagio, a welcoming cafe/wine bar in the heart of the San Polo neighbourhood where we stayed, specializes in healthy-sized spritzes featuring Aperol, Campari, or a delicious local aperitif called Select. We relaxed there on four of the five nights of our sojourn and soon were welcomed like locals.
In addition to intimate, corner-sized establishments like Adagio, somewhat miraculously, small-scale shops do survive that sell exquisite handmade paper goods, Italian textiles, specialty foods and crafts of vaunted quality. You pass by artisans constructing furniture, gilding picture frames, or upholstering chairs. There are even gondola yards where those iconic craft are still made by hand, slowly and lovingly.
The blissful canals and historic buildings of Venice, Italy / Photo credit: Sally Peabody
5. Visit local markets
For lovers of European fresh-food markets, the venerable Rialto market offers magnificent fresh fish and shellfish, along with fruit and vegetables grown on St. Erasmus, a small island in the lagoon. In October the market yielded a bounty of wild mushrooms, ruby radicchio, chard, micro-greens, and super-sweet 'scampi'. Convivial market-bars like "I Compari Pulperia a Venezia" offer melt-in-your-mouth poached octopus, pasta with seafood, and the typically short pours (unfortunately) of good wines from the region. All this can be found mere footsteps away from the selfie-snapping hordes hanging out on the Rialto Bridge.
Venice is not lauded as a gastronomic destination, although there are certainly excellent, if expensive, restaurants, often focused on sublime local seafood. Sadly, many homey local 'trattorias' have shuttered their doors. There are many 'snack bars' that lack kitchens and serve re-heated prepared food. But, as at Adagio, there is the enduring Venetian tradition of Bacari, cafe/bars that offer selections of small-plate chichetti along with drinks. These convivial establishments typically feature a buzzy, stand-at-the-bar atmosphere.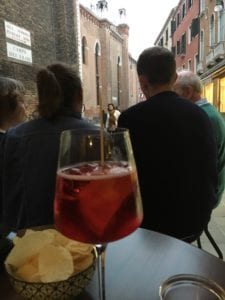 Chichetti range from simple snacks atop baguette slices, to three-cornered sandwiches called trammezzi, and on up the culinary scale to ambitiously creative, often seasonal, small 'bites' such as salt cod whipped with cream and caramelized onions, tiny spring artichokes, or a broad variety of local seafood, such as a sweet/sour marinade bathing fresh sardines. Pair one or more of these delicacies with an ombra (a small glass of house wine), or with a slightly larger glass of vineyard-specific wine, or with a beer or a spritz, and you have the makings of an affordable chichetti crawl that may be a highlight of your sojourn in La Serenissima.
A word to the wise: aficionados of spritzes should seek out Select Aperitivo, a locally beloved Venetian bitter aperitif that is roughly half-way between the bitterness of Campari and the sweetness of Aperol (see photo to the left by Sally Peabody). And be sure to find a spritz that hasn't been watered down to pale tourist-bar transparency.
6. Access diverse cultural sites
As for accessing cultural sights and sites, the Venice Tourism Board makes it remarkably easy for newcomers to access the varied troves of art and architecture. For instance, a 'Chorus Pass' offers access to twenty of the most interesting art-filled churches scattered throughout the various sestieres. Tracking down a number of these always-worthwhile destinations provides an excellent organizing principle around which to enjoy some off-the-beaten-track explorations or an artist-centric scavenger hunt of sorts.
Also of note are the remnants of the fascinating 'ghetto' neighbourhood offering a visit to the small Jewish Museum and several ancient synagogues set in the sestiere of Canareggio. This was the ghetto that was, sadly, the prototype for Jewish ghettos located all across Europe.
Lovers of renaissance art, religious art and modern art have an overwhelming abundance of world-class options with which to indulge their respective passions. For example, peruse the soul-opening treasures in the justly famed Accademia fine arts museum, as well as at the Peggy Guggenheim Museum with its modern collection set in a stunning canal-side palacio.
Seek out the magnificent Scoula Grande di San Rocco (my favourite), containing nearly 60 Tintoretto canvasses presented on the walls and ceilings of one of Europe's most astounding interiors. Plus, there are numerous notable, often quirky, collections housed all over central Venice in a variety of glorious palazzi, along with a steady array of temporary exhibitions set up in churches, monasteries or other art-spaces. And that is not counting the vast Venice Biennale featuring contemporary art.
Pride of place, in terms of religious edifices, goes to the riotously domed St. Mark's Basilica. Anchoring the ever-crowded (when not flooded) St. Mark's Square, the Basilica contains a host of dazzling gilded mosaics portraying biblical stories. Try to go when the lights are on. And you might want to check tide tables and moon phases that bring flooding before you choose travel dates.
The Tintoretto Paradiso is the largest oil painting in the world / Jacopo Tintoretto / Public domain
Next door to St. Mark's, the Doges Palace, one of the world's emblematic public buildings, conveys the majesty of Venetian temporal power through its imposing architecture, rich furnishings, monumental art, and countless artifacts. One fascinating detail: there is a discreetly confidential letterbox in the Doges Palace to facilitate 'denontie secrete'. Whistle-blowing citizens could insert an anonymous note into "The Mouth of Truth", perhaps to raise an issue about a fellow citizen, report a crime, or dispute a civic policy. The multi-storied Palazzo Ducale also contains the world's largest oil painting, Tintoretto's Paradiso, measuring 74 by 30 feet. It is noteworthy that the artist prominently inserted the image of his beloved daughter into the heart of the work. She, a talented portrait painter, had died at age 30 just as the painting was being completed.
So many feasts.
The Cane in the Canal
My final afternoon in the City of Serenity yielded an experience that was so quintessentially Venetian that I laugh with delight about it, weeks later. A friend and I were trying to find Santa Margherita square in the sestiere of Dorsoduro. We had paused on top of a bridge spanning a rio just off the Grand Canal. Leaning my cane against the bridge rail, I took out my phone to snap a picture. A moment later, I heard a grating sound and then a splash. My cane had fallen into the water. What would I do? We were blocks from our apartment.
And then, as if the city itself had conjured a spell, a handsome young man and his attractive companion came up the steps. They noted my consternation and inquired, in perfect English, what was wrong. I pointed to my cane afloat in the canal fifteen feet below us. Oh, said the woman, we thought it was your phone that you had dropped. The man called to a loaded working boat that was passing under the bridge. No luck.
"Don't worry," he said, "we can get it back."
On healthy knees, he ran down to the sidewalk along the rio and hailed another boat that was coming along. The weather-beaten pilot idled his motor, reached into the water, and retrieved the cane with nary a glance in my direction. My rescuer reached out and grabbed it, then bounded with a broad smile back up the stairs. And as he handed the cane to me, he and his companion graciously wished me a lovely evening.
Great art, incredible architecture, and simple human kindness. A perfect travel trifecta.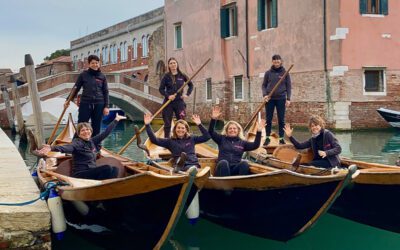 Meet Jane Caporal of Row Venice, who is dedicated to preserving the ancient tradition of rowing with her all-woman company.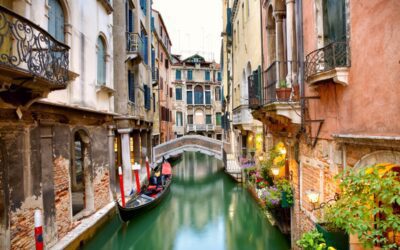 Venice is not the most mobile-friendly city. Explore safely and in comfort with these Venice travel tips for women over 80.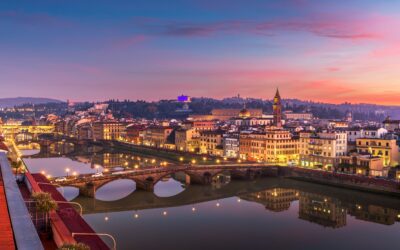 Sarah Winman's captivating novel "Still Life", set in Florence, Italy, brings the magic of chance encounters and kindred spirits to life.