Last updated on November 19th, 2023
Why museums and art galleries are my first stop when I travel 
by Maggie Fairs, Guest Contributor
I so miss lazy Saturday afternoon strolls through art galleries. Just exploring and taking it all in. Wandering aimlessly through new and existing exhibitions. Rediscovering old favourites and learning about new up and coming artists. Whenever I find myself in a new city, art galleries are the first place I take myself. It's such a wonderful way to discover a city's passions, its emphasis on culture and of course, it's great for people watching! 
London is an art lover's dream. So many beautiful and interesting galleries and buildings to explore. So, while we can't be there live at the moment, we can explore many of these wonderful galleries online. So, shall we start our tour?  
1.The Tate Modern
 The Tate Modern is a favourite hangout of mine from when I lived in London. Known for its contemporary and experimental works, let's join BBC presenter Nick Grimshaw and Tate Modern Chief Curator Frances Morris for a whistle stop tour around Tate Modern's Blavatnik Building.
Together they walk us through Louise Bourgeois in Focus, a retrospective of this great artist's work, which literally covers all art forms. She is however best known for her larger-than-life-sized sculpture of a spider. It is not for the faint of heart!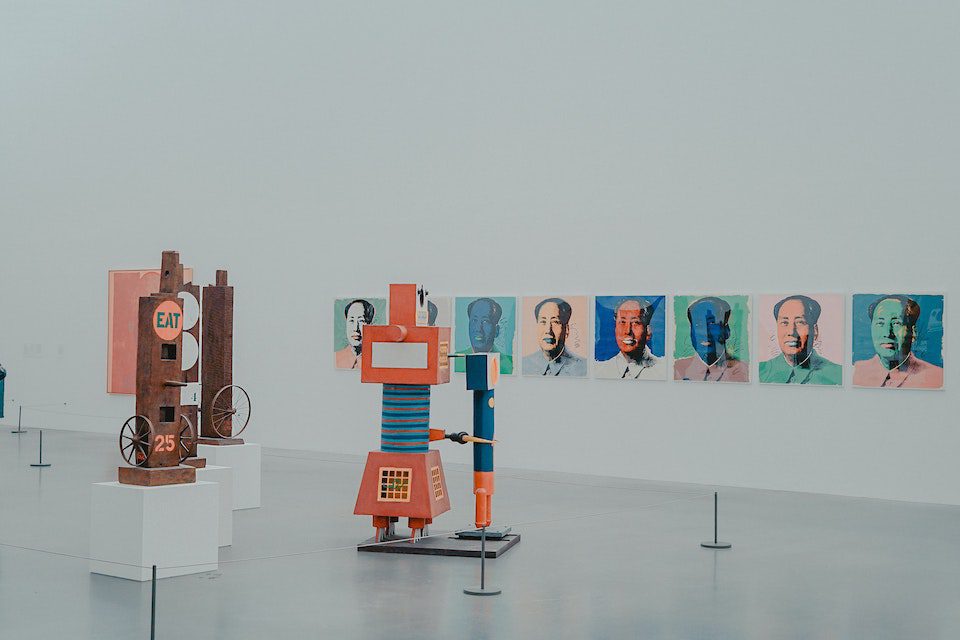 2. The Courtauld Gallery of Art
Next, let's pop over to The Courtauld Gallery of Art. Housed in historic Somerset House, Courtauld Gallery is best known for its collection of Impressionist and Post-Impressionist paintings, including masterpieces by Monet, Van Gogh and Gauguin and the largest collection of Cézannes in the UK.
3. The National Portrait Gallery
From here, we'll visit The National Portrait Gallery where we could literally spend days happily moving from the Tudor Galleries to the Learner Galleries and everything in between. Here, we are treated to the largest collection of Tudor and Elizabethan paintings in the world. Everything from King Henry VII to the bard himself, William Shakespeare. And, when you're feeling confident enough, you can test your knowledge with the Gallery's online matching game.
England is one of my heart places. It's where I grew up, have moved back to twice, and have spent many holidays. I will never get tired of visiting. Here are a few tips for you if you decide to go.
4. The National Gallery
Just next door, we head to The National Gallery where we explore the world's greatest artists through the centuries. The National Gallery partnered with Google Earth to offer a 360° tour which means we can Immerse ourselves in these Renaissance masterpieces. Amongst my favourites is Hans Holbein the Younger, who was considered one of the most accomplished portraitists of the 16th century. He is best known for portraying the nobility of the Tudor court, including his famous portrait of Henry VIII. 
5. The British Museum
And, we'll finish at The British Museum. Here, the collections span over two million years of history and include such great works as the Rosetta Stone, the Parthenon sculptures, and Egyptian mummies.
And, for those who have seen The Dig on Netflix, you can take a peek at the Anglo-Saxon Ship Burial discovered in Sutton Hoo in Suffolk, England during World War II (and do watch the movie – it's charming and truly lovely!)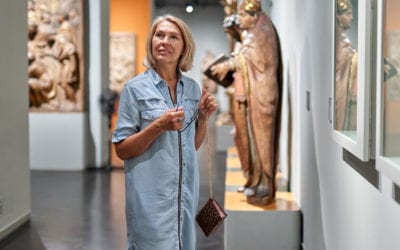 We've compiled a list of 10 female-centered museums that might be fun to check out.
A JourneyWoman community tip about a sleek English tea shop with a modern twist in London, England.
Afternoon tea at one of London's top hotels or restaurants is a luxurious and extravagant affair. Here we share where to go and what's expected of JourneyWoman visitors…