Last updated on November 8th, 2023
Featured image: Diana Eden experienced several "awe"-inspiring moments during her time in Bora Bora | Photo by Diana Eden
This magical ocean paradise is worth the trip
by Diana Eden
If visiting Bora Bora is on your bucket list, do it. Do it now!
I have seen white beaches, palm trees swaying in a light breeze, and shades of incredibly turquoise water in various other parts of the world, but nothing is as magical as Bora Bora. Many millions of years ago, a volcano erupted, creating a rocky mountainous island in the middle and a shallow lagoon all around, nearly a perfect circle. It is like a concentration of all things serene, exotic, and purely beautiful. 
Where the water is very shallow, it gleams a soft aqua made luminescent by the sunlight as it enters and hits the sand. Where it is a little deeper, it becomes an indescribable vivid jade, and then where it is much deeper, it transitions to a deep teal. These colors seem to move and change in pattern. You try to capture it in your mind or a photograph, but the wind shifts a little, and then the colors seem even more vivid. "Is that possible?" you wonder.
Bora Bora's magical beauty
When younger, as an art history student, I traveled for education to see the wonders of the world, whether natural or man-made. In my life, I have seen the Sistine Chapel, the Milan Duomo, the Arc du Triumph, and many other incredible monuments around the world, and yes, I am glad to have seen them. In later years, I traveled to be exposed to other cultures so different from my Western upbringing. But if there's no other reason to visit Bora Bora than to see its natural magical beauty, that is worthwhile too.
Later in life, as one's travel window contracts due to the natural evolution of the body's strength, it's about fulfilling the things you spend your life working for. Studies have shown that spending money on experiences rather than things makes you happier and being too cautious and fearful may cause you to miss out. Sadly, too many people I know have said, "I wish we'd done "……….." when we could have," or "I've always wanted to go there." If your health and finances allow, do it!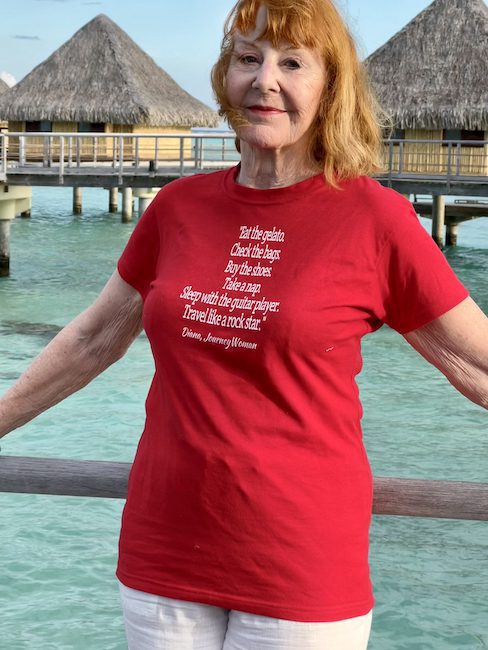 Diana wears her "Travel Like a Rockstar" shirt in Bora Bora / Photo by Diana Eden
The overwater bungalows sit above the turquoise water in Bora Bora / Photo by Diana Eden
Bora Bora is filled with all the shades of blue / Photo by Diana Eden
Finding awe in the ocean
I have written about continuing to search for "awe" moments in one's life, and I experienced several in Bora Bora. One was during our snorkelling trip. For the first time, I saw a giant manta ray (10 feet across qualifies as giant in my book) swimming slowly and gracefully a few yards from me. I don't know if it is possible to gasp with a snorkel on, but I think I must have!  
At soon to be 83, I am not a strong swimmer, yet our dive captain reminded me how to put on the fins and mask, and once in the water, he "towed" my friend and me as we held onto a life buoy. All I had to do was put my head down into the water, control my breathing, and watch these amazing creatures glide in their underwater world. 

Why be anywhere else?
On another day, my friend and I took a 4WD excursion around the island, where we got to see local life, where they tie-dye pareos as you watch, and ascend to a couple of lookout points where we could see the lagoon from above. Our guide explained that the ocean has entry to the lagoon at only one place and circulates in one direction. This cleans it out and hence the constant clarity of the water. It also keeps the water temperatures from reaching over 90 degrees, which can be dangerous for the coral gardens.
Find endless activities and things to do in Bora Bora right here!
Our guide typified the general demeanor of the local people, which was continuously joyous and grateful. Our young man, in his twenties or thirties, said he has left the island three times but now never wants to leave again. He wants to live in Bora Bora until he is an old man continuing to do the same work! All our other contacts with local people were similar – why be anywhere else but in this paradise? 
Watching the manta rays glide past / Photo by Diana Eden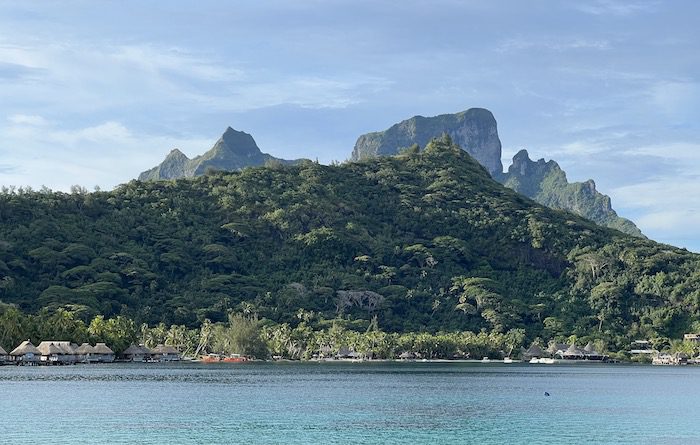 Mt Otemanu seen from a distance / Photo by Diana Eden
Spectacular sunsets 
The sunsets were spectacular. The first we viewed from the public beach of Matira, another from the deck of the Saint James Restaurant, where rays of light in rainbow colors emanated from the horizon in a manner almost like the Northern Lights! I highly recommend having a Happy Hour or dinner at the St James as we did – the meal was as good as the stunning visuals!
Another fun place of note is the restaurant Bloody Mary's, where the local catch of the day is displayed as you enter (as well as some meat options). You choose your entree then and there. Tables are set in the sand inside a huge thatched structure with polished tree trunks as stools. Two excellent musicians start at 6.30 pm and make the atmosphere festive with the classic rock we all recognize!
On the other end of the scale is The Lucky House, which serves fantastic pizza baked in a real wood-burning oven and is frequented about 50/50 by tourists and locals.
The stunning sunset seen from Saint James Restaurant/ Photo by Diana Eden
How to get to Bora Bora
And now to the difficult parts – getting there and getting back. 
As I have written about before, getting there and getting back are the most challenging parts of the experience, especially for travelers '80s and up or the mobility challenged. And getting to Bora Bora is no exception. 
The longest part of the trip is 8 hours from the west coast city of LA or Seattle into Papeete, Tahiti. The connecting flight to Bora Bora is less than an hour, so the timing of the several connecting flights is the key. On the outbound trip, we did it wrong. After a full day at home, we took a one-hour flight from Las Vegas to LAX after dinner but then had a tiring 4-hour layover in the LAX airport. Upon arrival in Tahiti, we had a tedious 5-hour layover in a not-very air-conditioned terminal for our last leg. We arrived mid-afternoon, exhausted after nearly 24 hours of traveling.

On the return, we were smarter. We stayed overnight in Papeete, so we were fresh for our 8-hour flight back to LA and made our last flight within a two-hour layover period.
TIP 1: Try and plan your flights with as little layover time as possible, even if it means an extra night in a hotel en route. It makes SUCH a big difference.
I have also written about the extraordinary size of modern airports, and LAX is no exception. We had a more-than-one-mile walk from Terminal 1 to the International Terminal (though there is a bus which helps a little), through check-in, security, and out to a very distant gate. Yes, over a mile walk, dragging luggage!
On the way back, we were smarter and requested (at the start of our journey) to be met by a courtesy cart to get us from the gate to passport control, to the baggage area, and on to the other terminal. It made a huge difference!
TIP 2: Wheelchairs and courtesy carts must be ordered before your flight starts, but at the other end, we found our names on the list, and everything was efficiently organized. Tips to the wheelchair staff were given willingly. – these men and women work hard, and we found them cheerful and helpful.
TIP 3: My friend and I planned our trip through Delta Vacations which gave us a package deal on the hotel and flights. What was really nice about it was that all our transfers were included and went without a hitch.
More on Travel Over 80 From Diana Eden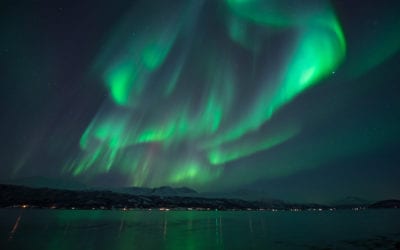 We reveal the top seven Once-in-a-Lifetime Travel Experiences recommended by women, including the Northern LIghts, the Camino de Santiago, Canada's Rocky Mountains, a Safari in Africa, an Antarctica expedition, Machu Picchu and Bali.