Last updated on June 2nd, 2023
Featured image: Travel in your own backyard around Nevada to these quirky towns, like Nelson, a mining town | Photo by Diana Eden
Three unique and quirky places near Las Vegas
By Diana Eden, Contributor, Travel Over 80
Much as I yearn to visit faraway places, exotic lands, and continents I have yet to set foot on, it's fun to travel in my own backyard. Just outside my home of Las Vegas, mining towns and ghost towns abound and there is an abundance of quirky, fascinating, and outright odd places to visit.
Home is Las Vegas, the most extraordinary city that grew from a small rural enclave of 8400 people in 1940 to the current metropolis of nearly 3 million people, mega hotels and casinos, newly constructed sports stadiums, theaters offering music's headliners alongside ballet, opera, and Broadway, and attracting nearly 39 million visitors in 2022 (*source: Las Vegas Convention and Visitors Authority) All of this happened in 80 years or so, a most unpredictable explosion of glamor and tourism and entertainment in the middle of the high desert.
How to get started on a travel at home adventure
Get out of your comfort zone. For those who are settled into a comfortable routine with familiar activities, look for the outside-the-box experiences.
Find some of these unsung gems by reading local papers and newspapers. Occasionally a story will pique your curiosity.
Search online under categories that interest you, such as "(your town)'s history….", "ghost towns," "unusual architecture", "unexpected places to eat". In Nevada there is even places to visit for those believing in space aliens near Area 51. They are guaranteed to be some of the weirdest stops you've ever made on a road trip!
Travel in Your Own Backyard in Nevada
Go 10 minutes outside the city's outer edges, and you are in the desert, where nothing much exists except rocks and rabbits. But in less than an hour, you can discover glimpses of Nevada's "Wild West" past. Long before mobster Bugsy Siegel built the Flamingo Hotel in 1946, gold and silver discoveries were attracting people from all over the country, eager to make their fortunes. In the mid-1880s, prospectors, and miners flooded the Western United States, including Nevada.
Mining towns and ghost towns abound and there is an abundance of quirky, fascinating, and outright odd places to visit.
1. Nelson, Nevada
One such place is the town of Nelson, a mere 45 minute drive south of Las Vegas. Turning off Highway 95, you travel 20 minutes through the Eldorado Wilderness, seeing no signs of life until you round a corner, and there is the little town of Nelson, on the site of the old Techatticup Mine. This canyon was originally called Eldorado in 1775 by Spaniards who uncovered gold in this region.
In the mid-1880s, prospectors took over the already-established mine but not without some disagreements. Shootouts and murders were so frequent during the 1880s that it was an assumed part of ordinary life. The mine, however, continued to produce millions of dollars in gold, silver, copper, and lead until its closing in 1940.
The mine remains, and it has been opened for tours. The surrounding town is privately owned and has many of the old buildings. In addition, there are some newly created ones, plus an eclectic collection of old cars, planes, signs, and furniture. It has become a popular destination for filming and for taking photos.
As you can see from the sign "New Rules, Must Read, "photograph below, the town's owner has a salty personality and doesn't hesitate to express it!
Tip: Be sure to take water to drink and possibly a picnic lunch. There are places to sit, but not much available in or even near Nelson for a meal. Also, plenty of sunscreen and a hat. If you want a tour of the mine, book a reservation.
Old vehicles in Nelson, Nevada / Photo by Diana Eden
Rules for visiting Nelson, Nevada / Photo by the owner
2. The Pioneer Saloon for history and whiskey
If you don't mind driving 40 minutes from The Strip for lunch, a visit to the Pioneer Saloon is well worth it!
Just off the I-15 highway heading for California is the small town of Goodsprings, where the Pioneer Saloon, established in 1913 and now the oldest bar in the Las Vegas area still stands and operates. The property was made a Nevada historical landmark in 2007.
Here, Clark Gable spent three days in 1942 awaiting news of his wife, Carole Lombard, who had died in a plane crash on the nearby Mount Potosi. It is said that the bar still has the cigarette burns left by Gable during his agonizing wait for news. Three bullet holes in one of the saloon's walls tell the tale of a poker game gone fatally wrong, and there are a number of ghost stories in the folklore.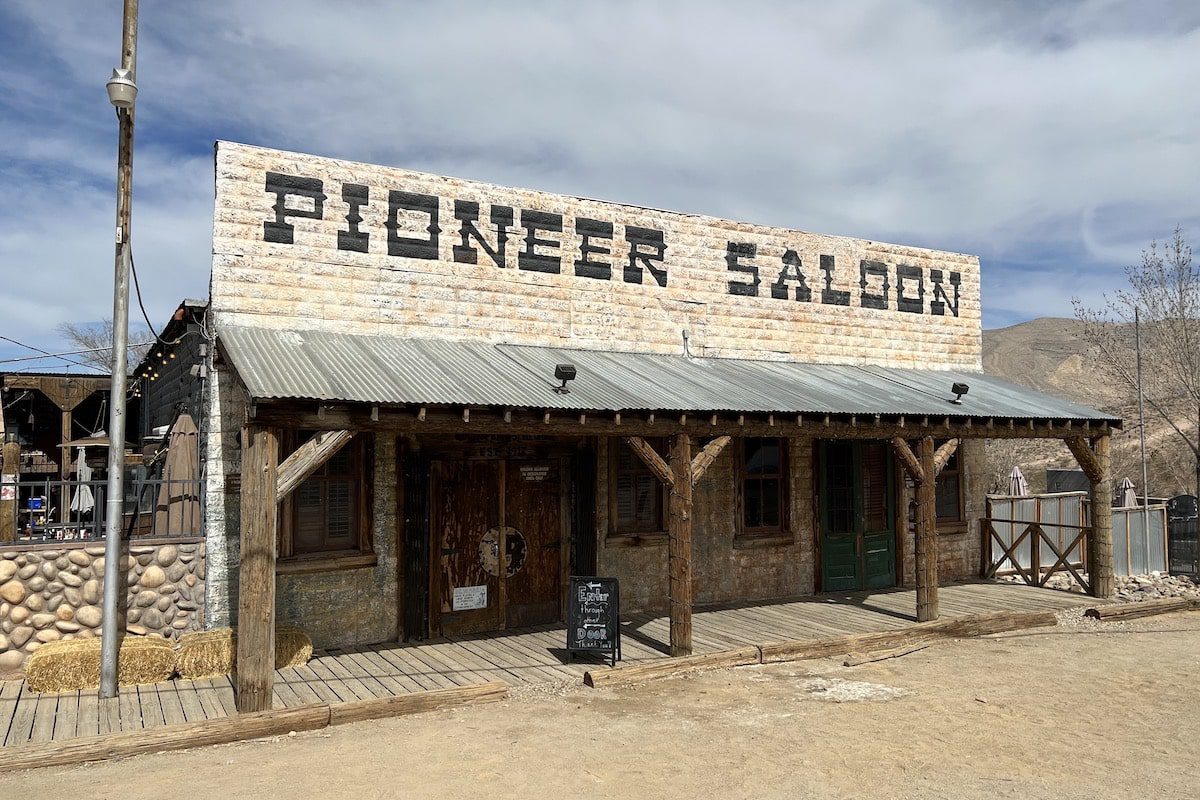 The historical Pioneer Saloon / Photo by Diana Eden
The bar has several areas. The main saloon still has the mahogany bar built by Brunswick in Maine in the late 1800s and shipped all the way around South America (the Panama Canal did not exist at the time) to San Francisco, eventually working its way to Goodsprings.
Another room to the side is filled with memorabilia regarding Gable and Lombard. A general store originally opened in the late 1800s still has the original tin walls and ceiling from the period. There is an outside patio area where "friendly, well-behaved dogs" are also allowed. Burgers and beer are a staple, along with over 80 different whiskies, and there is quite a lively vibe, especially at night and on the weekends when live bands perform.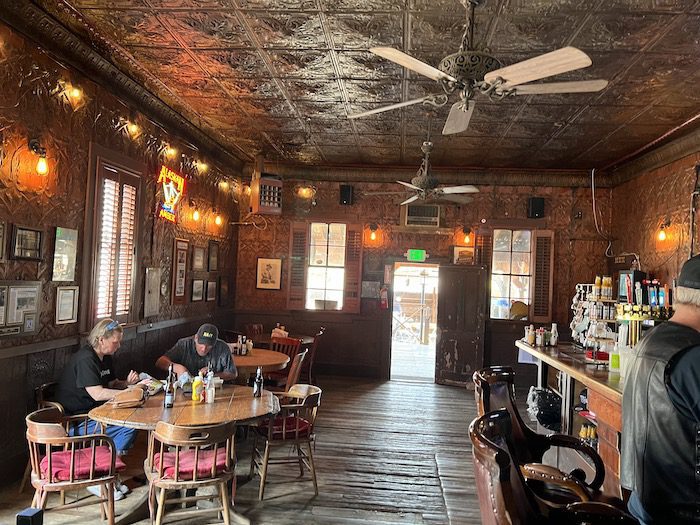 The mahogany bar built in the late 1800s / Photo by Diana Eden
Memorabilia adorns the walls / Photo by Diana Eden
Musician, whiskey-maker, and entrepreneur Stephen Staats, also known as Old Man Liver, bought the bar in 2021 but has kept its historical lore own tact while adding a lively contemporary atmosphere. It can be rented for private parties and has also been featured in many films and music videos. It is frequented by tourists and Las Vegas locals alike, and occasionally a Goodsprings local will arrive by horse.
Tip: choose your time to visit wisely. It can get noisy and crowded on the weekend.
3. St Thomas, Nevada: A ghost town rising from the lake
The town of St Thomas was not a mining town. It was originally established by Mormon settlers in 1865 for its rich farming land and had a population of approximately 500. The settlers thought they were in Utah, but once a survey placed the settlement in Nevada, they discovered that they were required to pay 5 years' worth of back taxes; they abandoned the town in 1871.
New settlers moved in around the 1880s, and the town thrived. But in the 1930s, the Hoover Dam was built, and when the area was expected to become inundated, the townspeople were forced to relocate. The lake started to fill in 1935, and eventually, all the buildings were submerged. There was a school, post office, grocery stores, church, soda fountain, and several garages for the new invention of the automobile, all gone 60 feet underwater.
Thus they remained until about 2012, when the waters of Lake Mead began to recede and revealed the foundations of the buildings once again.
When I visited there about ten years ago, there were still bits of broken crockery lying around, and we even found an old rusted bank sign that we donated to the Las Vegas State Museum. Stumps from the trees that once lined the streets remain. It was fun, yet strange, to match some of the steps we saw to photos of the original schoolhouse, built in 1915. We also saw the chimney of the Hannig Ice Cream Parlour, still bravely standing. 
The town is located in the Lake Mead National Park, managed by the National Park Service. Its website advises: "The access road is dirt and sometimes bumpy, so visitors with low-riding vehicles may want to be careful. There is a dirt trail leading to the town site from the parking area."
Tip: Make sure your car is adequate for the 3 mile bumpy road and your legs up to the hike down into the town area. There are no hills (except back up to the parking lot) but it's a 2.0-mile loop. It takes an average of 35 min to complete.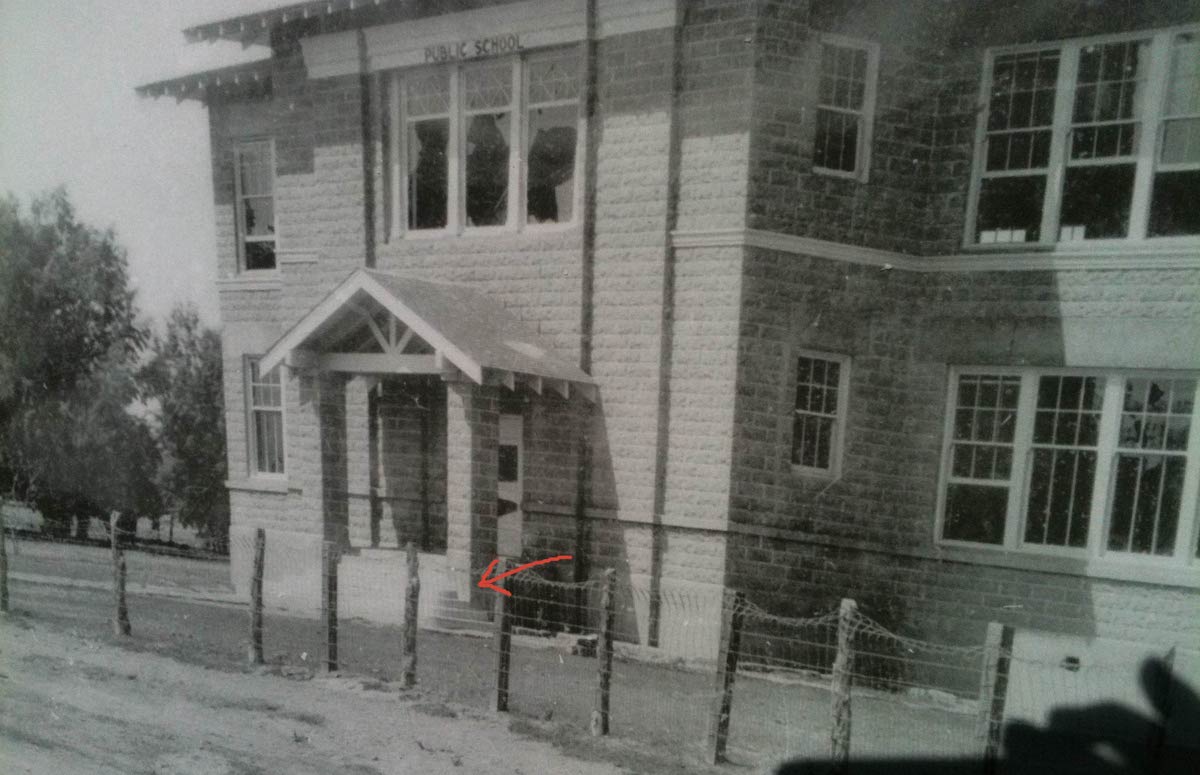 The St Thomas Schoolhouse before it was destroyed / Photo provided by Lied Library Special Collection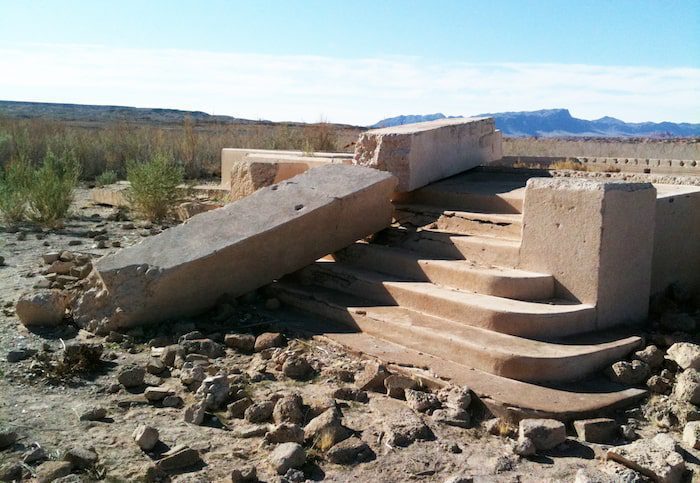 The steps to the schoolhouse currently / Photo by Diana Eden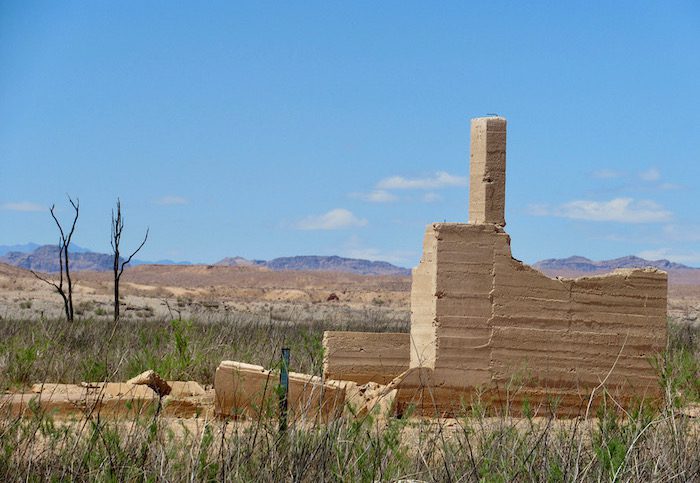 Remains of Hannig Ice Cream Parlour / Photo by Diana Eden
These and many more backyard adventures and hidden gems remain to be discovered by the Las Vegas visitor.
Read More From Diana Eden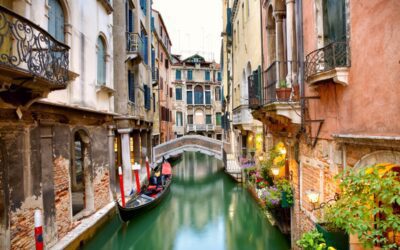 Venice is not the most mobile-friendly city. Explore safely and in comfort with these Venice travel tips for women over 80.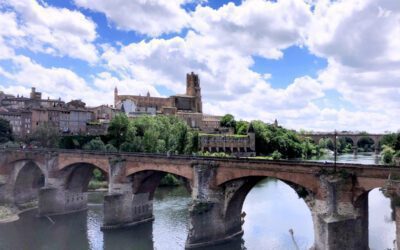 Why not consider a shoulder-season visit to Les Plus Beaux Villages de France (the Most Beautiful Villages of France), away from the crowds?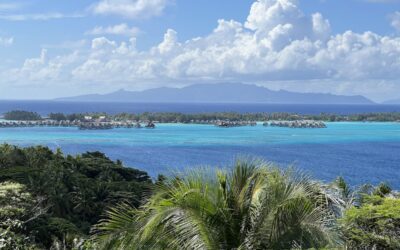 Located in French Polynesia, Bora Bora is a magical ocean paradise well worth the trip, even for women in their 80s.