Last updated on November 19th, 2023
Featured image: Socotra's Dikham Plateau at night, a spell-bounding array of stars and Dragon Blood Trees, seen as part of a Swan Hellenic expedition cruise | Photo by Holger Leue for Swan Hellenic
21 days of adventure on the ocean
by Carolyn Ray
For 21 days, my home away from home was Swan Hellenic's SH Diana, on an expedition cruise that started in Cyprus and ended in the Seychelles. My journey began on October 3 in the Mediterranean Sea through the 193-km Suez Canal, into the Red Sea and through Bab-el-Mandeb, otherwise known as the Gate of Grief, into the Indian Ocean.  Along the way, we stopped at ports in Egypt, Jordan, Saudi Arabia, Djibouti, and the remote island of Socotra, ending in Maje, Seychelles on October 24.
Expedition cruising requires a different kind of mindset, starting with the ability to adapt to the unexpected. On my 21 days on the Swan Hellenic expedition cruise SH Diana, I see places that very few tourists have ventured to, including Socotra, in the Indian Ocean. The SH Diana was the first ship to visit Socotra, and as a result of this trip, it hopes to make it a regular stop on its itinerary in 2024.
"With Socotra, we are blazing the trail and saying that it's possible," says SH Diana's Expedition Leader Scottie Fiefer. "This took about six months to pull together. Knowing that Diana was coming off the Horn of Africa and right past Socotra, we realized that there was an opportunity to stop there and fulfill our DNA of seeing what others don't. It's important that we do these kinds of pioneering expeditions to lead the way and let people know what's there."
Learn more about Swan Hellenic and it's philosophy of "Seeing What Others Don't" here
Highlights from my Swan Hellenic Expedition Cruise to the Middle East
The Suez Canal connects three continents
The Suez Canal connects Asia, Africa and Europe, essentially bringing three continents together. Built in 1859, it has a complex history, at a time when Egypt was seeking independence from the British and French. The Suez Crisis in 1956, which lasted from October 29 to November 7, occurred when the British and France bombed the canal in a clear breach of NATO protocol. Canada's Lester B. Pearson brokered a peace agreement that won him the Nobel Peace Prize.
For Finnish Captain Kai Ukkonen, sailing the Suez Canal is a career highlight. With years of experience on icebreakers, Antarctic cruises and now captain of the SH Diana, Ukkonen says that only a small number of passenger ships travel the Suez Canal, and for him, it's a first. Today, an estimated 70 ships a day pass through the 193-kilometre/mile-long canal. The Canal is a huge source of revenue for Egypt. In 2022, an estimated 25,000 ships generated over $9.4 billion in 2022,  compared to the Panama Canal, which generated US$3 billion in 2021.
About 70 tankers a day pass through the 193-km long Suez Canal, a huge source of revenue for Egypt, but only a small number of passenger ships make the journey / Photo by Carolyn Ray
The majesty of Cairo and Giza, Egypt
From Port Said, it's a 3.5-hour bus ride to Cairo, where we see some of the ancient wonders of the world, including the Great Sphinx, the Pyramids and the Egyptian Museum of Antiquities. The time passes quickly, as our Egyptologist guide, Ashe, explains the history of Egypt, cultural differences and her own experiences. We're accompanied by a police escort to make sure we can move through traffic quickly and arrive back at the ship on time.
While the royal mummies have been moved to the new Grand Egyptian Museum (GEM), the Egyptian Museum feels like I've stepped into a 1920s movie, crammed full of sculptures and monuments, ancient jewelry. The treasures and golden mask of King Tut's tomb are on full display, but there are no photographs allowed. I half expected to see Howard Carter or Harrison Ford walking around.
As we journey from Cairo to Giza, our guide casually mentions that the Great Pyramids are visible – and there they are – Cheops, Chephren and Mykreinus – seemingly perched on the horizon, right behind the city, just out my window. The immensity and majesty of these structures that have survived for thousands of years is overwhelming. Carved in 2650 BC, the Sphinx was a monument to the sun god Ra or to Pharoah Chephren, with the head and body of a lion. Although our stop here is brief, I have time to go inside one of the pyramids and walk down a narrow passage to the bottom of Menkaure's Pyramid, a once-in-a-lifetime experience for me.
Tip: We had lunch at a nearby Marriott Hotel, where you can sit outside with the pyramids behind you! Check rates here.
The astonishing Great Pyramids in Giza, Egypt, near Cairo/ Photo by Carolyn Ray
The ancient world of Petra, Jordan
After passing through the Suez Canal, my next adventure is Petra, Jordan. We arrive at the port of Aqaba is on the border of Israel, and I can see the Israeli city of Eliat across the water. In fact, I am less than 100 miles from Gaza, where war has just been declared.
That moment when you walk through the crevasse and see the rose pink columns of the Treasury is worth the 45-minute /4 km dusty hike through the canyon, or Siq. It's a bustling area with camels, people and instagrammers in flowy dresses. I on the other hand, am wearing hiking shoes and army pants covered in dust. It really is a miracle to still be here – no one is sure when it was built but it prospered as a key stop along the spice routes thanks to frankincense and myrrh and thrived as part of the Roman Empire until a massive earthquake in 363 AD. It was then largely deserted and left to the local Bedouin tribes until its rediscovery in 1812 by a Swiss explorer.
Most recently, tombs have been excavated in the front, which causes archeologists to believe that it was a temple. I notice many people didn't walk beyond the Treasury – which is a shame because there's still a whole city to see, including a theatre, temple, Monastery and a church, not to mention the tombs. Strolling along the colonnade, with camels, shops and cafes, I can almost imagine what it might have been like in its prime in the first century BC. Inside many of the caves are carpet-laden bars where I can envision traders stopping along the route. It truly is like stepping back into an ancient world.
The iconic Treasury at Petra, Jordan / Photo credit Carolyn Ray
We arrived around 12 pm and it was busy and hot. If you don't want to walk, there is the offer of riding a horse or camel or a golf cart for US$23 pp, none of which slow down for humans. While this excursion was included for Swan Hellenic guests, Petra is expensive, about US$50 per day, and having a guide is indispensable.
The historic port of Yanbu, Saudi Arabia
After leaving Aqaba, the SH Diana turns south towards Saudi Arabia. In the darkness, I notice a plot of land with Arabic writing on the hills. I've now entered a country where I need to cover my shoulders, head, elbows and knees but men can dress as they wish. There's also no alcohol in Saudi Arabia, and the customs officials lock up all the liquor on board our ship, a surprise even to the staff. 
Our first stop is Yanbu, a 2500-year-old historic port. Saudia Arabia has only just recently opened to tourism in 2019.  Not many people have visited Yanbu, which was historically a very important port along the Spice Route, with travellers and traders from around the world. Our female guide in Yanbu is accompanied by a security guard and several local representatives who are friendly and welcoming.  As part of our tour, we visited Yanbu Industrial City and the Al-Sur Historic District, which has a charming night market and museums. Yanbu is where T.E. Lawrence (Lawrence of Arabia) lived in 1915-16 and wrote Seven Pillars of Wisdom, which was published in 1922. After much disrepair, the old town is being restored and there are restaurants and patios along the water. About 30 minutes away is the ancient village of Yanbu al Nakhl, which is more than 2,000 years old. Yanbu means spring and in this part of the world, water is a precious commodity. 
Yanbu also serves as the main port for the holy city of Medina, 160 km (99 mi) to the east. It is also close to the second holiest place in the Arab world, the Madinahm. Other nearby places include Mount Uhud, where Muslim forces led by the prophet Muhammad battled troops from Makkah, and Al-Masjid-an-Nabaw (The Prophet's Mosque), where the Islamic prophet Muhammad lived.
The village of Yanbu al Nakhl, near Yanbu, Saudi Arabia / Photo by Carolyn Ray
Salt Lakes and Canyons in Djibouti, Africa
Things get more interesting as we venture towards the Horn of Africa. If you've seen the Tom Hanks movie, Captain Phillips, you'll understand why. While the Captain feels there is little risk of hijacking, we still take preventative measures. Four armed guards join the ship, and our windows are blacked out. The ship's lights go off at night and we are told to stay indoors with our curtains closed. It feels surreal, but safety comes first, and thankfully, there were no incidents at all.
Bordered by Somalia, Ethiopia and Eritrea, Djibouti is a small African country the size of New Jersey but strategically important as a port on the Red Sea. It's very poor, but hoping to welcome more visitors. We're greeted warmly at the port by local singers, and then travel to the stunning Canyon of Deimbiyo, which is located on a tectonic triple junction where three tectonic plates meet – African, Arabian, and Somali. This has created a crack in the Earth's surface which can be seen from a ledge above where the gusty wind reminds you not to get too close to the edge.
Our next step is Lac Assal, the saltiest body of water in the world, about 90 minutes from Djibouti City. It is the lowest elevation in all of Africa (155 m below sea level) and the third lowest on Earth. There is salt as far as the eye can see, and stepping on it feels like crunchy snow. The reflection of the salt, combined with the incredibly hot weather (about 38 degrees in the shade), was overwhelming. Afterwards, we visited a local restauarant for lunch and lots of water! 
Salt as far as the eye can see at the Lac Assal salt flats / Photo by Carolyn Ray
Canyon of Deimbiyo, a junction where three tectonic plates meet in Djibouti, Africa / Photo by Carolyn Ray
The first cruise ship in Socotra
The remote Socotra Archipelago, located in the Indian Ocean near the Horn of Africa, is 250 km long and comprises four islands that belong to Yemen.  Often called "The Galapagos of the Indian Ocean" for its biodiversity, many of its plants, sea birds and reptiles do not exist elsewhere in the world. It is also known for its famous dragon blood trees and pristine white sand beach, Qalansiyah Beach, is magical. With turquoise waters and mountains of sparking white sand, it is undeniably one of the most incredible beaches in the world I have ever seen, completeky untouched. Swimming there, looking up at the sand-covered hills, is a memory I will never forget. 
After arriving from the ship via zodiac to the dock, we are driven in 4x4s to spend the night camping on the Diksam Plateau. This is organized by a local tour company, Tour Socotra, which provides us with dinner (goat, salad and vegetables) and sets up small pup tents in a walled-in area. The evening is spent stargazing (there is no light pollution here) and the morning is an early one at 4 am, but with the gift of a mystical sunrise on the mountain and the laughter of children in the village. After walking among 1,000-year-old dragon blood trees, we visit a small nursery where the trees are being protected from the ubiquitous goats, and a jagged, picturesque canyon that runs through the centre of the island. Along the way, I meet local children who embrace us with wonder.  It's truly heaven on earth.
These islands are almost impossible to get to: there is a once-weekly flight from Abu Dhabi (which can only be booked through a travel agency) or visitors can sail here from East Africa, which takes at least two days. The SH Diana is the first cruise ship to ever visit this miraculous place, with the aspiration of making it available to those who want to 'see what others don't.' Look for this on next year's itinerary and don't forget to mention JourneyWoman when you book it!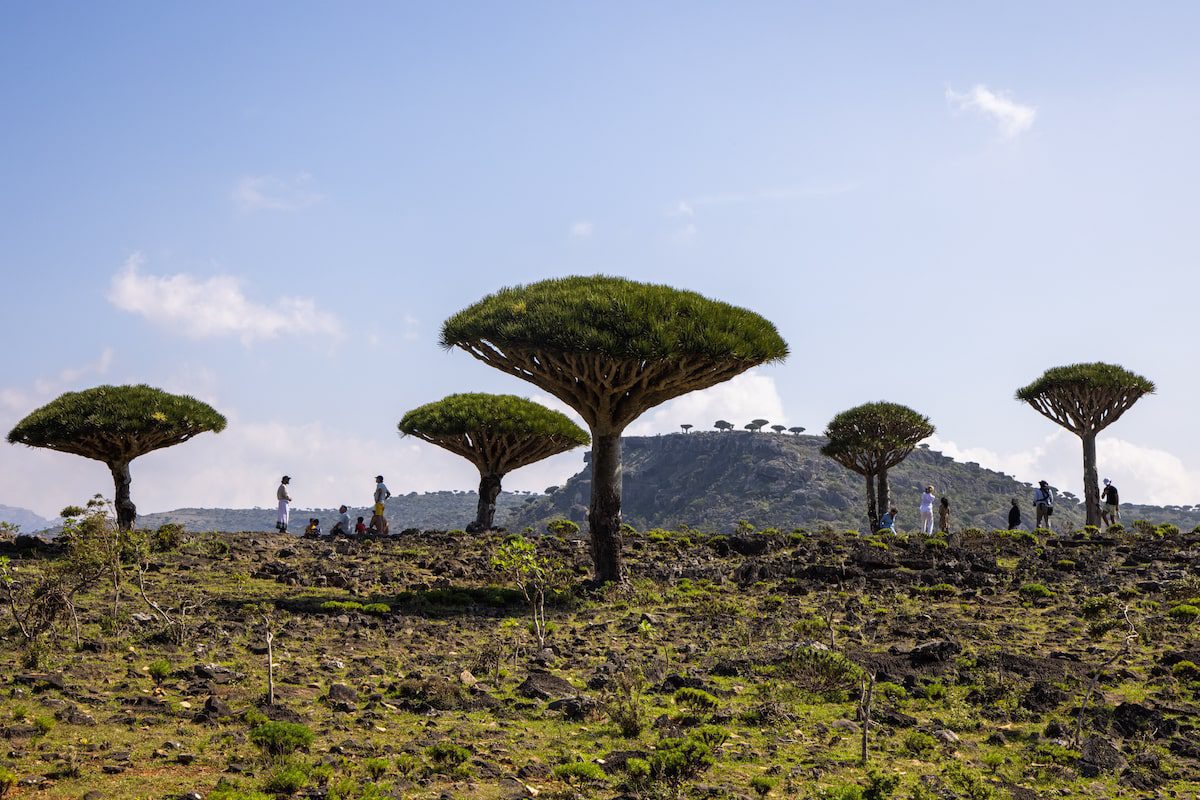 A grove of Dragon's Blood Trees on Socotra / Photo credit Holger Leue for Swan Hellenic
Connecting with communities 
Places like Socotra are not used to tourism at all, or Westerners like us.  But everywhere we went we were greeted with warmth, curiosity and smiles, whether it was in a schoolyard or in the mountain communities. I had the pleasure of travelling with Patrizia Zito, who strives to build relationships with local communities wherever she goes. 
"Swan Hellenic is a new company built by experienced people from the cruise industry," she says."But something that I like about this company is that they are brave; they really want to see what others don't. We are the first company to come to Socotra. When another company says "why do you want to do this, if no one did it before?" I say "That's why I want to do this, because no one did it before."  
Having spent most of her career in the cruise industry, and as a passionate ambassdor for Swan Hellenic, Zito has big aspirations for Swan Hellenic to support communities and young people in lesser-known areas. 
"My hope is that when we are travelling in poor countries, we help the community, not only through Swan Hellenic, but involve the passengers in the project," she says. "For example, in the Bissagos Islands in Guinea-Bissau, during the pandemic they were isolated for four years. Four years without water, four years without medicine, four years without doctors, four years with nothing. Next year, my project is to buy a desalinization machine for them, because before they can start a school, you need to give health to the people. We need to give education, yes, but water is your principal thing to live, to survive."
Visiting a school in Socotra where we donated school supplies. My donation was menstrual products / Photo credit Swan Hellenic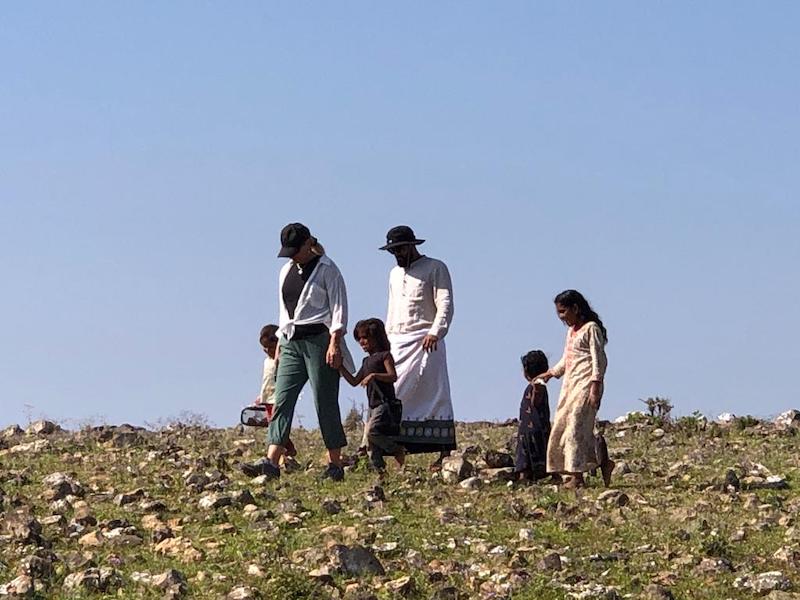 Walking with children on the Diksam Plateau in Socotra who ran up to me to hold my hand / Photo credit Carolyn Ray

More Less-Travelled Places to Discover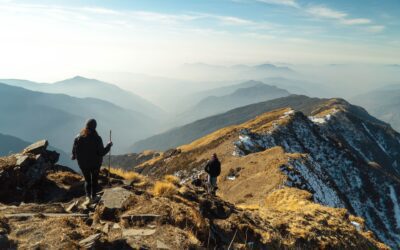 From Cuba to Mongolia, these unique small group tours from our Women's Travel Directory will connect you with people, places and wildlife.
A 21-day expedition cruise from the Suez Canal to the Indian Ocean is an opportunity to see less-travelled places and embrace new adventures.
For women, the benefits of small ship travel include sustainability, access to less-travelled places and a more personalized experience that includes safety and hygiene.