Last updated on November 19th, 2023
Featured image: The Ozarks are full of quirky towns with lots to explore, like Crystal Bridges in Bentonville | Photo by
Charvex
via Wikimedia Commons
The Ozarks offers natural beauty, culture, history, and just plain fun
By Karen Gershowitz, Contributor, Quirky Places
"You're going to Arkansas? Why?" That's the question I heard from everyone when I mentioned my next destination. I'd just come back from Antarctica and no one questioned that. But the Ozarks in Arkansas they couldn't comprehend.
I'd been to Arkansas several times and found it quirky, beautiful and fun.  But I hadn't been there in a while and in the interim the Crystal Bridges Museum of American Art in Bentonville had opened.  Photos of the museum's unique architecture and reviews of its art collection intrigued me. 
Four places in the Ozarks to discover
Bentonville – Art Everywhere
I arrived in Bentonville in the afternoon and wandered around the town, leaving a full day for the museum. It was a delightful surprise, exuding a sophisticated, friendly vibe. Murals, sculptures, and mosaics fill the streets. The Onyx, a coffee shop where I took a break, had unusual coffees and teas from around the globe. There is a wide range of restaurants, from down-home to haute cuisine.
Bentonville is where Walmart's headquarters are located. Many office buildings are labeled Walmart. Plus, the Walmart Museum is in town.  It's a tribute to Sam Walton, his history, philosophy, and the story of the company's extraordinary growth. 
I stayed at the 21C Museum Hotel. The hotel chain, with properties across the Midwest, incorporates galleries of contemporary art.  On display are works by up-and-coming artists. In addition to the art everywhere inside and out, the hotel is playful, with three-foot-high plastic penguins joining the guests in all public spaces.
Crystal Bridges exceeded my expectations. Designed by Israeli architect Moshe Safdie, the softly rounded buildings echo the surrounding Ozark hills. They cross two ponds, hence the "bridges."  Even on the overcast, drizzly day I visited, they gleamed and their reflections in the ponds emphasized their unique design.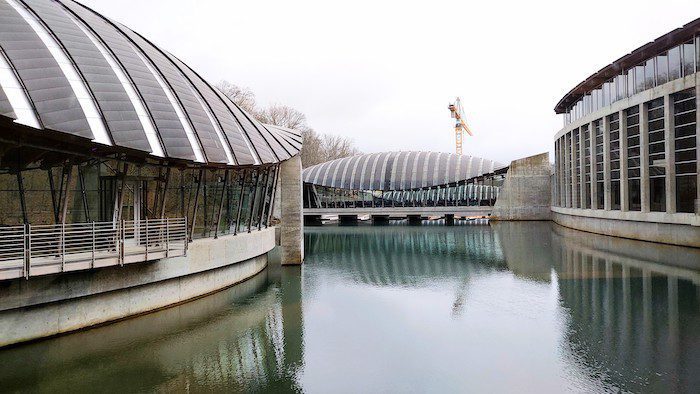 Crystal Bridges, Bentonville  / Photo by Karen Gershowitz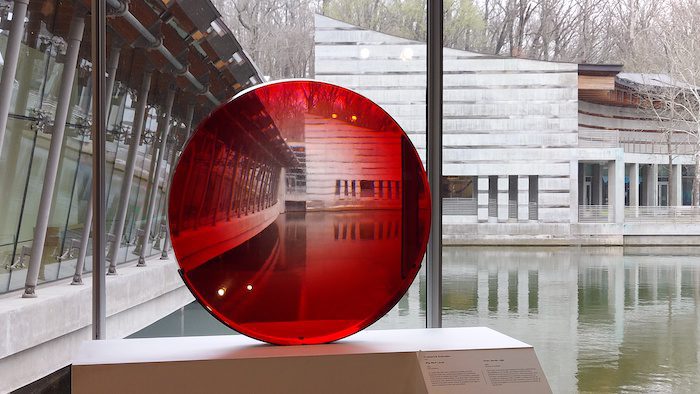 Crystal Bridges, Bentonville  / Photo by Karen Gershowitz
Crystal Bridges is huge and an extension, currently under construction, will increase the size by 50 percent. The collection, all American art, is first class. The artwork was collected by Alice Walton, Sam Walton's daughter. Alice was also the visionary behind the museum.  The galleries display an eclectic mix of styles, from outsider art to old masters, unknown, up-and-coming artists to well-established, renowned ones.
The organization of the artwork is equally unconventional. Rather than groupings by era, style or geography, the works are shown by themes like People on the Move, Coming Together, Family, and Building a Community. The cards next to each piece list the artist and name but also put the work into context. They describe symbolism as people would have understood it at the time of its creation. 
On the 120 acres of Crystal Bridges property are walking, biking and art trails.  There's also a Frank Lloyd Wright Usonian home that was brought to the site and rebuilt. 
Across town is the Momentary, an offshoot of the Crystal Bridges Museum.  Its galleries feature ultra-contemporary artists, doing non-traditional work and a theater for live performances.
In Bella Vista, not far from Bentonville, is the Mildred B. Cooper Memorial Chapel. Designed by architect E. Fay Jones, a student of Frank Lloyd Wright, the small, but soaring structure is constructed of steel and glass. The symmetry of the soaring arches and abundance of large glass windows invite nature in. I sat for a long time, enjoying the beauty and serenity.
All three of these are free, the intent being to provide access to everyone.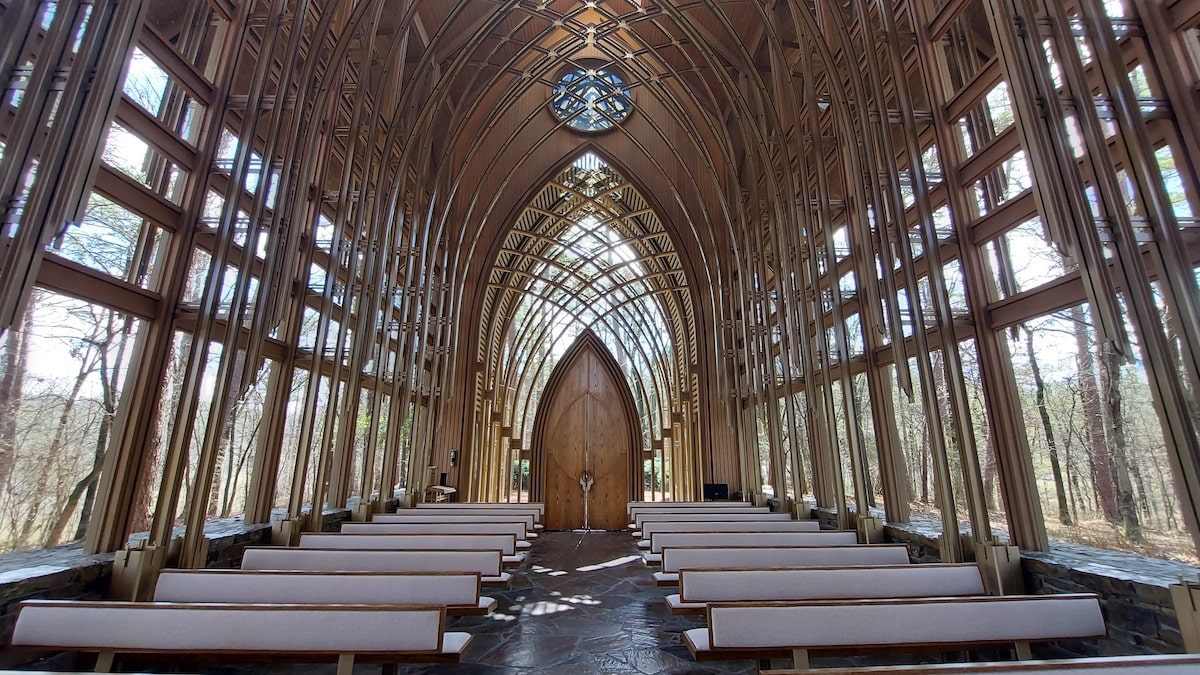 Inside the Mildred Cooper Chapel / Photo by Karen Gershowitz
Fayetteville – Home of the Hogs
I drove on soggy roads south to Fayetteville. From the second you enter the city, it is impossible to miss that this is the home of the Razorbacks, Arkansas University's football team.  There are "hogs" all over town. I'd been there once before and learned to properly cheer them on by yelling, "Sooo-eeee." 
But I didn't go for the hogs, I went to attend a play at Theater Squared. Fayetteville is a college town with a lively arts scene. There are six live performance venues presenting a wide range of music, plays, and dance. The show I saw had recently come from a Broadway run. The actors were superb.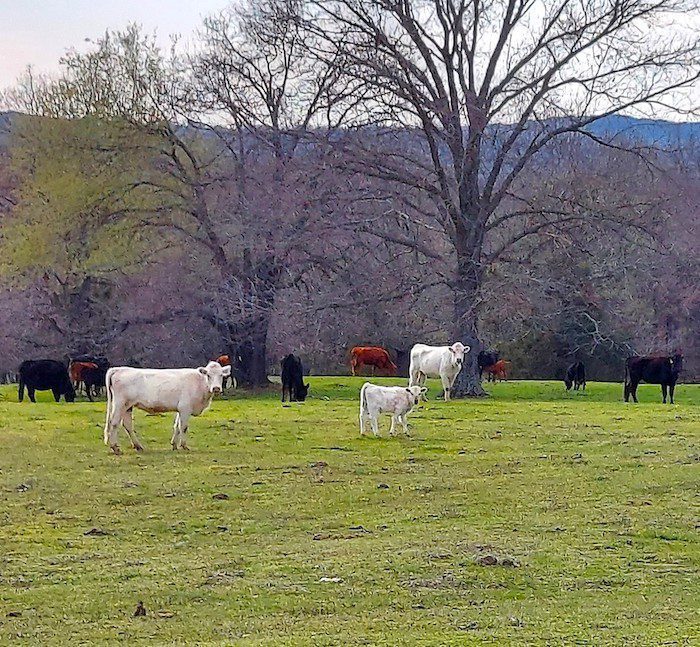 Driving through the countryside between towns / Photo by Karen Gershowitz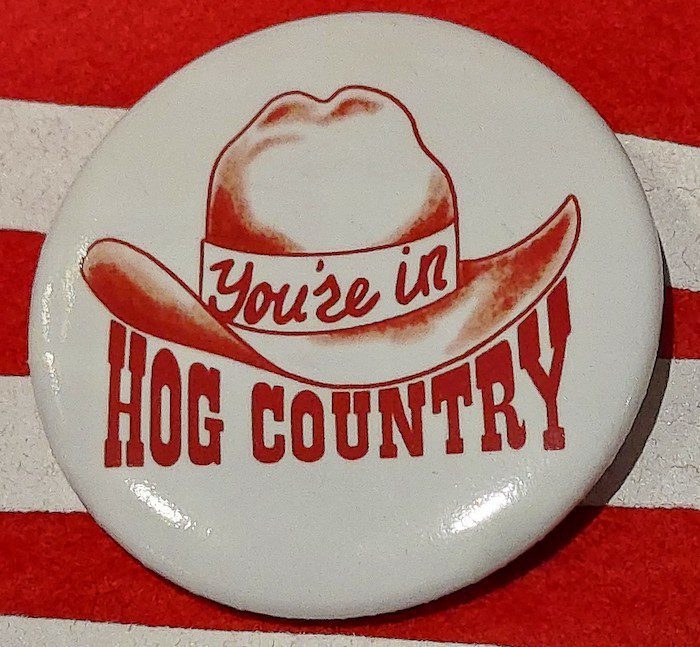 Fayetteville is the home of the Hogs / Photo by
Karen Gershowitz
Eureka Springs – History, ghosts and shopping
While in the area, I wanted to make a return trip to Eureka Springs. I'd been there 22 years ago and found it charming. It's old, hilly, quirky, and filled with shops and restaurants. It has attracted tourists for more than a hundred years, not for shopping or dining but for the "healing waters." The springs were said to cure a wide range of ailments. The water craze died out, but the elaborate hotels, beautiful natural setting, hiking trails, nearby lakes and hospitality continue to attract visitors. 
On my way there, I stopped at another chapel designed by E. Fay Jones, Thorncrown. While it creates the same peaceful environment as the Cooper chapel, it is quite different. Thorncrown is built exclusively with wood and glass. Rather than arches, this chapel is designed with straight lines that create wonderful geometric patterns.
Thorncrown Chapel en route to Eureka Springs / Photo by Karen Gershowitz
After lunch at a true hangout café, The Rowdy Beaver, I drove to Quigley's Castle. It is a monument to a woman with a passion.  From an early age, Elise Quigley collected rocks from streambeds and mountainsides. As an adult, she had a vision for her dream home that would bring nature inside. To do that she left a four-foot swathe of earth between the outside walls and floor. In that dirt, she grew flowers, bushes, and even trees. Both outside and inside, she used rocks and pebbles to create elaborate decorations. 
The 1886 Crescent Hotel in Eureka Springs has a long, storied and haunted history. When I checked in, the receptionist warned me that two weddings were taking place. Crowds of partygoers made it difficult to take in the unique décor or to spot any of the many ghosts reputed to live there. 
When I visited Eureka Springs in 2001, I loved the galleries that featured local artists. On this trip, the hotel shuttle dropped me at the top of the town (which is steep) and I made my way down the hill, stopping in any shop that looked fun.  There are a lot of them.
In the evening, I had dinner at Nyx.  If you're ever in town, I highly recommend it. The food was delicious and there was live music.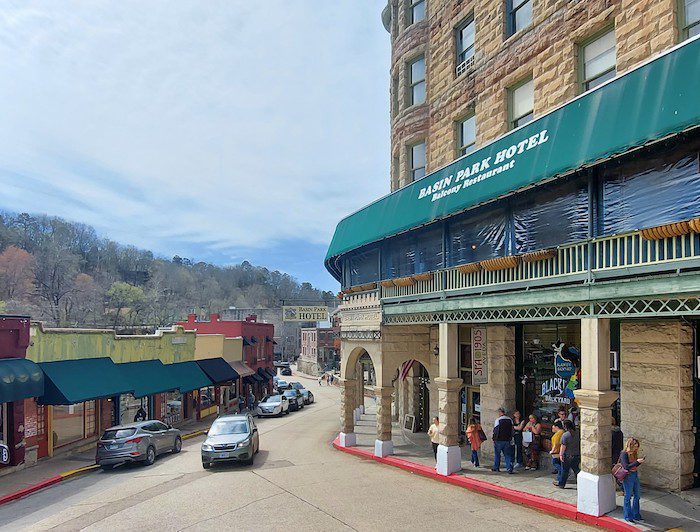 Downtown Eureka Springs/Photo by Karen Gershowitz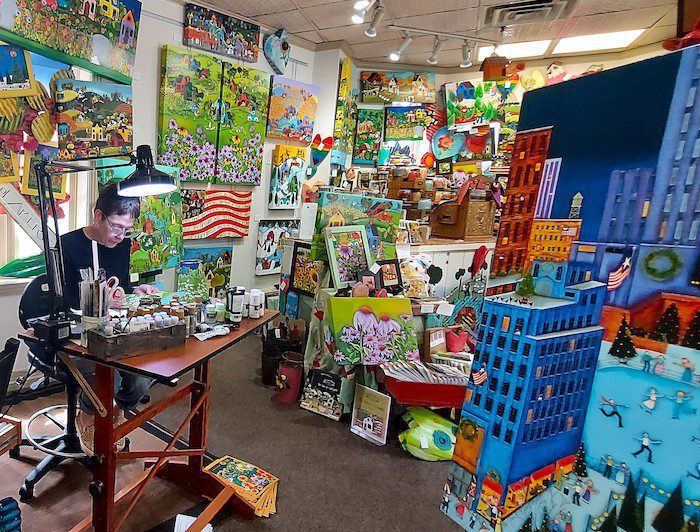 Inside Wilson & Wilson Folk Art Gallery in Eureka Springs/Photo by Karen Gershowitz
Branson, Missouri – Flashy kitsch and country music
Branson has a reputation as a second Nashville, a home to country music. 
The drive from Eureka Springs to Branson takes just over an hour and goes through the heart of the Ozarks. It's beautiful countryside. The route I took was on winding roads that go up and down curves worthy of an amusement park. While I wanted to take lots of photos, there was nowhere to pull off and at the roads' edges were steep ditches.
It was kind of a shock to arrive in Branson. In five minutes, I passed from abundant vegetation and expansive vistas to a world of flashy signs and endless amusement parks. Everything seemed designed to attract tourist dollars.
First, I had to stop for lunch. When I saw Paula Deen's restaurant, I thought Southern cooking. She had been a Food Network star until she got dethroned. What I should have remembered, but didn't, was that her mantra is 'more butter is better.' Everything is fried or else contains more butter than I would eat in a month. The southern fried chicken, yams, collard greens, fried okra and biscuit were scrumptious, but I felt the aftereffects for hours.
Then I was off to explore. On the main tourist drag, I kept swerving into driveways so I could take photos. How could I resist a 20-foot-high chicken, an upside-down house, a massive silver octopus, Dolly Parton's "stampede" or Dick Clark's theater? And that only begins the list of theaters, shopping areas, weird restaurants and amusement parks. 
I was happy to return to the natural rollercoaster roads that led to Eureka Springs.
Now you know, Why Arkansas? Go visit for natural beauty, culture, history, and just plain fun. And make sure to poke around. The Ozarks are filled with small towns that will delight you.
More From the United States to Discover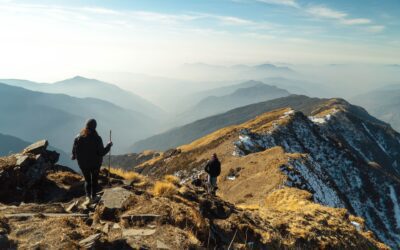 From Cuba to Mongolia, these unique small group tours from our Women's Travel Directory will connect you with people, places and wildlife.
While Wisconsin is known for pastoral landscapes and cheese, Northern Wisconsin offers women a wild and magnificent place to visit.
These five stunning sculpture parks near New York City offer women affordable and accessible cultural excursions in natural spaces.